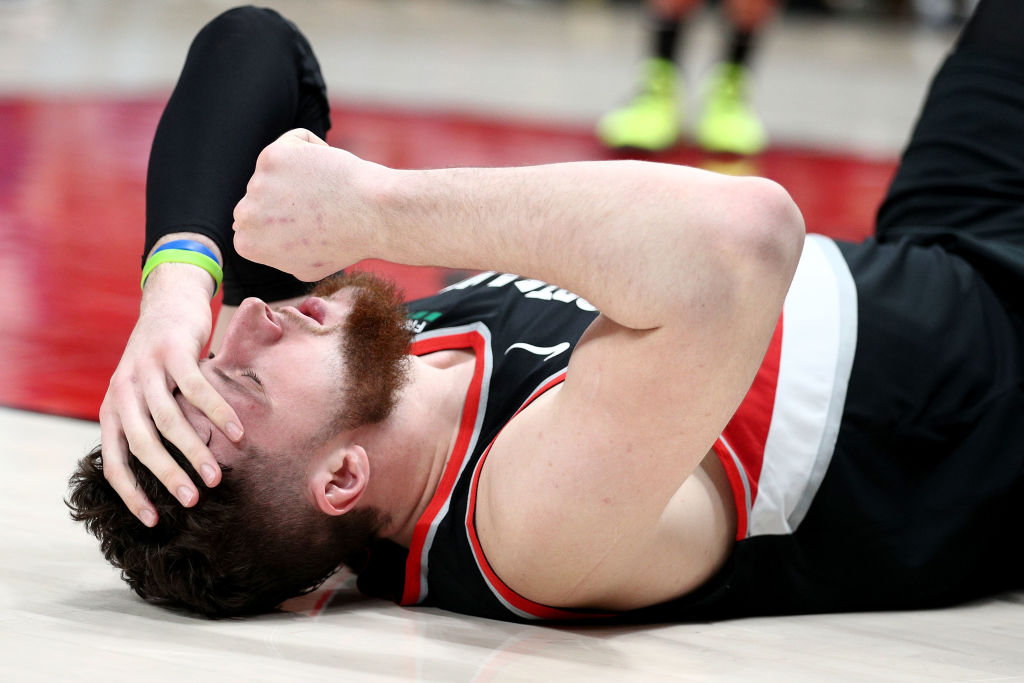 What Jusuf Nurkic's Leg Injury Means for the Trail Blazers Playoff Chances
Jusuf Nurkic was a walking double-double for the Trail Blazers, but his injury will affect their team as they head into the playoffs.
When Jusuf Nurkic went down with his broken leg in a Portland Trail Blazers' win over the Nets, it was probably one of the toughest sports injuries we've seen. Nurkic fractured both bones in his lower leg, recalling the horrific leg injuries of Paul George, Kevin Ware, and Alex Smith. This is a devastating blow to the Trail Blazers as they look to remove the stain of last season's early playoff exit.

With Nurkic sidelined it is up to Damian Lillard and CJ McCollum to get Portland into the second round. Let's look at how the Jusuf Nurkic injury will affect the Blazers as they head into the playoffs.

Nurkic's impact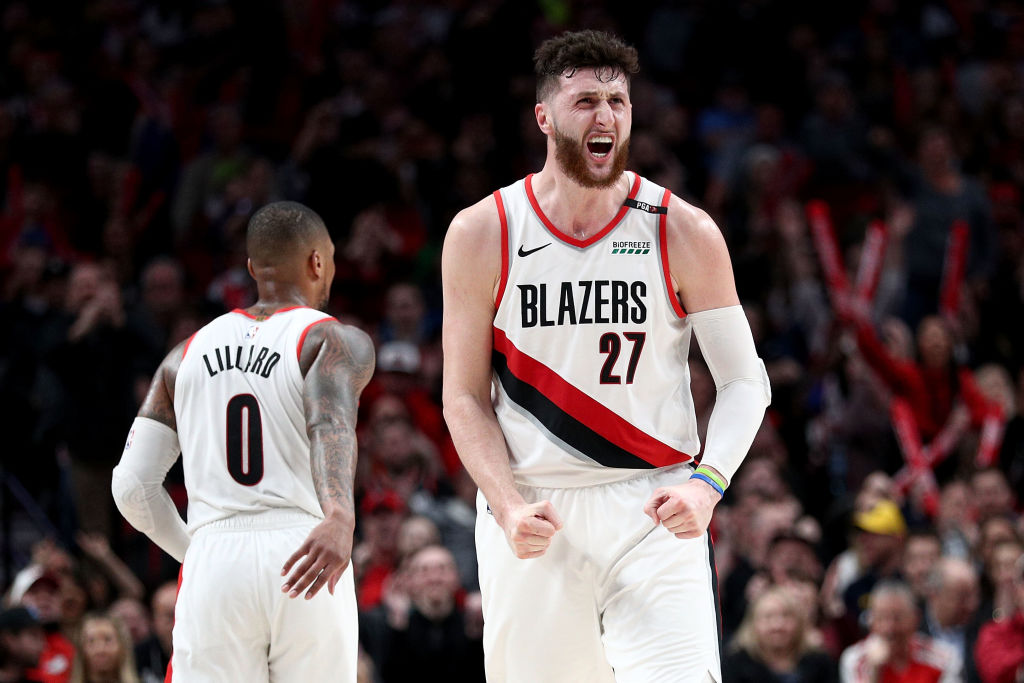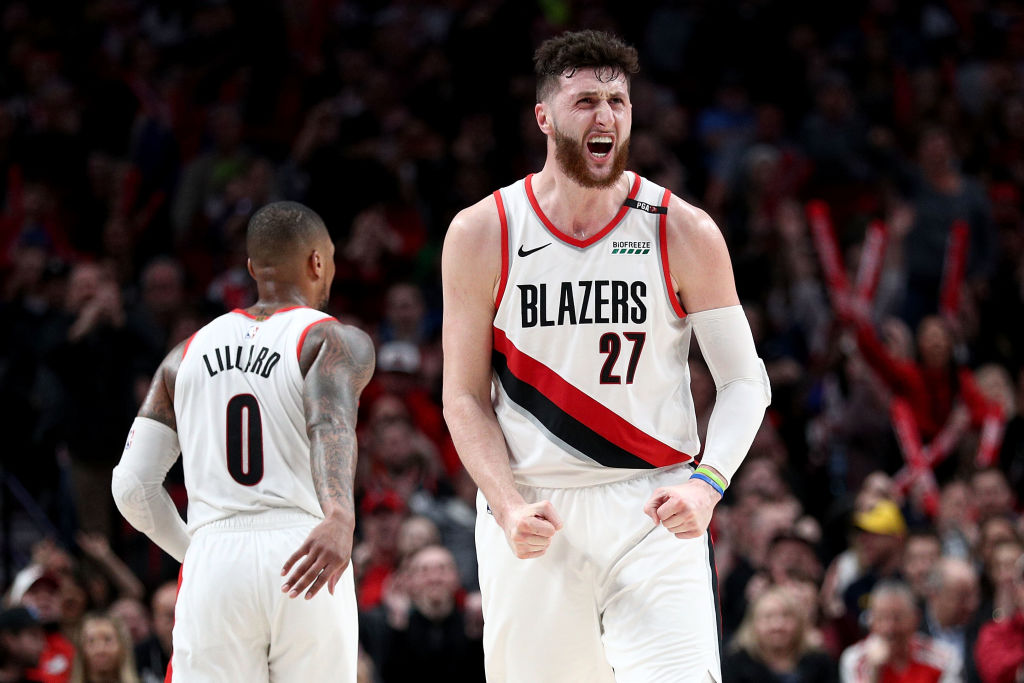 Nurkic is a double-double waiting to happen night in and night out, averaging 15 points and 10 rebounds per game this season. The game against Brooklyn where he suffered the injury was easily the best game of his career. He had a career-high 32 points to go along with 16 rebounds when he broke his leg. Jusuf Nurkic is an excellent post scorer, and with Enes Kanter having to pick up the slack in his stead, there should be a significant dropoff in production on both ends of the floor for the Trail Blazers.
Expect him to miss all of next season
When Paul George went down with his broken leg playing for team USA in 2014, he missed almost the entire 2014-15 NBA season. He played a few games toward the end of the year, but he still wasn't playing at a high level.

Nurkic's 6-foot-11, 280-pound body is a lot heavier than George's. You have to expect his recovery timetable to be roughly the same, but it would be smart of Portland's front office to put him on the shelf the entire season and allow him to come back in 2020 at full strength. George is a few years removed from his injury and is playing the best basketball of his career and is a legitimate MVP candidate. Jusuf Nurkic is just 24 years old and has several good years left, so rushing him back onto the floor wouldn't be a very smart idea.

Will Portland make it out of the first round without him?
Last year's postseason was a complete disaster for Portland. Going in as the number three seed in the Western Conference behind Golden State and Houston, everything was looking up for the Trail Blazers. They had a legitimate shot at the Western Conference finals.

However, they ran into a buzz saw in New Orleans, as the sixth-seeded Pelicans swept the Trail Blazers, even though they didn't have DeMarcus Cousins in the lineup.

It takes time to get rid of assumptions a casual NBA fan has about a team, but the Trail Blazers may need to wait another season or two to get that monkey off their back. Losing Jusuf Nurkic for the rest of the 2018-19 season and all of next season won't help that cause.
They're currently fourth in the west, and a first-round matchup with the Utah Jazz would be tricky. Utah boasts reigning NBA Defensive Player of the Year and underrated center Rudy Gobert.

Portland will have to rely on outside shots to score points, and without Nurkic it doesn't have someone in the middle to slow down Gobert, so we wouldn't be surprised to see Utah win the series in five or six games.

What does this mean for Damian Lillard?
Damian Lillard is one of the best guards in the NBA. He should make one of the three All-NBA teams this season, and he could cash in with a Supermax contract worth five years $239 million when he hits free agency in 2020.

Lillard has wanted to be the face of the franchise since being drafted by the Trail Blazers, but if Nurkic doesn't come back with his skill set intact, it could give Lillard some reservations about staying with the team long-term. It all depends on Nurkic's recovery and how Lillard feels in 2020, and that's when we'll know more.