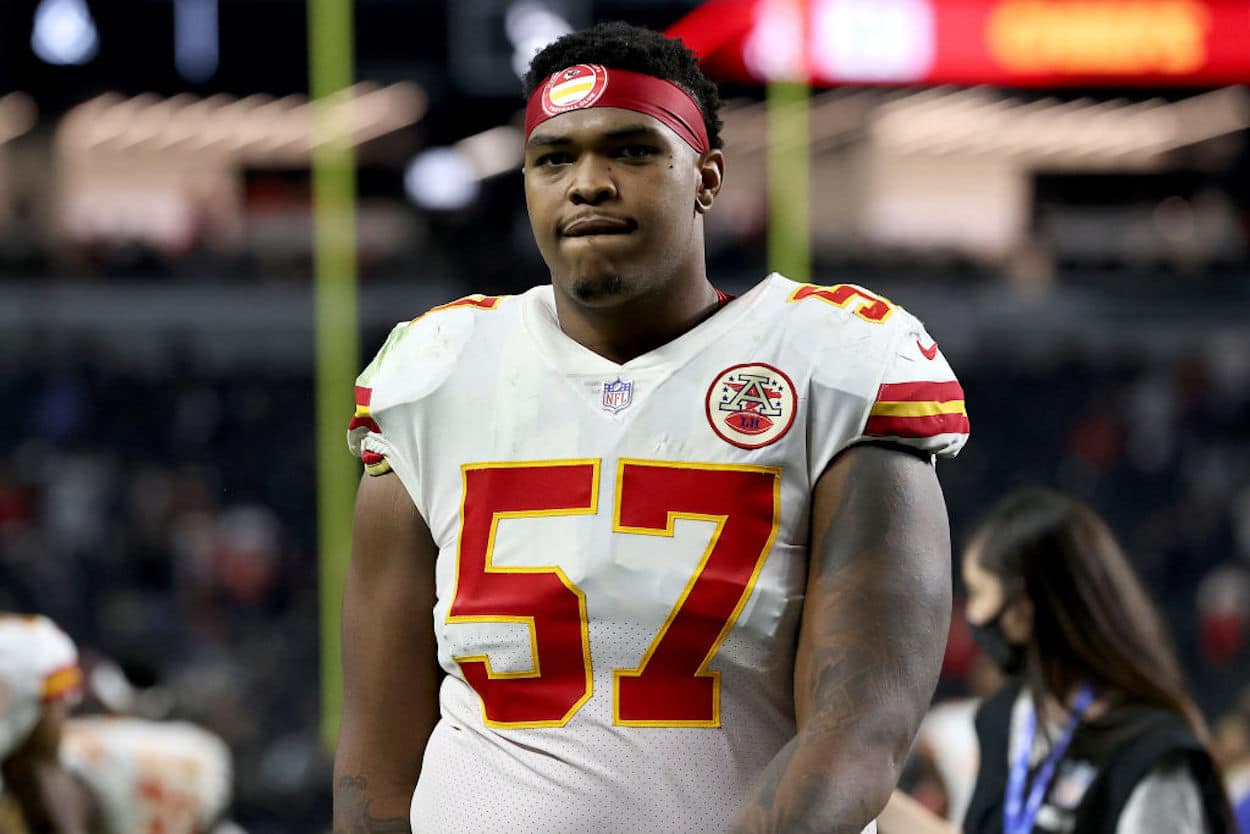 The Kansas City Chiefs Must Sign Orlando Brown Jr. to a Contract Extension to Avoid Season-Changing Consequences
While a franchise tag will keep Orlando Brown in Kansas City next season, the Chiefs need to sign him to a proper contract extension ASAP.
While the 2022 NFL campaign is still a ways away, the Kansas City Chiefs' brass has been busy. In addition to trading Tyreek Hill to Miami, Brett Veach has reconstructed the wide receiver corps and made some big-time moves on defense. In that context, Orlando Brown Jr. has almost become an afterthought.
After arriving in KC last year, the offensive lineman has been franchise tagged by the Chiefs. While that theoretically takes some pressure off the negotiating front — the tackle will most likely remain under contract for the upcoming campaign — Kansas City can't afford to dawdle. A failure to extend Brown might seem innocuous, but it could have season-changing consequences.
The Kansas City Chiefs can free up roughly $6 million in cap space by signing Orlando Brown Jr. to a new contract
From afar, it seems like Brett Veach has done his due diligence by hitting Orlando Brown Jr. with the franchise tag. That gives Kansas City time to hammer out a proper contract with their star lineman and, if no long-term deal agreement is reached, will keep him at Arrowhead for another year. When you get down to brass tacks, though, it's not an ideal choice.
If Brown plays under a franchise tag, he'll earn a guaranteed $16.6 million during the 2022 campaign. The number isn't too egregious, but it does limit the Chiefs' financial flexibility. Since the contract will only last for a year, there's no room to spread out the monetary burden.
Signing the tackle to a proper extension, however, will mitigate that constraint.
In a May 6 mailbag, Nate Taylor of The Athletic speculated that Brown could sign an extension worth somewhere in the neighborhood of $101 million with $80 million guaranteed. That number is obviously larger than $16.6 million, but it's also (hypothetically) allocated across five years. Depending on the exact structure of the contract, it could provide Kansas City with roughly $6 million in extra cap space for the 2022 campaign, giving them around $20 million worth of wiggle room.
"The additional [sic] of almost $6 million could be used to add another veteran, whether that's just before training camp or in late October ahead of the league's trade deadline," Taylor explained.
For a team like the Chiefs, that financial flexibility could be key
Although it's easy to view the Chiefs as a legitimate title contender, their roster is undergoing somewhat of a transition. Patrick Mahomes and Travis Kelce still lead the offense; Frank Clark and Chris Jones hold down the defensive front. Around them, though, Kansas City has a blend of veterans and young talent.
While that makes sense from a roster-building perspective — when you have a few players accounting for massive chunks of the salary cap, you need to pinch pennies where you can — it can set up some potential risks. Take the receiver room, for example.
On paper, Mecole Hardman, JuJu Smith-Schuster, Marquez Valdes-Scantling, and Skyy Moore are a capable foursome, but they don't exactly fill you with confidence. Hardman has never been the most consistent and will face a massive challenge trying to replace Tyreek Hill. Smith-Schuster is coming off an injury, MVS has never posted more than 690 yards in a single season, and Moore is a rookie stepping up from Western Michigan to football's biggest stage.
Let's say that that receiving corps simply doesn't click, and Kansas City's offense becomes too reliant on Travis Kelce. Having an extra $6 million in space would make it easier for the Chiefs to bring in some help, should things look dire.
Alternatively, think back to the 2020 campaign and how KC's offensive line was decimated en route to an embarrassing Super Bowl defeat. While you can't exactly litigate for that much bad luck, having a few extra million in the piggy bank could help the team bring in an emergency replacement.
In recent years, Brett Veach has earned a reputation as a savvy general manager. Inking Orlando Brown Jr. to a long-term extension might not seem like the biggest item on his to-do list, but getting that done ASAP would certainly help the Chiefs mitigate a potentially season-altering disaster that could crop up down the road.
Like Sportscasting on Facebook. Follow us on Twitter @sportscasting19 and subscribe to our YouTube channel.