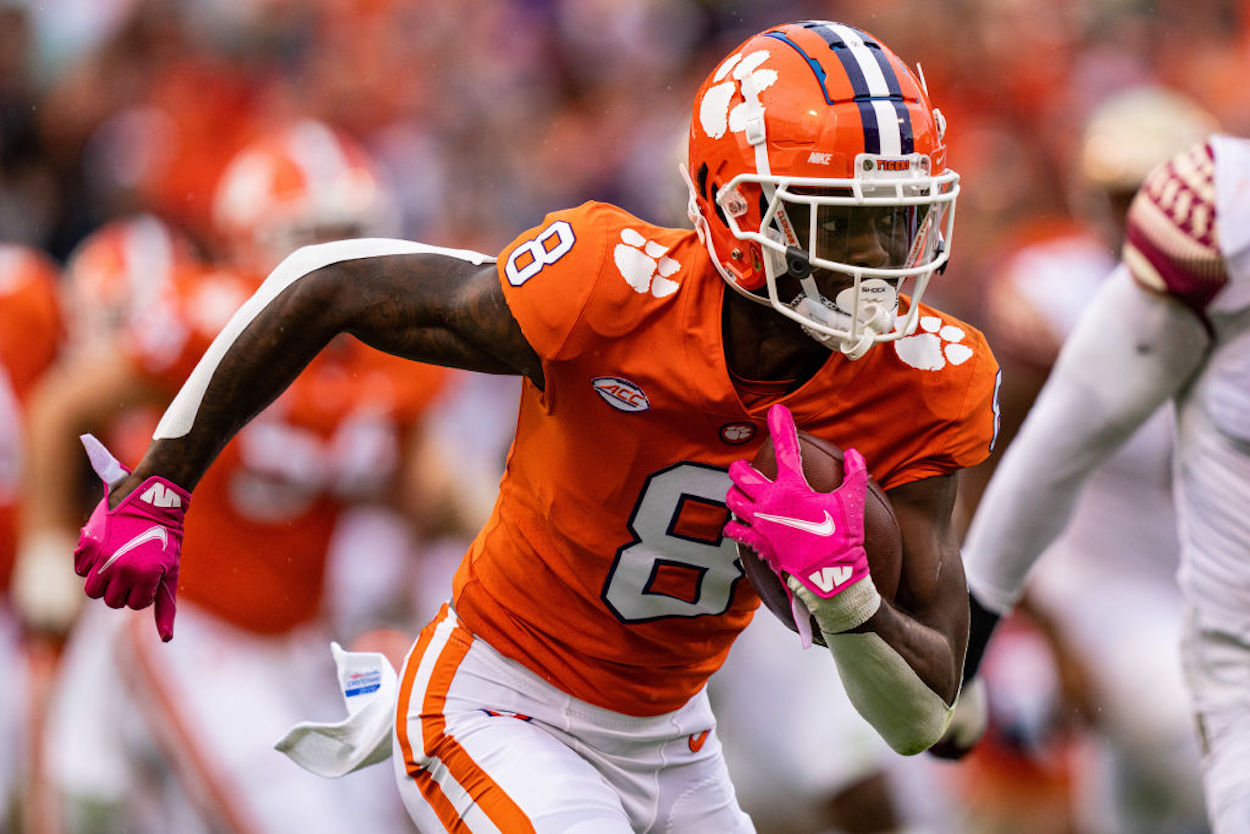 Justyn Ross' Injury Misfortune and Kansas City Chiefs' Draft Savvy Could Be the Perfect Match
Justyn Ross' injury history kept teams from drafting him, but it also gave the Kansas City Chiefs' an opportunity to steal a talented receiver.
While the departure of Tyreek Hill had everyone thinking that the Kansas City Chiefs would stock up on receivers, general manager Brett Veach took a different route at the 2022 NFL draft. That doesn't mean the AFC West club completely ignored the offensive side of the ball, though. They drafted wideout Skyy Moore and, after the draft ended, signed Justyn Ross.
Those who aren't that plugged into college football might not recognize that name. Even if you're a big-time NCAA fan, the Clemson receiver's name has probably slipped to the back of your mind in recent years.
While that reality is completely understandable thanks to Ross' injury misfortune, there could be a silver lining to the situation. His history, combined with the Chiefs' willingness to gamble on high-upside players, could have landed him in the perfect situation.
Justyn Ross is a first-round talent who fell off the draft radar due to bad luck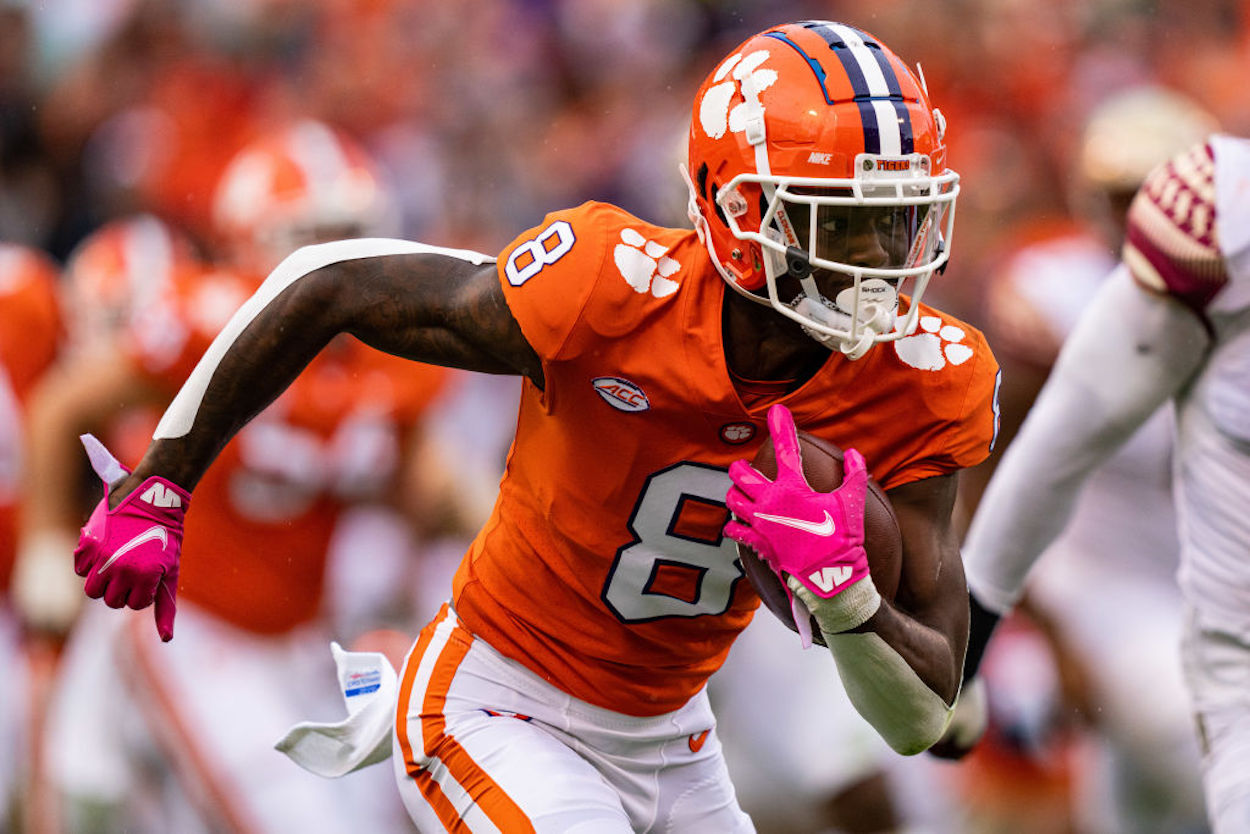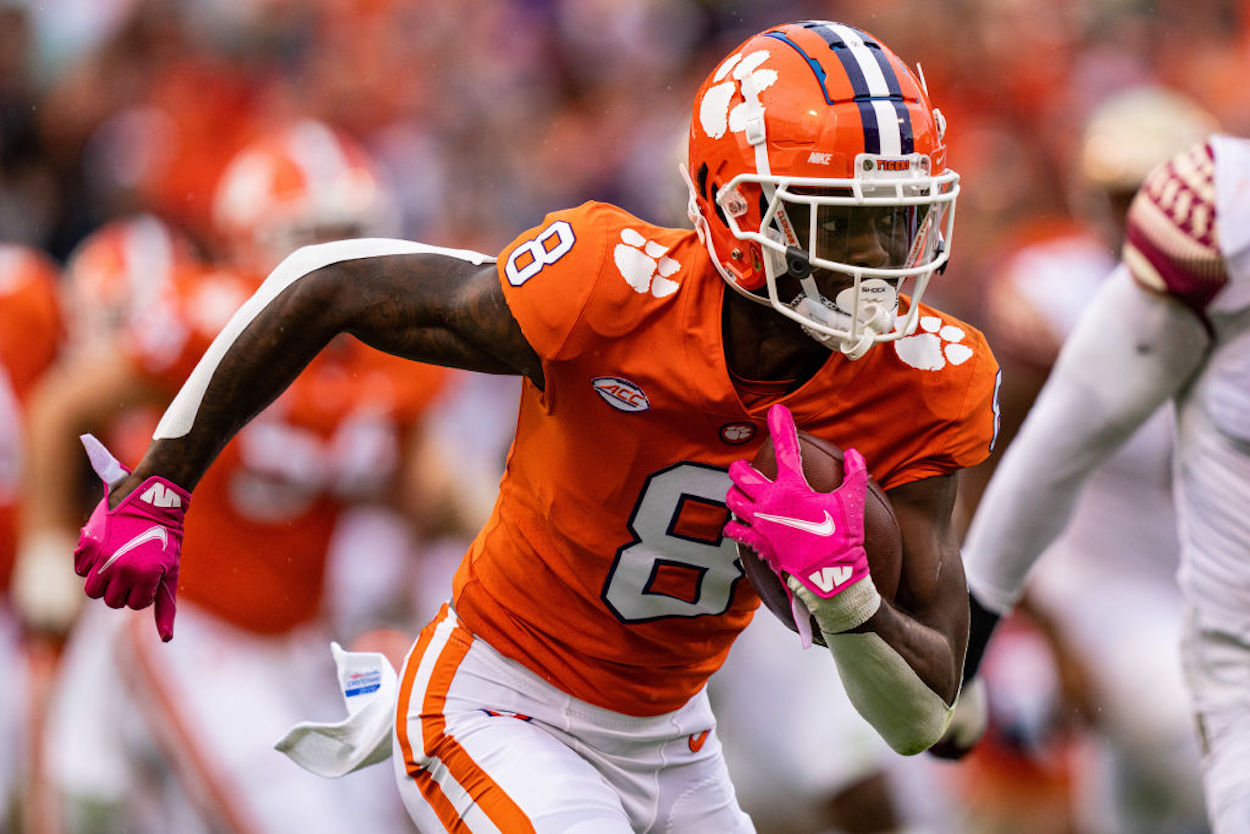 Sometimes, you can just look at a player's stats and instantly know something bad must have happened. Justyn Ross' numbers unfortunately fit that template perfectly.
During his first campaign at Clemson, Ross pulled in 46 catches for 1,000 yards and nine touchdowns. As a sophomore, he caught 66 passes for 865 yards and found the end zone eight times. Then, for his junior campaign, the stat line is completely blank.
As explained by ESPN's Adam Teicher, that absence came when the wideout "was diagnosed with a congenital fusion in his spine in the spring of 2020." Despite warnings that he might never play football again, Ross underwent surgery and missed the entire 2020 season before returning to the Tigers in 2021. While he did make it back to the field, a stress fracture in his foot sent him back to the sidelines.
While Ross' potential was once plain to see — Teicher notes that he was once thought of as an "eventual first-round draft pick" — injuries apparently scared everyone off. The Chiefs, however, were undeterred.
Signing Ross follows last year's decision to draft Trey Smith
For those who closely follow the Kansas City Chiefs, the club snapping up a draft prospect with an iffy medical history will sound familiar. Last year, the club drafted Trey Smith in the sixth round. The lineman, like Ross, had once looked like an elite talent but missed time with blood clot-related issues and slid down the big board. In KC, he started all 17 games as a rookie, slotting in as a key part of the club's improved offensive line.
While you could argue that Ross' injury is a bit different — it's impossible to be an explosive wide receiver with a back problem, while Smith's blood clots simply affected his availability — it's easy to see the two moves as part of the same thought process. Given Kansas City's cap constraints, it's essential to squeeze every penny.
As an undrafted free agent with an iffy injury history, the receiver won't command much in terms of salary and could be easily cut if necessary. If he's able to regain some of his NCAA form, though, he'll provide a capable receiving option for next to nothing.
The receiver could add another weapon to Patrick Mahomes' growing arsenal
Again, there are genuine questions about Ross' ability to make an impact at the NFL level. He's only played 10 games of football since 2020 and, during his senior year, didn't look like the same receiver who burst onto the scene. With all of that being said, though, it's easy to see where he'll fit in with Patrick Mahomes and the Chiefs.
In his NFL.com scouting report, Ross is described as someone with "good size and length to mismatch short corners." Other notes highlight his ability to save low passes, "bouncy" athleticism, and footwork. Analyst Lance Zierlein also noted that the receiver "is most effective in a passing attack that features vertical throws, where his stride length and build-up speed will work in his favor."
Does any of that ring a bell?
While Patrick Mahomes has learned the importance of taking what the defense gives him, the Chiefs' QB is certainly capable of uncorking the deep ball. Mecole Hardman will probably be the top vertical threat, but it's possible for Andy Reid to send both Hardman and Ross downfield, forcing the defense to choose which one they'll double-team.
Beyond that, Kansas City could provide a relatively sheltered environment for Ross to get his legs back under him and prove he's able to contribute. While they might not have the game-breaking speed of Tyreek Hill anymore, Travis Kelce, JuJu Smith-Schuster, Marquez Valdes-Scantling, and Mecole Hardman do form a solid receiving corps. While the Chiefs' brass is probably hoping that Skyy Moore and Ross can contribute ASAP, it's not like they'll be slotting in as the number two option this fall.
It's also worth noting that Ross is another big receiver heading to Kansas City; Mahomes has already commented on how he isn't used to throwing to this much collective size. That similarity, combined with the fact that Smith-Schuster is only under contract for one year, suggests there could be a larger role available for Ross come 2023.
As of now, there's no way to know how things will play out in Kansas City. It's possible that the wideout won't even make it past training camp. With all of that being said, though, the Chiefs seem to like targeting high-potential players with an iffy injury history. If everything pans out, this signing could set up a perfect situation for Mahomes, Ross, and the Chiefs offense as a whole.
Stats courtesy of Sports-Reference