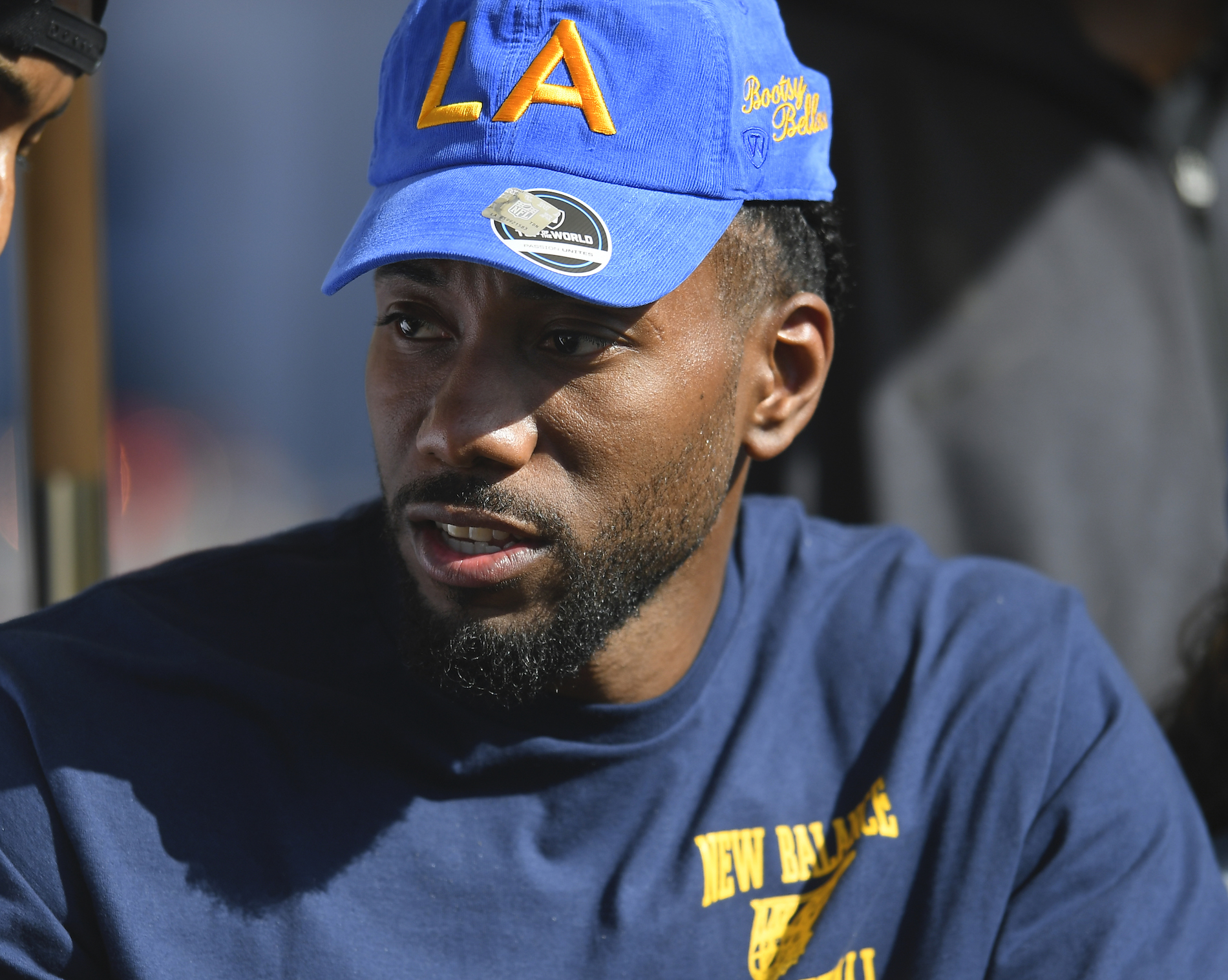 Kawhi Leonard Says He Could've Played in the NFL If Not for 1 Relatable Reason
Kawhi Leonard believes he could've played in the NFL if he pursued football at an early age, but one simple thing held him back.
You know of Kawhi Leonard — Los Angeles Clipper, but he actually could've been Kawhi Leonard — Los Angeles Ram in another life. The NBA superstar once said he was good enough at football to play in the NFL. With such a huge frame, quick feet, and hands bigger than a football itself, Leonard could've been a dominant wide receiver if he pursued a football career. However, one factor held Leonard back, and it's something every athlete can relate to.
Kawhi Leonard was a talented football player in high school
Before Kawhi Leonard became an NBA superstar, he was faced with a tough decision regarding his athletic career in high school. Leonard was a dominant basketball and football player in ninth grade, but he had to choose one to play at the next level.
Leonard played defensive back and wide receiver at Martin Luther King High School in Moreno Valley, Calif. His 6-foot-7, 210-pound frame made him an intriguing prospect, and his massive hands added an extra bonus.
Instead of playing both basketball and football throughout high school, though, Leonard decided to shift his full focus to the court. He quit football after ninth grade, but he still believes today he could've made the NFL if he tried.
Leonard had a hilarious and relatable reason for quitting football
Over a decade later, it's clear Leonard made the right decision choosing basketball over football in high school. The former Raptor has four All-Star nods and two NBA Finals MVPs to his name. He also has a great chance to win title number three when the NBA restarts later this month.
None of that would've been possible, however, if Leonard had picked football after high school. Maybe those four All-Stars would instead be four Pro Bowls. Maybe his 26.9 points per game this season would be 100 receiving yards per game.
We'll never know if Leonard would have made the NFL if he pursued football, but he sure believes so. Leonard once said he was good enough to make the NFL, but one relatable problem held him back
"I hated putting on pads," Leonard told Jeff McDonald of the San Antonio Express-News in 2013. "I was good. I probably could have gone to the NFL. I just hated practice."
Don't feel bad, fellow athletes. The world's best hate practice, too.
Leonard made the right decision by choosing basketball
It's possible Kawhi Leonard could have been just as successful in the NFL as he's been in the NBA. He has all the physical tools to thrive in almost any sport, but he clearly chose the right path in high school.
After quitting football to pursue an NBA career, Leonard earned a scholarship to San Diego State University. He went on to become a first-round draft pick in 2011, and the rest is history. Nine years later, Leonard is a two-time NBA champion and already one of the best two-way players to ever suit it up.
It's unclear if Leonard has learned to love practice yet, but whatever he's doing behind closed doors is working wonders.