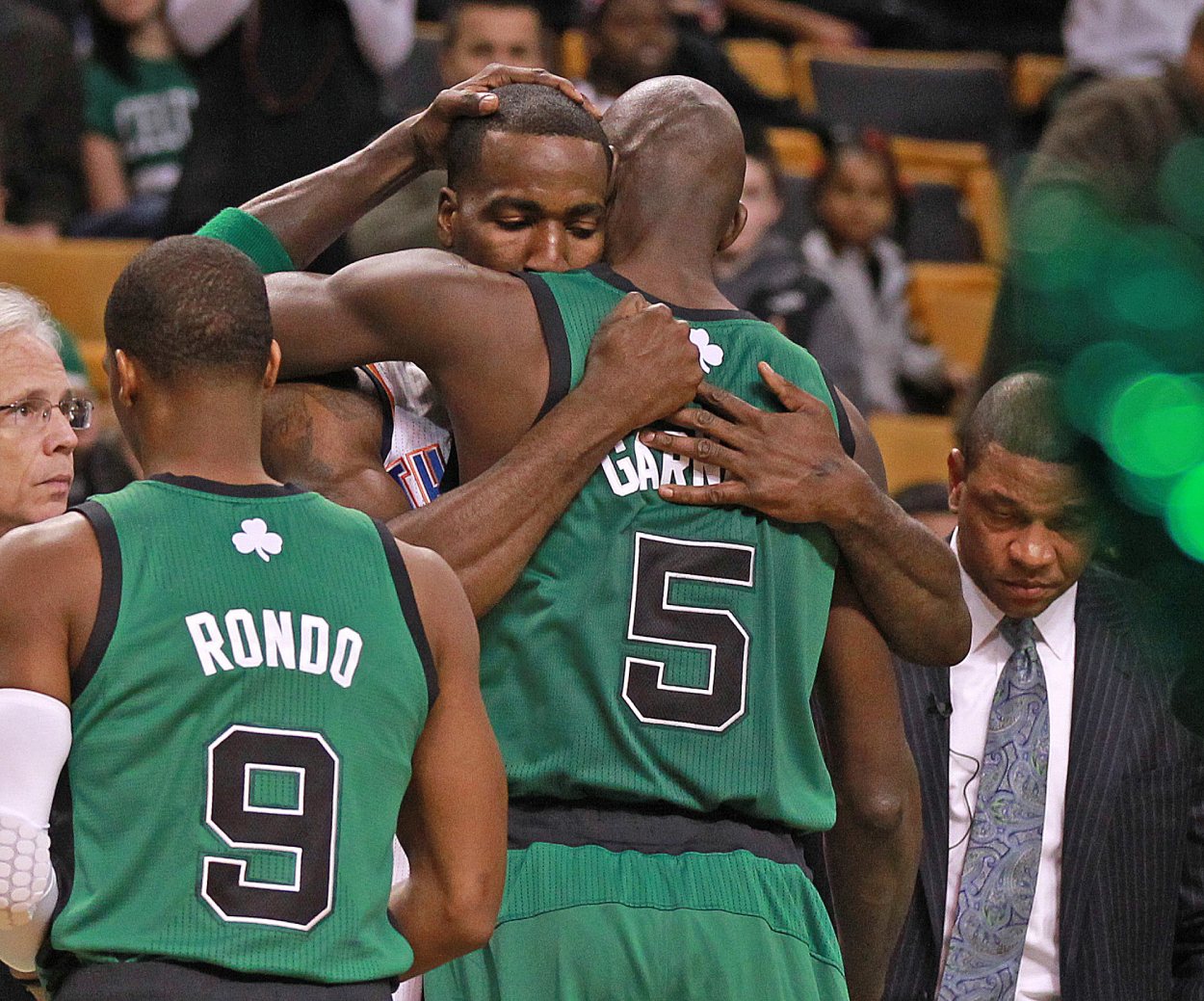 Kendrick Perkins Reveals the Real Reason Why Kevin Garnett Had Isiah Thomas Introduce Him at the Hall of Fame
Former Boston Celtics center Kendrick Perkins reveals the reason why Kevin Garnett chose Isiah Thomas to present him at the Hall of Fame.
The big weekend for Kevin Garnett is finally here. The 21-year NBA veteran is a 2020 member of the Naismith Memorial Basketball Hall of Fame, and the ceremony has arrived. Garnett, along with Tim Duncan and the late Kobe Bryant, are the newest members of the Hall. If you're wondering why Garnett asked former Detroit Pistons great Isiah Thomas to present him on his big night, Kendrick Perkins has the back story.
Kevin Garnett never disappointed in the NBA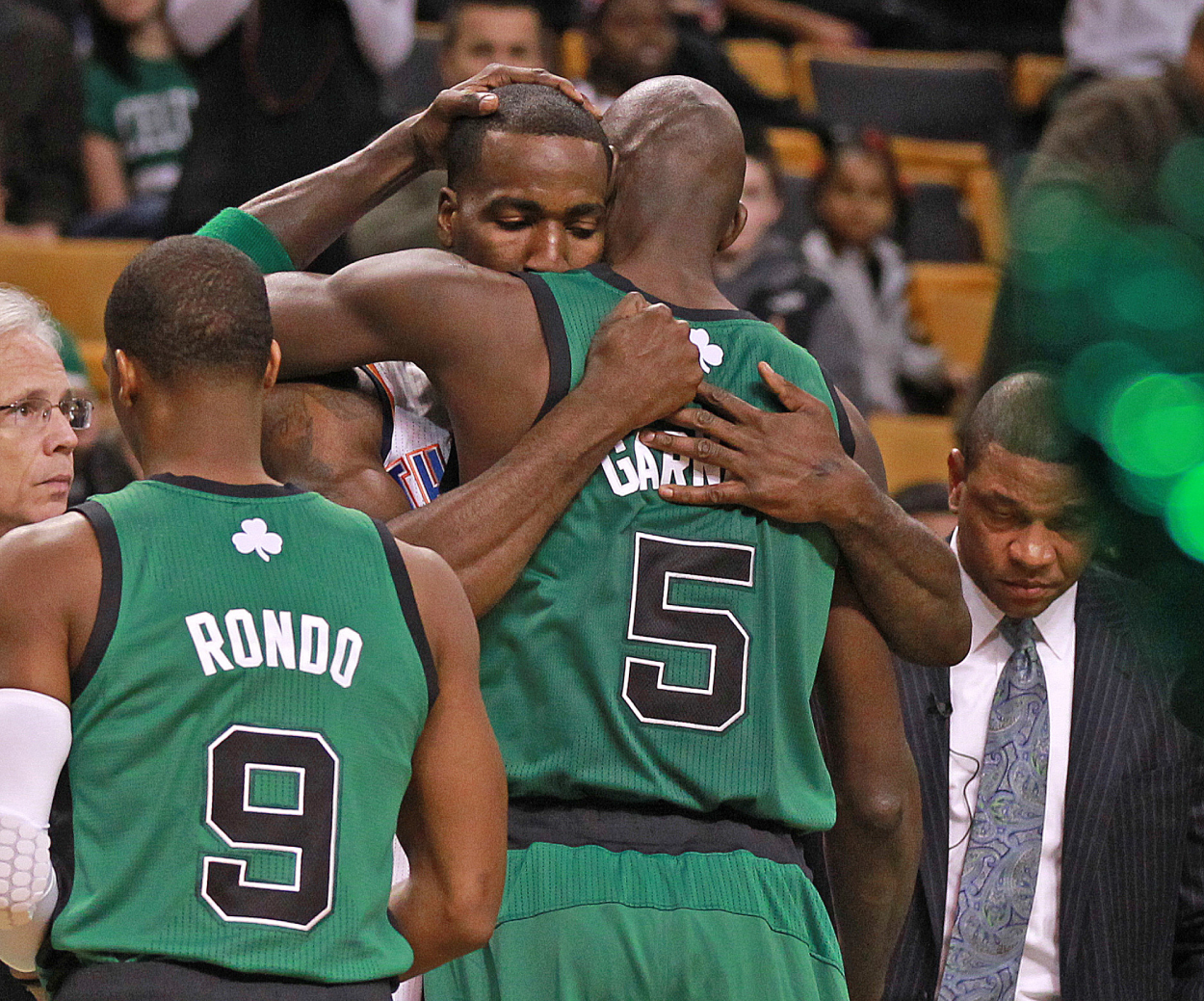 Garnett was a slight risk when he made his way to the NBA. His basketball talent was a given, but it was his experience factor that was a question mark. He was a lanky, 6-foot-11 player out of Farragut Career Academy in Chicago. There was zero college experience, but the Minnesota Timberwolves weren't fazed.
Garnett was drafted with the fifth overall pick and made an impact immediately. He wasn't an NBA All-Star his first season, but he started 43 games, averaging 10.4 points and 6.3 rebounds. He broke out in his second season, bumping up his scoring average to 17 points and making the first of his 15 All-Star appearances.
Garnett was traded to the Boston Celtics in July of 2007 and won his only championship in his first year with the team. He was the fiery competitor, always giving what he had. His intensity was infectious. He lasted 21 seasons and averaged 17.8 points and 10 rebounds per game which eventually led to his Hall call.
Kendrick Perkins had a strong relationship with Kevin Garnett
Perkins was a teammate of Garnett with the Celtics on their title-winning team in 2008. Prior to their time together with the Celtics, the two clashed as opponents. They battled under the boards. Garnett was intimidating. Perkins was intimidated by nobody. "We didn't really like each other," Garnett said, according to Sports Illustrated. "We had a little history."
When they became teammates, they were close. Garnett felt Perkins out initially to make sure he wasn't lazy. "I wanted to make sure that he was worthy," Garnett said. "I'm not gonna take anybody that doesn't want to work, and I don't like people who complained. I don't like people who don't have a work ethic, and I don't do quitters.
"I wanted to see how he worked on his own. He was real receptive to it. Then him and I quickly grabbed the chemistry on the court. Perk was just similar to me. We were grinders, kind of physical specimens. Once I got to Boston, in the East Coast, I knew it was gonna be more of a physical game. But he and I communicated and fed off each other really well. I looked for him a lot. We were both decent passers. Him and I, we gelled quicker on the court, as far as basketball, more than anybody else."
Perkins revealed why Garnett chose Isiah Thomas to present him at HOF
Garnett selected former Detroit Pistons star Isiah Thomas to introduce him at his Hall of Fame ceremony. The two were never teammates in the NBA. In fact, they never played against each other as Thomas retired a year before Garnett came into the league. Perkins told the story of why Garnett chose Thomas to present him.
"A situation happened when him and his sister were left at the doorstep of a police station," Perkins said in a video on NBC Sports Boston last month. "They stayed above the police station in a one-bedroom apartment. Isiah Thomas was one of the few that discovered Kevin Garnett. When I say discover him, you know in Chicago they all used to go hoop at the gym. KG was in high school, and Isiah Thomas said, "come on in here" and he took him to the gym.
"KG went in there and killed. Isiah Thomas was the first person to give KG hope of coming out of high school. He told everyone in the gym that Kevin Garnett was going to be a pro. Ever since then, their relationship, their brotherhood, has been inseparable. I love Isiah Thomas. He's also a mentor of mine. I love how KG chose him. I'll have a front-row seat, and I'll be supporting my brother."