The Celtics' Latest Blow Has To Trigger an Overhaul in Order To Compete
All at once, the Boston Celtics are going both to the playoffs and nowhere. The announcement that Jaylen Brown will miss the rest of the season with a torn wrist ligament leaves the NBA team reeling with the postseason a week away.
The Celtics' stay in the playoffs figures to be brief, and that may not be a bad thing. It will give the front office that much more time to contemplate the fixes required to bring the team back to the top echelon – if not next season, then shortly afterward.
Injuries and COVID-19 dinged the Celtics this year, but they'll need something more than the current roster to improve next season.
Jaylen Brown faces a potentially lengthy recovery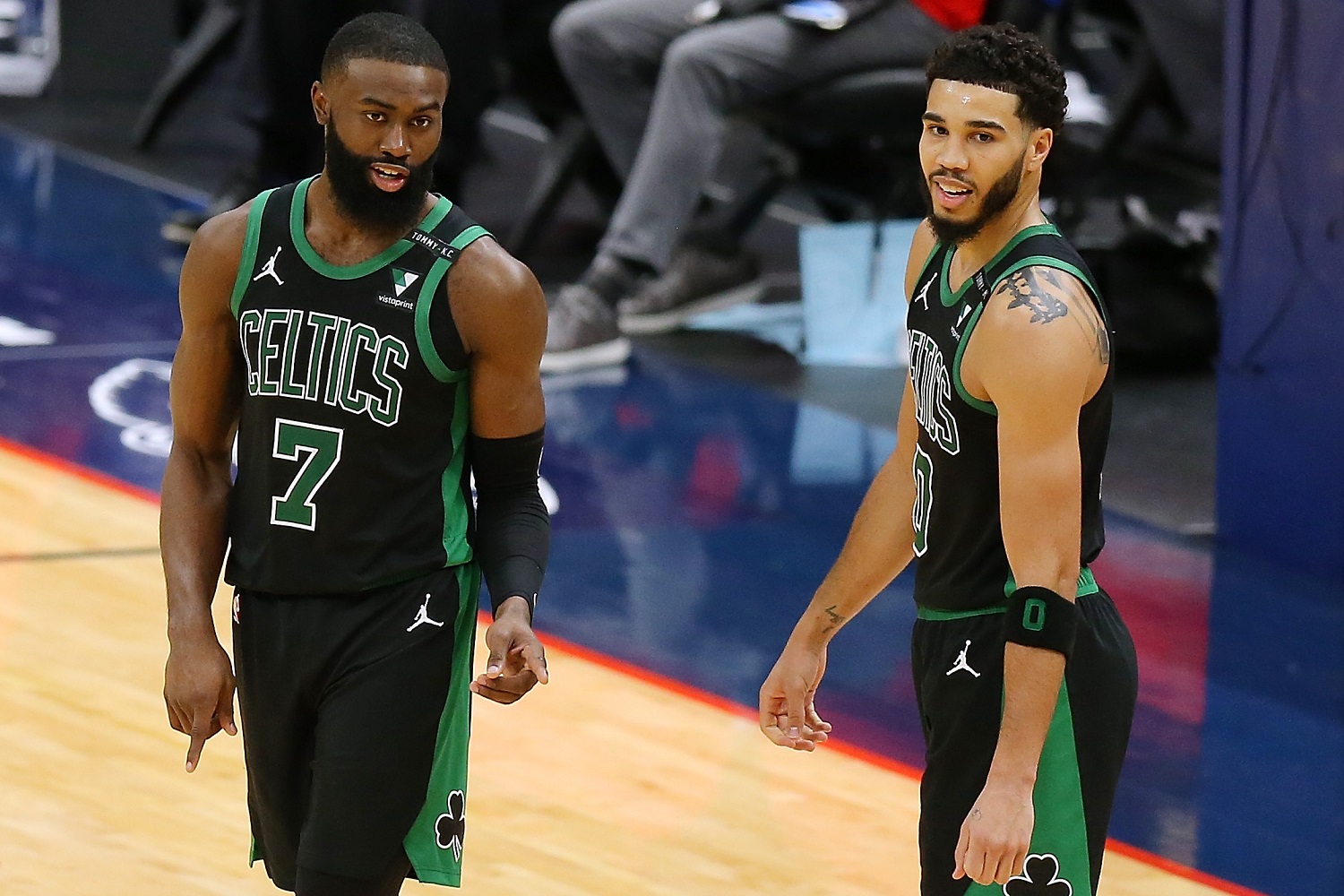 Brown will miss the rest of the Celtics' season because of the injury to his left wrist, the team announced. He requires surgery, and the recovery could be lengthy. Teammate Romeo Langford suffered the same injury last September and did not return until April 4. A similar timetable for Brown could cost him a handful of games at the start of the 2021-22 NBA season.
Brown is in his fifth season after arriving in the 2016 draft, and this has been the 24-year-old swingman's best year. He made his first All-Star team, and his 24.7 points per game and 48.4% shooting are career highs. He also averages 6.0 rebounds and remains a reliable defender.
Brown is in the first season of a four-year, $107 million contract extension that the Celtics offered before the start of the 2019-20 season.
The Celtics don't have the depth for a deep playoff run
It surely wasn't their intention, but the Celtics evolved into a two-man team this season. With Gordon Hayward gone to the Charlotte Hornets and Kemba Walker, 31, continuing the subtle decline that could make the final year of his contract unbearable two seasons from now, it has been up to Brown and Jayson Tatum to lead Boston's offense.
As noted, Brown was having a career year before the injury. Tatum, of course, has blossomed into a superstar at just 23 years old. He has upped his scoring (26.3 points per game) and assists (4.4) to career highs while playing his most minutes ever. With four seasons plus a player option in 2025-26 remaining on his contract, he's a guy the Celtics should never let go.
The problem, however, is that the Celtics cannot reasonably expect much more from Brown or Tatum, aside from the latter coming out of the gate in games with a bit more consistency, as discussed on an NBC Sports Boston podcast.
Brown and Tatum should be good for a combined 50 points a game into perpetuity, but where will the remainder of the offense come from — especially if Walker continues to slip from his peak with Charlotte in 2016-17?
The Celtics need to begin an overhaul.
What can Boston do to improve?
The Celtics did not get better last offseason or at the trade deadline – especially if they can't hang on to swingman Evan Fournier, acquired from the Orlando Magic. Nor does it help that Marcus Smart only has one year left on his deal and that data compiled by Spotrac.com shows Boston bumping up against salary-cap problems.
Barring a move, the Celtics won't select until the first round of the 2021 NBA draft is beyond the halfway point, so landing immediate help via that route isn't likely.
At a minimum, the Celtics have to retain the core of their rotation. Their top seven scarcely played together this season because of COVID-19 and injuries – only Tatum, Brown, Payton Pritchard, and Grant Williams have logged as many as 55 games – but would form a nucleus for next season. They could try to upgrade at the point by parting with Walker or Smart, but it's not as though Dennis Schroder would magically fall into their laps.
Among the bigs, Jabari Parker has been interesting during a month-long audition in Boston since the Sacramento Kings released him. Keeping him with Tristan Thompson, Semi Ojeleye, Luke Kornet, and Robert Williams III would constitute a foundation. Collectively, it's a young group with room to grow. Individually, there isn't enough scoring punch to complement Brown and Tatum.
The Houston Rockets' Kelly Olynyk is heading for free agency. Montrezl Harrell (Los Angeles Lakers) and Bobby Portis (Milwaukee Bucks) hold player options for next season.
Olynyk would be the most useful scorer/rebounder, but the other two figure to be better fits in a tight budget.
All stats courtesy of Basketball Reference.