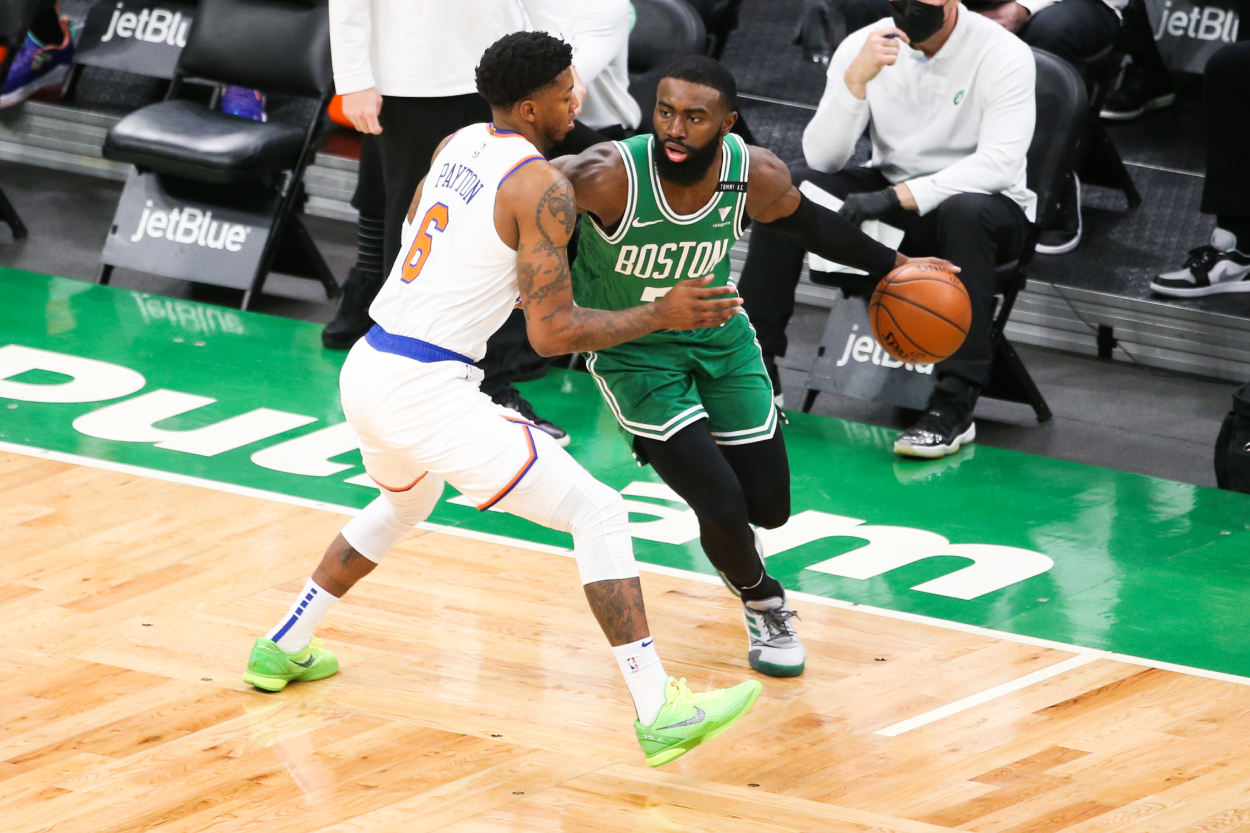 Did a Frustrated Jaylen Brown Take a Shot at Boston Celtics coach Brad Stevens?
Did Jaylen Brown take a shot at Boston Celtics head coach Brad Stevens after another loss?
It's been a year of frustration for Boston Celtics players, coaches, front office, and fans. There has been finger-pointing and others stepping up to take the blame during a season in which the Celtics have clearly not reached expectations. While that frustration has mounted, there may have been a subtle dig aimed at head coach Brad Stevens by star Jaylen Brown after a recent loss to the Charlotte Hornets.
Frustration has mounted for Jaylen Brown and the Boston Celtics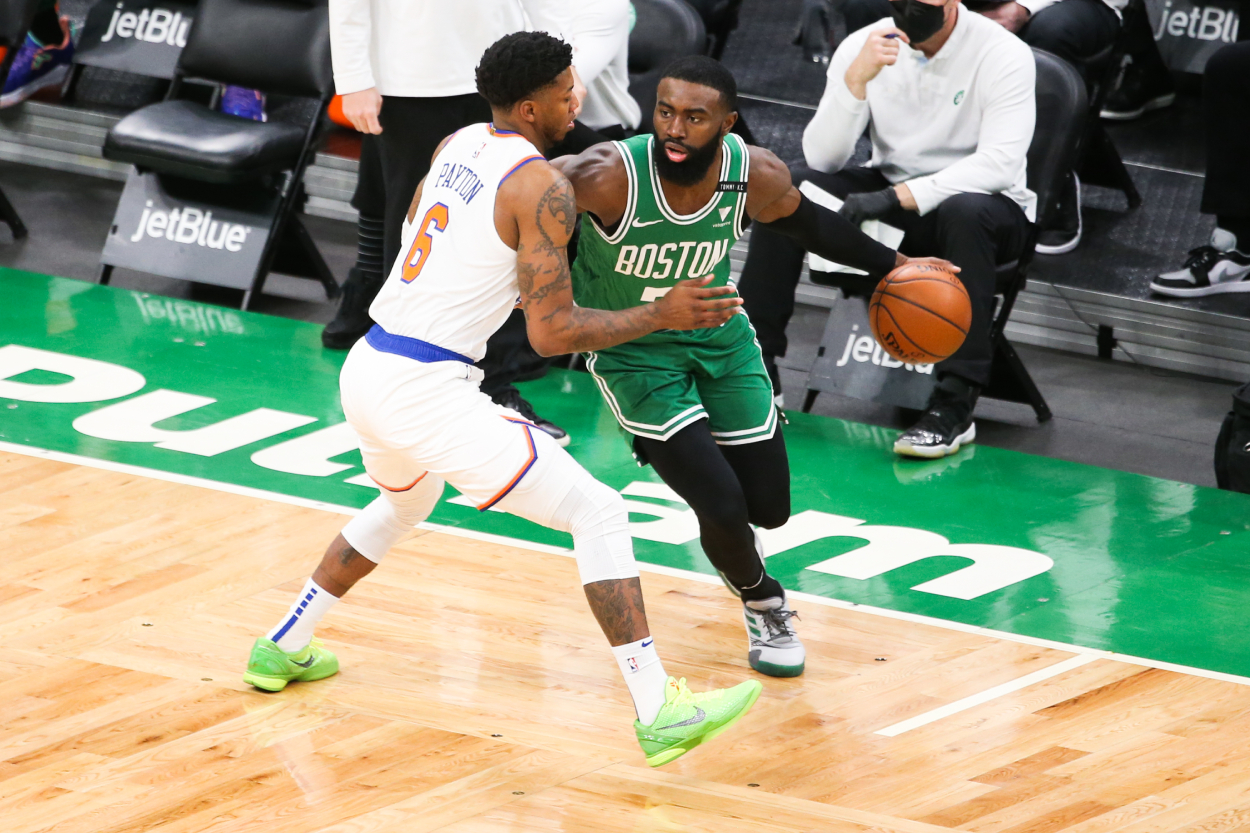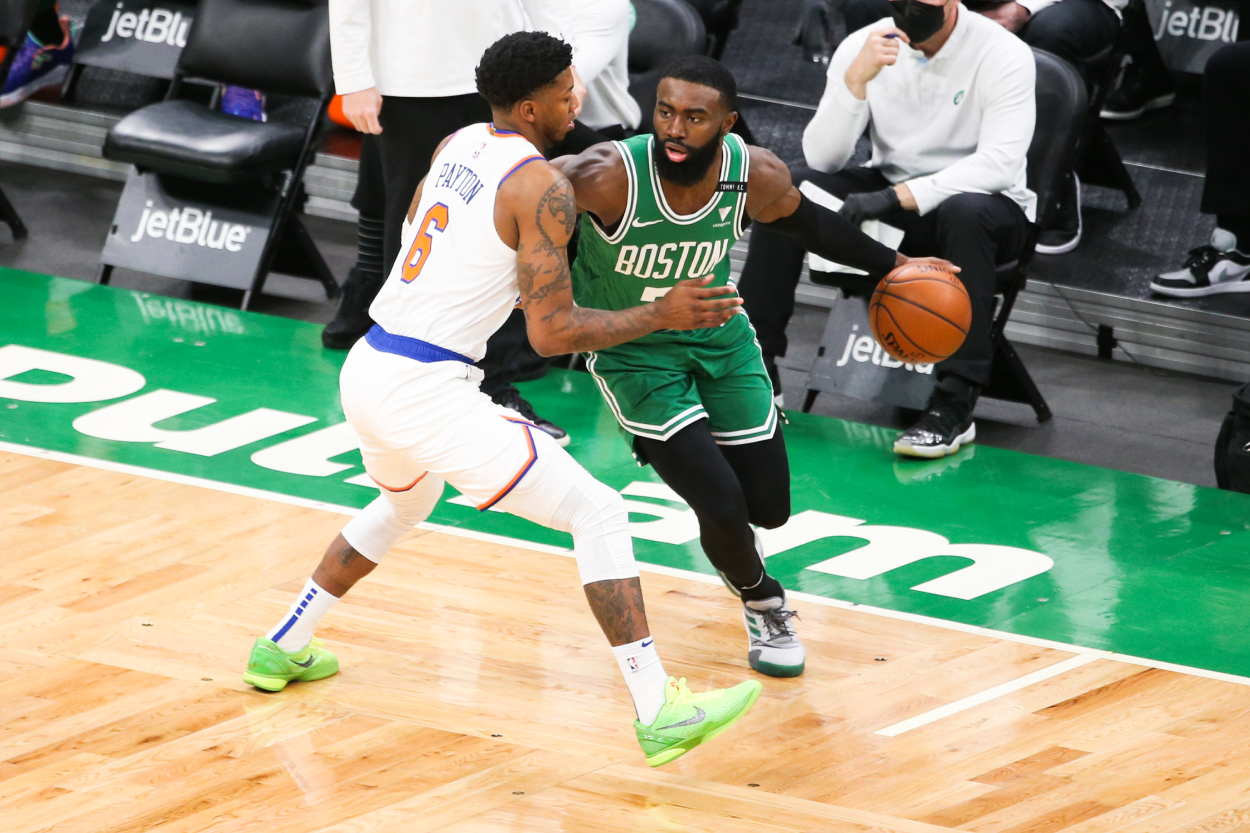 RELATED: Boston Celtics Coach Brad Stevens Makes Shocking $70 Million Decision
Frustration may be the theme for the Celtics this season. The Celtics came into the 2020-21 season with high expectations after reaching the Eastern Conference Finals a year ago. After 62 games, the team is 32-30 and is sitting in sixth place in the Eastern Conference. The Celtics are riding a three-game losing skid and are coming off one of their worst losses of the season.
The Celtics haven't come close to meeting their expectations this season. General manager Danny Ainge tried to take some heat off the players and head coach Brad Stevens earlier this year. Ainge pointed the finger at himself when the team was 14-14, saying the struggles were his fault. Ainge said it was his responsibility to put the team together and admitted the Celtics roster wasn't that good.
During the course of the year, tension has built. Kemba Walker said the team wasn't giving 100 percent in the effort department after an early-season loss. Brown didn't appear to be happy with the team's offense, issuing a "no comment" when asked about the team's ball movement earlier this year.
Did Brown take a cheap shot at Brad Stevens?
Of all the Celtics, Brown, one of two NBA All-Stars in Boston, has seemed to be the most frustrated this season. Being frustrated during a rough season shows Brown cares, but is there more than just frustration brewing inside Brown? Could Brown be unhappy with Stevens?
Back in mid-February, after another one of the many ugly Celtics losses this season, Brown apparently felt it was better to not say anything. A reporter asked Brown what he thought the reason was for the Celtics' ball movement slipping. Brown held silent for quite some time before issuing a "no comment."
After Sunday's loss to the Charlotte Hornets, a team that, for now, is out of the playoff picture, Brown did speak. After the game in which the Celtics were totally dominated by the Hornets, he appeared to take a slight shot at the coaching staff. " "We weren't as prepared to play as they were," Brown said.
Brown's frustrations carried over to Tuesday night
Things got worse for the Celtics on Tuesday. Two nights after getting thumped by the Hornets, the Celtics hosted the Oklahoma City Thunder. The Thunder had just played at Philadelphia the night before, losing to the Sixers by 31 points. It was their 14th consecutive loss. Boston dug itself a deep hole, bailed itself out of it, only to lose 119-115.
Frustration, again, set in for Brown after Tuesday's loss. "F*ck, we gotta play with more of a sense of urgency," Brown said, according to Mass Live. "Tonight, I feel like we didn't have the sense of urgency that we needed across the board. And a team that has some young, talented players came ready to play and we got beat."
Brown clearly called out his teammates for that lack of urgency Tuesday. Saying the team wasn't prepared to play on Monday could be a dig at Stevens, the head coach who is in charge of prepping the team. Brown is clearly frustrated. When he no-comments about the team's ball movement and then says the Celtics weren't prepared for a game, it makes you wonder.