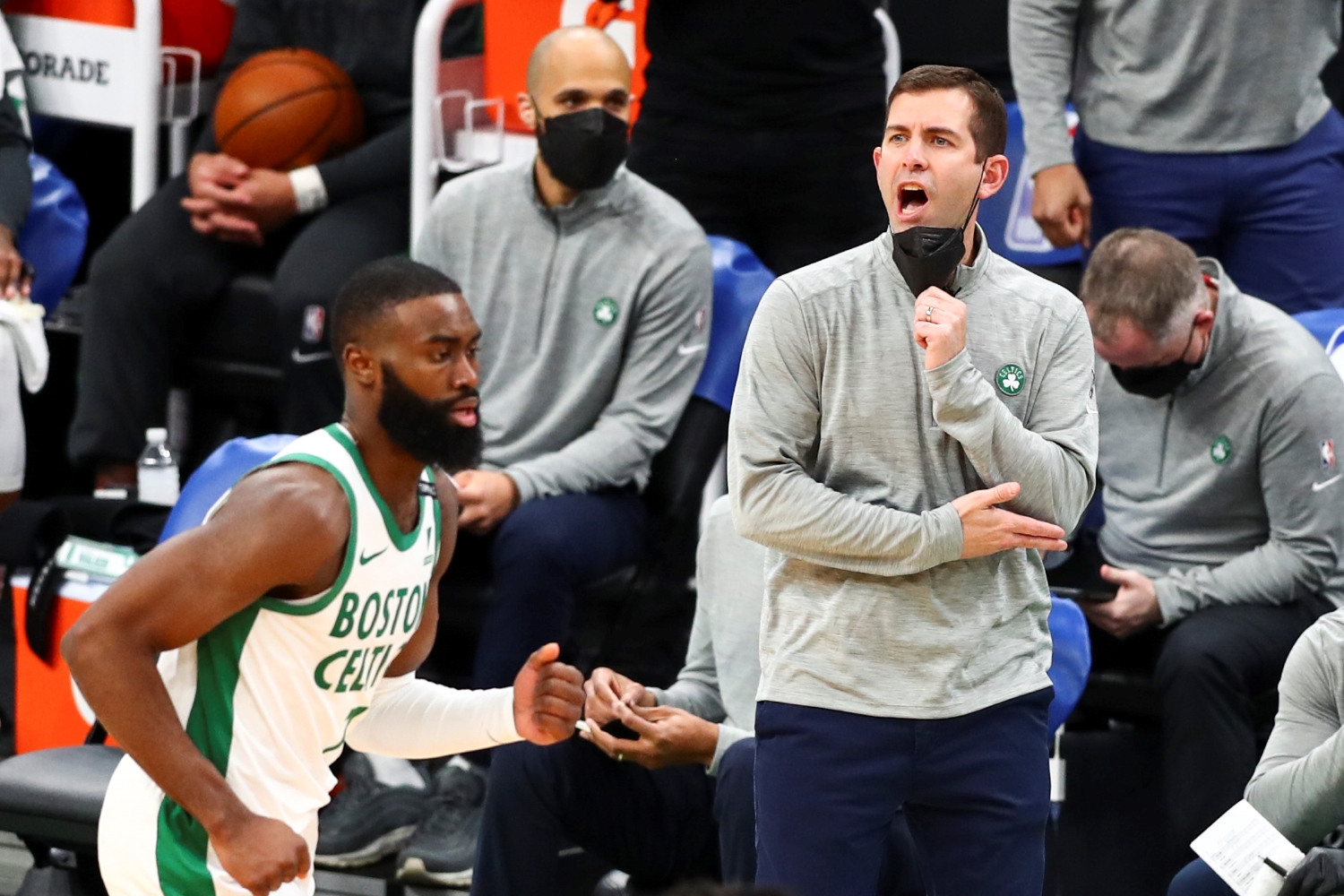 Brad Stevens Sends a Clear Message About His Future With the Boston Celtics
Brad Stevens doesn't sound ready to change jobs anytime soon. But can he deliver an NBA title as the head coach of the Boston Celtics?
After losing to the Miami Heat in the Eastern Conference finals back in September, the Boston Celtics have taken a sizable step back in the eighth year of the Brad Stevens era.
Of course, Celtics fans have watched their beloved team suffer an early playoff exit for six straight seasons.
With his team in the midst of a lackluster campaign, and with a major university looking for a new head coach, Stevens sent a clear message on Friday about his future in Boston.
Boston has fallen well short of expectations this season
The Celtics entered the 2020-21 season with a chance to prove they still belong in the conversation as a legitimate NBA title contender. But after advancing to the Eastern Conference finals in three of the last four years, Boston no longer looks like a major threat.
Even with Jayson Tatum and Jaylen Brown anchoring the team, the Celtics simply haven't lived up to expectations. Although the young duo has combined to average nearly 50 points per game, that hasn't been enough to put Boston over the top on most nights.
Kemba Walker has seen his scoring average drop from 20.4 to just 17.9 in his second season in Boston. Meanwhile, veteran guard Marcus Smart has suited up in just 21 games. And when he has been on the floor, the 27-year-old hasn't shot the ball from 3-point territory at nearly the same clip as he did last season.
Plus, Boston's struggles have carried over to the other end of the floor, too.
For a team that typically plays stout defense, the Celtics have had difficulty keeping their opponents from scoring. Brad Stevens' squad ranks 13th in points allowed per game, which certainly has played a factor in Boston's uninspiring 20-20 record.
Brad Stevens sends a clear message about his future with the Celtics
Brad Stevens has already accomplished quite a bit since he made the leap from college to the pros after establishing a reputation as a rising star at Butler University.
However, the 44-year-old has found himself in the rumor mill this week through no fault of his own. With the University of Indiana firing head coach Archie Miller on Monday, Stevens' name surfaced as a potential candidate to fill his position. Of course, the connection makes sense considering he was born in Zionsville and played basketball at DePauw University.
Facing plenty of questions about his future in Boston, Stevens spoke with the media Friday and sent a crystal clear message about whether he's considering the Indiana job.
"I said it the other day: I'm not," he said during a virtual press conference with reporters. "I'm so grateful to this organization, and to the people here, and for all that they've done for us."
After expressing appreciation for Boston's leadership, Stevens also touched upon his love for coming to work every day and his relationship with the community.
"I hope they [Indiana] hire whoever they hire and they are there for 20 years and kids feel like I did," he explained. "But I'm not a kid anymore. I'm a 44-year-old Masshole. I swerve around others when I'm driving. I eat Dunkin Donuts, and I root for the Patriots."
Stevens is running out of time to win an NBA title
With Brad Stevens putting an end to any speculation about a return to the college game, he must fully focus on how to turn around a Celtics team that continues to trend in the wrong direction.
Since returning from the All-Star break, Boston has dropped three of four games. And aside from a 134-point performance in their victory against the Houston Rockets, the Celtics have averaged roughly 109 points in their three losses.
With half the season already gone, Stevens' squad currently sits in eighth place in the Eastern Conference. That certainly doesn't put the team in a good position to win its first NBA title in more than a decade.
If Boston limps to the finish line and fails to capture a championship again, it will be interesting to see if ownership chooses to move in a new direction sooner than later.
Given the number of bonafide stars who have come and gone during the Stevens era, it's fair to question whether he's the right fit moving forward.
All statistics courtesy of Basketball Reference.