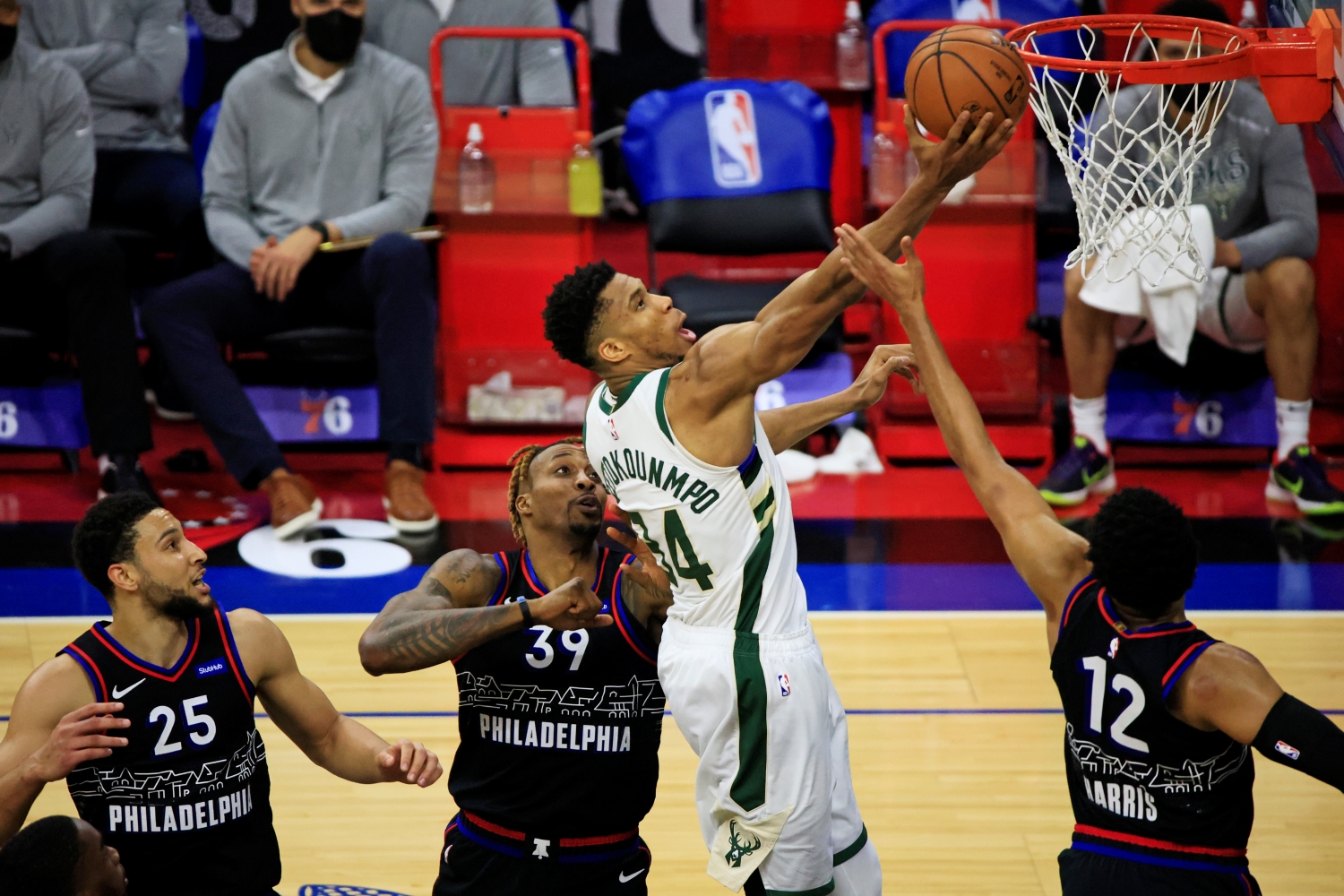 Stephen A. Smith Exposes the Brutal Irony of Giannis Antetokounmpo's Controversial Celebration
Stephen A. Smith didn't hold back in his brutally ironic take on Giannis Antetokounmpo and his signature sitting celebration.
Giannis Antetokounmpo has essentially put up the same numbers as he did a year ago when he won NBA MVP honors for the second straight season. However, the Milwaukee Bucks have failed to replicate the same level of success they enjoyed in 2019-20.
Still, the perennial playoff contenders notched an impressive win Wednesday night by taking down the Philadelphia 76ers on the road. But because of how he celebrated hitting a clutch shot in overtime, Antetokounmpo put himself in the crosshairs for criticism. And it didn't take long for ESPN's Stephen A. Smith to expose the brutal irony of the Greek Freak's controversial move.
Giannis Antetokounmpo drew criticism for how he celebrated against the 76ers
The Bucks entered Wednesday on the heels of a four-game winning streak. But even though they didn't have Joel Embiid in the lineup, the 76ers still put up a valiant fight against Giannis Antetokounmpo and Co.
Ben Simmons recorded a triple-double, and Dwight Howard provided 13 points and 15 rebounds off the bench in a game that didn't end after regulation.
Meanwhile, Milwaukee's starting guard tandem of Jrue Holiday and Donte DiVincenzo combined for 39 points, 14 rebounds, 11 assists, and six steals.
However, once the two Eastern Conference squads squared off in overtime, Antetokounmpo reminded everyone why he's won MVP honors in back-to-back seasons.
The 6-foot-11, 242-pound forward proved unstoppable down the stretch. In fact, he made three consecutive shots to stretch Milwaukee's lead to seven points. However, after hitting a 19-foot jumper, he celebrated by sitting on the court.
That move didn't sit well with one of his opponents.
"I wanted to go and Stone Cold Stunner him, but I had already got one tech," Howard said in his post-game press conference. "It's basketball. He wanted to have fun, but we'll see these guys again."
Stephen A. Smith exposes the brutal irony of the NBA star's controversial celebration
Although Giannis Antetokounmpo explained his sit-down celebration as simply having fun, his controversial move has left him open to criticism. After all, the Bucks didn't sign him to a $228 million contract extension just to win regular-season games.
So for Stephen A. Smith, Antetokounmpo's method of celebrating against the 76ers serves as a brutal example of pure irony. Because even though Milwaukee has become a perennial playoff team in recent years, it has not come close to living up to the hype under the bright lights of the postseason.
"This isn't the sitting I want to talk about when it comes to the Greek Freak," Smith said on ESPN. "I want to talk about how Giannis has been sitting at home, on his couch, the last two years in the playoffs when it really, really counted. Far earlier than he was supposed to be, by the way.
After highlighting Antetokounmpo captured MVP honors and the Bucks posted the best record in the NBA during the 2018-19 season, Smith pointed out how Milwaukee proceeded to lose the last four games of the Eastern Conference finals to the Toronto Raptors.
Of course, the Bucks suffered an early playoff exit last season, too.
"If Giannis Antetokounmpo doesn't want people to complain about him sitting now, can't be sitting when it matters most in the postseason," Smith said. "He's got to handle his business."
Can the Bucks finally achieve their goal of winning an NBA title this season?
With a 26-14 record, the Bucks currently sit in third place in the Eastern Conference.
While they've had no trouble scoring, they have struggled to stop teams from putting the ball in the basket. However, Milwaukee just acquired a player who should help shore up some of those issues on the defensive end of the floor.
By trading for P.J. Tucker, the Bucks now have a battle-tested veteran who can contribute in multiple ways. The 35-year-old didn't put up crazy numbers with the Houston Rockets, but he provided stout defense, rebounding, and 3-point shooting ability as a full-time starter.
Considering they surrender 112.5 points per game, the Bucks certainly need all the help they can get to improve on defense.
Still, it's tough to see Milwaukee taking down a healthy trio of James Harden, Kyrie Irving, and Kevin Durant. So unless Giannis Antetokounmpo gets a ton of help from a supporting cast that lacks that same star power, don't expect him to win a championship ring this season.
All statistics courtesy of Basketball Reference.