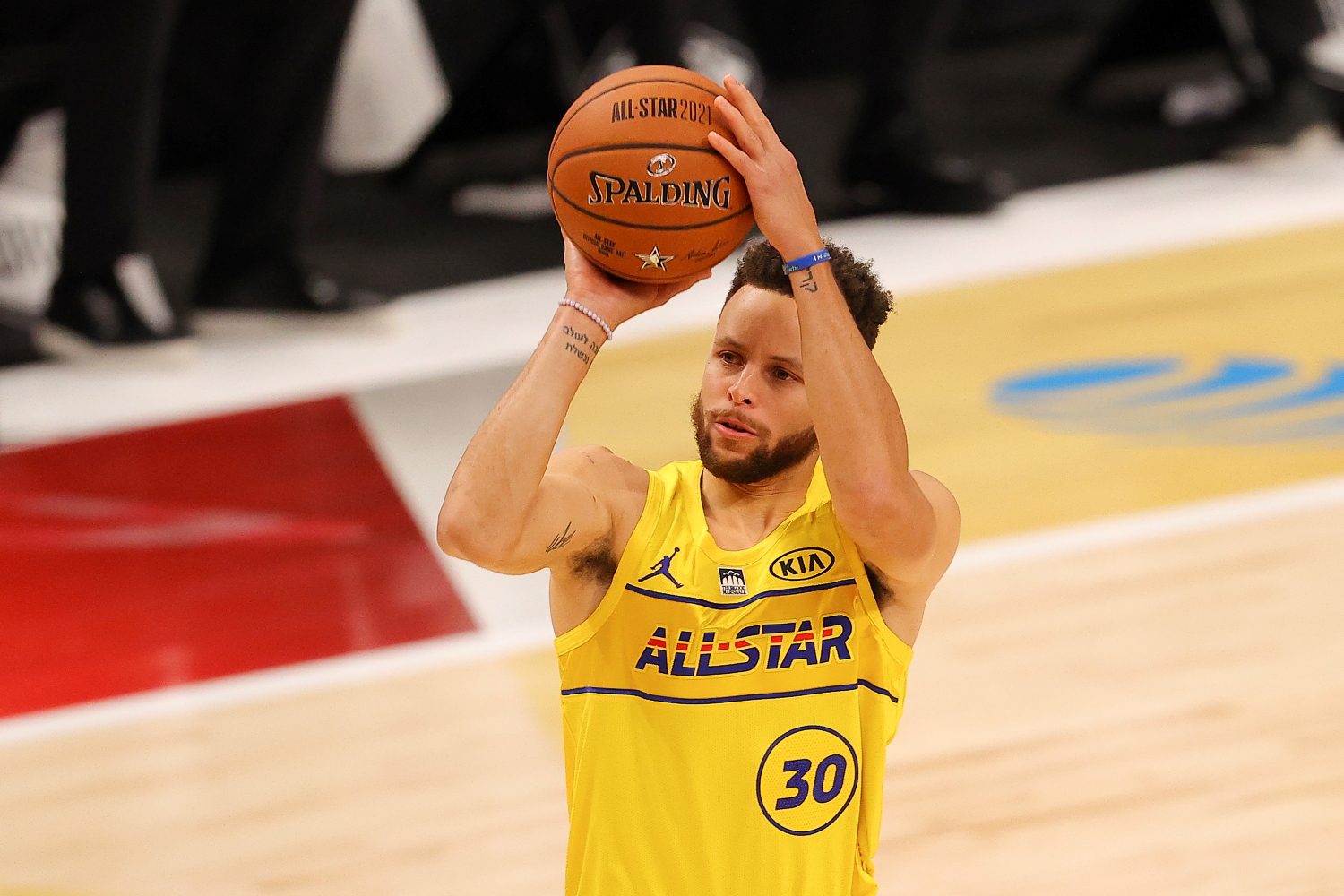 Stephen Curry Sent a Chilling Warning About His NBA Future After His Dominant All-Star Game Performance
Stephen Curry reminded the rest of the NBA of what lies ahead after he scored 28 points in the 2021 All-Star game.
The Golden State Warriors sorely missed Stephen Curry last season. But after missing most of the year due to injury, the sharpshooting guard has remained healthy and put up ridiculous numbers in the process.
Thanks to his ability to connect from just about anywhere on the court, the soon-to-be 33-year-old recently earned his seventh trip to the NBA All-Star Game. And after dominating the festivities, Curry sent a chilling warning to the rest of the league about his future.
Stephen Curry has looked like his old self this season
After averaging 27.3 points in 69 games during the 2018-19 season, Stephen Curry only suited up in five contests last year. Already on the wrong side of 30, the three-time NBA champion entered the 2020-21 season with a point to prove.
Through the first half of what's been an up-and-down year in Golden State, the team's top star has looked like his old self despite not having Klay Thompson by his side.
In 35 games, Curry has averaged 29.7 points, 5.5 rebounds, and 6.3 assists. And even though he's taking more shots than ever before, the 6-foot-3, 185-pound guard continues to operate at an efficient level.
Curry has shot 41.1% from behind the arc and 47.8% from the field overall. And with a free-throw percentage of 93.4, the dynamic guard continues to set the standard for knocking down shots from the charity stripe.
A legitimate MVP candidate through the first half of the regular season, Curry clearly has more than enough juice left in the tank as he approaches his 33rd birthday. And after lighting up the court Sunday night, the future Hall of Famer delivered a chilling warning about his NBA future.
The Warriors star sent a chilling 10-warning about his future after his dominant NBA All-Star game performance
For the second time in his career, Stephen Curry won the 3-point contest that takes place every year before the NBA All-Star Game. By nailing his "money" ball shot, the Warriors star successfully edged out Utah Jazz guard Mike Conley by one point.
Ironically, he totaled the same number of points in the 3-point contest as he later did in the All-Star Game itself.
Although Giannis Antetokounmpo took home MVP honors after scoring a game-high 35 points, Curry could have won the trophy, too.
The 32-year-old scored 28 points on 10-of-19 shooting as a member of Team LeBron. He hit 50% of his 16 attempts from behind the 3-point line. And after showcasing his legendary touch for the winning team, he sent a chilling warning about his NBA future.
"I have a lot to accomplish. I don't have anything to prove," Curry said in his post-game virtual press conference. "There's a subtle difference there."
With multiple championship rings and plenty of individual accolades on his resume, he could walk away from the game right now and still earn a spot in the Naismith Memorial Basketball Hall of Fame one day. Yet, Curry clearly has no intention of going away quietly.
How more does Curry have left to accomplish?
Even LeBron James can admit Stephen Curry deserves the title of "greatest shooter of all time" when it comes to NBA players. In fact, the LA Lakers star paid tribute to his temporary teammate last night after Curry's impressive performance.
"Finally got to share the floor with @StephenCurry30! Well overdue and I loved every single second!!" James tweeted.
Of course, the two faced each other in four straight NBA Finals. But even though Curry's team came out on top three times, the shooting guard still ranks behind James on most lists of all-time NBA greats.
So what more does the two-time MVP have to accomplish?
Curry should pass Ray Allen for the most 3-pointers made in league history at some point next season. And if he holds pace, he will retire as the most accurate free-throw shooter of all time.
But at the end of the day, he doesn't need to win more individual awards to prove his worth.
At this point, his NBA legacy rests on his ability to win more championship rings. And if Klay Thompson can finally get healthy, don't be surprised if Stephen Curry and his longtime running mate find a way to lead the Warriors to another title sooner than later.
All statistics courtesy of Basketball Reference.