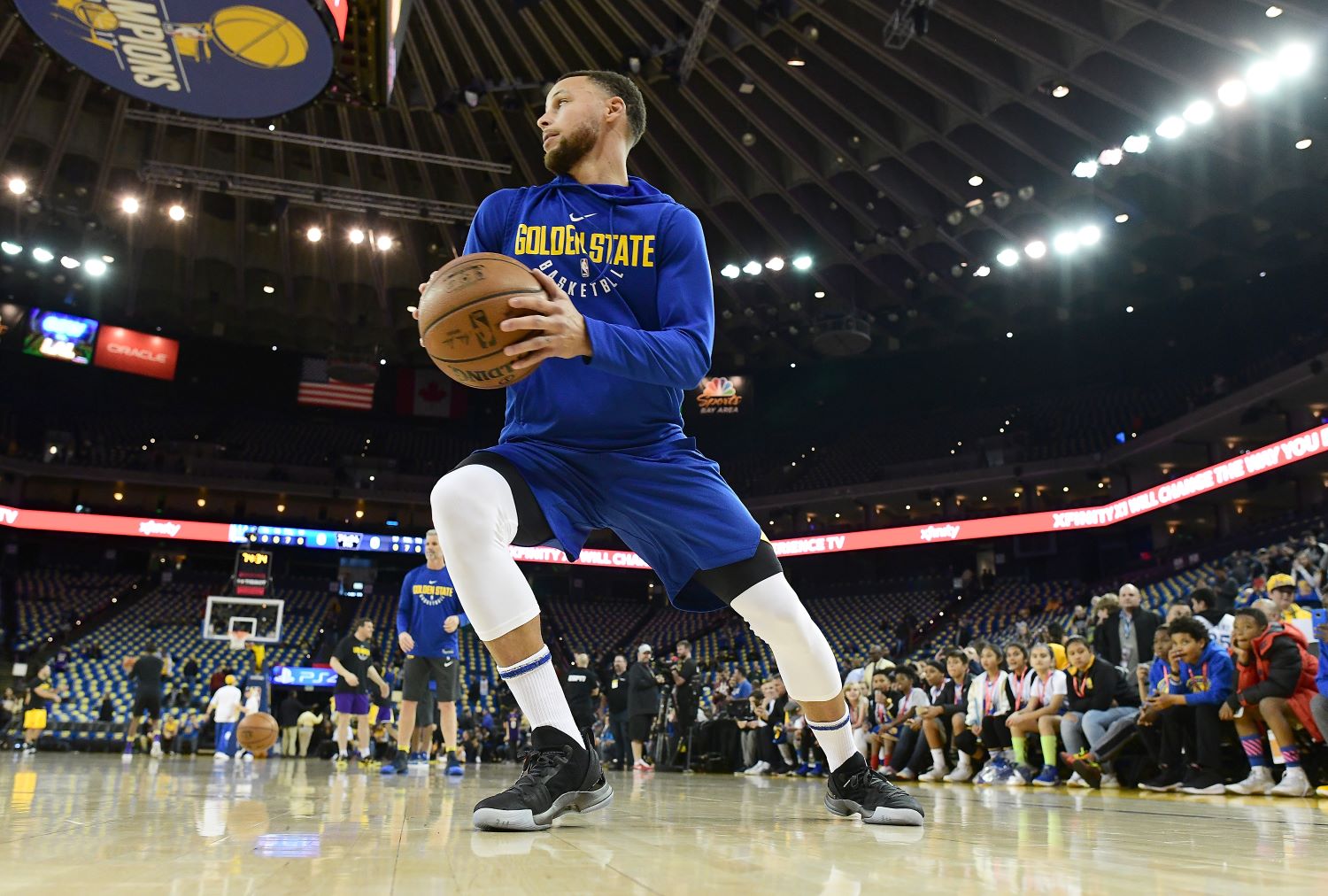 Stephen Curry Can Now Call Himself the Michael Jordan of Under Armour
By launching his own division called Curry Brand, Warriors superstar Stephen Curry can now call himself the Michael Jordan of Under Armour.
While Stephen Curry hasn't entered the GOAT conversation yet, he has made a massive business move that Michael Jordan would appreciate. But even though the two-time NBA MVP can now call himself the MJ of Under Armour, that won't matter to Golden State Warriors fans if the team has another losing season.
Can Curry rediscover his superstar form after an injury-shortened campaign? Or will the absence of Klay Thompson result in another down year for Golden State?
Michael Jordan built a massive fortune thanks to his Nike deal
On the court, nobody could match Michael Jordan's competitiveness. That attitude carried over to the business world. And to little surprise, the greatest player in NBA history has dominated in that realm, too.
While Jordan certainly got paid well for his basketball prowess, his $2 billion net worth stems in large part from his Nike deal. Of course, the Chicago Bulls legend nearly took his talents to Adidas before signing with their chief rival.
His Airness became an immediate hit for Nike. Air Jordan sales totaled $126 million in year one—a figure that blew away Nike's expectations by a ridiculous margin.
Decades later, Jordan and his brand still generate consistent revenue for the sports apparel giant. Back in June, Nike released sales data that showed the Jordan brand was the only shoe category that went up during the previous 12 months. Needless to say, not even the COVID-19 pandemic has stopped Michael Jordan from dominating the business world.
Stephen Curry can now call himself the MJ of Under Armour
Early in his NBA career, Stephen Curry had a partnership with Nike. However, the Warriors star switched teams in 2013 when he took his talents to Under Armour.
Since then, his signature shoe sales have fueled the brand's success. And now, Curry has taken his own brand to another level that now makes him a business adversary for Michael Jordan.
On Monday, Shams Charania of The Athletic reported via Twitter that Curry is launching his own division within Under Armour called Curry Brand.
According to CNBC, CurryBrand.com will launch this week. The new line features shoes and clothes for a range of sports. A new version of Curry's signature basketball shoes will be available on Dec. 11.
"We wanted to make sure we did this as close as possible to the NBA season finally launching," Under Armour Chief Executive Patrik Frisk told CNBC. "And the fact that we're launching in between Black Friday and the holidays we think is very opportune."
Frisk further added, "This also gives Stephen something to really engage in…he'll be actively involved in the development of the product."
For Curry, the launch of his own division with Under Armour represents a massive step forward in the business world. But after taking a step back in his basketball career, can he rediscover his superstar form for the 2020-21 season?
Can Curry rediscover his superstar form this season?
A hand injury sidelined Stephen Curry for all but five games last season. And after averaging at least 25 points in each of the last four seasons, he averaged just 20.8 points in his abbreviated campaign.
Not having Klay Thompson and Kevin Durant by his side certainly hurt. And once again, Curry will be without his longtime running mate this year.
With one half of the Splash Brothers on the shelf, it will be interesting to see how teams defend Curry. Neither Draymond Green nor Andrew Wiggins shoots well from 3-point territory. The newly-acquired Kelly Oubre Jr. owns an uninspiring 32.9% career mark from behind the arc. Curry may have a hard time finding open looks if teams don't have to worry about Golden State's other starters knocking down shots.
It's also fair to wonder how much the 32-year-old has left in the tank. He's undersized and has dealt with ankle issues in the past. Will the wear and tear of playing so many extra postseason games eventually catch up to the sharpshooting guard? Considering how much of a load he will have to carry this season, he will certainly be subjecting himself to some punishment.
Then again, when you launch your own division with one of the biggest sports apparel brands in the world, the pain can't be too bad, right?
All statistics courtesy of Basketball Reference.