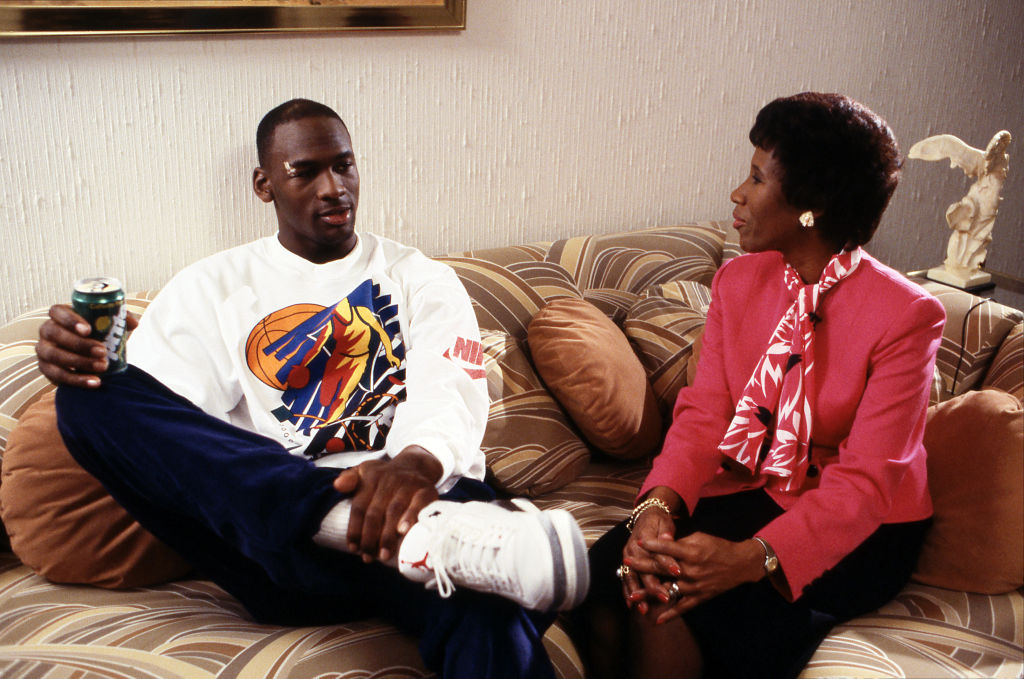 Michael Jordan Never Would Have Signed With Nike If It Wasn't for His Mother
Michael Jordan and Nike is maybe the most iconic partnership in sports, but they never would've joined forces if it wasn't for Deloris Jordan.
Nike is one of the most famous brands in the world thanks to Michael Jordan, but the Bulls legend would never have signed with Nike without help from his mother, Deloris. Jordan was so invested in joining Adidas that he didn't even want to take a meeting with Nike. His mother urged him to at least hear what they had to say, so he did. The rest is history.
Michael Jordan wanted to sign with Adidas in 1984
During episode five of "The Last Dance," which aired Sunday night, Michael Jordan admitted Nike was not his original shoe brand of choice. "That was Adidas," Jordan said during the episode.
"I like the Lakers, I like Marques Johnson, and I like Adidas. I like Adidas shoes," Jordan also said.
At the time, Adidas obviously didn't know that Jordan would soon become a global phenomenon. No one knew in 1984. Jordan was just 21 years old at the time. Brands love to snag promising NBA players before their careers take off, but it's anyone's guess which players will rise to the top and which will flame out.
Adidas wanted Jordan at the time, but they couldn't offer him a signature shoe. Jordan's agent, David Falk, saw the company was out of sorts. Adidas didn't realize how lucky it was to be Jordan's No. 1 choice, and it eventually cost them billions of dollars.
Michael Jordan's mother encouraged him to consider Nike
Nike wouldn't be the company it is today without Michael Jordan, and it has Jordan's mother to thank. Deloris Jordan appeared in episode five of "The Last Dance" and talked about her son's decision to sign with a shoe brand.
Deloris said Michael didn't even want to go to his meeting with Nike because he was dead set on signing with Adidas at the time. She told him it's not fair to blow them off, so go listen to what they have to say and you can cross them off the list afterward.
So, Michael listened. Only, he didn't cross Nike off the list after the meeting. He immediately signed with the brand. Nike offered Jordan his own signature shoe line as a rookie, and both Jordan and Falk agreed it was the right move.
Thus, the Air Jordan shoe line was born.
Adidas missed out on billions of dollars in 1984
As of 2020, Nike is valued at $34.8 billion. Adidas is valued at $12 billion, less than half of Nike. If Adidas signed Jordan in 1984, it's possible those numbers are switched today.
Jordan is the most valuable athlete in the world. His net worth stands at a whopping $2.1 billion in 2020, and his partnership with Nike is the main reason for that. Jordan has made an estimated $1.3 billion from Nike alone.
Air Jordans became the most popular basketball shoe in the world overnight. They're still beloved in the basketball community today. "It's gotta be the shoes" and "Be like Mike" turned Nike into the global powerhouse it is today.
If Deloris Jordan didn't convince her son to take a meeting with Nike, Adidas' three stripes would be the most popular sports icon today over the Nike swoosh. Adidas will forever regret its decision not to offer Jordan a signature shoe line in 1984.