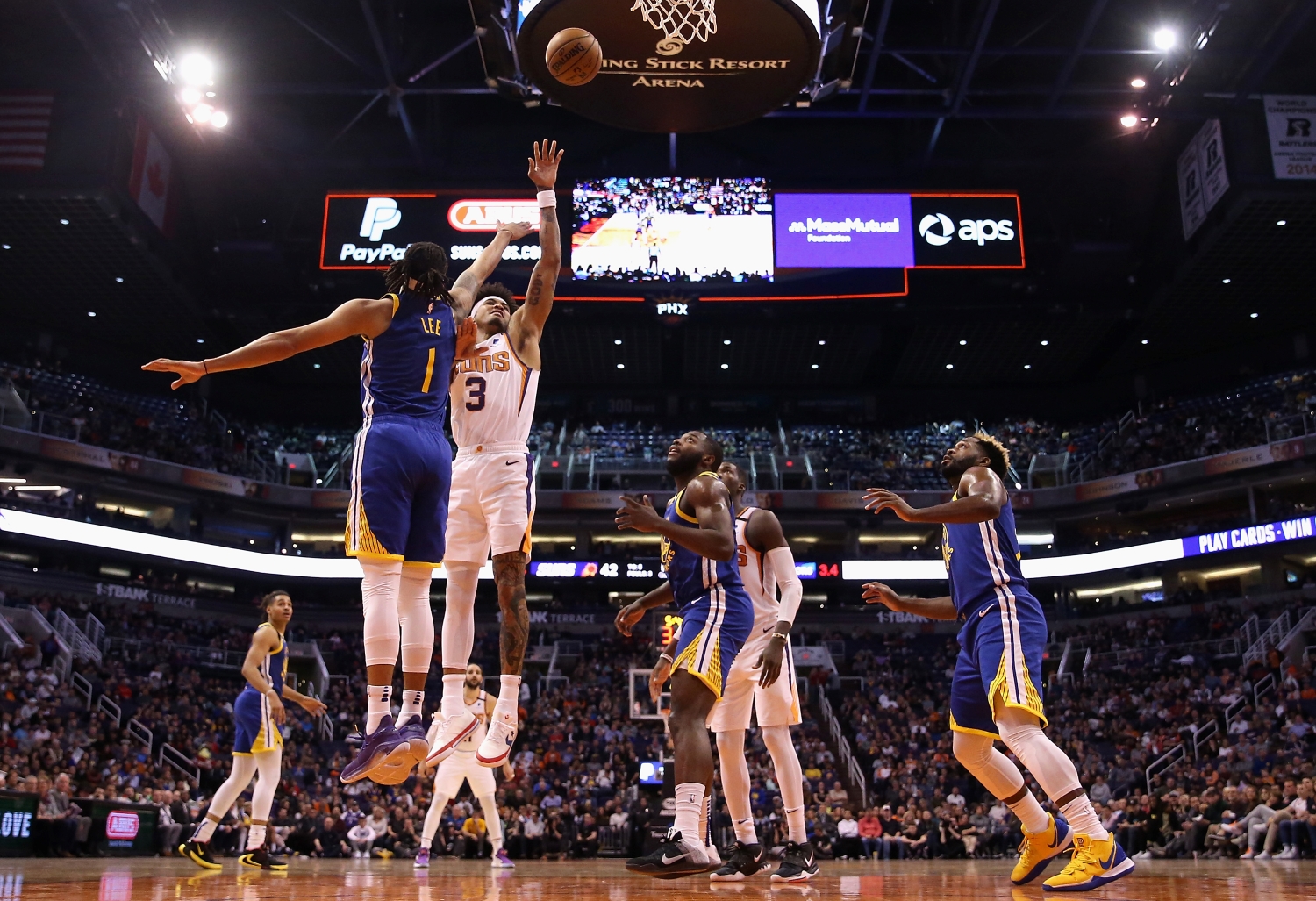 The Golden State Warriors Will Pay an Extra $68 Million for a $14 Million Player
Kelly Oubre Jr. only has a $14.4 million salary, but he will cost the Warriors more than four times that amount because of the luxury tax.
With Klay Thompson suffering yet another brutal injury, the Golden State Warriors plan on adding a talented scorer to their lineup. But if they succeed in trading for Kelly Oubre Jr., he will cost much more than his $14.4 million salary.
In fact, the Warriors will pay an extra $68 million to add the Oklahoma City Thunder forward to their lineup. Let's dig deeper into the major financial implications of this potential trade.
Kelly Oubre Jr. is on the move after a breakout season
Drafted 15th overall in 2015 by the Atlanta Hawks, Kelly Oubre never played a minute for the franchise. Instead, the Hawks traded his draft rights to the Washington Wizards.
The 6-foot-7, 203-pound small forward developed into a double-digit scorer before getting traded to the Suns during the 2018-19 season.
Last year, Oubre took his game to another level. He finally got a chance to be a full-time starter and he did not disappoint.
In his fifth NBA season, Oubre set career-highs in multiple categories. He averaged 18.7 points on 45.2% shooting. He also set personal-bests in rebounds (6.4), steals (1.3), and 3-point percentage (35.2).
However, the Suns recently traded Oubre to the Thunder as part of the Chris Paul deal. And now, it sounds like he will be on the move again before he ever has a chance to score a point for OKC.
The Warriors will pay an extra $68 million to acquire the Thunder forward
On Thursday, Adrian Wojnarowski of ESPN reported that the Warriors are finalizing a trade to acquire Kelly Oubre from the Thunder. Golden State will reportedly send back a 2021 protected first-round pick in order to acquire the 24-year-old forward.
The deal will cost the Warriors much more than that, though.
In fact, acquiring Oubre will lead to an expensive bill for owner Joe Lacob.
Despite carrying a salary of just $14.4 million, Oubre will cost the Warriors a total of $82.4 million. But how can that be?
Golden State already has a luxury tax bill of $66 million. But by adding Oubre to the books, that will results in another $68 million in taxes. In total, the Warriors will have to pay about $134 million in luxury taxes if they succeed in bringing Oubre on board.
On one hand, it's fair to question whether Golden State should foot such an expensive bill for a player who most would describe as solid but not spectacular. But given Thompson's season-ending Achilles injury, the Warriors may have no choice but to take the financial hit in order to field a competitive starting lineup.
Will the addition of Oubre help make up for the loss of Klay Thompson?
For Kelly Oubre, playing for the Warriors will come with a ton of pressure. After all, he's being brought in to provide much-needed scoring now that Thompson is out for the year.
But while the Warriors' injured star is one of the best shooters in NBA history, Oubre does not bring nearly the same skillset to the table. In 348 career games, he has shot just 43.1% from the field and 32.9% from 3-point territory.
Meanwhile, Thompson owns a career shooting percentage of 45.9% to go along with a 41.9% mark from behind the arc.
Still, Oubre provides the Warriors with length and athleticism up front. And based on his breakout season a year ago, would it be shocking if he takes another step forward and averages 20 points per game?
Overall, Golden State has plenty of upside after adding James Wiseman with the No. 2 pick. Trading for Oubre will give the Warriors another young weapon with growth potential.
And with Steph Curry back in the fold, the Warriors may just surprise some people even after losing their second-biggest star for the season.
All statistics courtesy of Basketball Reference.