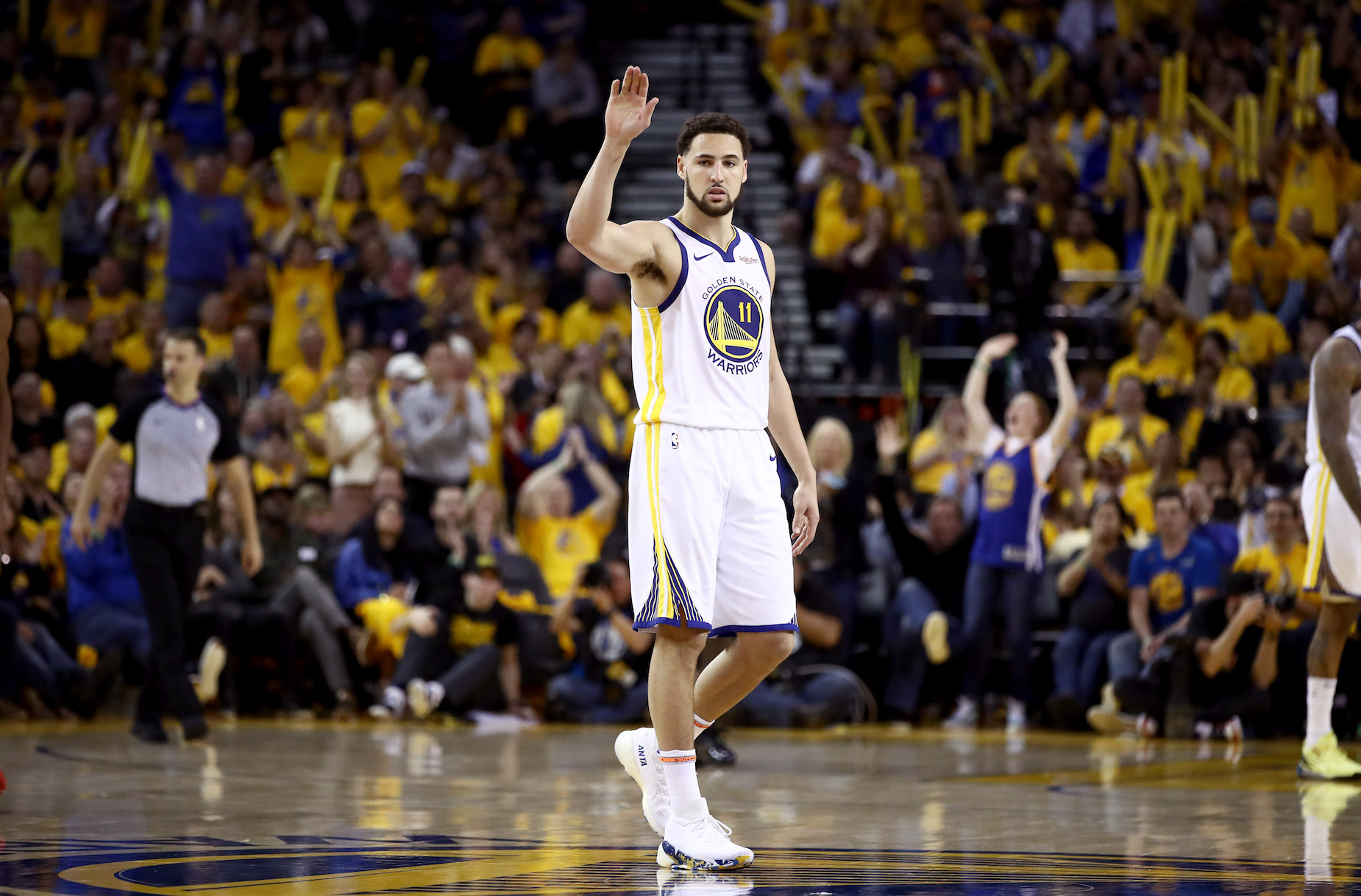 Klay Thompson Chose Anta Over Nike and Addidas So He Could 'Be the Michael Jordan' of the Brand
Klay Thompson chose to sign a sneaker deal with the Chinese company Anta, hoping to be the Michael Jordan of their brand.
While he hasn't taken the floor since the 2019 NBA Finals, no one can argue with Klay Thompson's talent. During his time with the Golden State Warriors, the guard has established himself as a pure shooter and explosive scorer; that's helped make him one of the bigger names in modern basketball. Despite that reality, though, he signed a shoe deal with Anta, rather than Nike, Adidas, or Under Armour.
That decision, however, wasn't because anyone overlooked Thompson or considered him a no-name NBA player unworthy of a big-name shoe contract. Instead, he chose Anta so he could "be the Michael Jordan" of their brand.
Klay Thompson's rise to NBA stardom
Since he hasn't hit the hardwood since last summer, Klay Thompson may have fallen off the NBA radar. When he's healthy, though, the Golden State Warriors guard is an elite talent.
As the son of an NBA player, Thompson always seemed destined for big things on the basketball court. He made a name for himself in high school before taking his talents to Washington State. While he was already a prolific shooter when he arrived on campus, the guard took things to the next level in college; by the time he left campus, Thompson had become a legitimate scorer, capable of carrying his team to victory on any given night.
On the back of that success, Thompson entered into the 2011 NBA draft; the Golden State Warriors selected him with the 11th-overall pick. While the guard mostly came off the bench during his rookie season, his silky-smooth jump shot translated into the professional game.
Since then, Klay Thompson and Steph Curry have become two of the biggest names in basketball. While the 2019-20 season was a lost cause due to a variety of factors, that doesn't change their talent; when both of the Splash Brothers are healthy, the Warriors should return to form.
Choosing Anta to be their Michael Jordan
In the world of basketball, shoes are big business. Klay Thompson, however, didn't follow the crowd and ink a deal with one of the traditional power players.
In 2014, Thompson chose to leave Nike and join up with Anta, a Chinese sportswear brand. While that decision initially raised some eyebrows among North American basketball fans, the Golden State Warriors guard identified an opportunity. In addition to tapping into the massive Chinese market, the deal gave him a chance to be the big man on campus.
"I knew with the other brands in the States, whether it was Nike or Adidas, it was going to be tough for me to get a signature shoe," Thompson explained to Nick DePaula of Nice Kicks in 2017. "I knew with Anta, I would have so much input creatively. I was going to hopefully be the Michael Jordan one day of Anta. That really resonated with me, and knowing that I could be really big in China, that was really cool to me. The shoe market sometimes is overflooded in the States, and I thought, 'Well, why not branch out and be global."
That move has since paid off for Klay Thompson
Based on conventional wisdom, Klay Thompson made a questionable choice by signing a sneaker deal with Anta. In retrospect, though, it seems like that move has literally paid off.
As mentioned above, Thompson first joined the Chinese brand in 2014; within two years, however, they had renegotiated the deal, keeping the guard with Anta until 2026. According to Forbes, that contract pays the guard approximately $9 million per year.
While $9 million per year might not be in the upper echelon of sneaker contracts, it's still a nice chunk of change; that, combined with Klay Thompson's new max contract means he won't be hurting for money anytime soon. Even if he's not on Michael Jordan levels yet, the guard is doing pretty well for himself as both a basketball player and a brand.