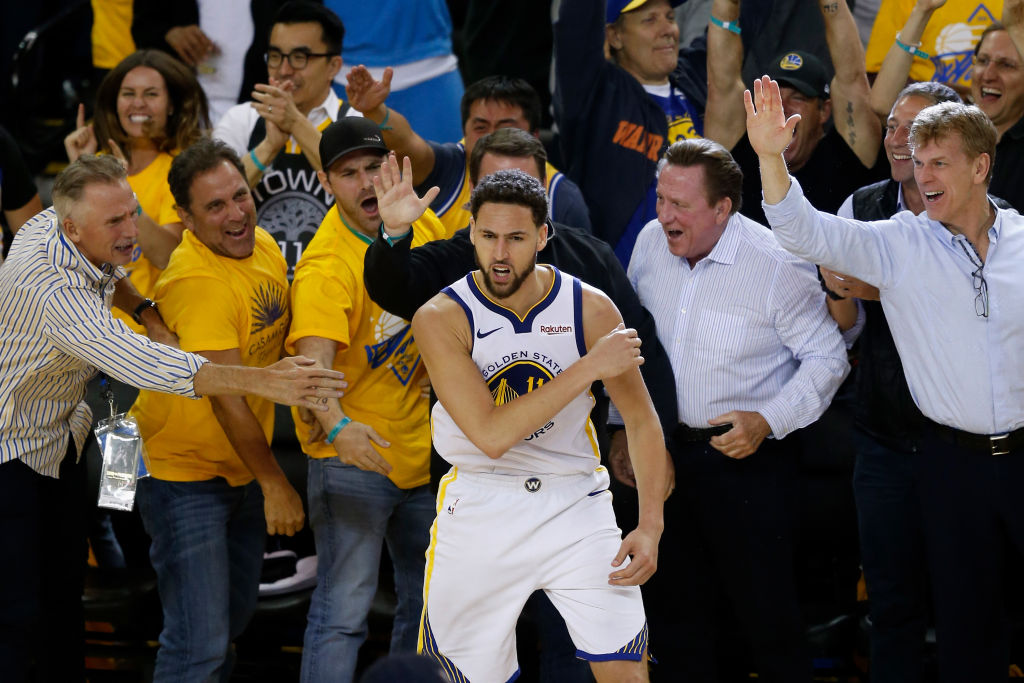 Klay Thompson Has Made $111 Million in the NBA, But Still Believes That 'Wealth is a Mindset'
Golden State Warriors guard Klay Thompson has made more than $100 million in the NBA, but he believes that "wealth is a mindset."
Despite their struggles during the 2019-20 season, the Golden State Warriors have been one of the top teams in recent NBA history. The duo of Steph Curry and Klay Thompson is the cornerstone of their success; unsurprisingly, both players have been rewarded with sizable salaries.
While Thompson has earned $111 million playing in the NBA, he isn't concerned with the number of zeros on his paycheck. For all his money, he still believes that "wealth is a mindset."
Klay Thompson's rise to NBA stardom
As the son of two-time NBA champion Mychal Thompson, Klay Thompson seemed destined for basketball success. He proved to be a prolific shooter in high school and then took his talent to Washington State.
With the Cougars, Thompson continued to blossom. During his first year on campus, he averaged 12.5 points per game and earned a place on the Pac-10 All-Freshman team; by the time he was a junior, he was dropping 21.6 points per night and setting school scoring records.
The Warriors selected Thompson with the 11th overall pick in the 2011 NBA draft; while it took him some time to adjust to the professional game, he continued to knock down jump shots with ease. The guard would prove to be the perfect compliment to Steph Curry, and the two Splash Brothers helped Golden State claim three NBA titles.
While he missed the entire 2019-20 season recovering from a torn ACL, Thompson should remain an important member of the Warriors as the club looks to return to dominance. He's averaging 19.5 points per game and shooting 45.9 percent from the floor from his career; once he works off the rust, there's no reason to think he won't continue to excel.
Wealth is a mindset, not a number
It goes without saying that Klay Thompson is incredibly wealthy. While making millions changed his life, the guard says that wealth is more of a mindset than anything else.
"I still remember the number when I saw that [first NBA] check, and it was, like, incredible," Thompson explained on the UNDEFEATED's Kneading Dough. He used some of that money to buy a pool table, but material possessions didn't make him any happier.
"I just love life experience. I love to travel. I grew up in Oregon, so I love being outdoors," he continued. "Wealth is a mindset, man. If you have relationships and experiences around you, those are priceless, you know? That's better than any car you can get, any big house. It's just about those relationships to me."
Klay Thompson has plenty of money in the bank
Klay Thompson might think that wealth is a mindset, but that doesn't change his bottom line. No matter how you slice it, the Golden State Warriors guard has plenty of money in the bank.
During his nine seasons in the Bay Area, Thompson has earned just over $111 million. He's also in the first year of a super-max deal; by the time that contract expires, his total earnings will eclipse $268 million. He also takes home a reported $10 million per year from his sneaker deal with Anta.
At the end of the day, Klay Thompson has the best of both worlds. Even if he prefers to keep things simple and prioritize experiences over possessions, he has more than enough cash to splash out if the mood strikes. That's the benefit of being a three-time NBA champion.