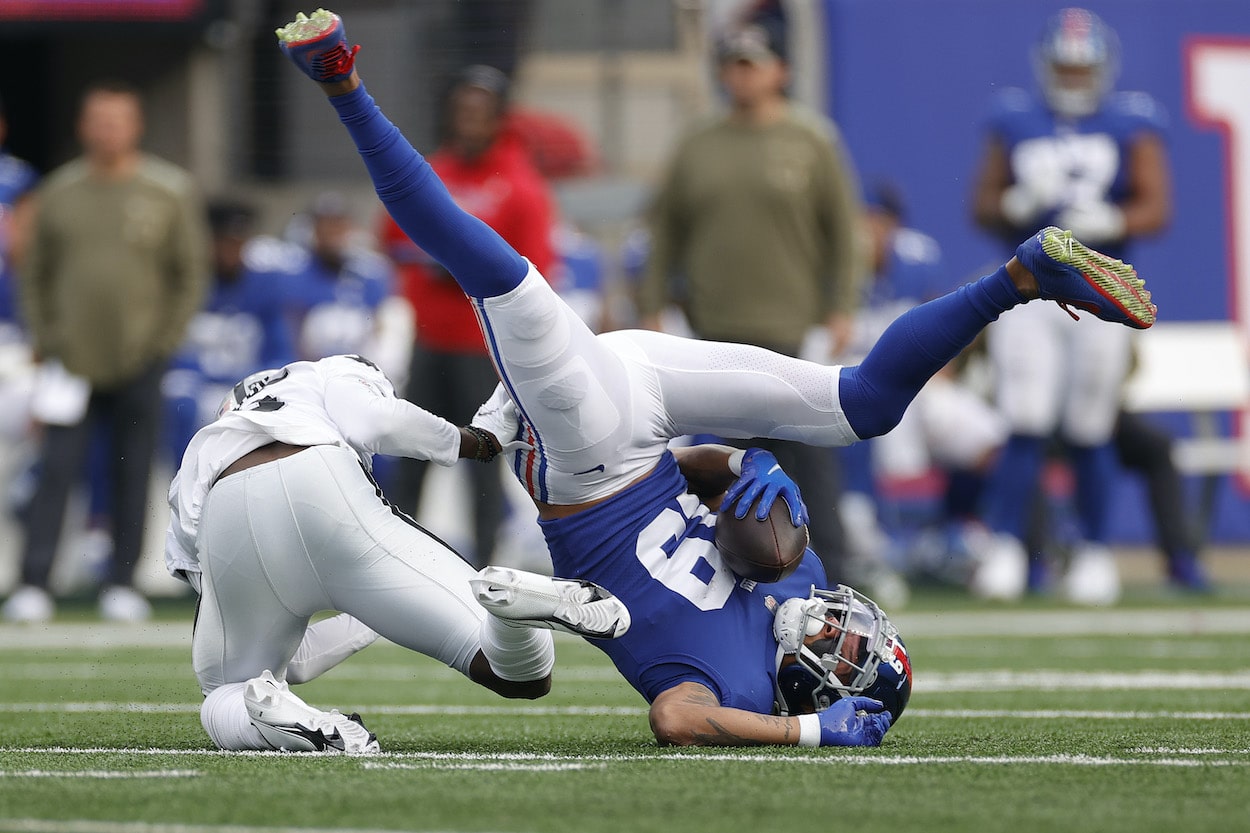 How Long are the Giants Stuck With the Kenny Golladay Contract?
The New York Giants' Kenny Golladay contract was a massive mistake. Here's how soon the franchise can get out of the deal.
Free agency is basically rewarding a player for past performance and hoping future results measure up to (or even exceed) what a player has done before. Sometimes you sign an injured quarterback, and he turns into Drew Brees. Sometimes you sign the best wide receiver on the market, and he gives you next to nothing for two seasons, like the New York Giants did in 2021 with the Kenny Golladay contract. Now, for Giants fans, the question becomes not can the receiver turn it around, but simply how long until Golladay is gone.
WR Kenny Golladay was one of the big free-agent signings of the 2021 NFL offseason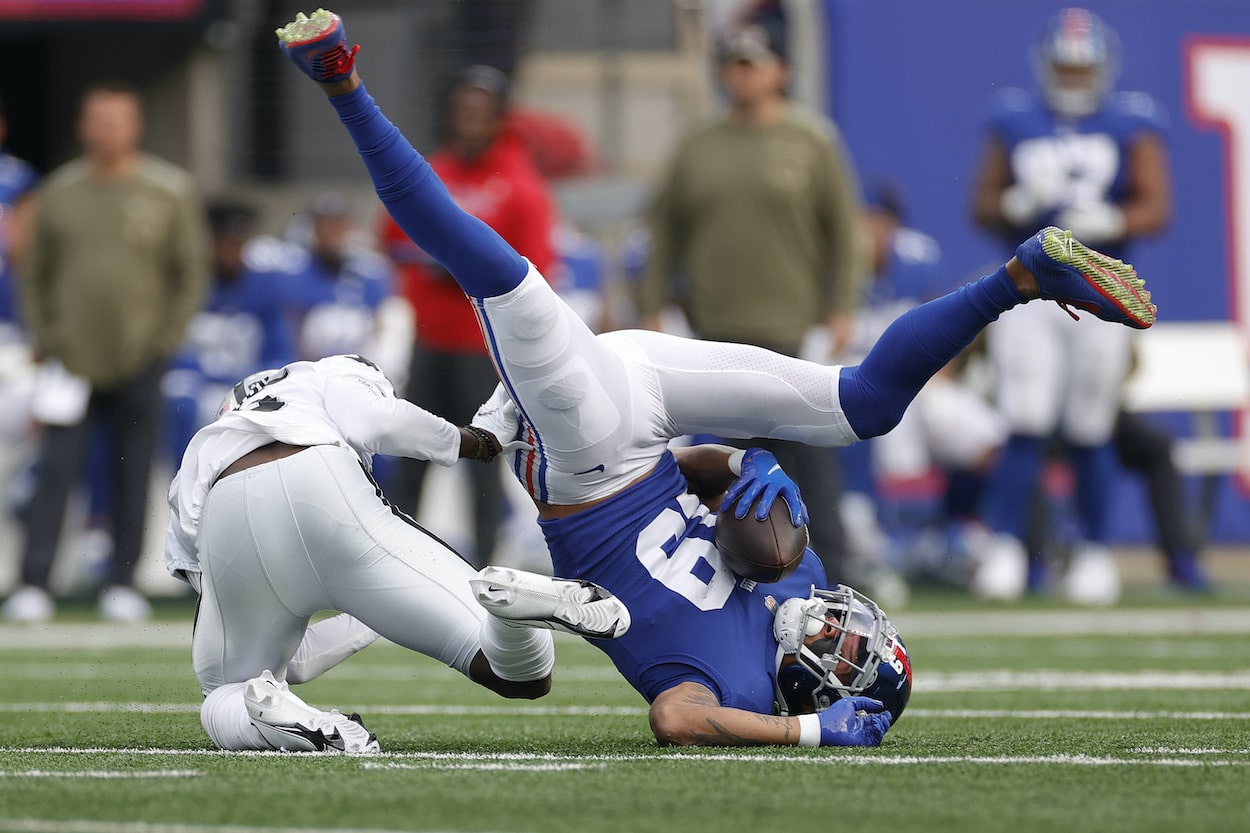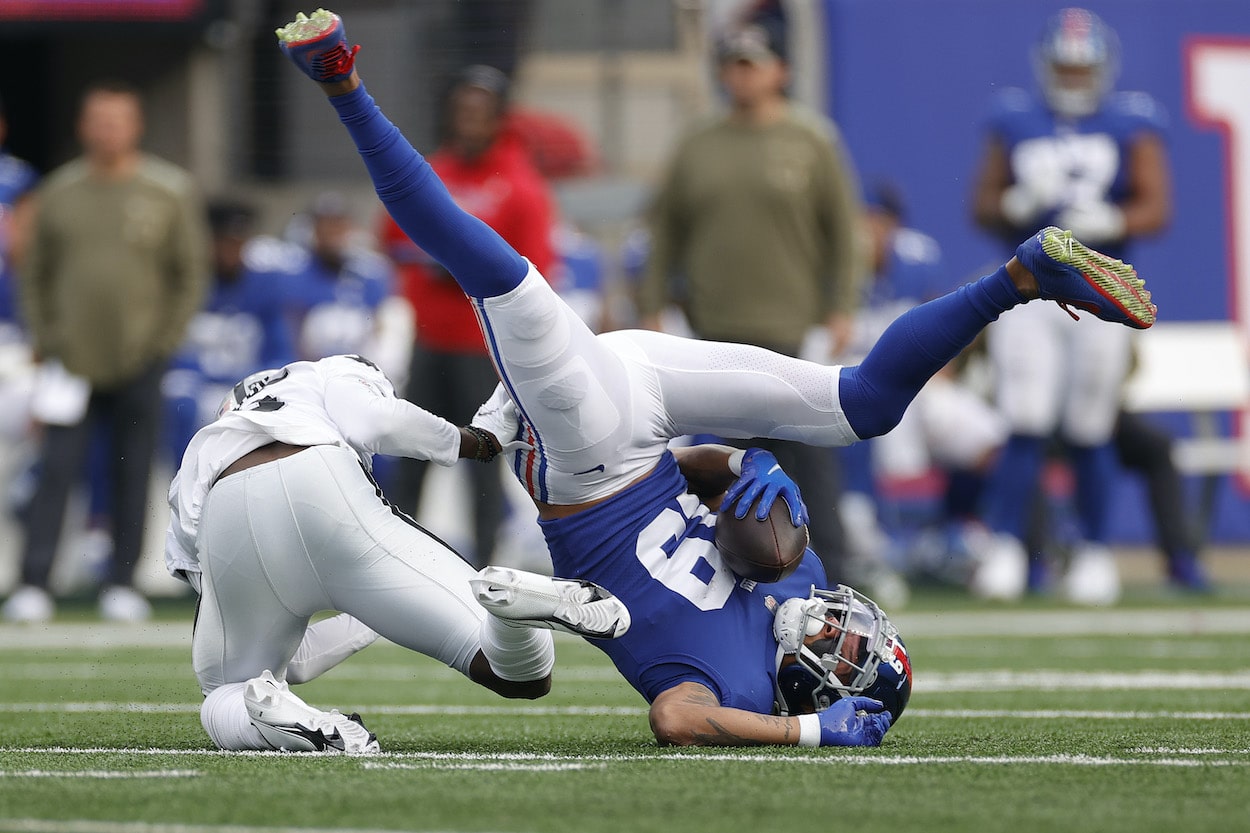 In 2017, Kenny Golladay was a third-round pick out of Northern Illinois by the Detroit Lions. As a mid-round pick, the first Kenny Golladay contract was a low-risk four-year, $3.19 million deal with the Lions.
Over those first four seasons in Detroit, Golladay hugely outperformed his deal. Playing with established veteran pass-catchers like Golden Tate and Marvin Jones, Golladay made himself into the team's No. 1 WR.
Golladay caught 183 balls with the Lions for 3,640 yards and scored 21 touchdowns. In 2019, he not only had a career-high 1,190 yards, but he also led the NFL with 11 receiving touchdowns and made the Pro Bowl.
In 2020, Golladay missed 11 games with various injuries, but he still hit the free agent market as the top pass-catcher available.
The wideout-needy New York Giants took the bait and gave out a Kenny Golladay contract that was among the largest of that free-agent class. The deal was a four-year, $72,000,000 pact with a $17,000,000 signing bonus, $40,000,000 guaranteed, and an average annual value (AAV) of $18,000,000.
That offseason, only left tackle Trent Williams (San Francisco 49ers, $23M AAV) got a bigger average annual salary. And Williams ($55.1M guaranteed) and guard Joe Thuney (Kansas City Chiefs, $48M guaranteed) got more guaranteed money.
The Giants WR hasn't lived up to the Kenny Golladay contract
Giving a wide receiver $18 million a season means a team needs that player to be a true No. 1 option. The organization is looking for that pass-catcher to put up 100-plus receptions, 1,000-plus yards, and multiple touchdowns.
Kenny Golladay hasn't done that for the Giants.
In his nearly two seasons in New Jersey, Golladay had caught just 41 balls for 572 yards and hasn't scored a single touchdown. In 2021, the wideout missed three games early in the season but played in 14 and only managed 37 catches for 521 yards.
The 2021 Giants weren't exactly a juggernaut, though. It's easy to chalk that Golladay performance up to head coach Joe Judge, quarterbacks Daniel Jones, Mike Glennon, and Jake Fromm, or just the overall weakness of the Giants offense.
In 2022, though, with Brian Daboll taking the reins and the entire Giants offense improving, the team's highest-paid wideout still isn't living up to the Kenny Golladay contract. Golladay has just four catches for 51 yards this season, and, despite injuries decimating the Giants' WR corps, Daboll has mostly kept him on the bench.
Through two seasons, Golladay has taken $35.95 million of the Giants' money. That's approximately $878,000 per catch or $62,859 per receiving yard.
The Giants can get out of the Kenny Golladay contract after this season
The Kenny Golladay contract isn't all bad news for the Giants. However, the only real good news is that the team can get out of it relatively unscathed this offseason.
When the Giants put together the deal in the summer of 2021, the Kenny Golladay contract was meant to have an out after the 2023 season. At that point, Golladay's cap hit would be $21.4 million, and his dead cap would be $6.8 million, per Spotrac. Cutting him then would save $14.6 million, and a $6.8 dead cap charge isn't that bad in the grand scheme of the Giants' salary cap.
If the team isn't going to play him at all, though, the Giants can cut Golladay after this season.
With a cap hit of $21.4 million and a dead cap number of $14.7, the Giants will save $6.7 million by letting Golladay go. However, $14.7 million is a lot of dead cap to eat just for a player to go away.
As good as the Giants have played this season in Daboll's first year, they are still in rebuilding mode. So, while the $14.7 million isn't ideal, better to get it off the books in 2023 to move on and better to get Golladay off the roster so the team can move on from one of the worst free-agent signings of all time.