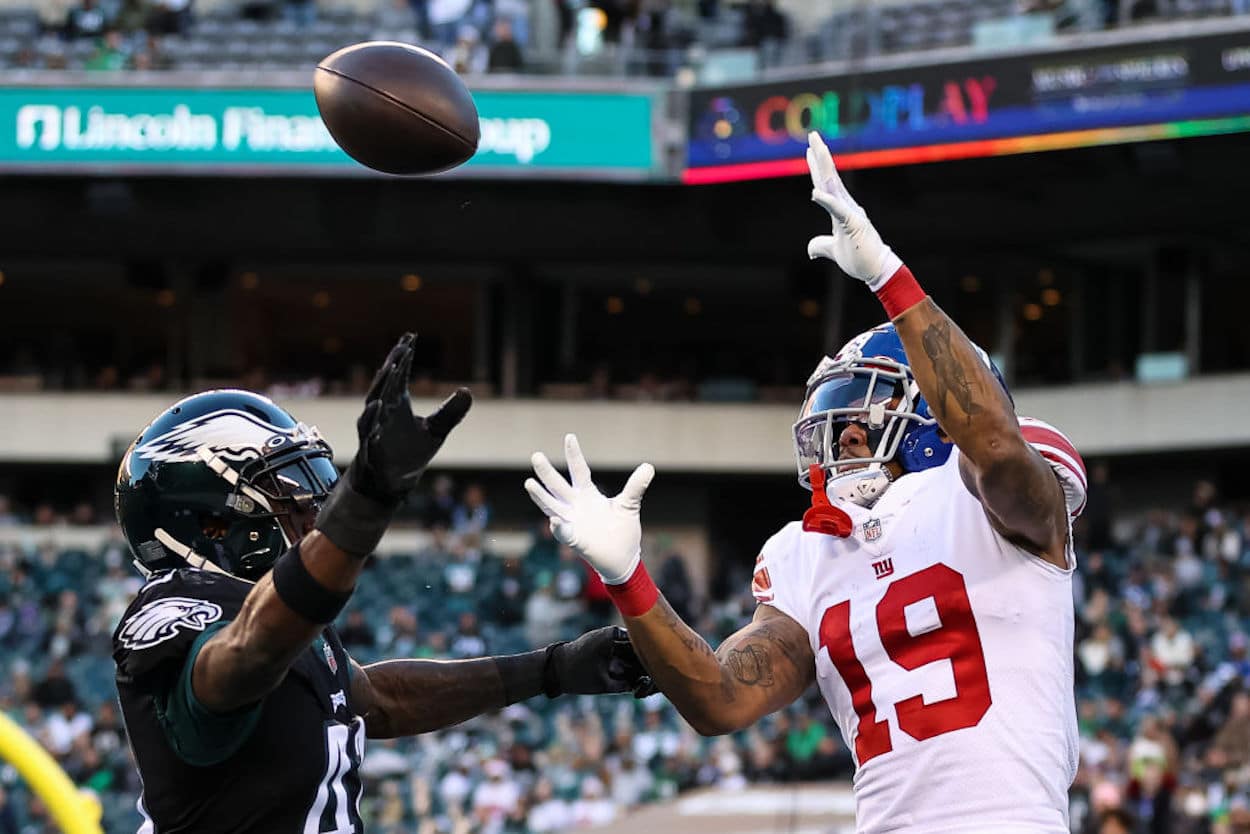 Kenny Golladay and His $21M Unacceptable Play Are Dooming the New York Giants
While there are plenty of questionable contracts in the NFL, Kenny Galladay's deal with the New York Giants certainly looks pretty rough.
New York Giants wide receiver Kenny Golladay has been making headlines, and not for the right reasons. His tenure with the Giants has gone wrong at just about every turn since joining the team. 
Watching him play last season was uneventful, as the Giants waited for him to make plays on the field that never happened. Consequently, there's a lot of uncertainty regarding his future with in New York despite heading into year two of the massive contract he signed last offseason. 
His underwhelming performances in 2021 provided more questions than optimism. And given how lost he's looked in the preseason, things don't seem to be going in the right direction. 
Golladay has a career-defining year ahead of him, as he needs to start living up to the expectations before being associated with one of the worst contracts in NFL history. At this point, he's more than a bad deal; it is an active problem.
Golladay's contract by the numbers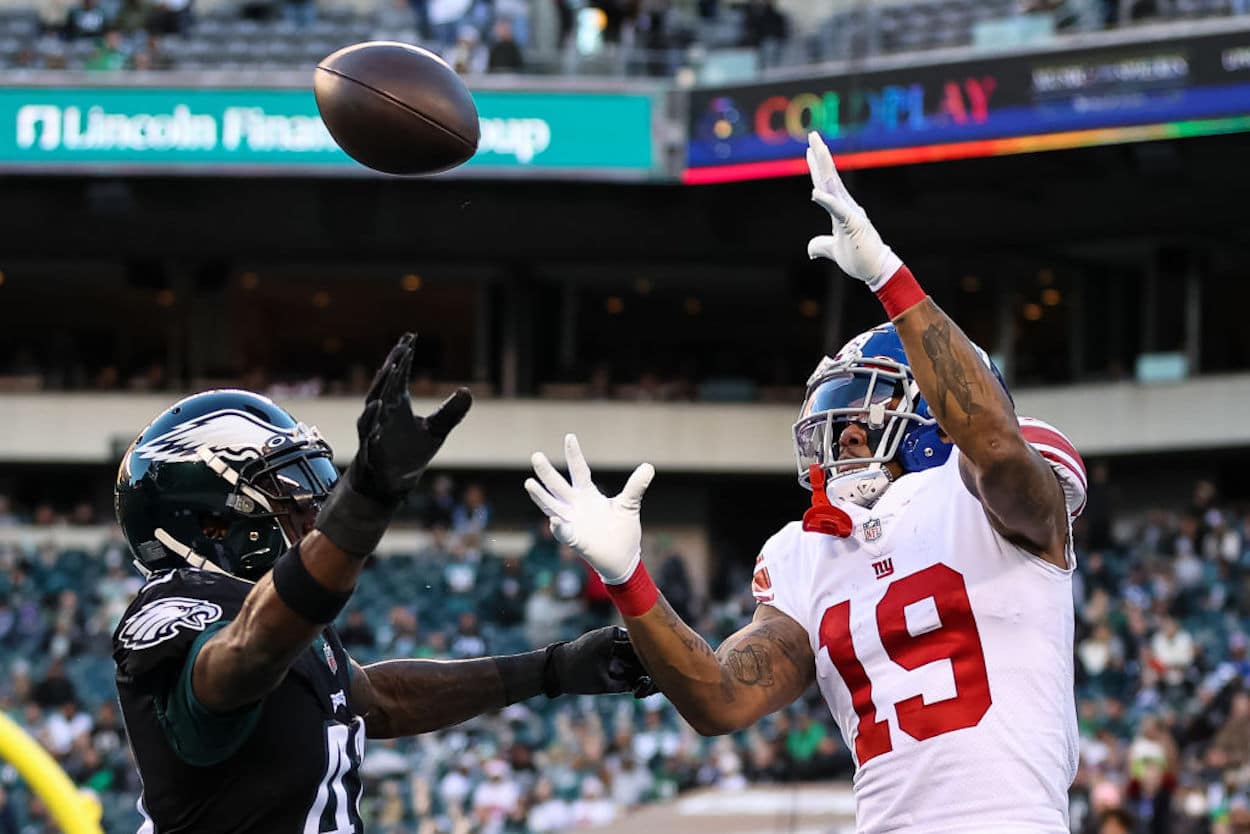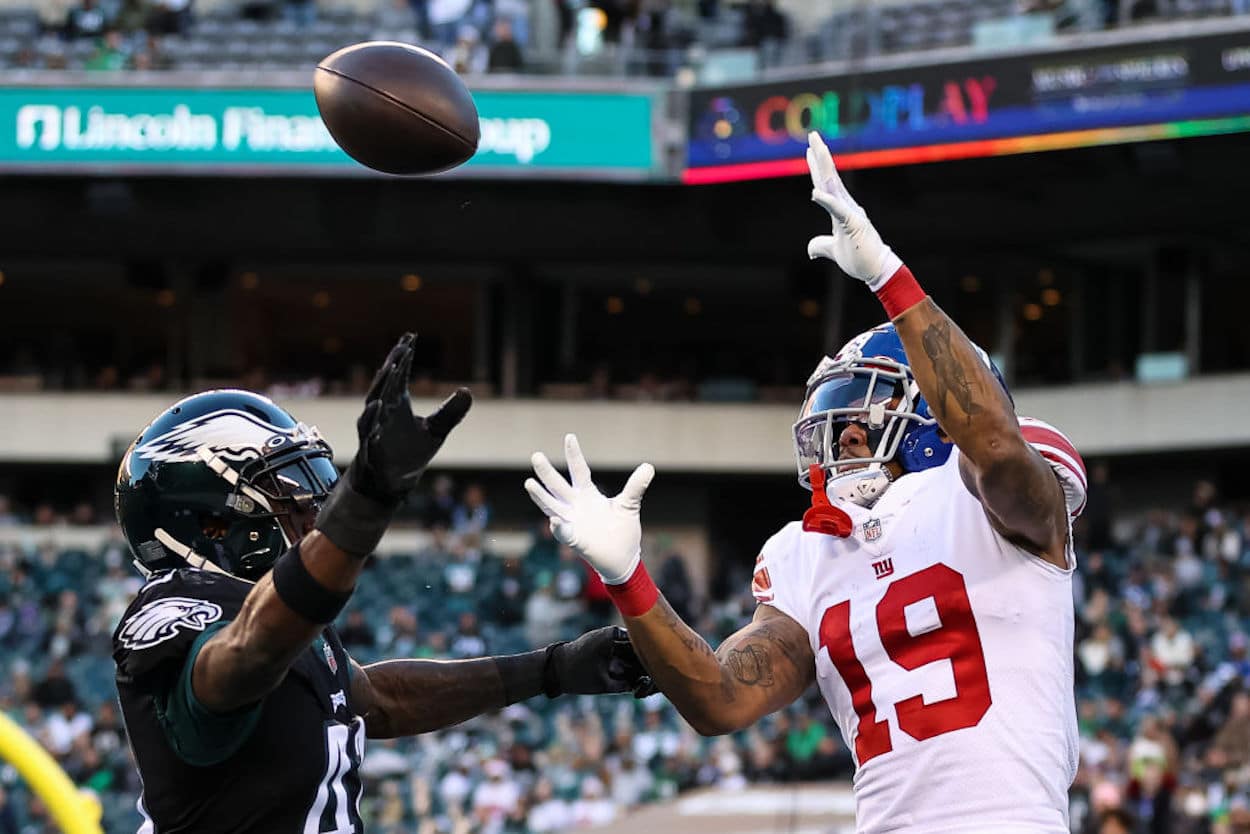 Golladay signed a four-year, $72 million contract that included $40 million guaranteed with the Giants back in March of 2021. It was one of the splashiest moves in the NFL that offseason, and many believed it was the spark that would right the ship for the New York franchise that has been on a downward slope for the past five or so seasons.
But the move has been anything but positive and has put the Giants in a pickle. They currently have the most expensive receiver room in the NFL, paying its wideouts $42 million in 2022. Most of the money is from Golladay, as he has three years and $64.2 million remaining on his deal.
His cap hit will be north of $21 million for each of the next three years. His salary in 2022 takes up 10.2% of the Giants' cap space, which eventually drops to 9.5% and 8.4% over the next two years, but that's still a large amount for a player that has severely underperformed since coming to New York.
Things got so bad in August that it was rumored he was on the roster bubble, with the Giants contemplating cutting him after just one year. Of course, this was always an unlikely option to begin with, given his expensive contract. If he were cut, the Giants would've eaten $35.6 million in dead money this season.
Cutting him isn't an option, so the only way out would be to trade him. But trying to find a bidder willing to take on his contract for such little production sounds even less likely to happen.
Kenny Golladay has looked uninspired since joining the Giants
With the massive contract and the former-Detroit Lion coming off a career year in 2019 that included 1,190 yards and 11 touchdowns, expectations were understandably high when Golladay joined the Giants last season.
He was brought to New York to add a new element to the Giants' offense and help Daniel Jones become a better quarterback. However, the two never meshed together. Jones is still a bad signal-caller, and Golladay is being overpaid on a lucrative deal.
The receiver had a strong start to his career in New York, amassing 282 yards in the first four games that included a six-reception, 116-yard performance against the New Orleans Saints. But his production started to decline rapidly. He started 14 games in 2021 and only caught 37 passes for 521 yards and zero touchdowns, making it the first campaign of his professional career in which he failed to find the end zone. 
The Giants' lack of success clearly took a toll on Golladay's spirit, as he looked more and more disinterested as the season progressed.
He was shut out on two separate occasions and went for more than 50 receiving yards in a game once the rest of the season. To his defense, the Giants started three different quarterbacks throughout the year. But for a receiver that's fresh off a $72 million deal, these types of outings are unacceptable.
In a new year with a new general manager and a new head coach, the Giants were hoping his lackluster performances would be put in the past, but it has carried over into the preseason. In three games, Golladay played 51 snaps and caught one pass for six yards on four targets.
Plus, he noticeably made a business decision in the preseason finale against the New York Jets, where he decided not to block cornerback Brandin Echols on a run play, resulting in Giants running back Matt Breida being tackled immediately.
What was even more eye-opening was that after the Giants starters were pulled against the Jets, Golladay remained on the field, playing with the backups. It's not fair to overreact to preseason tape, but given his underwhelming campaign last year, the signs are concerning, to say the least.
Rising stars in the Giants receiver room could make Golladay obsolete in the offense 
The Giants have added a pair of receivers into the fold during the past two drafts, and they have already shown more life than Golladay.
Kadarius Toney, the Giants' first-round pick back in 2021, was listed as the number one pass catcher on the depth chart and is poised to have a big year this season. He battled injuries his rookie year, as he only dressed for 10 games but still caught 39 passes for 420 yards, the second-most on the team.
Wan'Dale Robinson, meanwhile, has reportedly been the star of training camp and has made a strong impression on head coach Brian Daboll. Robinson, a second-round pick out of Kentucky, caught 104 passes for 1,334 yards and seven touchdowns in his final collegiate season.
Both receivers are expected to start Week 1 alongside Golladay against the Tennessee Titans.
Golladay is going to have to prove a lot of people wrong this season. Time and patience are running dangerously low. If he doesn't improve drastically in 2022 or becomes overshadowed by Toney or Robinson, his contract will be in the discussion of being one of the worst in the modern era.
That's a reality that neither he nor the New York Giants will want to confront.
Contract data courtesy of Spotrac.