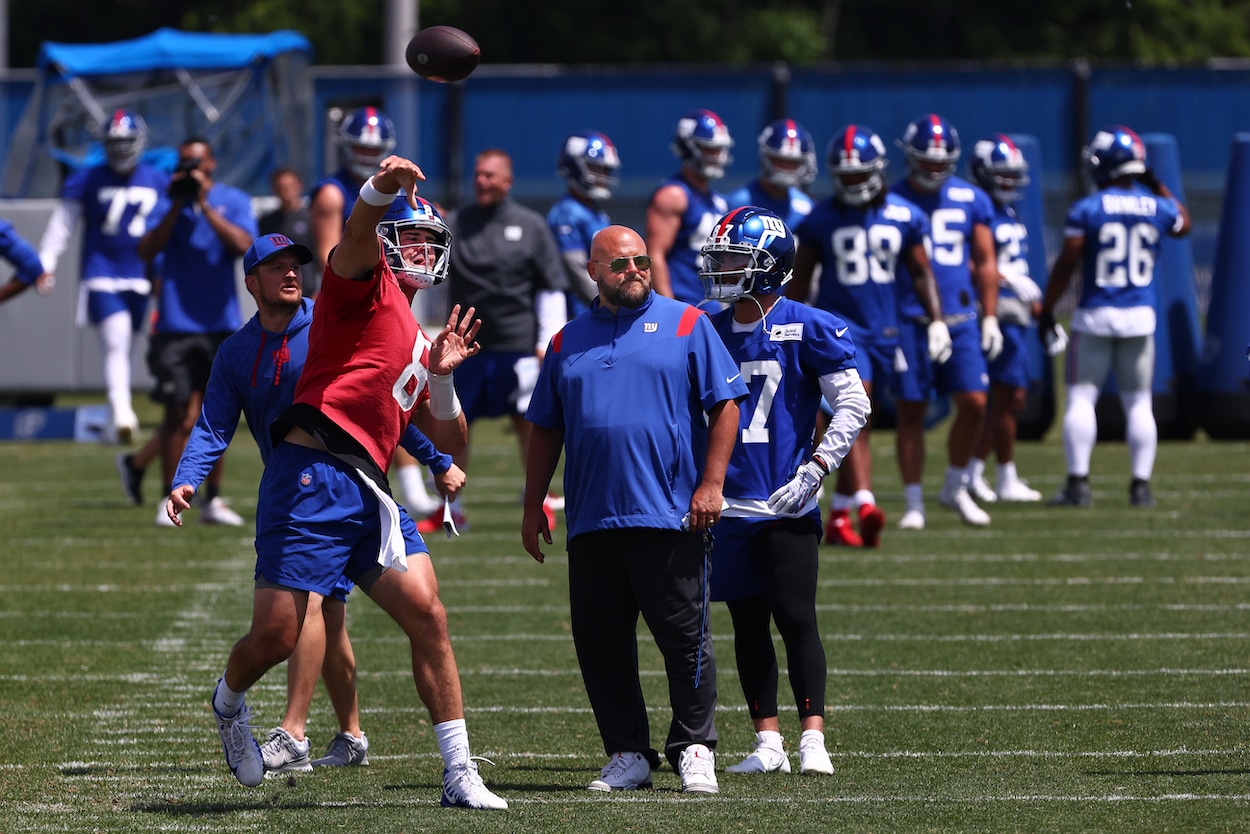 New York Giants Training Camp: 3 Position Battles to Watch in 2022
As the New York Giants training camp opens ahead of the 2022 NFL season, here are three camp battles to keep a close eye on.
This is a "prove-it" year for every player on the 2022 New York Giants roster. New head coach Brian Daboll and general manager Joe Schoen will use this season as a tryout for the entire team, from Daniel Jones on down. The players that succeed will stay around for 2023, which will likely include a first-round quarterback prospect. Those that fail will be out. As New York Giants training camp gets underway, here are three positional battles to watch closely.
New York Giants Training Camp Info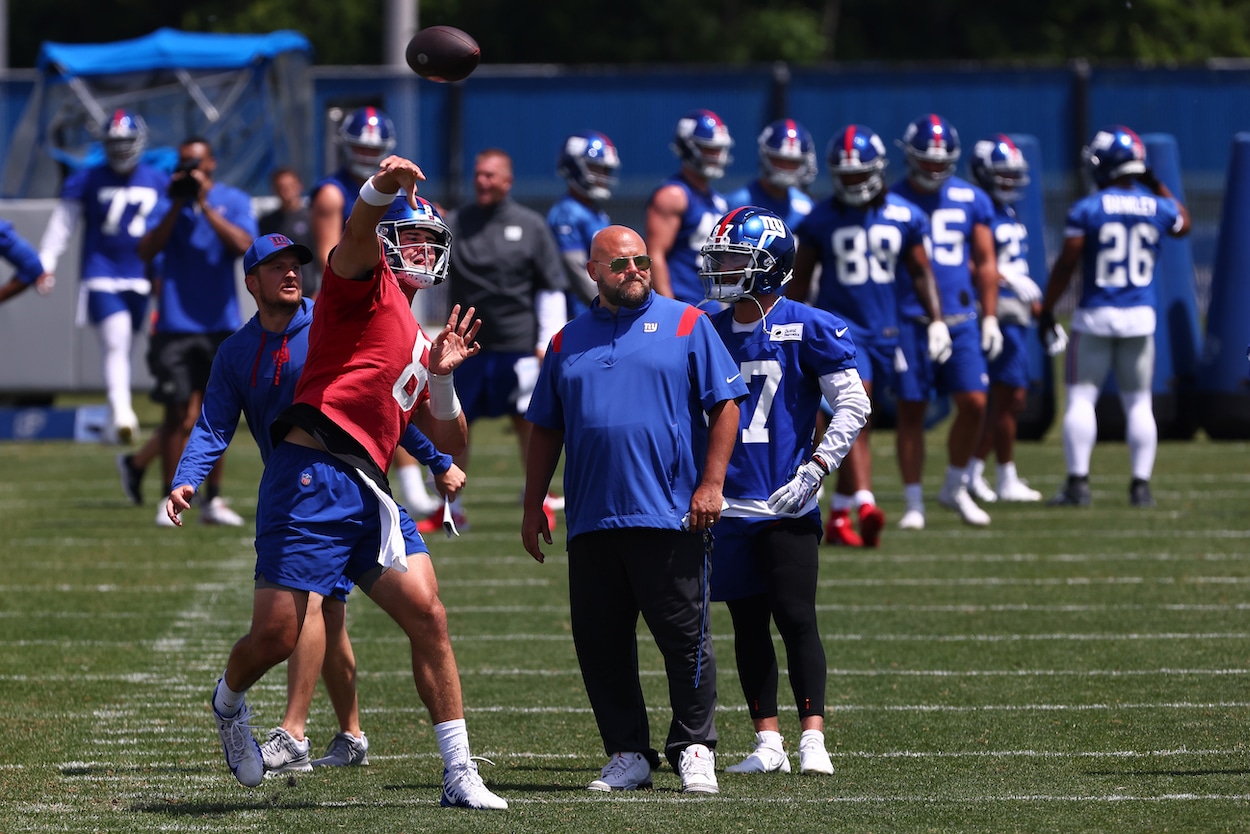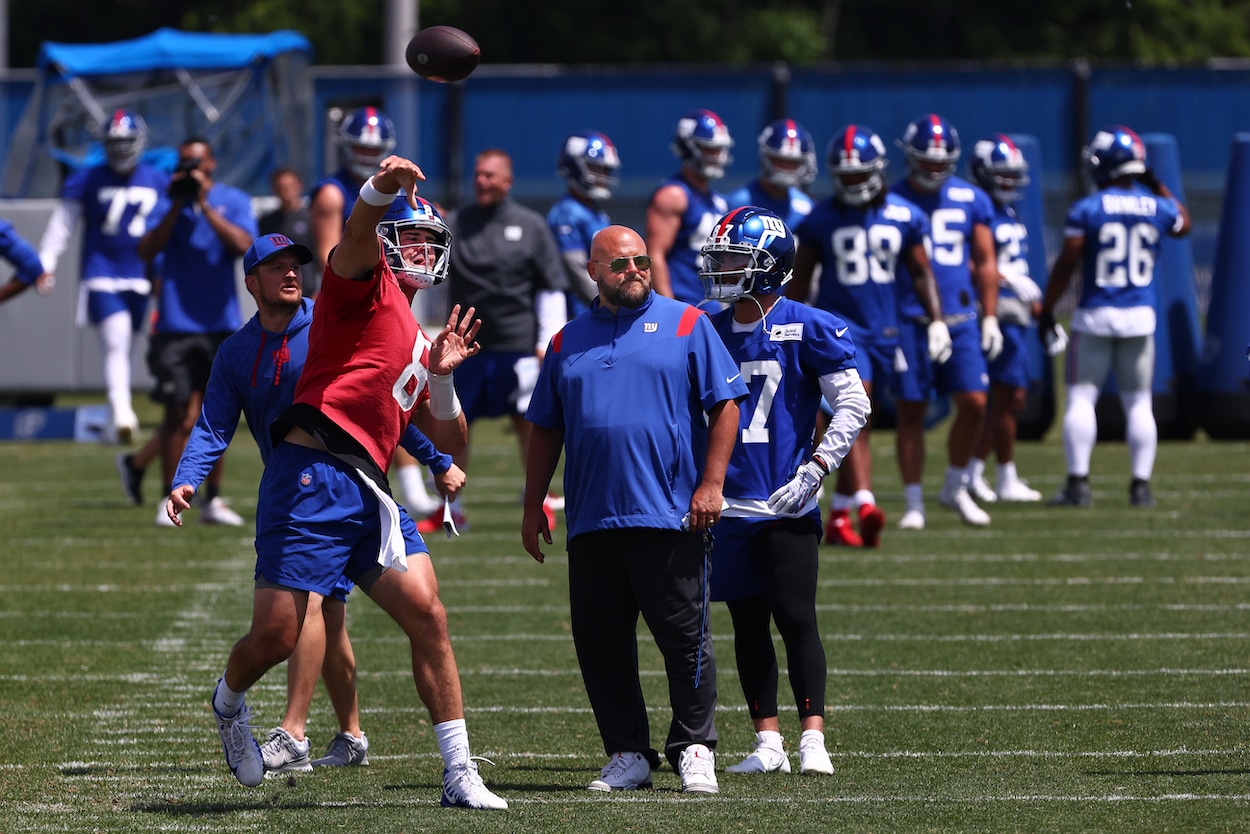 Location: Quest Diagnostics Training Facility, East Rutherford, New Jersey
Rookies report: Tuesday, July 19, 2022
Veterans report: Tuesday, July 26, 2022
First game: at Tennessee Titans, Sunday, September 11, 4:25 p.m. EST
Battle No. 1: Slot WR — Kadarius Toney vs. Wan'Dale Robinson
The Giants' old regime drafted 6-foot, 193-pound Kadarius Toney No. 20 overall in 2021. The new brain trust took 5-foot-8, 178-pound Wan'Dale Robinson out of Kentucky No. 43 overall in 2022. 
Toney showed flashes of brilliance his rookie season, putting up a 10-catch, 189-yard performance vs. the Dallas Cowboys in Week 5. He also got tossed out of that game for throwing a punch, forgot his cleats in training camp, and missed seven games with various injuries. 
Kenny Golladay and Sterling Shepard should start on the outside, so the inside spot should be the winner of the New York Giants training camp battle between Toney and Robinson. 
Toney should win on talent alone, but who knows if he can keep his head on straight. 
There's also a possibility that Toney could grab hold of the Nos. 1 or 2 spots from Golladay and Shepard, and both smaller wideouts see a lot of action. 
Plus, Brian Daboll is an innovative offensive coach with the Buffalo Bills, so all four WRs could carve out unique roles. 
Battle No. 2: RB2 — Matt Breida vs. Gary Brightwell vs. Jashaun Corbin
Superstar running back Saquon Barkley has missed 21 games in his four-year NFL career. So while reports say he's finally fully healthy, his backup RB is a crucial position in New York Giants training camp. 
Daboll brought Matt Breida to New Jersey with him from Buffalo, and he has the inside track as the No. 2 back. He only had 197 all-purpose yards last season but produced over 1,000 in 2018 with the San Francisco 49ers. 
Second-year special teams standout Gary Brightwell is a player the team is reportedly high on, and he could grow into the role. He has both a higher ceiling and a lower floor than Breida. The same can be said about Florida State undrafted rookie Jashaun Corbin who will return kicks but could grow into a more significant role. 
Brieda is the favorite to be RB2 in 2022, but Brightwell or Corbin could surprise. 
Battle No. 3: TE1 ­— Ricky Seals-Jones vs. Daniel Bellinger
The New York Giants have a history of good tight ends — from Mark Bavaro to Jeremy Shockey — but that cupboard is relatively bare this year. 
The organization signed free agent Ricky Seal-Jones from the Washington Commanders this offseason. The former Auburn TE has all the physical tools to be a standout pass-catcher, but his career highs are 34 catches, 343 yards, and four touchdowns. 
In the 2022 NFL Draft, the G-Men took San Diego State TE Daniel Bellinger. He has potential but needs to improve as a blocker before he holds a starting NFL spot. 
Seal-Jones will likely win the New York Giants training camp battle, but Bellinger should be the starter by the end of the season as the franchise gears up for 2023. 
All stats courtesy of Pro Football Reference