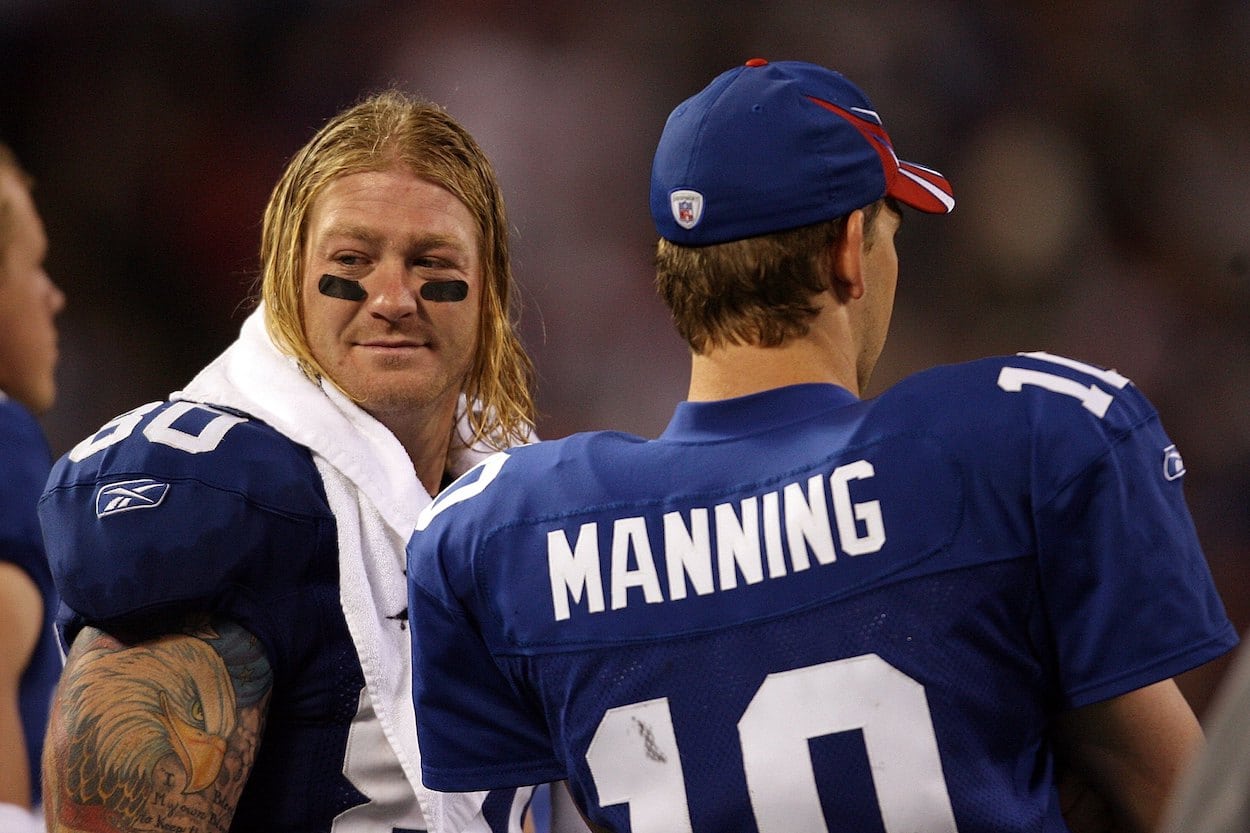 Eli Manning Throws Subtle Dig at Jeremy Shockey When Asked About His All-Time Teammates
Eli Manning wasn't a huge fan of former New York Giants teammate Jeremy Shockey and he made that clear in a recent interview with Cam Newton.
Former New York Giants tight end Jeremy Shockey is one of the most memorable players in NFL history. With his flowing blonde hair, tattoos, and outsized personality, Shockey was a fan-favorite for many. However, he also rubbed plenty of people the wrong way, including one of his former quarterbacks, Eli Manning.
Jeremy Shockey was a Pro Bowl tight end for the New York Giants
Jeremy Shockey, the 6-foot-5, 251-pound tight end started his college career at Northwest Oklahoma A&M before transferring to the University of Miami. At The U, he helped lead the team to a national title in 2001, catching 40 balls for 519 yards and seven touchdowns.
The New York Giants selected Shockey No. 14 overall in the 2002 NFL Draft.
The Oklahoma native had his most successful seasons with the New York Giants, although his best campaign wasn't with Eli Manning.
In 2002, as a rookie, Shockey put up career highs in targets (128), receptions (74), and yards (894). He caught two touchdowns from QB Kerry Collins on the way to his first Pro Bowl and only All-Pro team. Shockey also finished second in Offensive Rookie of the Year voting behind college teammate Clinton Portis.
The TE had another Pro Bowl season with Collins in 2003, before working with rookie signal-caller Eli Manning in 2004 caused a dip in production. Shockey rebounded with two more Pro Bowl seasons in 2005 and 2006, and in 2007, the Giants won the Super Bowl (although Shockey was out injured).
During training camp for the 2008 season, Shockey openly feuded with the Giants organization and the team ultimately traded him to the New Orleans Saints.
Shockey never quite reached the heights in New Orleans that he did in New York, but did win another Super Bowl in the 2009 season. Two years later, at just 31, Shockey was out of the league.  
Eli Manning took a subtle shot at his former tight end by leaving him off his ultimate last drive list
Despite their success together, things didn't end well for Jeremy Shockey and the New York Giants and, by extension, quarterback Eli Manning.
The retired quarterback gave an indication of his feelings toward Shockey during a recent interview with fellow NFL QB Cam Newton.
The former Carolina Panthers signal-caller set up this scenario for Manning during an interview on the Cam Newton YouTube channel: three minutes, 15-seconds on the clock, 80 yards to go, down four. Then Newton asked Manning, what personnel he'd use and which teammates he'd want to make that drive.  
We'll go 11 personnel. So, three receivers, tight end, one running back. … So, receivers, you gotta get the big guy, go Plaxico Burress on the outside. You like the 6'6", 230-pound receiver. In the slot, you're going Victor Cruz. And on the other outside you go with Odell [Beckham Jr.]. That's a strong mix right there. Tight end, I think we're going to go probably with Kevin Boss. I mean, Shockey was there for a little bit but he was kind of all over the place. So, it's kind of Kevin Boss/Shockey. … Go Kevin for the two-minute drive. Then running back. Probably Tiki Barber for running back.

Eli Manning on his all-time last-minute drive teammates
Manning may not have mentioned Shockey at all if not for the reaction from Newton. The former Auburn QB and Miami TE played together for one season in 2011. That season happened to be Newton's rookie year and Shockey's final NFL campaign.
The pass-catcher obviously left a positive impression on Newton, though. He told Manning after he omitted the TE, "I love him to death."
It's not surprising that a flamboyant QB like Newton enjoyed Shockey's outsized personality while an understated player like Manning had a hard time with it.
Manning was happy to see Shockey go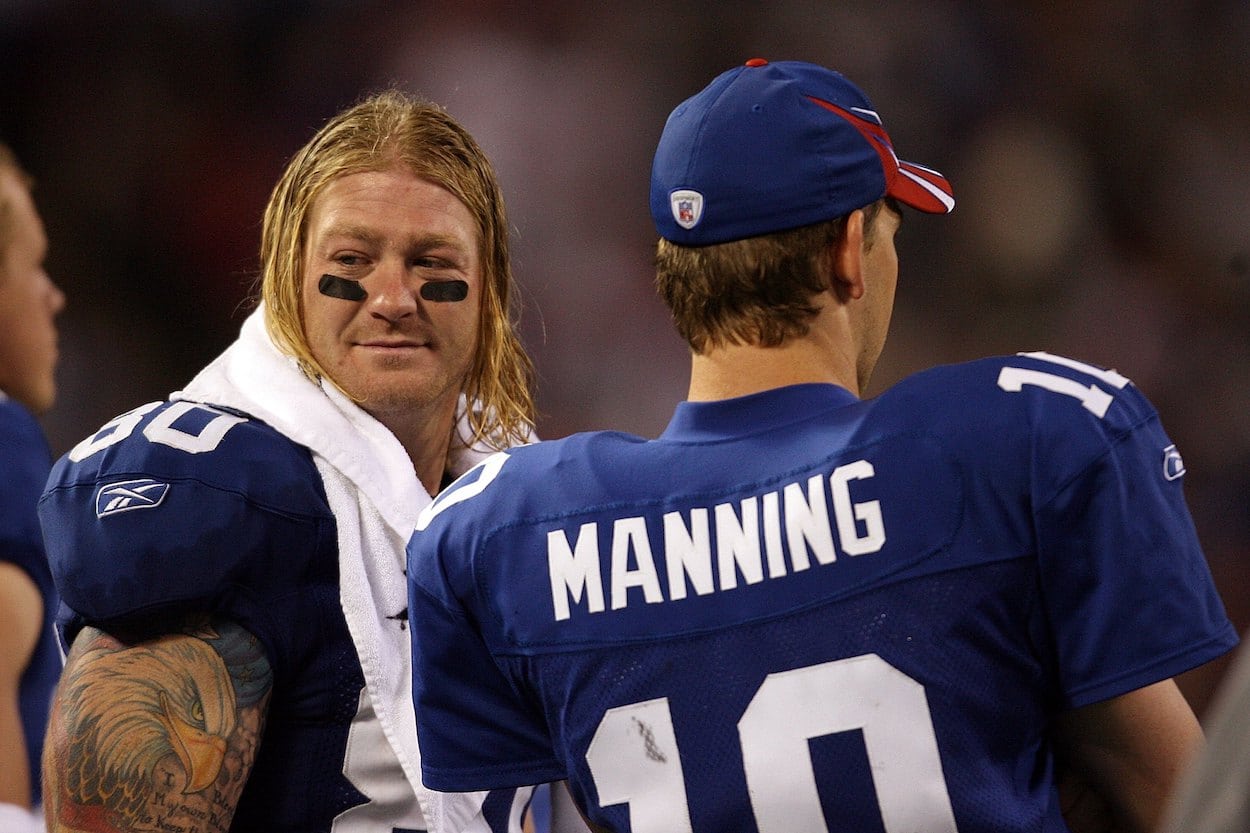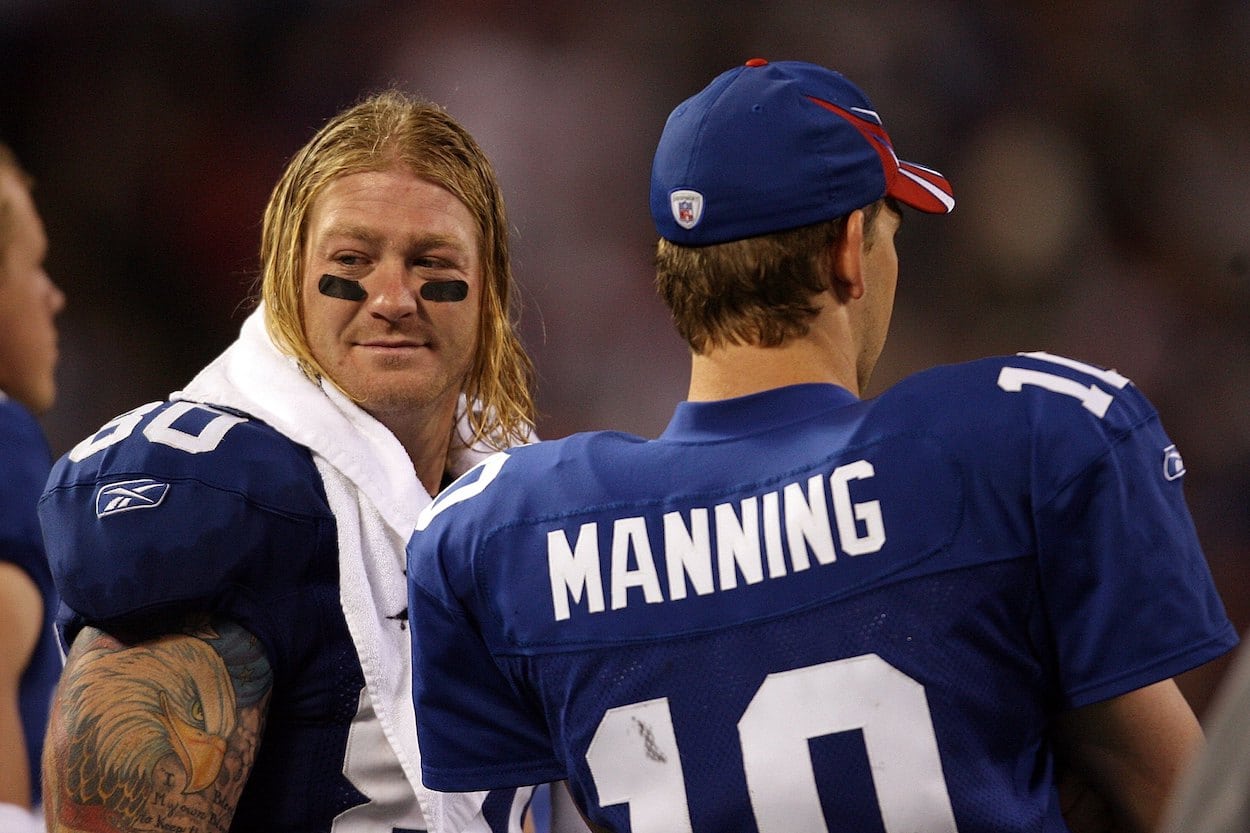 The end of the Jeremy Shockey era in New York was acrimonious.
Trade rumors swirled after the Giants won the Super Bowl without their star tight end. This led to tension within the organization and ended in Shockey infamously screaming at general manager Jerry Reese in training camp.
Apparently, there was also tension between Shockey and Eli Manning during their time together.
In 2012, former Giants WR Amani Toomer told Pro Football Talk (h/t Bleacher Report) that "Shockey 'tried to take advantage' of Eli by pressuring him for the ball. He also said there was 'no question' Eli had improved his play after the distraction of Jeremy Shockey was gone from the locker room and from the huddle."
And Toomer isn't the only one who thinks Kevin Boss was better for Manning than Shockey. Zain Syed of NYGiantsRush.com and The Giants Guys on YouTube tells Sportscasting:
The best way to look at Shockey vs. Boss isn't from the lens of an athlete or talent, that's clearly Shockey. However, the selfless team player that was focused on just doing his part, that was Boss. Without the pressure of having to get the ball to your me first tight end or deal with his postgame locker room tirades, Eli was able to elevate himself and [with] Boss, that wasn't a coincidence. The team had plenty of offensive firepower but Shockey was known to give Eli a hard time if he wasn't the No. 1 target, and once that went away, things got better. They never got on the same page and clearly there was a lack of trust. Eli trusted Boss and that's the difference.

Zain Syed of NYGiantsRush.com on Jeremy Shockey vs. Kevin Boss
So, despite Shockey's incredible talent, Boss probably is the best option for Manning with the game on the line.
All stats courtesy of Pro Football Reference and Sports Reference