Eli Manning Credits His Incredible Consecutive Games Streak to Getting Beat up by His Brother Peyton: 'I Was Not Allowed to Tell Mom or Else He Said He'd Make It Worse'
When most people think of Eli Manning, they think of the David Tyree helmet catch and his New York Giants beating Tom Brady, Bill Belichick, and the New England Patriots twice in the Super Bowl. While that was, by far, his most impressive accomplishment, a close second was his incredible consecutive starts streak.
On this week's Monday Night Football ManningCast on ESPN2, Eli revealed the role his brother, Peyton Manning, played in that streak.
Eli Manning was an Iron Man at quarterback
The New York Giants traded for Eli Manning during the 2004 NFL Draft. During his rookie season, the prospect sat for the majority of his first nine games behind veteran QB Kurt Warner.
In Week 11, Eli finally started his first NFL game. The outing was an inauspicious 14-10 loss to the Atlanta Falcons. However, the big thing to come out of this game is that Eli would go on to start every Giants game for the next 12-plus seasons.
During his 210 consecutive regular-season-starts streak, Eli led the Giants to a 109-94 record. He made four Pro Bowl teams and led the G-Men to Super Bowl wins in 2007 and 2011.
His streak ended in 2017 when Giants coach Ben McAdoo benched him after a 2-9 start to the season. After one game of Geno Smith, the former Ole Miss QB got his job back. However, that missed start ended Eli's incredible streak.
Eli's 210 consecutive starts gave him a leg up over his brother, Peyton. The older Manning brother "only" started 208 consecutive games.
When Eli (or, more accurately, McAdoo) snapped the streak, it put the Giants QB in second place all-time for consecutive starts at his position. Only Brett Favre's 297 straight starts were better than Eli's 210 at the time.
The New York signal-caller retired after the 2019 season and has since fallen to third place on the consecutive starts by a quarterback list. Ironically, the guy who passed him (with 240) was the other QB involved in the swap that brought Eli to New York back in 2004, Philip Rivers.  
Eli credits his brother Peyton for his toughness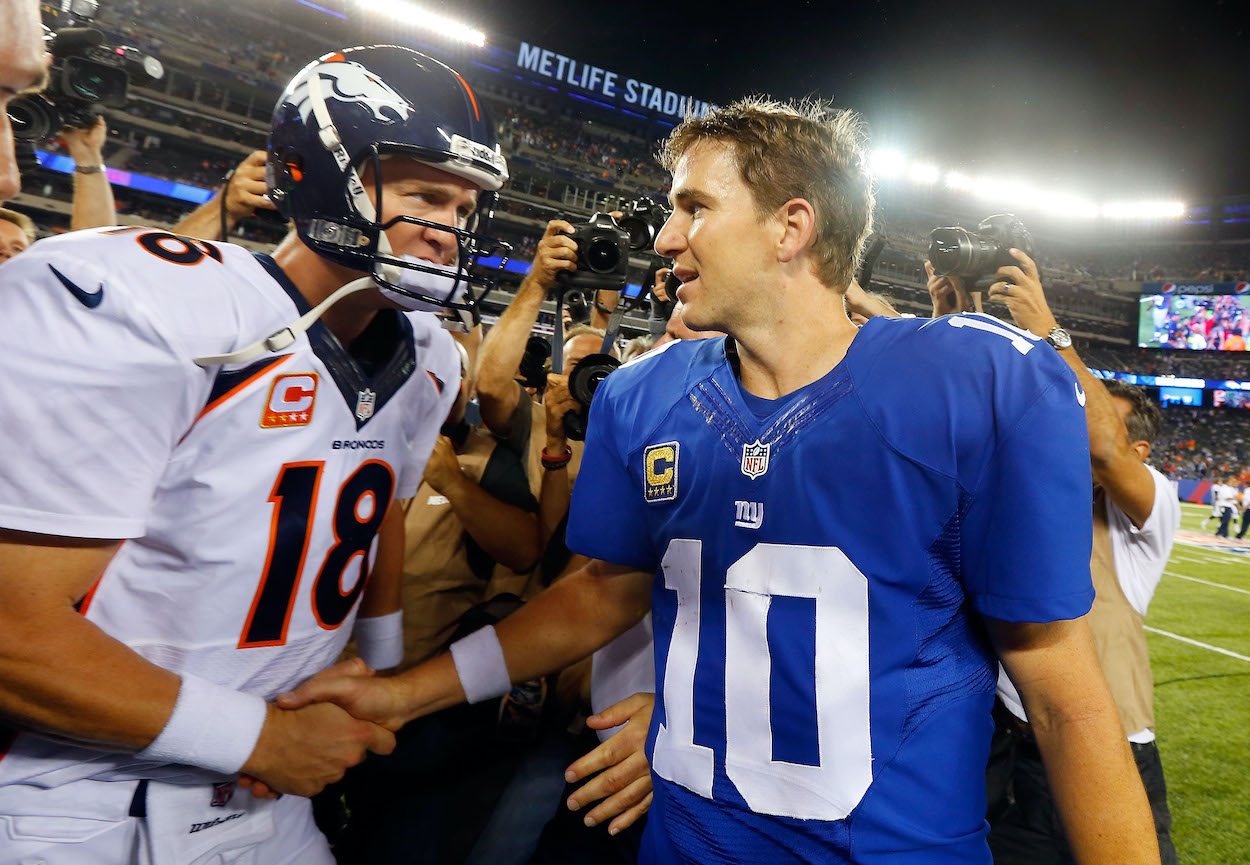 During the Week 10 Monday Night Football alternate broadcast, the ManningCast, Peyton and Eli Manning welcomed pro golfer Phil Mickelson to the program in the second quarter.
The notorious talker came prepared with questions he threw at the famous football-playing brothers. One of the questions he asked Eli: Since Eli played more consecutive games than Peyton and Eli won two out of two Super Bowls he appeared in as opposed to Peyton's two-of-four record, does Eli consider his brother "soft?"
Eli initially laughed at the question, as Mickelson intended. However, over the course of his answer, Eli actually provided some insight into where his toughness comes from. He told Peyton and the golfer:
I really give all the credit for me playing in all those games and not missing games for injury because of him beating me up as a little kid and just torturing me. And I was not allowed to cry, and I was not allowed to tell mom or he else he said he'd make it worse. So, he gets all the credit.

Eli Manning on growing up with Peyton Manning
As any younger sibling knows, getting beat up on by an older sibling often develops toughness from a young age. Still, most people don't have to get up after being sacked by a 300-pound man in adulthood like Eli did. But, it does make sense that roughhousing with Peyton and his oldest brother, Cooper, played a role in his impressive streak later in life.
Even with a longer NFL season, it will be a long time before someone breaks Brett Favre's consecutive starts record
Now that the NFL has a 17-game schedule, it may be easier to catch Brett Favre in the consecutive starts column, right?
Not likely.
Favre's 297 consecutive starts dwarf the competition, especially when it comes to active players. The four players right behind him are not coming for his title any time soon. That list includes Minnesota Vikings DE Jim Marshall (270), his teammate in the '60s and '70s, C Mick Tingelhoff (240), Rivers (240), and Houston Oilers/Tennessee Titans G Bruce Matthews (229), who retired 20 years ago.
The QB closest to Favre was Russell Wilson. Unfortunately for the 32-year-old, his streak ended five weeks ago at 149 when he missed the first start of his career with a finger injury suffered in Week 5.
Now, the closest active player to Favre is 34-year-old Tampa Bay Buccaneers DT Ndamukong Suh (156), followed by 32-year-old New Orleans Saints DE Cameron Jordan (154). Those two would have to start every game for eight more seasons to get to Favre's level.
Who is now the QB with the longest active starts streak?
None other than Tom Brady, of course. He is just six starts away from completing his third 100-plus consecutive starts streak of his career. The reason he's not on par with Favre is that these streaks were interrupted by two significant issues: his knee injury in 2008 and his Deflategate suspension in 2016.
For the 44-year-old Brady to catch Favre, he'd have to start every game until he was almost 56 years old.
While that seems improbable now, with Brady, you never know. Maybe Favre should watch his back after all.
All stats courtesy of Pro Football Reference