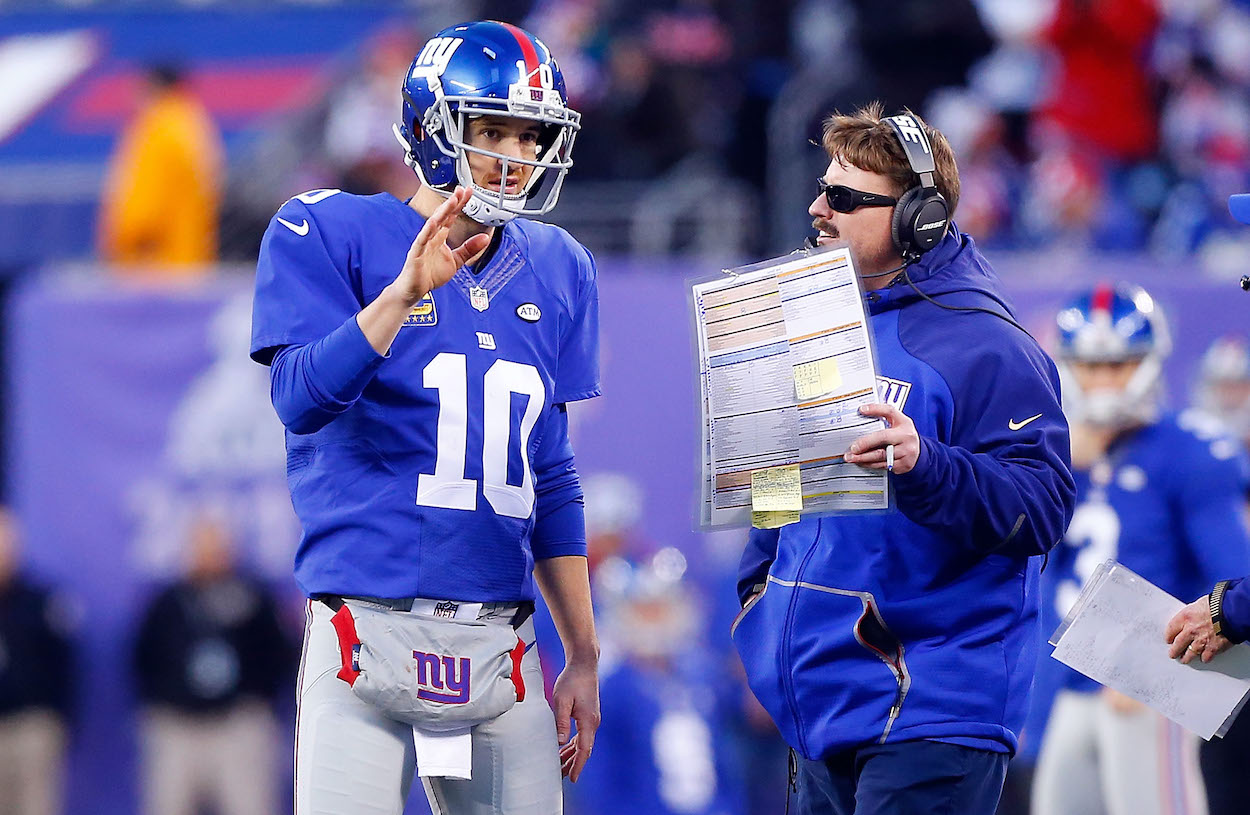 Eli Manning Dodges Question About Giants 'Curse' Ahead of His Jersey Retirement Ceremony: 'I'd Like to Be There and Get Cheers'
Eli Manning's jersey retirement ceremony is coming up, so the best passer in New York Giants history is avoiding questions about the Eli Manning Curse that might be haunting the franchise.
New York Giants legend Eli Manning was the face of the franchise for the better part of two decades. He started for the first time in Week 10 of his rookie year. From that point until Week 13 of the 2017 season, Manning started 210 consecutive games (222 counting playoffs) for the G-Men. When his soon-to-be-fired head coach Ben McAdoo unceremoniously benched the Super Bowl-winning QB, some Giants fans believe it put a curse on the organization.
The New Jersey-based club is now retiring Manning's iconic No. 10 jersey this weekend at halftime of the Giants game against the Atlanta Falcons. Ahead of this honor, Manning declined to discuss the curse to stay in good Giants fans' good graces.
Is there an Eli Manning curse on the New York Giants?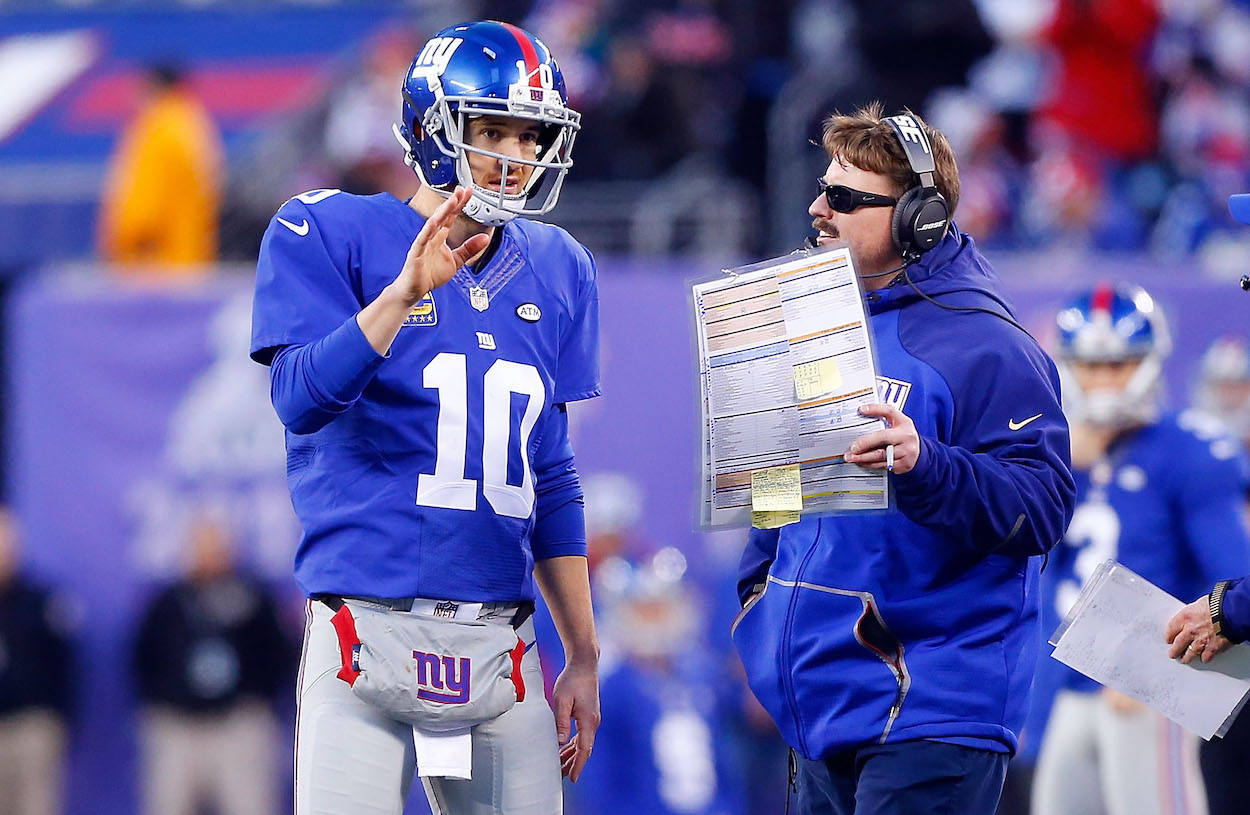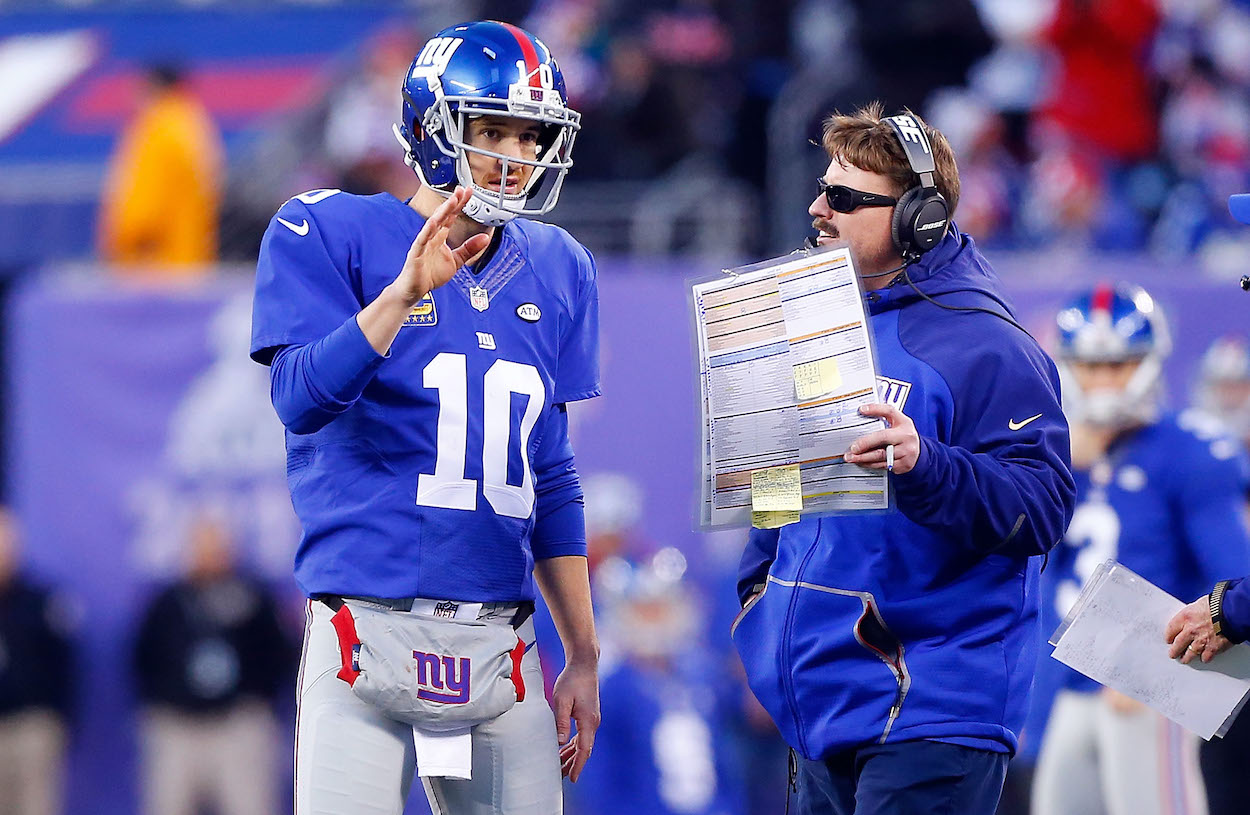 In 2016, after several down years, Manning took the Giants and first-year head coach Ben McAdoo to the playoffs. The following year, the QB and his team struggled once again.
In the midst of putting up a 3-12 record, McAdoo decided to bench the greatest passer in team history. He did it in order to start journeyman Geno Smith, thus ending Manning's consecutive start streak. It was a move that infuriated many current and former Giant players, coaches, and fans.
The team owners, the Mara and Tisch families, decided to fire McAdoo two days after that fateful decision.
The damage was already done, though. The organization as a whole did a club legend dirty, and the team hasn't found success since. Since then, even after Manning's retirement in 2019, the franchise has a pathetic 16-39 record.
Some superstitious Giants fans believe that the reason for this ineptitude is the Curse of Eli Manning.
Manning dodged a question about the curse ahead of his jersey retirement ceremony
While the Curse of Eli Manning isn't yet on the level of the Boston Red Sox's Curse of the Bambino or the Chicago Cubs' Curse of the Billy Goat, it is gaining momentum in the world of the NFL.
During an appearance on The Pat McAfee Show 2.0, the titular host asked Manning about the curse.
"Are the Giants cursed because of what happened with you at the end of your career there where they benched you out of nowhere?" McAfee asked. "McAdoo, that whole situation, is that a curse you think that's happening? Daniel Jones has his best game by far as a Giant, and they still lose. What's going to happen with the Giants organization, Eli?"
Manning was supportive of the organization. He said he was rooting for the team during its heartbreaking Thursday Night Football loss to the Washington Football Team. However, he purposefully ignored the "curse" aspect of the question.
Possibly explaining why he didn't address the Eli Manning Curse, the QB said:
Hopefully, [the Giants] can get back on track. They got Atlanta this week, who doesn't seem to be playing real well. And, it's my jersey retirement, so I'd like to be there and get cheers at halftime. That's when it's going down. I'd like to have a lead at halftime, so you get cheers and don't get anything else.

Eli Manning on his jersey retirement ceremony
Whether the Giants finally get their first 2021 W with Manning in the building or they take yet another embarrassing L, the conspiracy theorists will undoubtedly find a way to spin the result as proof of the curse.
No. 10 is the best QB in Giants history and should be a Hall of Famer someday
After replacing Kurt Warner twice earlier in the season, Giants coach Tom Coughlin gave Manning his first start against the Atlanta Falcons. It is only fitting that the team is retiring Manning's jersey at halftime of a game against the same team all these years later.
Between these two Falcons games, Manning put together what many consider a Hall of Fame career.
Yes, there are ways to look at the former Old Miss star's career and see an average QB who caught lightning in a bottle twice to win his two Super Bowls. His 117-177 record as a starter, 60.3% career completion rate, and 244 interceptions (a category in which he led the league three times) all speak to this viewpoint.
However, Manning should be a Hall of Famer due to his longevity, durability, and uncanny ability to put together incredible postseason runs.
Peyton's little brother threw for 57,023 passing yards and 366 touchdowns in his career. He also made three Pro Bowls during his time in the Meadowlands. He is the Giants' all-time leader in passing yards, touchdowns, wins, and several other categories, including most games played in a Big Blue uniform.
All that said, the deciding factor on Manning's Hall of Fame resume is his two Super Bowls. In 2007, the QB and his crew upset an undefeated New England Patriots team on one of the most iconic plays in Big Game history: David Tyree's helmet catch.
In 2011, Manning once again sent Tom Brady and Bill Belichick home disappointed after leading his team to a 21-17 win in the season's final contest.
These two incredible accomplishments alone should secure Manning's place in Canton, Ohio, and the franchise is recognizing that with his jersey retirement this weekend.
All stats courtesy of Pro Football Reference