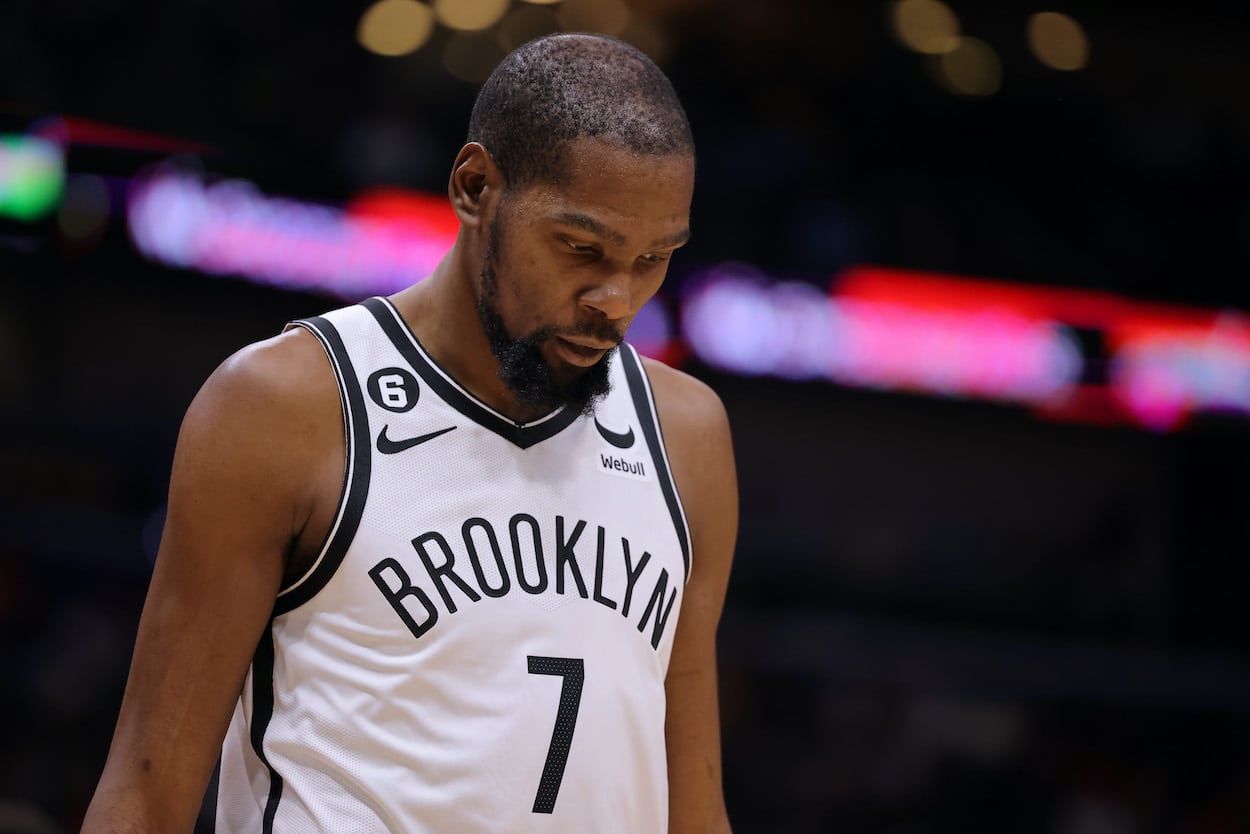 Kevin Durant Knee Injury: How Did the Brooklyn Nets Star Sprain His MCL and When Will He Be Back?
How much time will Kevin Durant miss with his knee injury?
Kevin Durant, who missed 37 and 27 games, respectively, in the last two years, enjoyed a healthy start to the 2022-23 NBA season. The Brooklyn Nets superstar played in 39 of the first 40 games of the season and led his team to an 18-2 stretch dating back to November.
But just as the Nets were starting to hit their stride, Durant suffered another injury.
KD went down in Brooklyn's most recent game against the Miami Heat, and he was later diagnosed with a sprained MCL in his right knee. So, how did Durant suffer his knee injury, and when is he expected to return to the lineup?
Kevin Durant suffers knee injury on scary collision
Nets fans nearly watched their season go up in flames on Sunday night.
With a minute left in the third quarter, Jimmy Butler rose up for a layup attempt and fell awkwardly on top of Durant's right leg. KD's knee twisted from the unexpected contact, and the immediate fear was a possible torn ACL. He left the game right after that play and didn't return.
On Monday, Durant underwent an MRI to determine the severity of the injury, and he received some positive news. Instead of a season-ending injury, he was diagnosed with a sprained MCL in his right knee. He will be re-evaluated in two weeks.
When will Kevin Durant be back in the lineup for the Nets?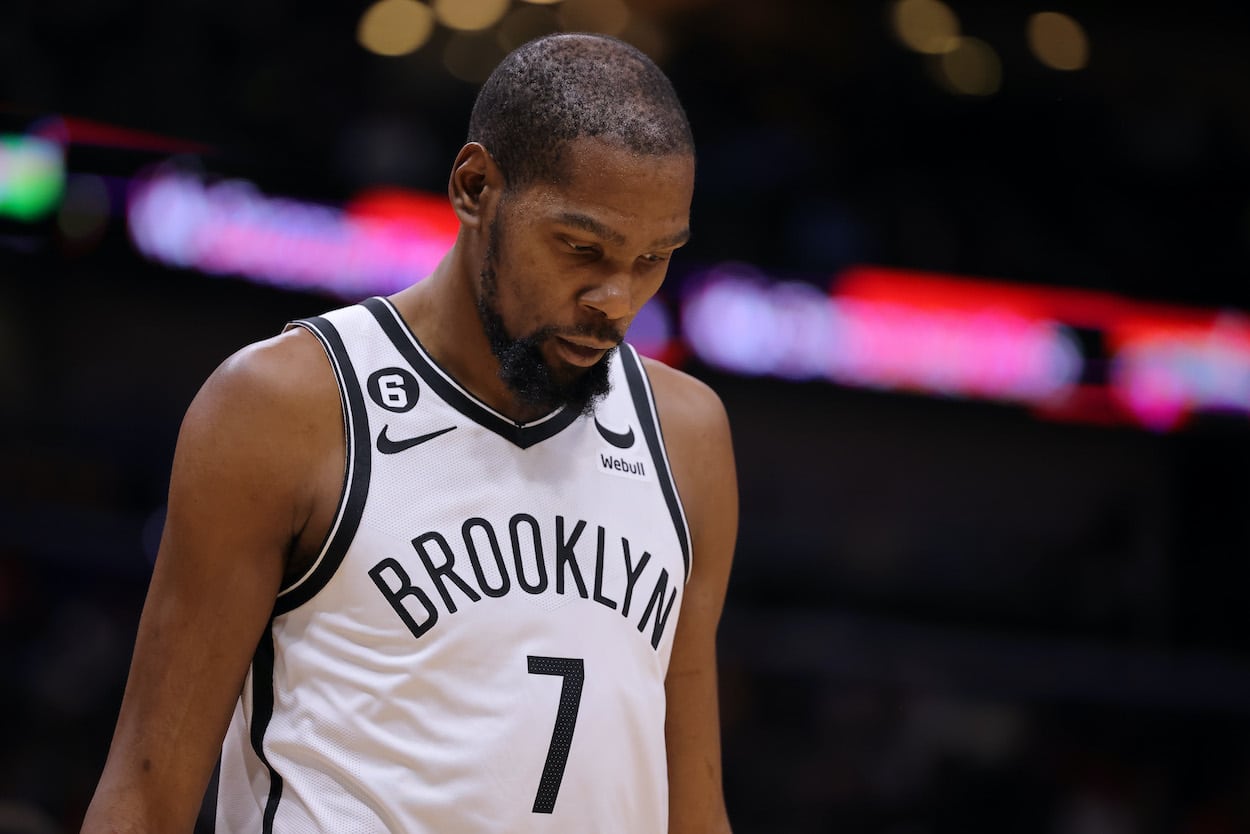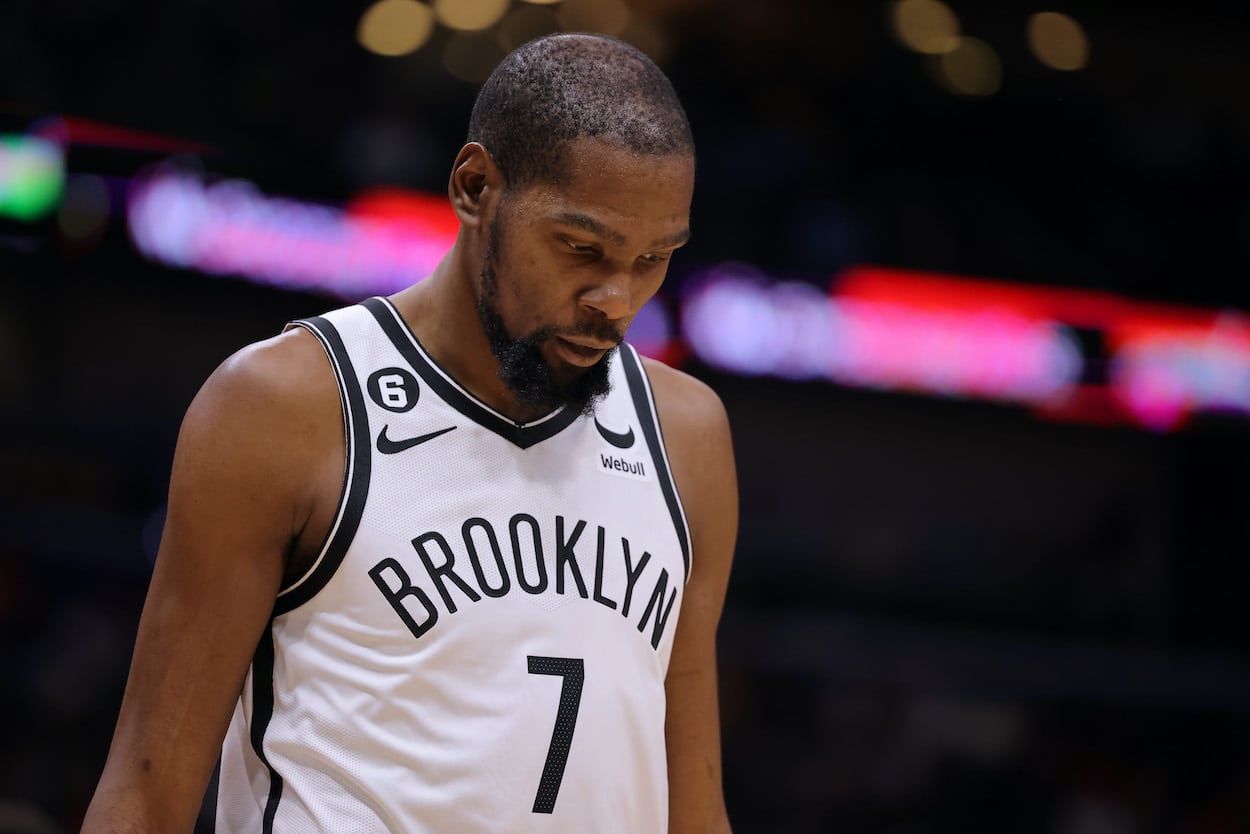 Durant avoided the worst-case scenario with his knee injury, but the star forward will miss at least a few games due to his sprained MCL. Considering the team announced he will be evaluated again in two weeks, KD will likely miss Brooklyn's next six games at minimum.
Last season, Durant suffered a sprained MCL in his left knee, and he missed 21 straight games over the following six weeks. According to a tweet from Adrian Wojnarowski of ESPN, though, this isn't as serious as last year's injury. "There's optimism that this is a less severe injury unlikely to cost him more than a month on the sideline," Woj wrote in the tweet.
Even if Durant misses just two or three weeks of action with his current MCL sprain, it will be a challenge for the Nets to keep this hot streak rolling. In the 21 games Durant missed last season with his left knee injury, Brooklyn went just 5-16 in that stretch.
Thankfully for the Nets, they have some breathing room at 27-13 through 40 games. Brooklyn is currently second behind the Boston Celtics in the Eastern Conference standings, and it should be able to hover near the top of the conference by going .500 over the next few weeks.