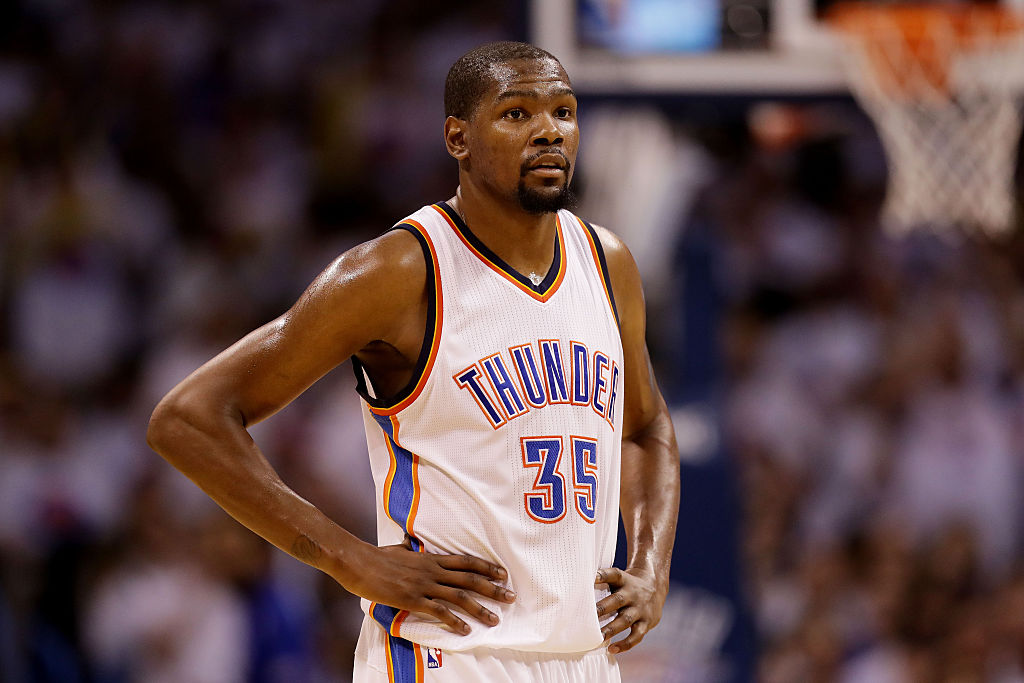 Kevin Durant's 2012 Movie 'Thunderstruck' Was Ultimately a Massive Flop in the Box Office
Kevin Durant has been very successful for the Thunder and Warriors. His movie "Thunderstruck," though, was not successful at all.
Kevin Durant has been a superstar throughout his entire NBA career. While playing for the Oklahoma City Thunder and Golden State Warriors, Durant has been a 10-time NBA all-star, a two-time NBA champion, a two-time NBA Finals MVP, he was the league MVP in 2013-14, and he has led the NBA in points per game in four different seasons. However, Durant has not been successful at everything he has done. In fact, he starred in a movie called Thunderstruck that absolutely flopped.
Kevin Durant was a star at the time of the movie's release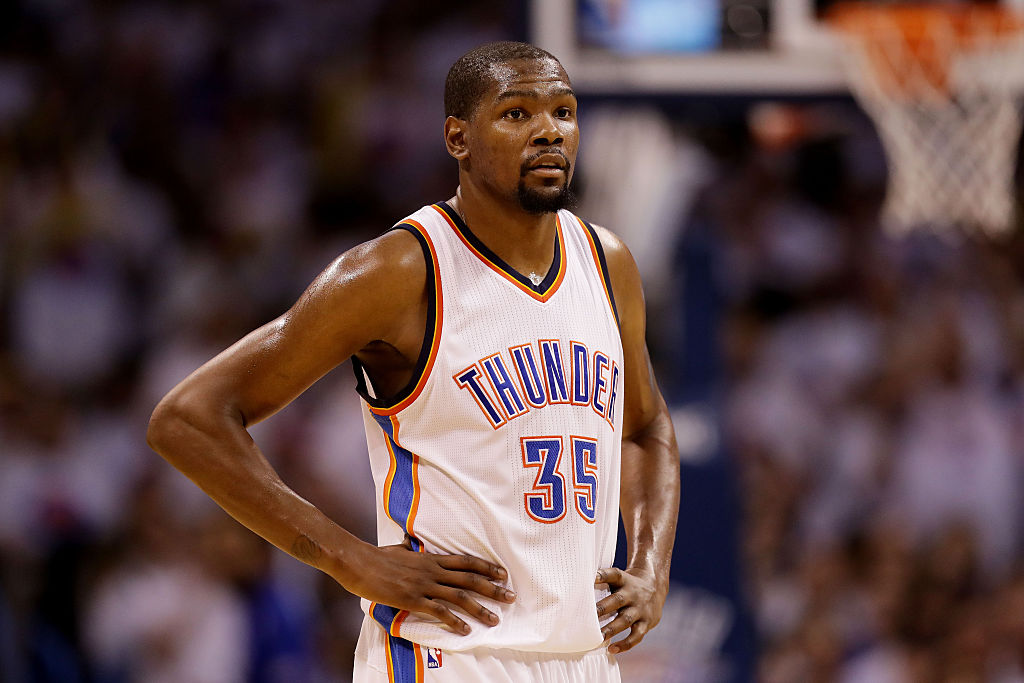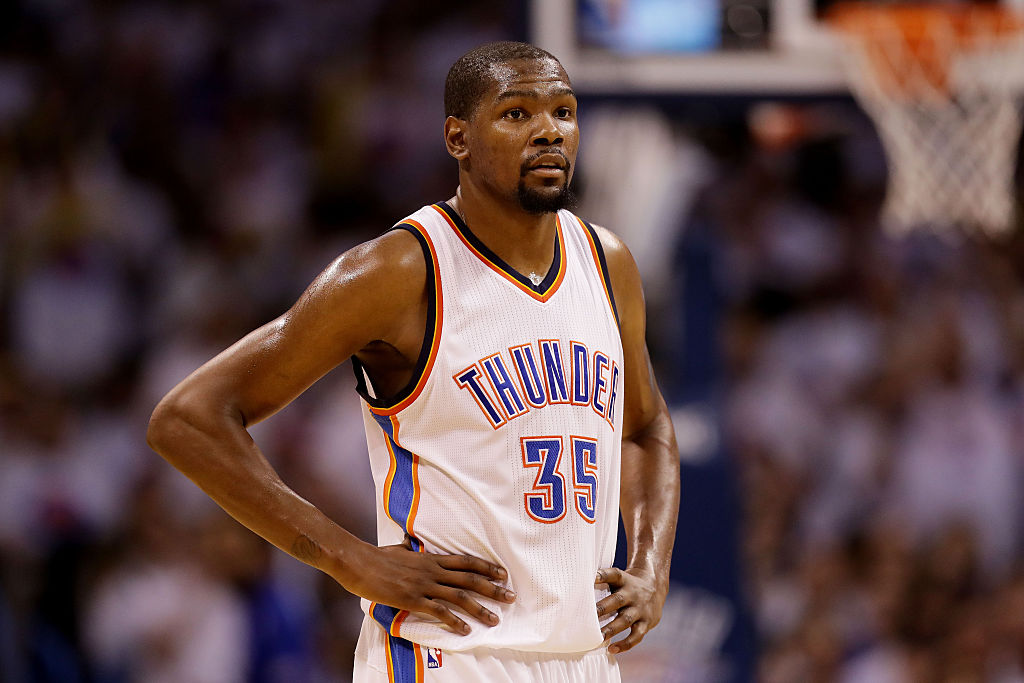 Kevin Durant's movie Thunderstruck came out in the summer of 2012, according to IMDb. At that time, Durant was still pretty young, but he had already become an absolute star in the NBA. 
The Seattle SuperSonics drafted Durant with the second overall pick in the 2007 NBA draft. After winning the Rookie of the Year award in 2007-08 in Seattle by averaging 20.3 points per game and 4.4 rebounds, the SuperSonics became the Oklahoma City Thunder. 
Durant was then a superstar for the Thunder. After averaging 25.3 points per game and 6.5 rebounds in 2008-09, Durant earned his first All-Star selection in 2009-10. In that season, Durant led the NBA in points per game with 30.1, and he also averaged 7.6 rebounds. Durant has been an All-Star in every season he has played in since.
In 2010-11, Durant led the NBA in points per game again with 27.7, and the Thunder were excellent. They ultimately went 55-27 and went to the Western Conference Finals. Then in 2011-12, Durant led the NBA in points per game again with 28 to go with eight rebounds. He then led the Thunder to the NBA Finals that year too before they lost to LeBron James and the Miami Heat. 
Durant was definitely one of the biggest superstars in sports at that point. Then, Thunderstruck came out.
What is the plot of the movie?
With the movie playing off of the name of the team that Durant played for at the time, the Oklahoma City Thunder, Durant played himself in the film.
This is what the movie is about, according to Rotten Tomatoes. 
"NBA superstar Kevin Durant plays himself in this action-packed family film about a basketball star who switches talent with a klutzy 16-year-old fan," the description reads on Rotten Tomatoes. "When Brian magically switches basketball skills with his hero, Kevin Durant, he becomes the star of his high school team … while Kevin Durant suddenly can't make a shot to save his life. But with the playoffs approaching, Brian learns that being a true winner means working hard at your own game, and he tries to make things right in time to prevent a catastrophic end to his hero's season."
So, it's kind of like Freaky Friday but with basketball? Well, the movie ended up doing horribly. 
'Thunderstruck' did not do well in the box office
Review-wise, Thunderstruck did horrible. It has 5.1 out of 10 stars on IMDb. It also did awful in the box office. The movie racked up only $587,211 in domestic ticket sales, according to Bleacher Report. For reference, Business Insider put together a list of movies that flopped in 2012. The movie Mirror Mirror was considered to be a flop and still made $64.9 million domestically.
From what it looks like, Thunderstruck also seemed to end Durant's acting career forever. He told TMZ in 2014 that he would not act again. 
Kevin Durant has been an absolute superstar in his career, and has been on television for years. However, his success on TV has been as a basketball player. His short-lived acting career was definitely less-than-stellar.
Stats courtesy of Basketball Reference