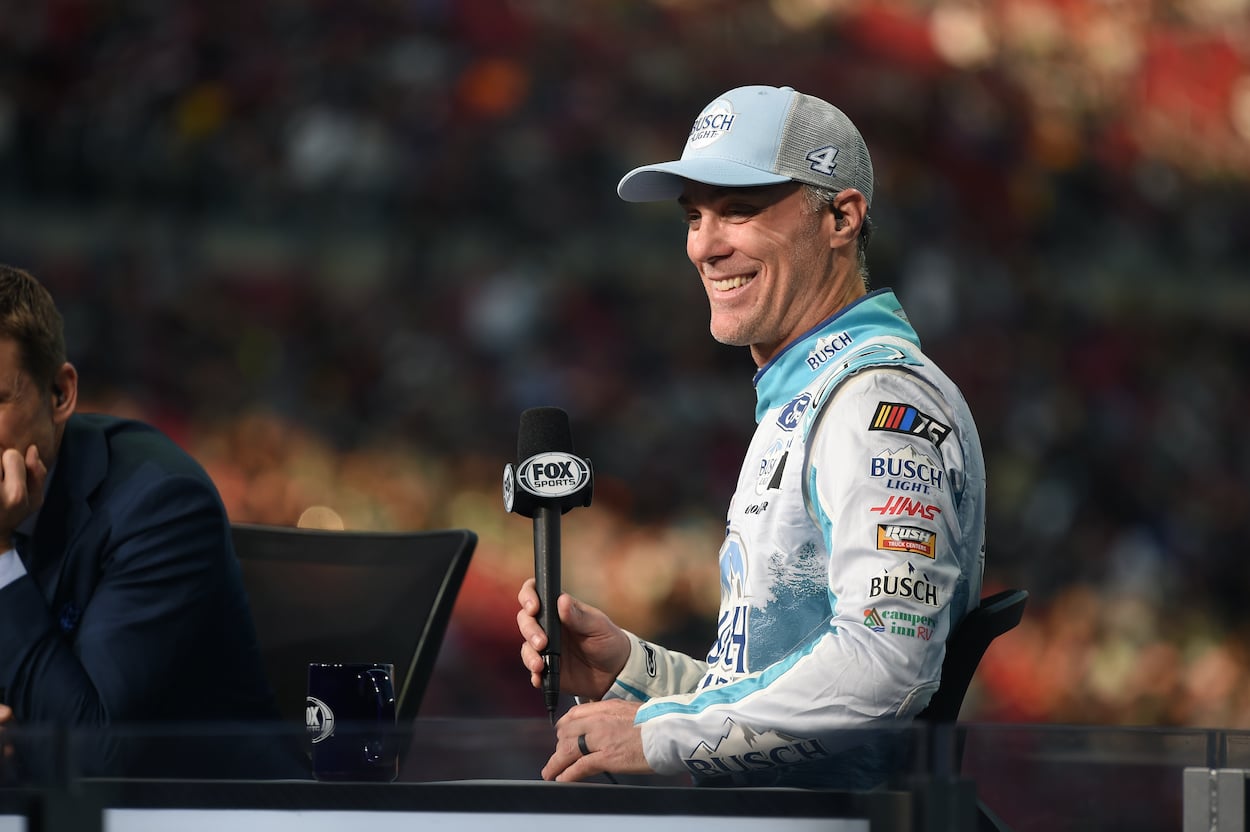 Kevin Harvick Unexpectedly Confesses to Something During Drivers-Only Broadcast and Regrets It Later When His Motorhome Gets 'Ransacked' on Live Television 
Kevin Harvick regretted sharing a story during the drivers-only broadcast on Saturday because it resulted in his motorhome being ransacked on live television.
Kevin Harvick is running his 23rd and final season in the NASCAR Cup Series. Next year he'll be in the Fox broadcast booth, working alongside Mike Joy and Clint Bowyer. 
The Stewart-Haas Racing driver has had plenty of practice for his future role, working multiple years in the annual drivers-only broadcast, which the network pulls together with Cup Series drivers working in the various broadcast positions (studio, booth, pit road) during an Xfinity race. On Saturday, Harvick, who was the lead announcer in the booth, got a welcome from his future Fox teammates that he won't soon forget, and his motorhome has the stains to remind him of the experience. 
Kevin Harvick honored by Fox with faux diploma
Kevin Harvick was joined by Penske teammates Ryan Blaney and Joey Logano in the booth on Saturday for the Xfinity Series race at Charlotte Motor Speedway. Unfortunately, during a lengthy rain delay, the three experienced drivers-turned-broadcasters found themselves in a very different and uncomfortable position, not talking about racing but about everything else at the rainy racetrack while trying to kill time. 
Fox came prepared with a pre-scripted package for the 2014 champion that started with various drivers reading pages from the Dr. Seuss book, Oh the Places You'll Go while playing the graduation song "Pomp and Circumstance" in the background. It concluded with Logano pulling out an oversized diploma and declaring how Harvick "had finally graduated from the Drivers-Only Academy." Blaney then presented him with an oversized graduation cap that the driver wore briefly.
"I don't know what to say other than I'm extremely embarrassed to wear this hat," Harvick said as he removed it. "I feel like it might mess my hair up; what's left of it."  
Harvick shares story of past pranks 
The cap embarrassment for Harvick was small compared to what he was about to experience. Just moments later in the broadcast, Fox's Shannon Spake asked him what he did back in the day during a rain delay. He willingly volunteered some detailed information, not realizing how it could later come back to haunt him.
"I've been here since Fox has been here, so when we started, it was all about having fun," Harvick said. "We were talking about this earlier. We used to toilet paper Darrell Waltrip's motorhome. I used to go in there during these rain delays and eat his food out of his refrigerator — myself and Matt Yocum. We would usually terrorize DW's motorhome during any rain delay that we got."
Motorhome 'ransacked' on live television
Later during the rain delay, when Spake sent the broadcast back to the track, the camera cut to a view from inside Harvick's motorhome, with Fox pit reporters Jamie Little and Regan Smith joined by their drivers-only counterparts Tyler Reddick and Austin Cindric. All four milled about his motorhome with toilet paper strewn from ceiling to floor and wall to wall. 
"We had to get out of the rain," Little said.
"Is that Harvick's bus, Jamie?" Spake asked from the studio.
"Sorry, somebody let us in," she said while pushing a hanging stream of toilet paper away from her face as another roll zipped by toward the camera. That's when the broadcast went to a split-screen showing the motorhome shenanigans and Harvick's reaction up in the broadcast booth.
"He's 100% fired," Harvick joked, but it was barely audible due to the laughter of those in the studio and broadcast booth. "100% fired." 
"Hey Kevin, do these look familiar?" Little asked, lifting up her leg and showing his shoes on her feet. 
"You guys made a mess in there," the driver said. "I was in a hurry." 
The broadcast stayed inside the motorhome for several minutes as the crew rummaged through the various cabinets and drawers, finding unrefrigerated olives, bubble gum, popcorn (which they made), and a juice box, which Little opened and later dropped on the floor.
It finally ended and went to a commercial break with the driver acknowledging the error of his ways. 
"Lord help us," Harvick said looking at his destroyed bus. 
"You can go to commercial," Logano told him. "You're running the show." 
"You had to tell the story about you teepeeing buses," Blaney hilariously pointed out.
"I got to keep my mouth shut," the future Hall of Famer concluded. 
Interestingly, next year he'll be paid to not keep his mouth shut. And you know there are plenty more entertaining stories where that came from. Toilet paper optional.
To stay up to date on the latest happenings in NASCAR, including breaking stories you can't find anywhere else, follow Kyle on YouTube and Twitter.