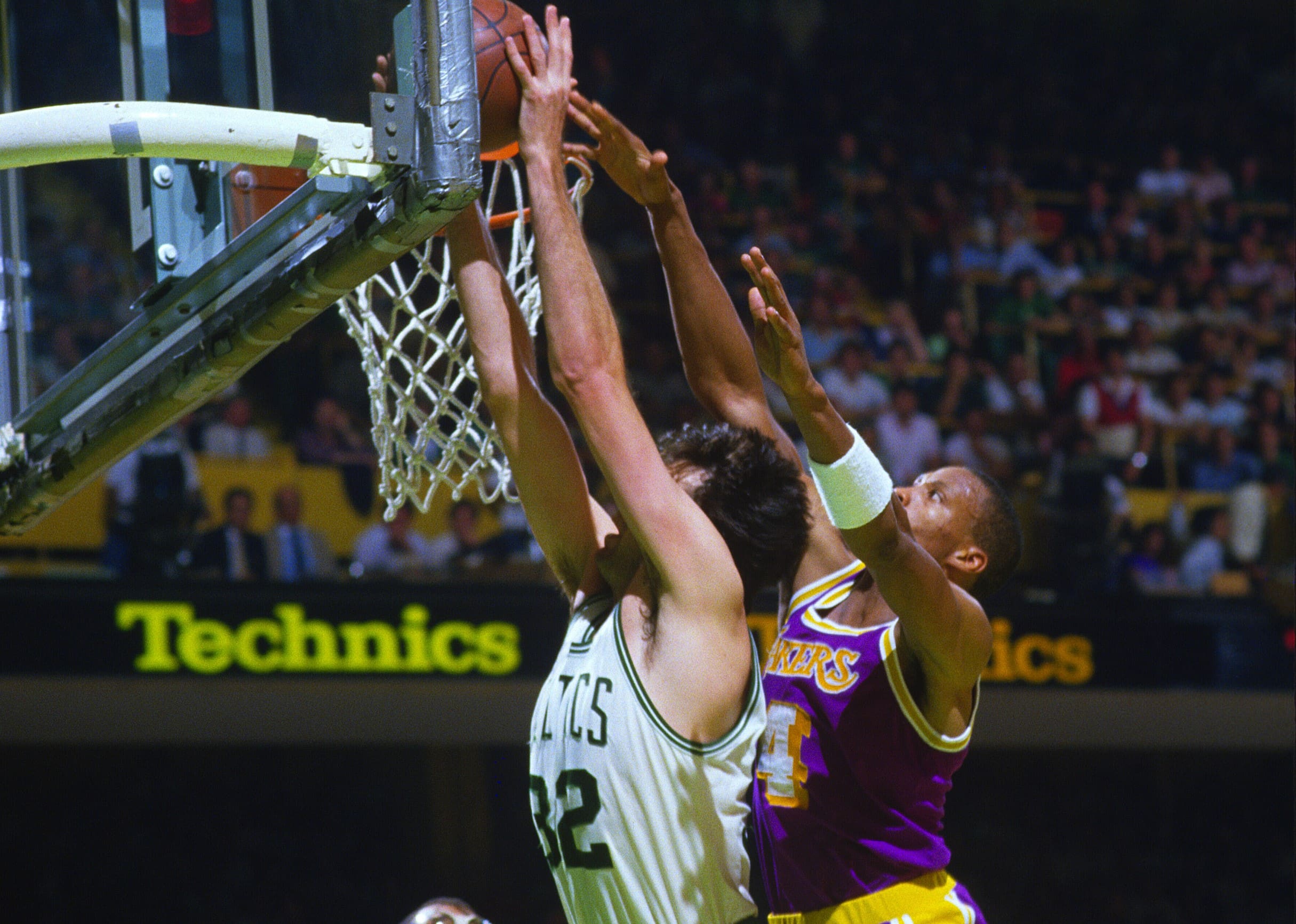 Kevin McHale Explained Why His Clotheslining of Kurt Rambis in 1984 Wasn't a Planned Attack
Former Boston Celtics star Kevin McHale said his takedown of Kurt Rambis in Game 4 of the 1984 NBA Finals wasn't a planned attack.
Although Gerald Henderson's late steal in Game 2 of the 1984 NBA Finals is considered the play that allowed the Boston Celtics to rally and defeat the Los Angeles Lakers in the 1984 NBA Finals. Kevin McHale clotheslining Kurt Rambis in Game 4 can't be overlooked.
McHale's hard takedown of Rambis in the third quarter of Game 4 with his team trailing 76-70 and 2-1 in the series was a momentum changer. Tempers flared. Benches cleared. When it was over, the Celtics rallied again to pull out another overtime win. The Celtics went on to win the series in seven games. McHale later explained that he didn't come into the game thinking he would take down anyone.
Kevin McHale injected life into the Boston Celtics in Game 4
If not for Henderson's steal in Game 2, the Celtics would likely have been starting at getting swept in the series heading into Game 4. In Game 3, the first home game for LA, the Lakers blew out the Celtics, winning 137-104. The embarrassing loss prompted Celtics star Larry Bird to blast his teammates, calling them "sissies" for their soft play.
"I wanted to fight every teammate I had after Game 3," said Bird, quoted in Jackie MacMullan's book When the Game Was Ours. "I did everything I could in the papers to get them fired up, and I knew if something didn't change, we were going to lose. So I called them sissies, told them they played like girls. I didn't know if there would be some backlash, but I didn't care."
Head coach K.C. Jones said Bird calling out his teammates was exactly what the team needed.
"It was needed," Jones said, per MacMullan, "and it was done by the only guy who could get away with it."
The Celtics evened the series with a 129-125 victory and then put together their best effort of the series in Game 5 with a 121-103 victory. After losing Game 6 on the road, the Celtics closed out the series with a 111-102 win at home in Game 7 behind Cedric Maxwell's team-high 24 points.
McHale explained why the clotheslining of Rambis was not planned
Although Bird called his teammates soft, that didn't mean McHale was out there looking to take someone out. Yes, the Celtics knew they couldn't get into a track meet with the Lakers and had to become more physical, but McHale said there was no script for the hard foul.
"People say it was planned," he said, per MacMullan. "It wasn't. If I thought about it ahead of time, I would have done it to Magic or Kareem or Worthy. They were a helluva lot more important than Rambis."
Whether planned or not, McHale's foul took the Lakers out of their game. Moments after the foul, Bird and Kareem went nose-to-nose in a heated battle. The Lakers lost focus. The Celtics gained momentum.
The Celtics and Lakers met three times in the NBA Finals in the 1980s. Rambis and the Lakers got revenge in 1985. They became the first visiting team to celebrate a championship in Boston. The teams squared off again in 1987. LA won in six games.