Kevin Porter Jr. Turns His Immaturity Against the Houston Rockets in Unprofessional Tantrum
It's no secret the Houston Rockets are in a complete rebuilding mode. They've experienced one notable high this season, winning seven consecutive games from Nov. 24-Dec. 8. But they've also found time to lose 15 straight, and their New Year's Day loss to the Denver Nuggets stretched their current slog to seven consecutive defeats. In the loss to the Nuggets, a blowup from point guard Kevin Porter Jr. shone a harsh light on potentially more significant problems in Clutch City.
Porter came to the Rockets last season as a 20-year-old with a lengthy portfolio of off-court incidents. After Porter's temper flared, the Cleveland Cavaliers gave away the 30th overall pick in the 2019 NBA Draft for nothing. Now Houston got a taste of Porter's volatility. The question is, what happens next.
Outbursts have plagued Kevin Porter Jr.
Many draft evaluators projected Kevin Porter Jr. as a lottery pick before going to USC for his freshman year in 2018. According to USA Today, he was suspended by Trojans coach Andy Enfield for personal conduct issues. The incident, coupled with inconsistent play, cratered Porter's draft stock. He went with the last pick in the first round, and his rights were traded twice before he ended up in Cleveland.
He showed flashes of potential as a rookie, averaging 10.0 points in 23.2 minutes per game. Before last season, he was in a one-car accident that led to criminal charges. After the Cavaliers acquired Jarrett Allen and Taurean Prince in a mid-January trade, Porter erupted when he learned his locker had been moved.
The young player responded by shouting and throwing food. When confronted by general manager Koby Altman, Porter didn't back down. The young player was dealt to the Houston Rockets shortly after that. Cleveland acquired a 2024 second-round pick from the Rockets; the pick, originating from the Golden State Warriors, is top-55 protected. That's as close as it gets in the NBA to giving away a player for free.
But the situation on New Year's Day with the Rockets might be more complicated than a simple temper tantrum.
The Nuggets embarrassed the Houston Rockets, and the locker room exploded
During their home game against Denver, the Houston Rockets surrendered 47 points in the second quarter and trailed 77–55 heading to the locker room. That's where things got heated.
According to a tweet from Shams Charania of The Athletic, assistant coach John Lucas confronted multiple players, including Kevin Porter Jr. and Christian Wood.
Porter reportedly responded by throwing something and leaving the arena.
There was more fallout. Wood didn't start the game and refused to enter as a sub in the second half. Coach Stephen Silas said it was a coach's decision why Wood didn't play after halftime. In any event, eight minutes and zero points from your team's second-highest-paid active player is not a good look.
According to a tweet from Mark Berman of Fox 26 in Houston, Silas did what damage control he could after the game.
"We were angry at halftime that we had just given up 47 points," Silas said. "We watched the film, we had a spirited debate. I have certain demands of this group as far as playing hard. Making mistakes is different than giving the effort, and I wasn't satisfied with the effort."
The good news is that Houston responded well, holding Denver to 47 points after halftime. But the damage was done, on the court and off it.
What's next for Kevin Porter Jr.?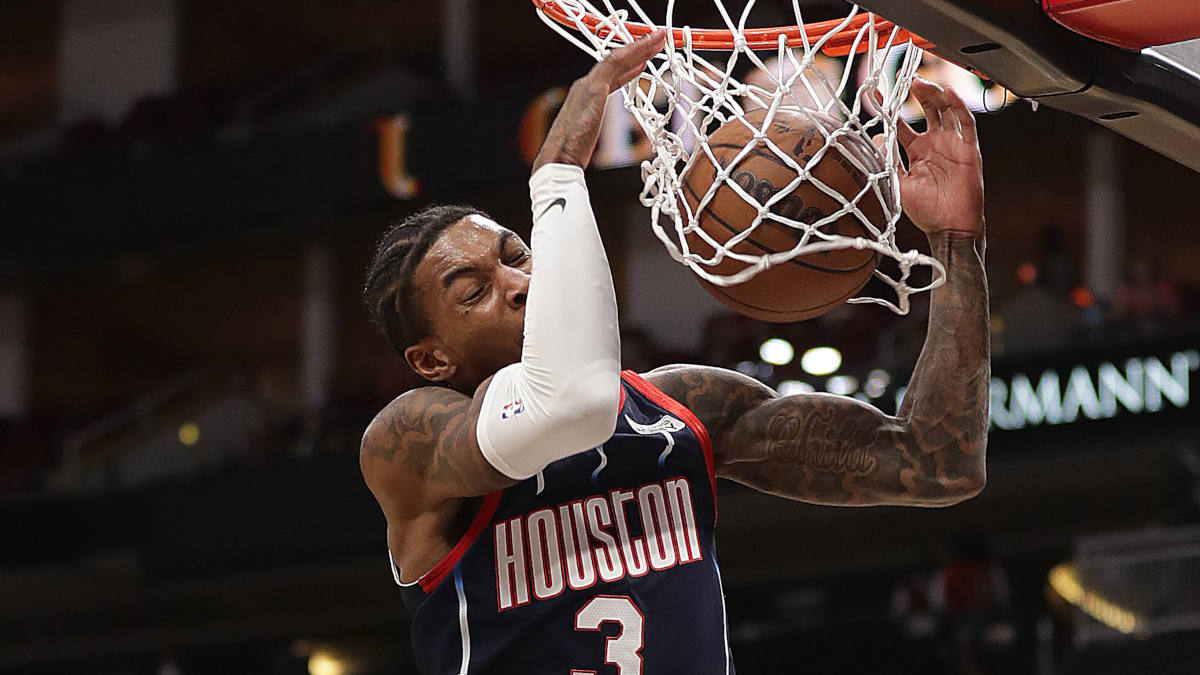 It's been a challenging season for Kevin Porter Jr. Because the Houston Rockets are not playing John Wall, someone had to step into the void at point guard. The Rockets tasked Porter with mixed results.
He's averaging 12.8 points, 5.7 assists, and 4.2 rebounds in 29.8 minutes per game. But he also turns the ball over 6.3 times per 100 possessions. Porter is shooting a dismal 40.1% from 2-point range and a sub-par 32.8% on 7.0 3-point tries a night.
It's conceivable Lucas, an old-school veteran, crossed some lines in his criticism of Porter and Wood. Lucas is 68 years old and has been around the NBA since he was selected first overall by the Rockets in 1976. He's been a head coach for three teams and returned to Houston as an assistant when Silas was hired in 2020.
According to Adam Wexler of SportsTalk 790 in Houston, the Rockets initially reported Porter was out after re-aggravating the left thigh injury that sidelined him for 12 games in December. It's unclear what part driving out of the arena parking lot players in a medical evaluation.
Kelly Iko of The Athletic reported via Twitter the team spoke to Porter after the incident and that the player apologized for his overreaction.
But the Houston Rockets are grooming Kevin Porter Jr. as their point guard, their leader on the floor. It's hard to lead a team if your default reaction to every perceived slight is screaming and throwing things before stomping off and leaving your team to fend for itself.
Statistics courtesy of Basketball Reference and NBA.com.
Like Sportscasting on Facebook. Follow us on Twitter @sportscasting19.