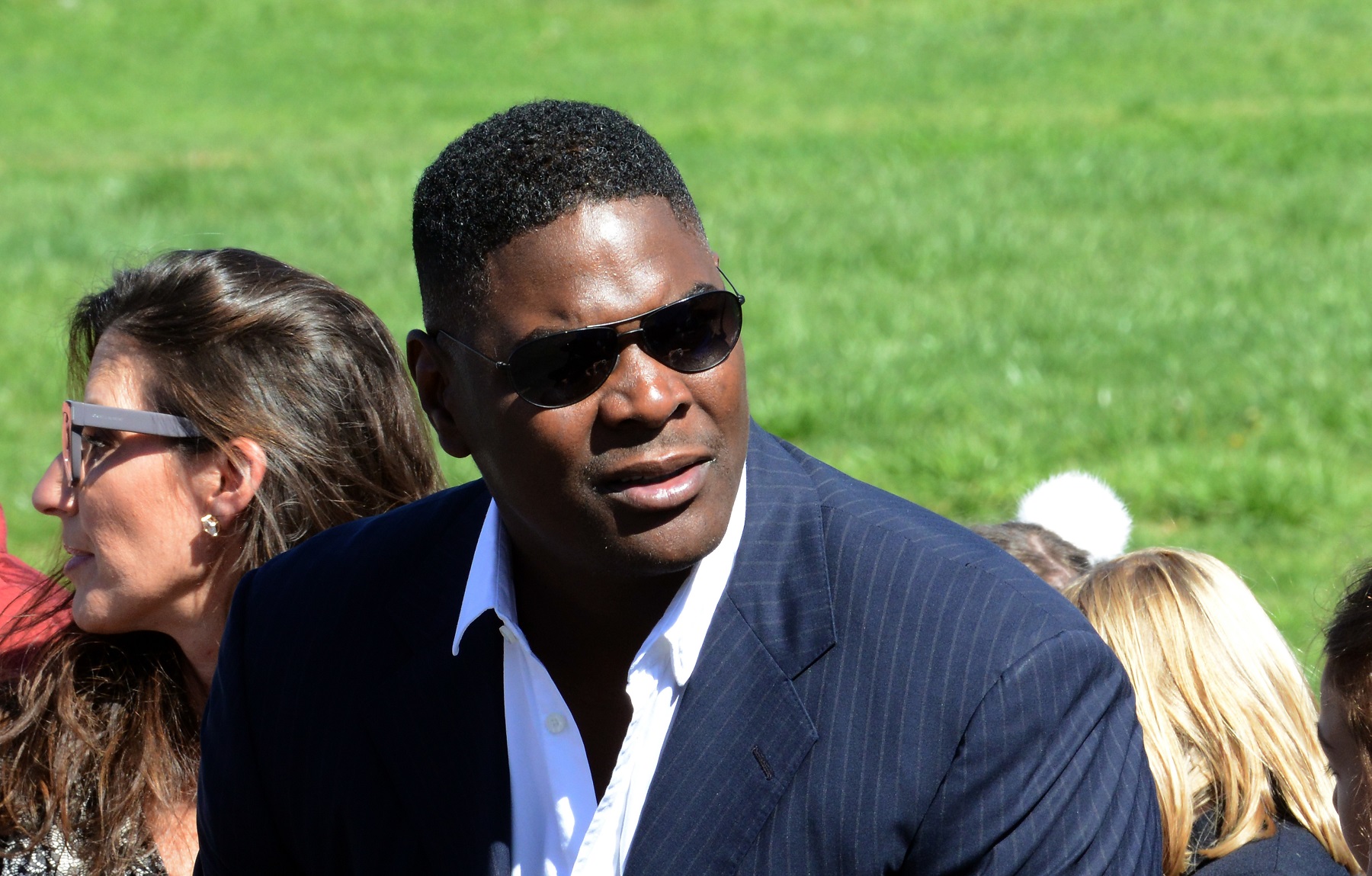 Keyshawn Johnson's Diss of Dak Prescott Doesn't Add Up
Keyshawn Johnson thinks Dallas Cowboys quarterback Dak Prescott hasn't done enough yet to deserve a big contract.
Speaking louder won't get Keyshawn Johnson very far since listeners control the volume. So, the retired wide receiver is taking the predictable hot-take route in his new radio job at ESPN. It was going OK until he came up with a take on Dak Prescott and DeShaun Watson that cannot be supported with facts.
Keyshawn Johnson slid right into a second career
Keyshawn Johnson was a highly productive receiver for 11 NFL seasons after making 168 catches with 16 touchdowns over two seasons at USC. The stellar college work earned Johnson the honor of being selected first overall by the New York Jets in the 1996 NFL draft.
Johnson's production with the Jets increased in each of his four seasons, and he finished his time in New York with 305 catches and 31 touchdowns. The Jets traded Johnson to the Tampa Bay Buccaneers, where he rolled up 298 more catches in four seasons. After two seasons in Dallas and one in Carolina, Johnson retired in 2006 with 814 catches and 64 touchdowns.
Johnson, who appeared in four Pro Bowls, transitioned quickly into television work at ESPN. His "C'mon, man" segments on Sunday and Monday pregame shows earned him a following from football fans. Most recently, he returned to the ESPN national brand Aug. 17, 2020, as a morning radio host and occasional guest on the network's other radio and TV live shows.
Deshaun Watson got paid and Dak Prescott didn't
By not long after Super Bowl 54 wrapped up, it was apparent that the Kansas City Chiefs would make a preemptive move to lock up quarterback Patrick Mahomes for the long haul rather than settle for just picking up his fifth-year option.
That left NFL fans to wonder what the Dallas Cowboys and Houston Texans would do with Dak Prescott and Deshaun Watson, respectively. The Cowboys applied the franchise tag to Prescott and then could not reach an agreement with their quarterback on a new contract before the mid-July deadline. The Texans just made their move by negotiating a four-year, $160 million extension with Watson.
Prescott will make $31.4 million in 2020 – certainly not poverty wages – but doesn't have the long-term security of Mahomes and Watson. And ESPN radio host Keyshawn Johnson thinks that's the way it should be.
"I'm betting on 30, 30-plus million dollars," Johnson said on his Sept. 8 show. "I'm the owner, and if you bring me a championship, I have no problem giving you that. I paid for that championship, that's fine. And if you don't, why in the hell would I give you 150 million, and you haven't gotten me to championship-caliber football?
"So, I'm just going to wait, and if you deliver, I'll pay you. And if you don't deliver, nobody's going to pay you."
What would Johnson's message to Prescott be if he was sitting in Jerry Jones' chair?
"I'll just franchise tag you again until you prove to us that you're worth more money than Deshaun Watson."

Keyshawn Johnson
Breaking down Dak Prescott vs. Deshaun Watson
Deshaun Watson, who threw for 3,852 yards and 26 touchdowns last season, is undeniably good. With the career trajectory he's on, it will take quite a bit more than $40 million a year to keep him when the next contract negotiation rolls around.
But how Keyshawn Johnson figures Watson earned his $160 million while Prescott didn't is puzzling. (Disclaimer: No one outside of Prescott, his agent, and Jerry Jones knows what the Cowboys' final offer was this summer.)
Watson is 24-13 as a starter and has thrown 71 touchdowns and 29 interceptions. Besides a 101.0 quarterback rating, he has shown himself as a more than adequate runner with 1,233 yards at an average of 5.7 yards per carry.
Prescott, with one more full season under his belt, is 40-24 with 97 touchdowns and 36 picks. His QB rating is 97.0, and his 5.1 yards per carry is close enough to Watson's number.
Both quarterbacks have 1-2 career records in the postseason, where there's little difference in their individual stats. The only difference, then, seems to be that Watson's Texans went to the playoffs last year while Prescott's Cowboys finished 8-8.
It's hard to see how that equates in Johnson's mind to Watson deserving his $160 million and Prescott not deserving a long-term deal.
All stats courtesy of Pro Football Reference.