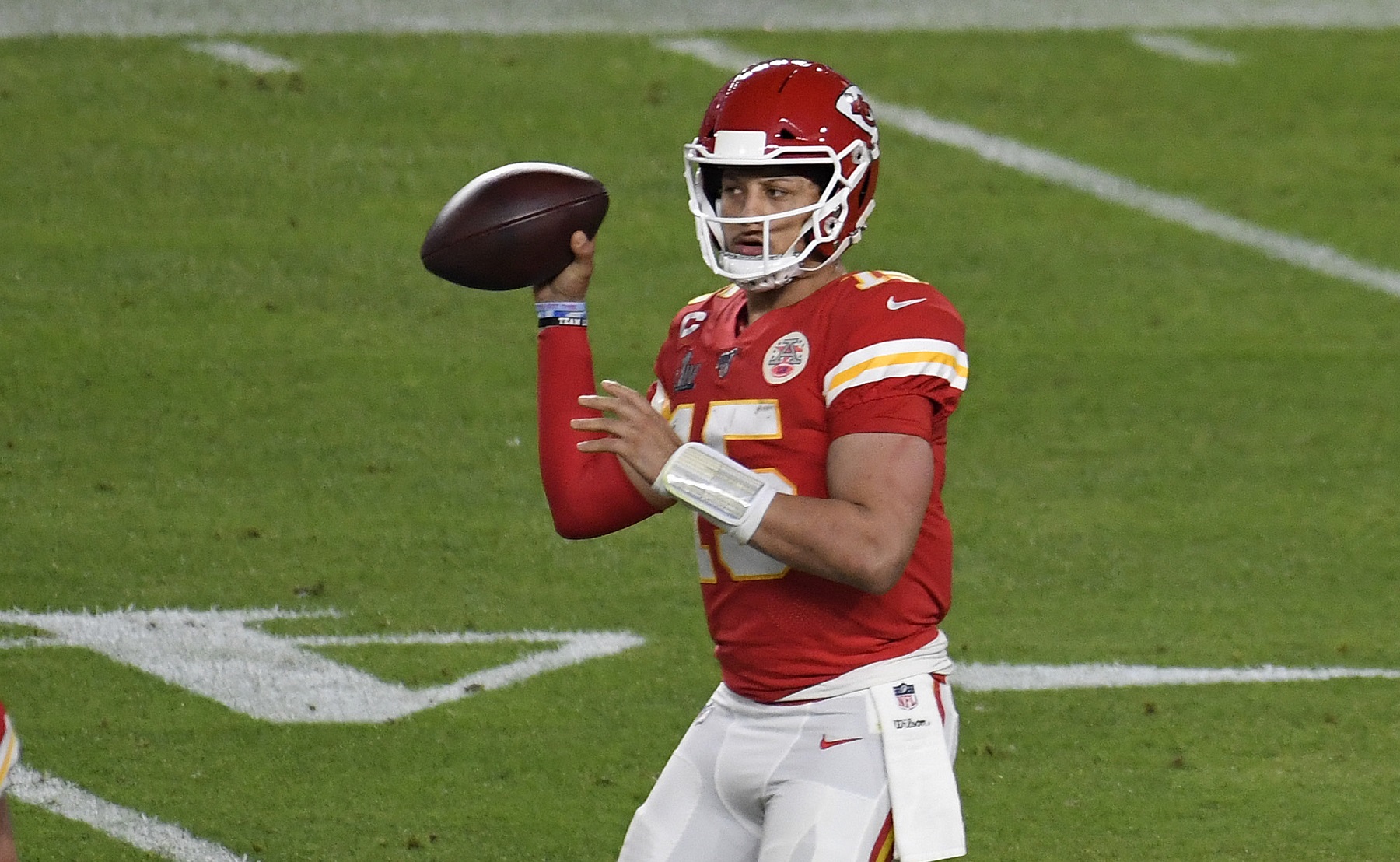 Patrick Mahomes Confirms What NFL Fans Have Suspected for Months
Patrick Mahomes started a 21-point rally in the fourth quarter of Super Bowl 54 with a clutch completion to Tyreek Hill.
Patrick Mahomes is entitled to be riding high. After all, the last time he was seen throwing footballs against live competition, his Kansas City Chiefs were beating the San Francisco 49ers in Super Bowl 54.
That 31-20 triumph confirmed what Mahomes had demonstrated on a regular basis in his first two seasons as a starter: He is the real deal as an NFL quarterback and is heading for a great career. However, Mahomes will be the first to say that one play in that game gets more attention than it deserves.
Super Bowl 54 was a big moment for Patrick Mahomes
Kansas City Chiefs fans didn't need one more big performance from him to know that Patrick Mahomes is special. But they got one anyway in Super Bowl 54. Though Mahomes threw a pair of interceptions – his first in five career playoff games – he also threw for 286 yards and two touchdowns. Rounding out the performance, he also ran for a touchdown and had six carries for 44 yards before three kneel-downs while in victory formation.
Mahomes was particularly clutch in the fourth quarter in helping Kansas City overcome a 21-10 deficit against the San Francisco 49ers. He engineered scoring  drives of 83 and 65 yards beginning midway through the quarter to take the lead, then Damien Williams ripped off a 38-yard TD run with 1:12 to go to sew it up.
Mahomes walked away with MVP honors for coach Andy Reid's Chiefs.
Patrick Mahomes gets too much credit for the play that turned the tide
Every come-from-behind victory has a pivotal moment. The Kansas City Chiefs' moment in Super Bowl 54 came midway through the fourth quarter. Down two scores and facing a third-and-15 situation, Kansas City lined up three receivers to the left, and Patrick Mahomes took a deep drop in the pocket. Mahomes released just before contact from the back side by DeForest Buckner, and a wide-open Tyreek Hill reeled in the pass for a 44-yard gain.
Mahomes threw one yard to Travis Kelce four plays later for the touchdown that cut the deficit to 21-17 and flipped the momentum.
The quarterback appeared on the Football Morning in America podcast this week, during which host Peter King tried drawing a comparison between the Mamomes throw to Hill and one that Eli Manning of the New York Giants completed to Mario Manningham in Super Bowl 46.
Mahomes wasn't having any of that comparison – nor should he have, for that matter. While he'd made an accurate throw for a big gain at a crucial moment, Mahomes was throwing into open space. Knowledgeable fans will always give credit where it's due. But calling it a better throw than the one Manning launched vs. the New England Patriots would be indefensible.
"Mine wasn't as good as Eli's throw," Mahomes said. "Eli's throw was money, right on the sideline. On ours, Tyreek ran a heck of a route where he was able to run across the safety's face and then back towards the pylon. I was just able to put it out there far enough."
Eli Manning's throw in Super Bowl 46 was absolutely perfect
When the New York Giants beat the New England Patriots in Super Bowl 46, the winning drive came on a possession that began at the New York 12 with 3:46 play. On the first snap, Eli Manning threw down the left sideline for wide receiver Mario Manningham.
Unlike Patrick Mahomes' clutch completion to a wide-open Tyreek Hill, Manning was throwing into double coverage. He dropped the ball right onto the receiver's hands, and Manningham got both feet down for a 38-yard gain before being knocked out of bounds by Patrick Chung. Eight plays later, Ahmad Bradshaw scored from six yards out.
Tom Brady got the ball back with 0:57 on the clock, and the Patriots' final possession stalled out at midfield as time expired.