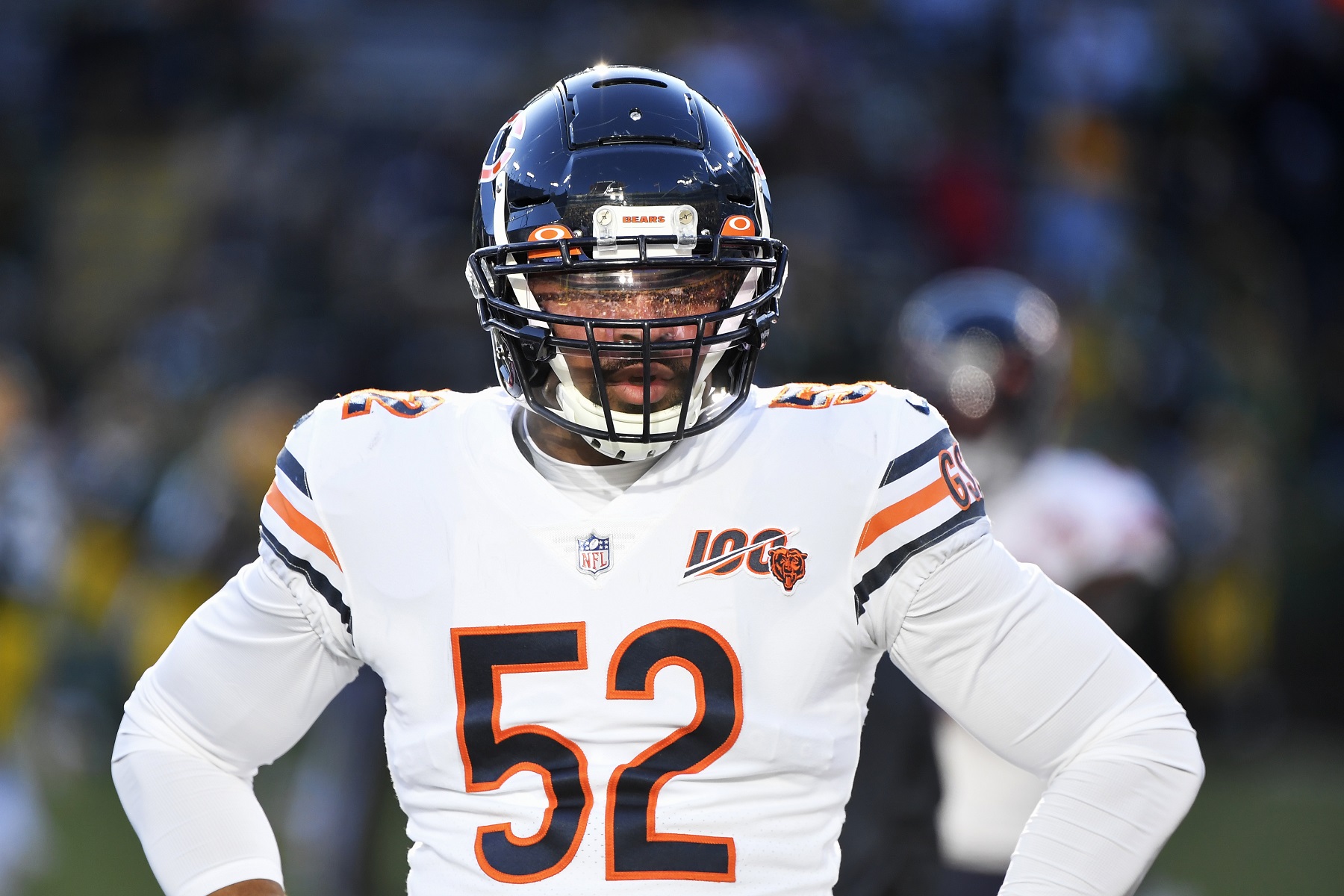 Khalil Mack's 2020 Prediction: 'It's Gonna Be a Fun One, Man'
Khalil Mack's numbers were down in 2019, but the All-Pro linebacker wasn't the problem with the Chicago Bears.
Khalil Mack is holding himself responsible for the regression of the Chicago Bears a season ago even though it's apparent that most of the team's problems were with the offense. Now rested and ready to go once again, Mack has put 2019 behind him and promises an exciting rebound.
Khalil Mack's numbers were down in 2019
Khalil Mack's sack total fell off to its lowest level since the 6-foot-3 linebacker's rookie reason in 2014. His numbers for tackles, tackles for loss, and quarterback hits also weren't up to the usual standards of the three-time first-team All-Pro.
''I wasn't good enough, wasn't good enough at all,'' Mack said in a media call via Zoom. 'I don't make any excuses. I just rise to the occasion, and I am getting ready for this one. It's gonna be a fun one, man. I can't wait.''
Numbers don't lie — except when they do lie, which is the case with Mack. Yes, he didn't perform at his usual level based on quantities, with the modest 8.5 sacks and 14 quarterback hits being the most telling statistics. But there were extenuating circumstances.
Defensive end Akiem Hicks, typically good for a sack every other game, was done after five games due to an elbow injury, and Leonard Floyd once again wasn't enough of a disruptor to take pressure off Mack.
The Bears let Floyd go to the Los Angeles Rams and signed Dallas Cowboys defensive end Robert Quinn (11.5 sacks) to a five-year, $70 million contract. Quinn missed the first two games in 2019 due to a violation of the NFL's substance abuse policy. As long as he stays on the field, Quinn will occupy blockers that would otherwise be focusing on Hicks and Mack.
Big contract, big expectations
With a six-year, $141 million contract, Khalil Mack is an easy target for critics after the Chicago Bears slipped to 12-4 in 2018 to 8-8 last fall.
''Everyone always goes to the numbers,'' head coach Matt Nagy said, according to the Chicago Sun-Times. ''When you have a lot of sacks in your career, like he does, that's what people evaluate. … But we also look to see how much are you affecting the quarterback."
Nagy shouldn't have to worry much if at all about defense in his third season as head coach of the Bears. Yes, they slipped on that side of the ball last season, but not by much. They dropped from first to fourth in points allowed and from third to eighth in yardage. They'll be competitive again if they match those numbers.
''I can't wait to get out there with my teammates and make plays and give oohs and ahhs to the TV crowd," Mack said.
The Bears will be OK if they've fixed the offense
If the Chicago Bears are going to return to the playoffs, Khalil Mack and the rest of the defense are going to need more scoring support than they received a year ago. The Bears put up more than 16 points in just eight of 16 contests on their way to finishing 29th in scoring and yardage. They surrendered three or more sacks 10 times and only rushed for 100 or more yards five times.
Everyone is aware the Bears didn't exercise the fifth-year option of quarterback Mitch Trubisky, who'll have incentive to put up a career season in his contract year, assuming he beats out Nick Foles.
There's bound to be improvement with either quarterback. The Bears signed Seattle Seahawks tackle Germain Ifedi and drafted two linemen for new coordinator Bill Lazor and line coach Juan Castillo. Additionally, former Green Bay Packer Jimmy Graham and Notre Dame draft pick Cole Kmet should bolster the offense at tight end.
All stats courtesy of Pro Football Reference.