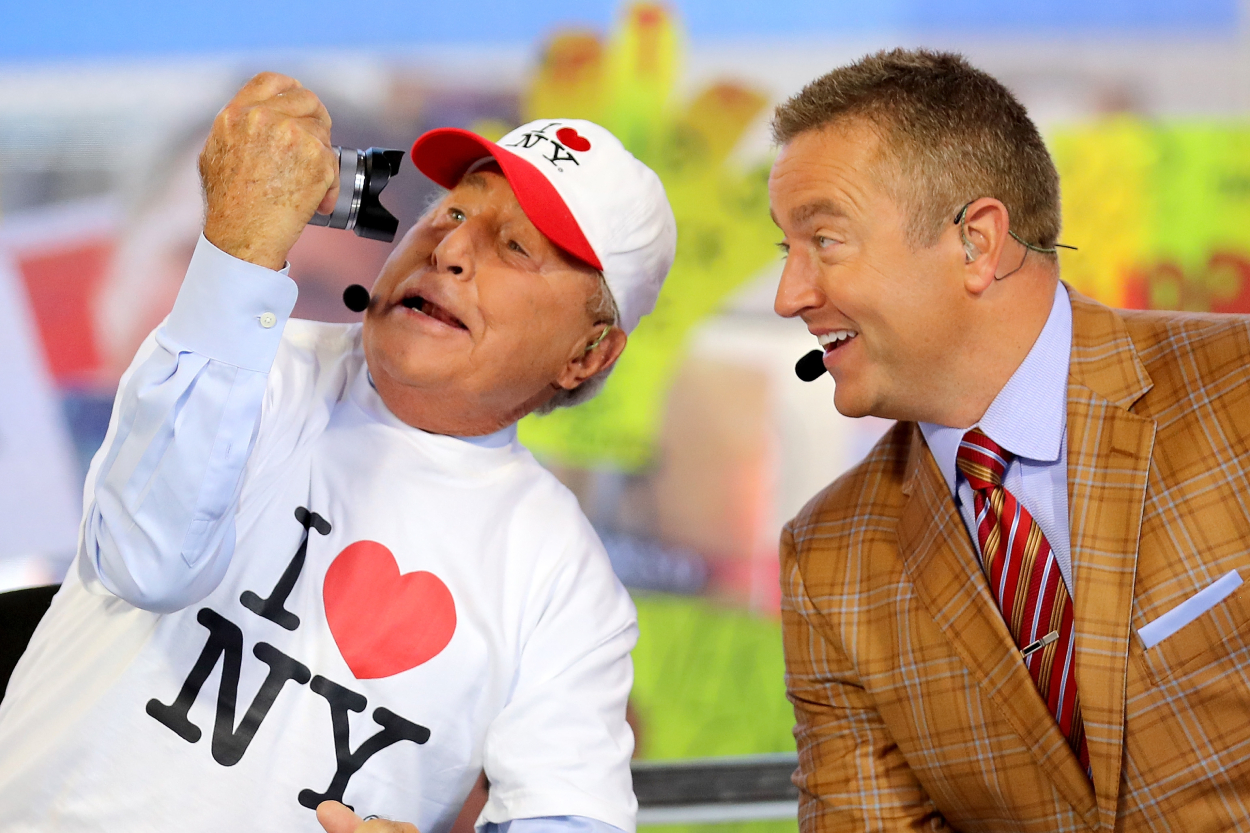 Kirk Herbstreit Called Lee Corso 'Almost Every Day' After What Could Have Been a Career-Jeopardizing Stroke: 'Ever Since Then I've Tried Not to Think About It'
Kirk Herbstreit and Lee Corso are the stars of ESPN's 'College GameDay,' which has become a staple of the football season throughout the past two decades. At one point, though, it looked like Corso's TV career was maybe in jeopardy, which had Herbstreit "devastated" and led to him calling his co-worker nearly every day.
For over two decades, college football fans everywhere have been able to count on two people every Saturday morning in the fall: ESPN analysts Kirk Herbstreit and Lee Corso.
It's hard to imagine a world without their show, College GameDay, as the program has become a staple of the football season. Families and friends across the country get up before the games every Saturday just so they can watch Corso, Herbstreit, and their co-stars discuss that week's biggest matchups.
However, when it comes to television, many people wonder if the on-air chemistry between stars is actually genuine. Corso and Herbstreit seem to have tremendous respect for each other, but is it real?
Herbstreit recently opened up about their relationship and just how deep it goes.
Kirk Herbstreit and Lee Corso have starred on 'College GameDay' for years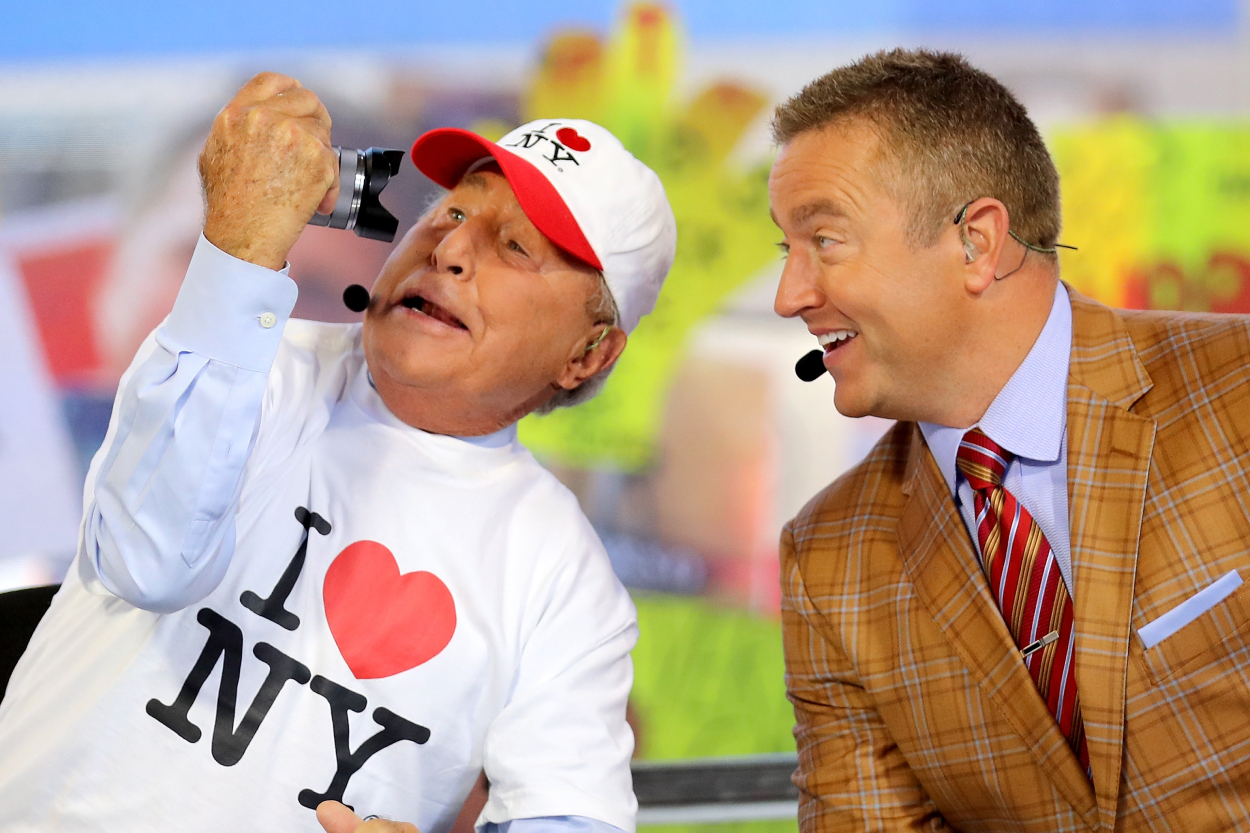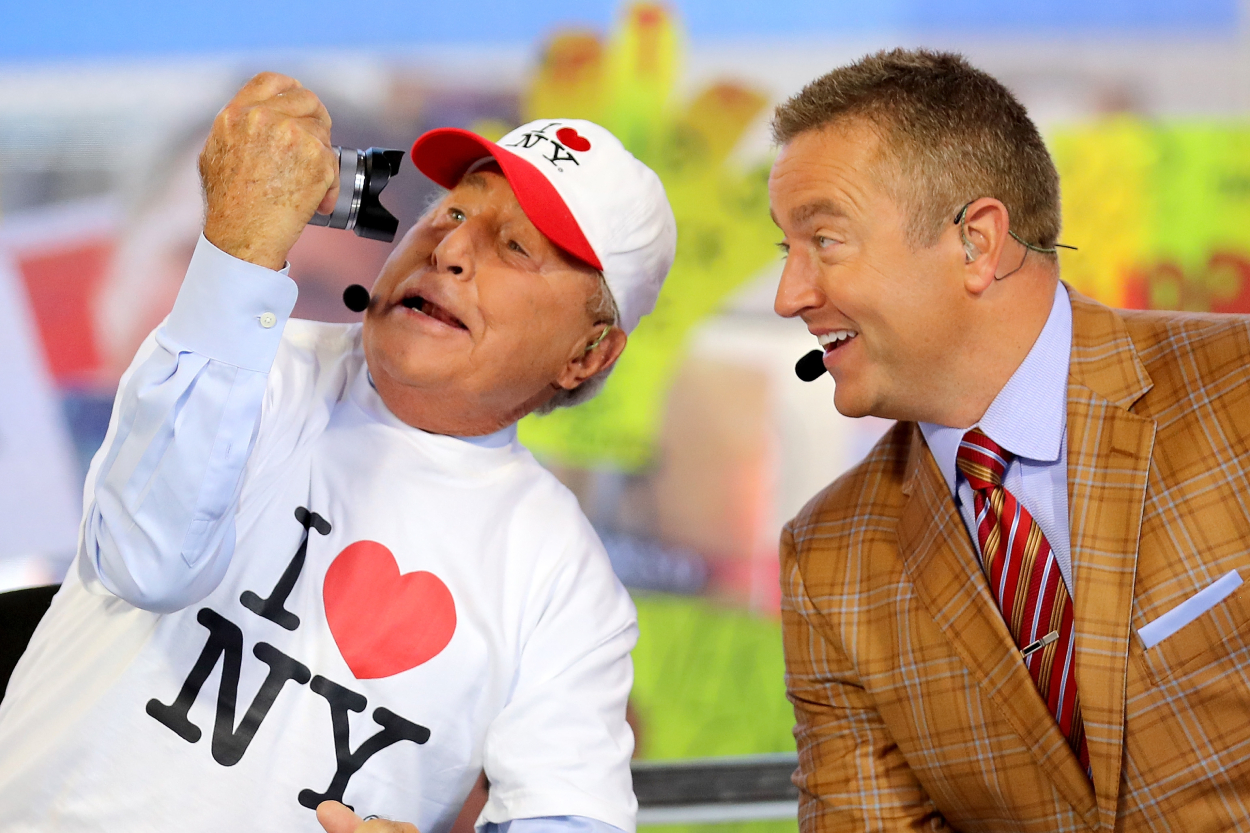 Prior to joining ESPN, Lee Corso coached football for 28 years, as he was a head coach at Louisville, Indiana, Northern Illinois, and then the USFL's Orlando Renegades. In 1987, though, he joined ESPN and was a contributor for College GameDay before becoming an analyst on the show in 1989. According to his ESPN bio, he's the only original personality still starring on the show.
In 1996, Herbstreit joined Corso on GameDay. His work at ESPN came after he played quarterback for the Ohio State Buckeyes from 1989 through 1992.
Together, Corso and Herbstreit have helped College GameDay become a multiple Emmy-winning show that attracts eyes from across the country. Corso's entertaining and loud personality mixes perfectly with Herbstreit's analysis and subtle humor. They also seem to have a great friendship, which appears to be authentic and not just an act they put on for the camera.
Kirk Herbstreit was 'devastated' when his co-star had a stroke
In 2009, Corso's TV future was in question. He suffered a stroke, and while doctors said he would survive, the former football coach couldn't speak. He was also dealing with paralysis on his right side.
"I was devastated by the news," Herbstreit wrote in his book Out of the Pocket: Football, Fatherhood and College GameDay Saturdays, per ESPN. "Coach was 73 at the time, but he had the energy of someone half his age. How was this possible? The Lee Corso I knew was invincible."
Herbstreit then wrote that when doctors asked Corso to talk or swallow, he couldn't.
"He tried, but his mouth and throat were ignoring his brain," the former OSU QB wrote. "…He would later tell a reporter that he cried like a baby at the hospital that day."
Similar to the way Corso was there for him over the years, Herbstreit made sure he was there for his co-worker and friend as well. He said he called him "almost every day."
"I knew he couldn't talk to me, but he could hear my voice. He could hear the love and encouragement," Herbstreit wrote.
But Corso was — and is — a fighter; his next move was miraculous.
Lee Corso returned to 'College GameDay' that fall
Corso's stroke occurred less than four months before the first College GameDay of the season. He had that much time to go through physical and speech therapy to be ready to go on camera in September.
"He had to teach his facial muscles to work again," Herbstreit wrote. "He had to relearn phrases and words. His brain itself had to heal from the stroke. This took time."
Corso worked and worked, and he was then, in fact, on the College GameDay set for the first episode of the season. The now 86-year-old TV personality has been on every show since.
"It was a sobering moment, and ever since then I've tried not to think about it," Herbstreit wrote. "I'm going to ride this thing out as long as I can with him."
Together, Corso and Herbstreit have been there for college football fans every Saturday for the past 25 years. But it appears they have been there for each other throughout that time, too, making their on-air chemistry that much more meaningful.