What Is Desmond Howard's Net Worth?
Over the years, Desmond Howard has become one of the most well-known personalities on ESPN, and a prominent face of the network's hit show in the fall, College GameDay. While Howard has become pretty successful on ESPN, he was also a pretty good football player. So, since he has achieved so much in two careers, how much is Howard's net worth?
Desmond Howard was an excellent football player
Howard played college football at Michigan and was one of the best college football players in the country. After catching just nine passes for 136 yards in 1989 with the Wolverines, he became a star in 1990. Howard ultimately caught 63 passes for 1,025 yards and 11 touchdowns. This was in addition to returning 17 kicks for 504 yards and a touchdown. 
However, in 1991, Howard was the best player in all of college football. He caught 62 passes for 985 yards and 19 touchdowns. Howard also ran the ball 13 times for 180 yards and two touchdowns, and he had two kick/punt return touchdowns. This led to Howard winning the Heisman Trophy for the Wolverines. Michigan also ended up making the Rose Bowl that year.
After college, Howard then went to Washington with the fourth overall pick in the 1992 NFL draft. However, he became more known as a punt and kick returner during his time in the NFL.
Howard only spent three years with Washington, but he had a nice year in 1994, as he caught 40 passes for 727 yards and five touchdowns. After spending a year with the Jacksonville Jaguars in 1995, though, he became very successful while with the Green Bay Packers in 1996.
During the 1996 season, Howard set the single-season record for most punt return yards with 875. He also had three punt return touchdowns that year, in addition to 460 kick return yards. The Packers were excellent as a team that year, too, as they ultimately won the Super Bowl. Howard also ended up winning Super Bowl MVP, as he had a 99-yard kick return touchdown that helped the Packers win the game.
After 1996, Howard also played for the Oakland Raiders and Detroit Lions. He finished his career with 7,959 kick return yards, which is ninth in NFL history.
He has become a successful analyst on ESPN
According to ESPN Press Room, Howard started working at FOX Sports in 2003. He was then a correspondent on ESPN2's Cold Pizza in 2004 before becoming a college football analyst on ESPN in 2005.
He has since become one of the faces of the popular show, College GameDay, that airs during the college football season. His work with Lee Corso, Kirk Herbstreit, Rece Davis, and others has made College GameDay one of the most successful shows on ESPN.
Howard also calls midweek games on ESPN, per ESPN Press Room, and appears on shows like Get Up, SportsCenter, and College Football Live.
Additionally, Howard will most likely continue to star on ESPN for the foreseeable future as he signed a multi-year extension with the network in September 2020, according to The Detroit News.
"I'm excited about that. Happy," Howard said to The Detroit News. "It's been an incredible run, and I've been blessed to be with some great teammates. To have that job and to grow with guys like Herbstreit and (Chris) Fowler and Corso, to start off with those guys and to be able to grow and develop and mature into the analyst that I've become so far is a blessing."
What is Desmond Howard's net worth?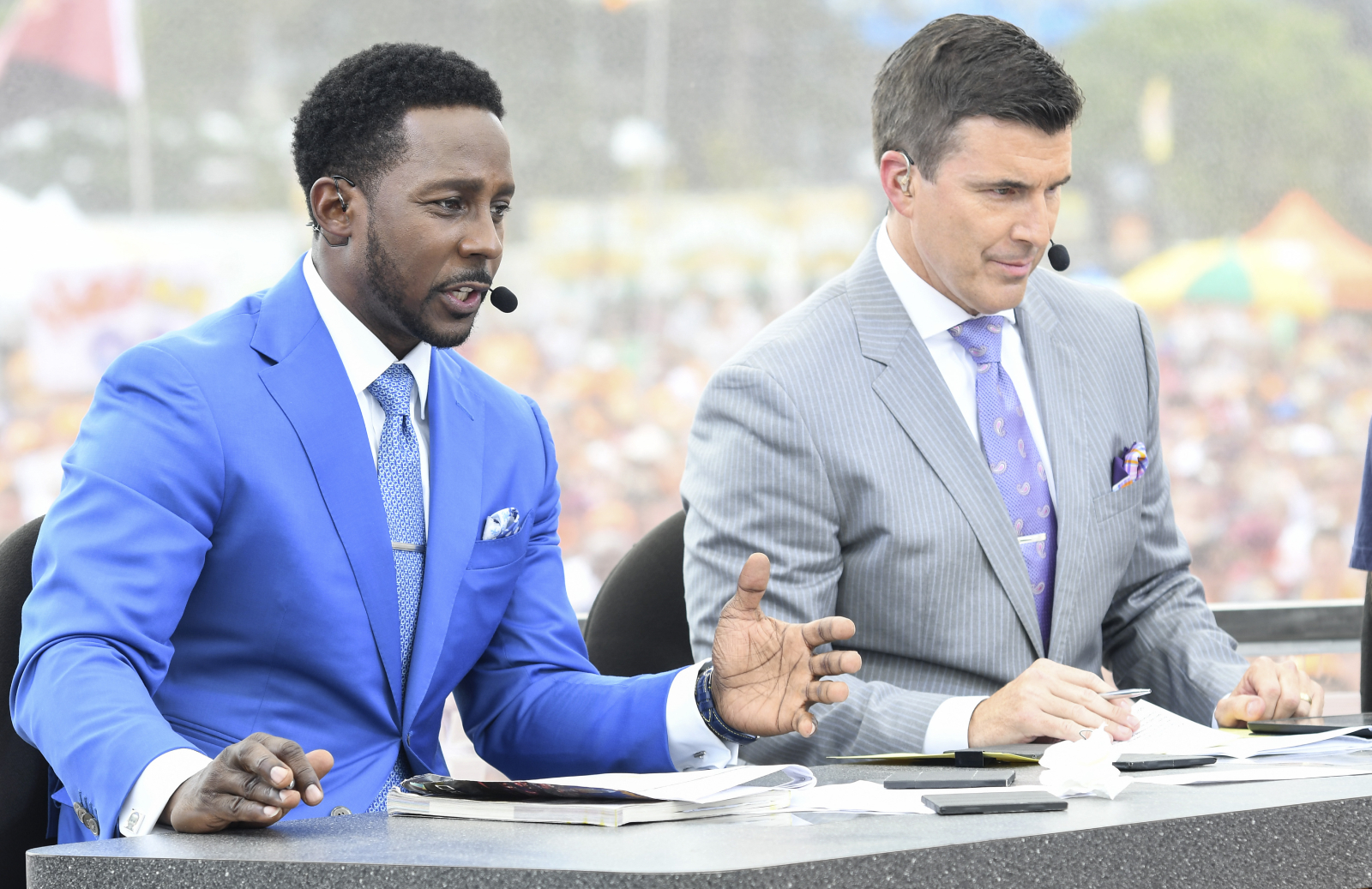 So, since Howard has had two successful careers, one as a football player and one as a college football analyst, what is his net worth?
Celebrity Net Worth reports that Howard is worth $14 million. How does that compare to his colleagues on College GameDay? Lee Corso is worth $12 million, Kirk Herbstreit is worth $4 million, and Rece Davis is worth $3.5 million.
Desmond Howard has become a successful ESPN analyst. His work on ESPN, as well as on the football field, has certainly paid off.
Stats courtesy of Sports Reference and Pro Football Reference; Net Worth numbers courtesy of Celebrity Net Worth