The Knicks' $73 Million Investment in Evan Fournier Is a Total Disaster
The New York Knicks entered the 2021 NBA offseason armed with plenty of cap space. But rather than choose to make a bigger splash and capitalize on the success of their 2020-21 campaign, they relied more on internal moves and doled out $73 million to Evan Fournier. That contract has been a brutal investment thus far, putting the cherry on top of what was, in hindsight, another disappointing free-agency period.
The Knicks made Evan Fournier their most expensive signing this past offseason
The New York Knicks looked like surefire candidates to add a point guard in the offseason. Lonzo Ball appeared to be on New York's radar, and ESPN's Stephen A. Smith alluded to the possibility of a Damian Lillard trade.
But the Knicks never made the push for Ball, nor did they appeal to fellow free-agent guard Kyle Lowry. With Lillard making it clear he intended to stay in Portland, New York ultimately pivoted.
The Knicks re-signed veteran point guard Derrick Rose. They then sought to add more playmaking in the form of Evan Fournier, orchestrating a sign-and-trade with the Boston Celtics to bring the veteran swingman to the Big Apple.
Fournier has shown flashes of being a strong wing scorer and secondary ball-handler throughout his career. In six-plus seasons with the Orlando Magic, the Frenchman averaged 16.2 points and 3.0 assists while shooting the ball well (37.6%) from the perimeter.
New York probably hoped Fournier could give the team another creator to ease some of the burdens on Julius Randle. However, the 29-year-old has been a nightmare thus far.
Fournier is having one of the worst seasons of his career
Evan Fournier has been anything but the No. 2-type option the Knicks probably envisioned.
Entering a Jan. 2 matchup against the Toronto Raptors, Fournier was averaging just 12.9 points on 40.6% shooting from the field. His 1.8 assists per game are the fewest of his career since his sophomore campaign. The same can be said of his 11.4 player efficiency rating (PER), while his 52.8% true shooting clip is the lowest of his career.
The offense has been pretty woeful. Fournier's defense is even worse.
Although he's never been regarded as much of an individual defender, Fournier at least has decent tools. He's a fairly lengthy guy with decent athleticism. Still, those attributes haven't helped him in the slightest. Fournier's -1.3 defensive box plus-minus is one of the worst on the Knicks. It's not hard to wonder if his deficiencies are rubbing off on the rest of the squad, at least in some capacity.
Last season, the Knicks ranked third in defensive rating, with Reggie Bullock giving them a legitimate 3-and-D option at small forward. But New York ranked just 18th in that department entering play on Sunday. Other factors have contributed to the slippage, like Kemba Walker's starts at point guard and an early-season injury to Nerlens Noel. However, Fournier's weaknesses as a wing defender often leave the Knicks exposed.
The Knicks might like to move Fournier ahead of the February deadline. They certainly need to shake things up. Whether a team is willing to take on his contract is another matter entirely.
Can the Knicks include Fournier in a trade?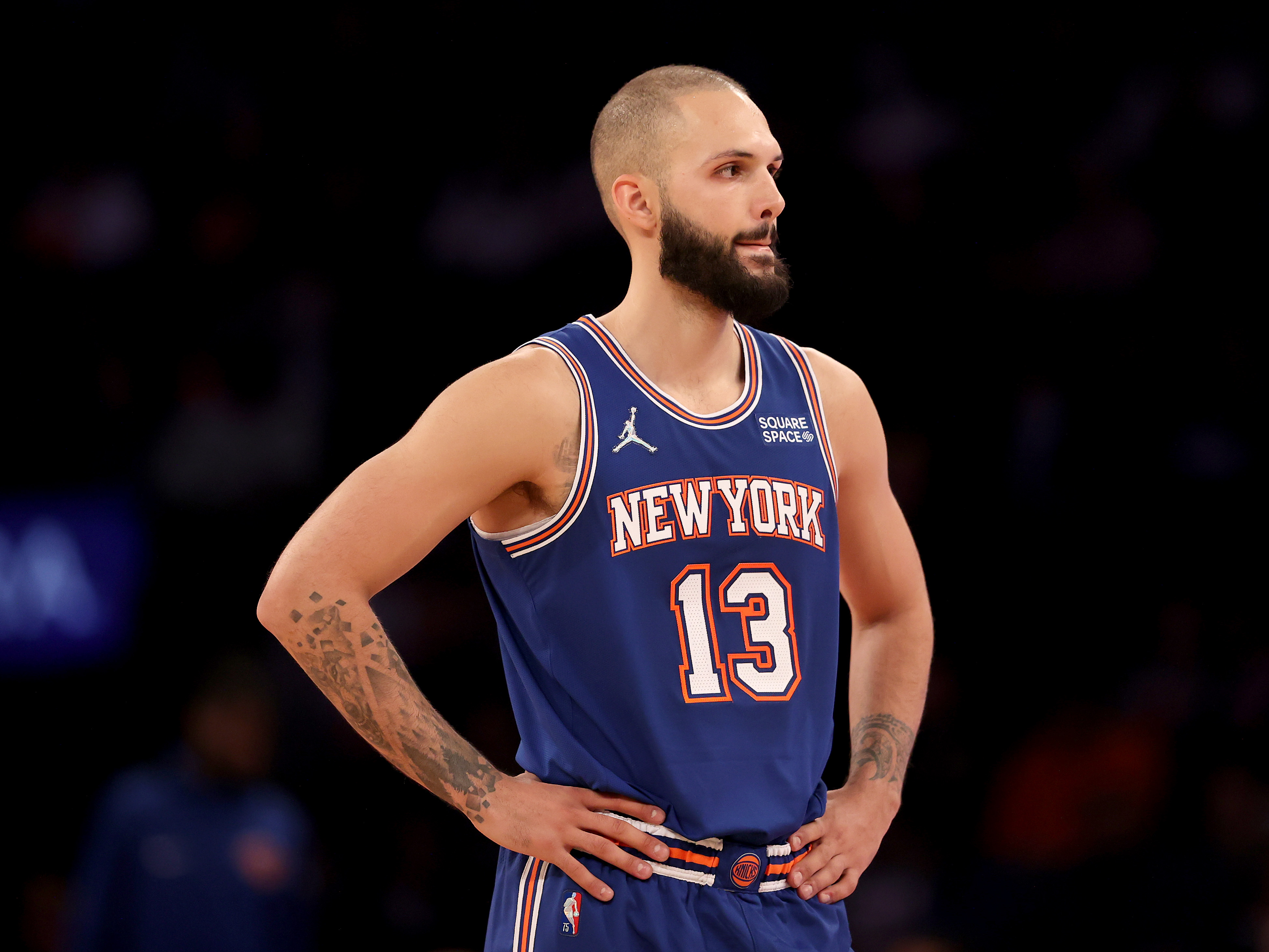 Fournier became trade-eligible on Dec. 15. But the Knicks could have a tough time finding a suitor willing to eat his contract.
The 10th-year veteran's deal can reach up to $78 million. Fournier's salary also increases in the next two seasons, though his contract includes a club option in the fourth year.
New York could look to include draft picks as sweeteners. But the Knicks still probably wouldn't get much back in that kind of deal, and they'd likely prefer to maintain draft capital either as a means of building for the future or acquiring a superstar such as Ben Simmons.
Regardless, it's become clear that the Knicks whiffed on Fournier.
Stats courtesy of Basketball Reference.