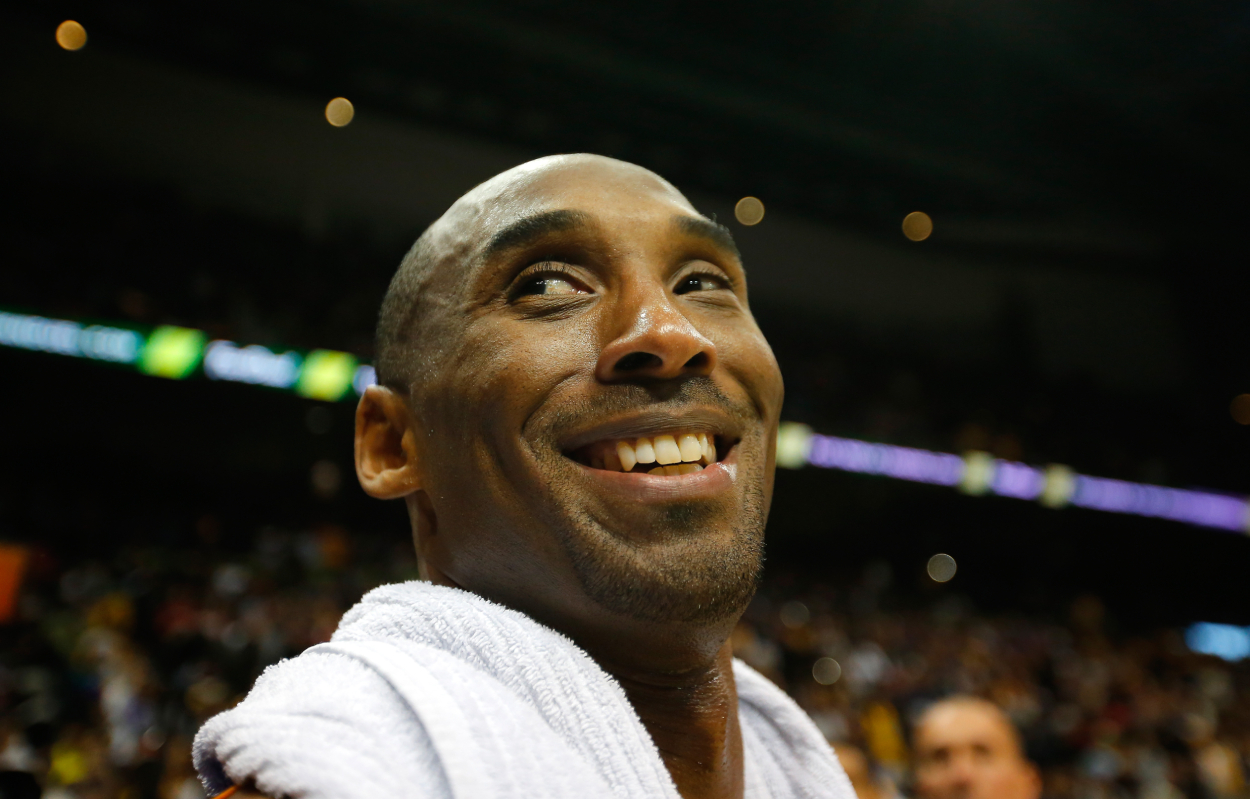 Kobe Bryant's Competitiveness Once Led to a Ruined Pumpkin Pie at Thanksgiving Dinner: 'You Just Killed a Pumpkin Pie'
Kobe Bryant's relentless competitiveness led to him winning five NBA championships with the Los Angeles Lakers, as he eventually became one of the greatest basketball players of all time. However, speed bumps likely came up along the way, as his competitiveness once led to a ruined pumpkin pie at Thanksgiving dinner.
Whenever you think of some of the most intense competitors to ever play a sport, you likely think of guys like Michael Jordan, Tiger Woods, Tom Brady — and Los Angeles Lakers legend Kobe Bryant.
Bryant's burning desire to win at everything eventually became the stuff of legends, as he would do whatever it took to win and developed into one of the best basketball players of all time. However, his relentlessness may have led to some speed bumps along the way, and that was certainly the case during a specific Thanksgiving dinner.
Kobe Bryant spent Thanksgiving 2013 with Lakers players and reporters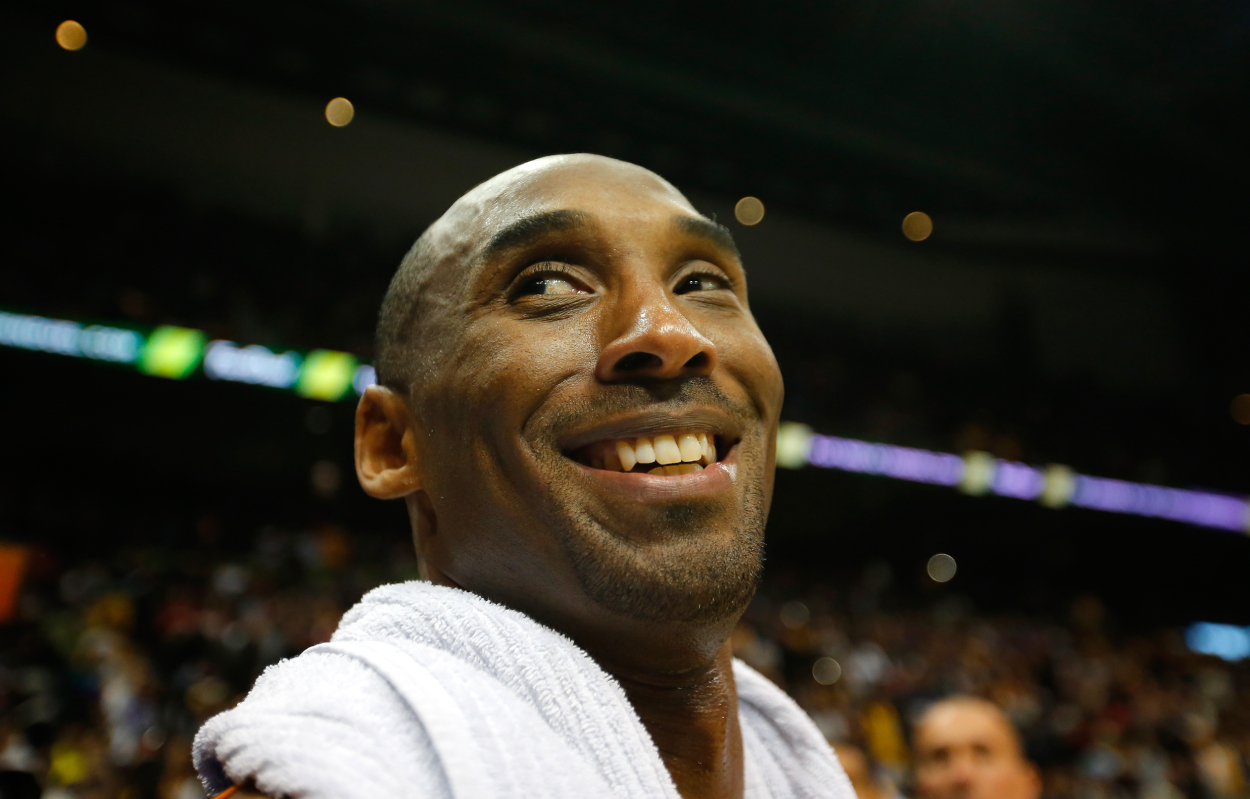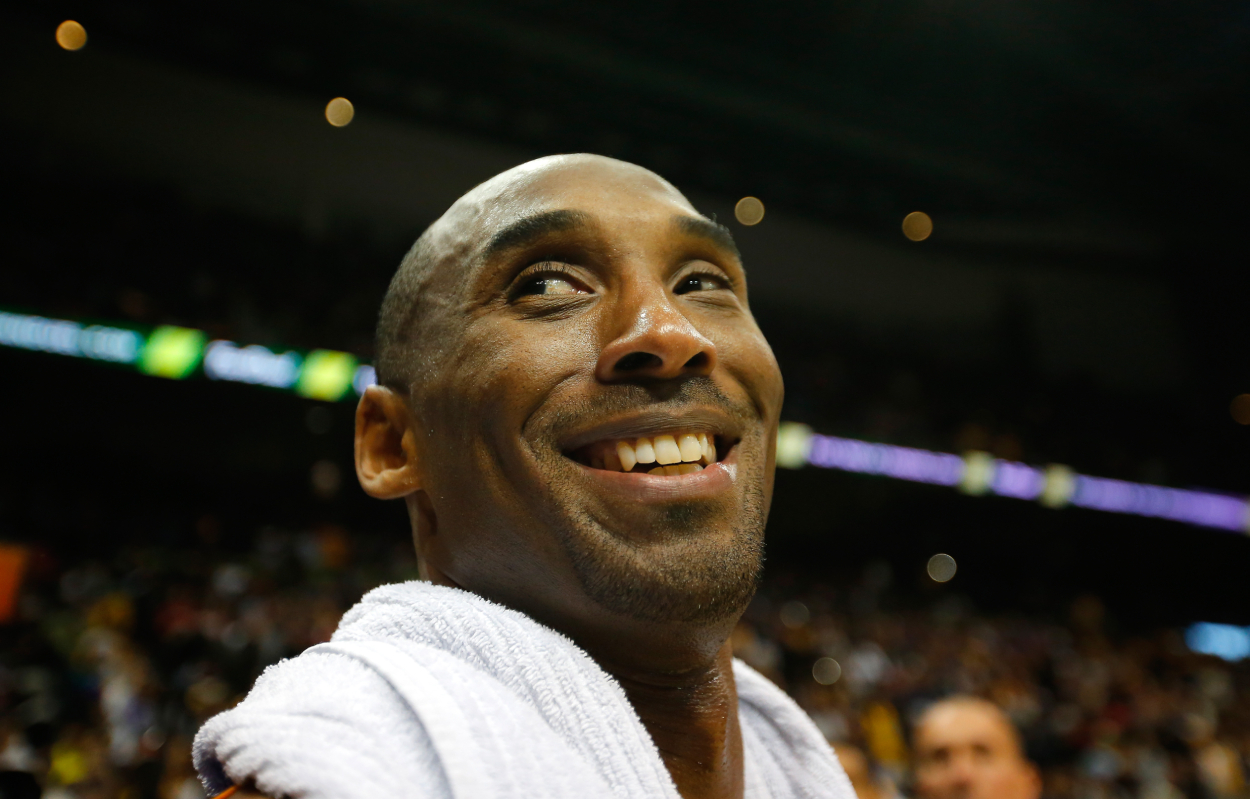 Kobe Bryant was near the end of his legendary NBA career with the Lakers in 2013. But earlier that year in April, Bryant's incredible 2012-13 campaign that saw him average 27.3 points, 5.6 rebounds, and 6.0 assists ended early due to an Achilles injury.
Somehow, though, he made his way back to the court the next season in December 2013 but only played in six games before suffering a knee injury that later kept him out the rest of the year. He finished the season only averaging 13.8 points, 4.3 rebounds, and 6.3 assists in those games.
But before he got back onto the court and played in those six contests, the Lakers had a road trip and were away from LA on Thanksgiving. They played in Washington against the Wizards on Nov. 26 and lost before beating the Brooklyn Nets on Nov. 27. Thanksgiving was then on Nov. 28 that year, and they had the day off but stayed in Detroit before playing the Pistons on Nov. 29. They ultimately won that game by four points.
On Thanksgiving, however, some of the reporters thought they would spend the holiday alone, but Lakers reporter Mike Trudell told Complex Magazine in 2016 that Bryant made sure a ballroom was open. He then had a meal fully catered for everyone. It was, obviously, an awesome gesture by one of the NBA's greatest players, and it appears everyone had a good time.
That is, everyone except for a pumpkin pie.
His competitiveness led to a ruined pumpkin pie
Adrian Garcia-Marquez is a Spanish broadcaster who was at that Thanksgiving dinner in 2013. On that day, he quickly learned just how competitive Bryant was, even during the holidays.
"The centerpiece on the table are flowers and footballs, so (former Lakers assistant) Mark Madsen and I grab a football and we start chucking it," Garcia-Marquez said to Complex Magazine in 2016. "Kobe does the universal sign of throw me the football, so I chuck him the ball. He's like 'OK we're going to play a game of drops, if you drop a football, it's a point for the other guy.' So, we're going at it, chucking the ball hard and it's one-handed catches and I'm trying to beat him."
Garcia-Marquez and Bryant were going at it, as it appears their game of drops was just as heated as the actual NFL games that were being played that day. But after the broadcaster took a 10-9 lead, he made a big mistake.
"Next thing you know, I bobble a ball and it lands in a pumpkin pie, so when it lands in a pumpkin pie all I hear is Kobe's voice say, 'Aww that's minus two dog, you just killed a pumpkin pie, that's two points for me,'" Garcia-Marquez added, per Complex.
And just like that, his chances of winning were essentially ruined.
"Now he's up by one, we're going at it a couple more, and I finally drop that last one and I'm thinking to myself, 'I was only two points away from being able to tell my grandkids I beat Kobe Bryant at something,'" he said, per Complex. "I said, 'I want a rematch!' and he goes 'Nope, next!'"​
Well, it shouldn't surprise anyone that Bryant won. Hopefully, though, there was a backup pumpkin pie.
Kobe Bryant kept the night going after his Lakers teammates went to bed
The pie incident didn't ruin the day. According to Garcia-Marquez's fellow Spanish broadcaster Francisco Pinto, after all the players went to sleep, Bryant, who again was injured, stayed up and talked with a few of the reporters and broadcasters for about "an hour and a half."
"We talked about everything, basketball, life, contracts, a bunch of stuff…drinking beer, we drank so much Stella," Pinto said in 2016, per Complex Magazine. "That was the first time that I had a real conversation with him. That guy is so freaking smart. He's really funny, if you get him at the right time."
Oh, and Bryant was also apparently pretty good at cussing in Spanish.
"That's the best. Perfect accent, perfect," Pinto added, per Complex.
Kobe Bryant may have been a larger-than-life human, as his competitiveness helped him become an NBA and Lakers legend. But it also appears he knew how to connect with people, which is a big reason why so many fans, and even reporters, loved him so much.
Stats courtesy of Basketball Reference