Kobe Bryant Had a 2-Word Message for Carmelo Anthony Before Facing Him in the 2009 Western Conference Finals
Los Angeles Lakers legend Kobe Bryant had meaningful relationships with a plethora of stars who entered the league after he did; he helped mentor multiple generations of hoopers. However, Bryant and Carmelo Anthony didn't just have a close friendship, they also had a ton of mutual respect for each other, which showed whenever they battled on the court.
The two went after it almost every time they went head-to-head, and that was especially the case during the 2009 Western Conference Finals. In fact, Bryant's two-word message for Anthony at the start of the series led to them putting on an absolute show.
Kobe Bryant and the Lakers faced Carmelo Anthony and the Nuggets in the conference finals
During the 2008-09 NBA season, Carmelo Anthony's Denver Nuggets and Kobe Bryant's Los Angeles Lakers were two of the best teams in the NBA.
The Lakers had just reached the finals but lost the season before, and they beat the Nuggets on their way there, sweeping them in the first round. Bryant averaged 33.5 points, 5.3 rebounds, and 6.3 assists in the series, while Anthony recorded 22.5 points and 9.5 rebounds per game.
However, in 2008-09, Melo led the Nuggets to a 54-28 record, their best mark since the 1975-76 season. They then eventually met Bryant and the 65-17 Lakers in the Western Conference Finals, and the two stars had some all-time great performances, leading to a back-and-forth series.
Bryant — who averaged 26.8 points in the regular season that year — recorded 34.0 points, 5.8 rebounds, and 5.8 assists per game during that series. Anthony, on the other hand, who was a 22.8-points-per-game scorer that season, recorded 27.5 points and 4.8 rebounds.
The two future Hall of Famers battled, and so did their teams. Bryant, though, actually foreshadowed that intensity with a two-word message for Anthony before the series tipped off.
Kobe had a 2-word message for Carmelo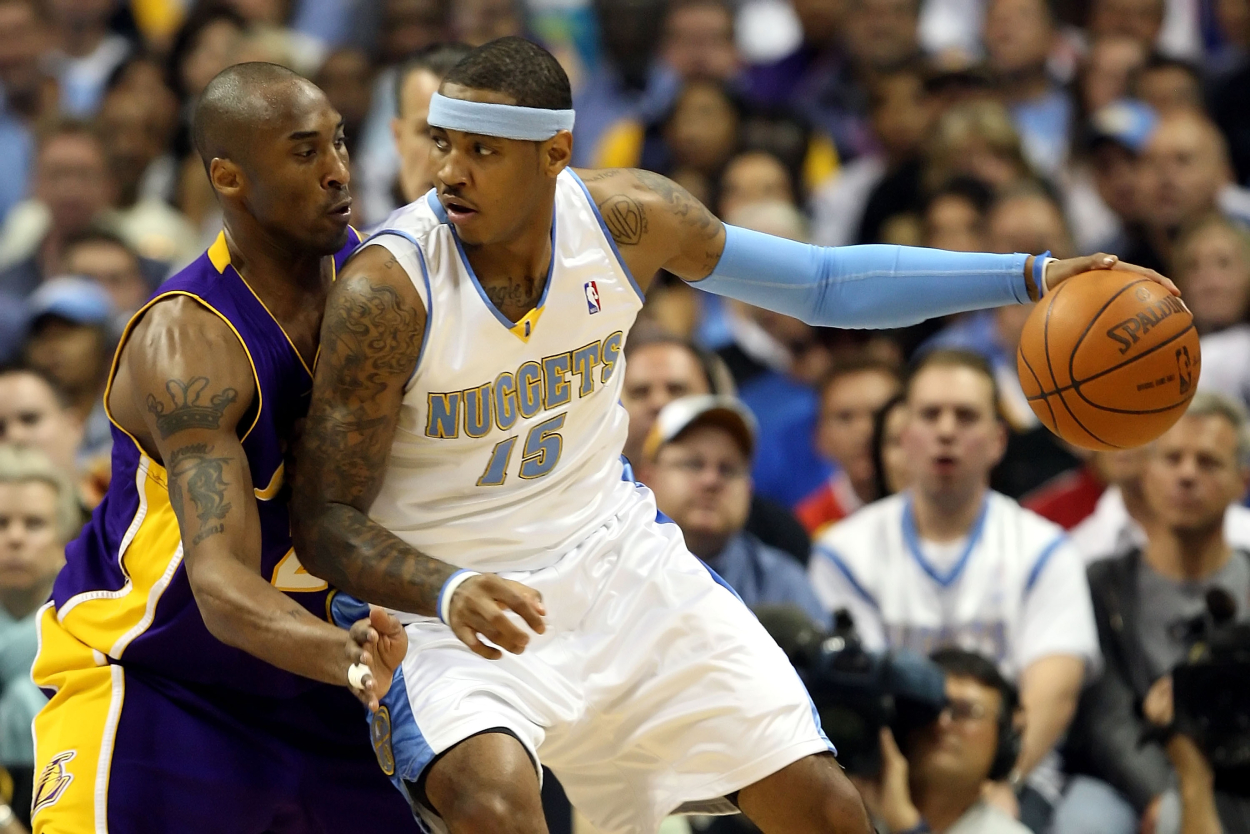 Anthony recently appeared on All the Smoke, and he gave some insight into his and Bryant's relationship when they first started becoming friends.
"He's going at your neck; he's saying s— to you, elbowing you; I had my braids back then too, so he's touching my head. … And he's smirking; he's throwing his little s—, elbows, " Anthony, who eventually started getting close to Bryant at the 2008 Olympics, said on the Aug. 19 episode. 
Once the 2009 Western Conference Finals rolled around, though, the two legends had tremendous respect for each other, and Bryant had a simple message for his opponent. 
"We hugged before the game, and he was like: 'It's war.' I said, 'It's war. Let's get it. It ain't gonna be nothing easy.'"

Carmelo Anthony
It was war, indeed.
"He always used to tell me, 'I'll guard you in the fourth because they ain't gonna make no calls on me. They ain't gonna call no s— on me in the fourth,'" Anthony said. "… I was bigger than him, so I used to try to beat him up, be physical with him. He'd come back, elbow me, I'd come back, elbow him. He's laughing. Talking about, 'That's all you got?' [He was] pushing my buttons to see where I was gonna stand at. And that's how we grew, man."
It seems that battle played somewhat of a role in Anthony and Bryant forming a close bond. Following Bryant's death in 2020, the former Nuggets star even said that their "friendship and relationship was deeper than basketball," per USA Today.
But when it came to that series, all bets were off, and only one player could come out on top.
Kobe Bryant and the Lakers eventually won the NBA championship that season
The games during the 2009 Western Conference Finals were, for the most part, pretty competitive. LA and Denver split the first two contests, as Kobe Bryant's Lakers won the first meeting by two points, and Carmelo Anthony's Nuggets claimed the second by three. The Lake Show, though, won 103-97 in the third game before Denver won big in Game 4, 120-101. 
However, Bryant and the Lakers closed things out in the next two matchups, besting Anthony and the Nuggets 4-2 in the series.
But they didn't stop there. 
Bryant ultimately won his fourth championship that season when LA beat Dwight Howard and the Orlando Magic 4-1 in the NBA Finals. He then followed that up by winning another title the next year as well.
All in all, Kobe was one of the most relentless competitors ever, but his Mamba Mentality eventually led to him and Anthony forming a tight bond. Their relationship was pretty special.
Stats courtesy of Basketball Reference