Kobe Bryant Had a Hilarious Response To Dwyane Wade Accidentally Breaking His Nose During an All-Star Game
Dwyane Wade and Kobe Bryant had a ton of respect for each other. They were both two of the best shooting guards to ever play in the NBA, which ultimately led to them winning eight championships combined. Because they were two of the best players of all-time, they had some really tough battles against each other. During one of those battles, though, Wade accidentally broke Bryant's nose. Bryant then later had a hilarious response that showed how competitive he was.
Dwyane Wade broke Kobe Bryant's nose in the 2012 All-Star game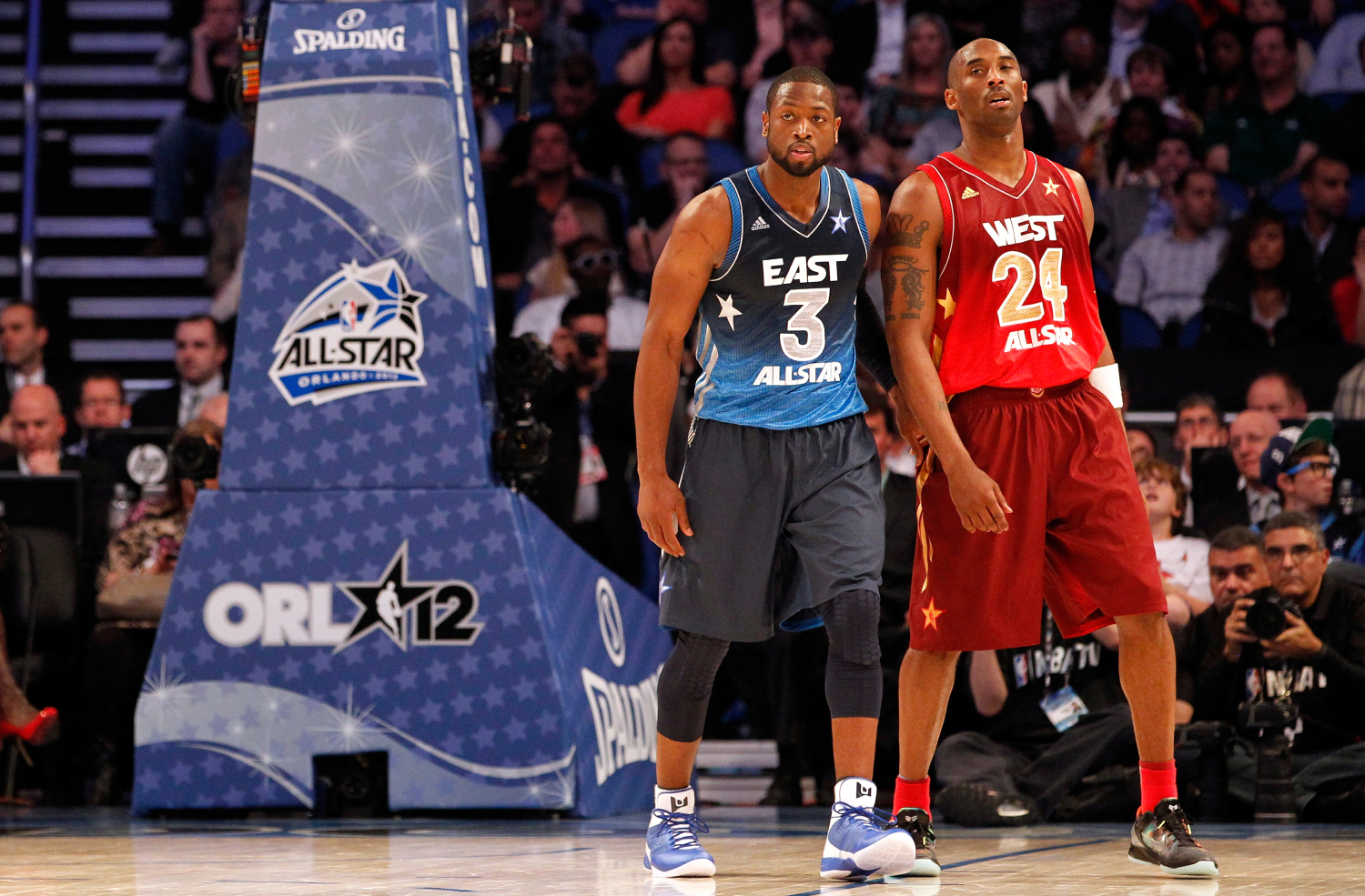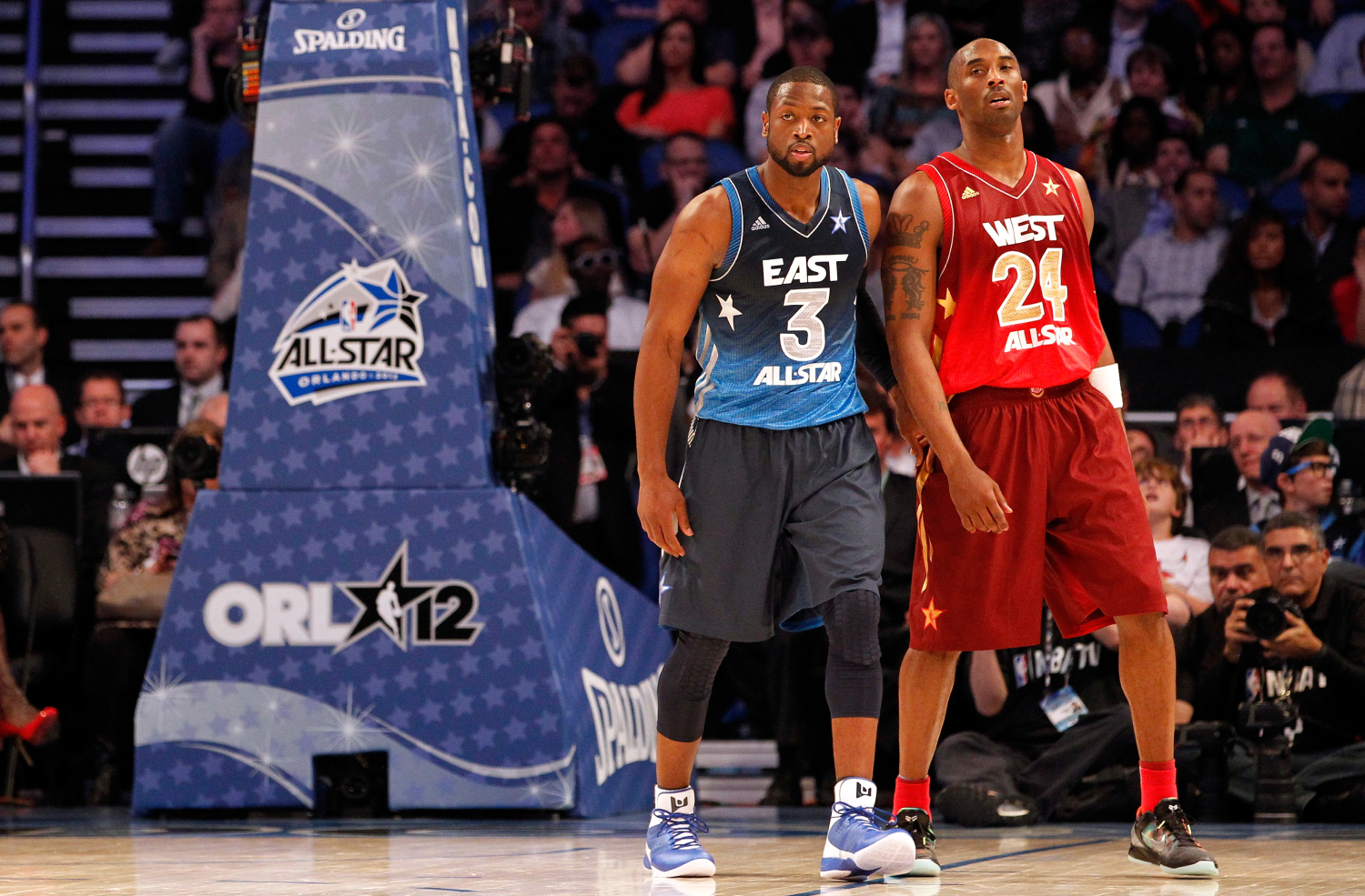 During the 2012 NBA All-Star game, Bryant suffered a nasal fracture after a receiving a hard foul from Wade.
"Yeah, I obviously didn't try to draw no blood, but I took a foul," Wade said after the game, according to ESPN. "Kobe fouled me two times in a row, so he's still got one up on me. But I'm glad that everything was cool and we got back to being competitive and having fun."
Bryant and the Western Conference ended up winning the game over Wade and the Eastern Conference 152-149. Bryant ultimately scored 27 points in the game while Wade had 24 points, 10 rebounds, and 10 assists.
That season ended up being a great one for Wade, as he and the Miami Heat won their first of back-to-back NBA championships. The LA Lakers, on the other hand, went 41-25 and lost in the Western Conference Semifinals. 
Statistically, Wade averaged 22.1 points per game that year to go with 4.6 assists and 4.8 rebounds. Bryant ended up averaging 27.9 points per game, 5.4 rebounds, and 4.6 assists. They were easily two of the best players and scorers in the entire NBA that year.
Bryant had a hilarious response to Wade breaking his nose
In February 2019, before Wade played in the final All-Star game of his career, he did a sit-down interview with Kevin Garnett and discussed the time that he accidentally broke Bryant's nose.
"Me and Kob' got into a little tussle in the All-Star Game, and I ended up hitting him the wrong way and breaking his nose," Wade said, according to USA Today's For The Win. "So after the All-Star break, we got the Lakers about three games after the break … I call him, not maliciously. I didn't maliciously do it. I called him and said 'Yo Kob,' and he was like 'Bro, I love it.' I'm like [taken aback.] He's like 'I love it. I'll see you in a couple days.' And I'm like 'Oh snap.' And he gave it to me, too, boy."
That clearly proves Bryant's unreal competitiveness. Additionally, despite the Heat being a better team that year, the Lakers won that game 93-83. Bryant scored 33 points and shot 60.9% while Wade scored 16.
Both guys are NBA legends
Wade and Bryant are always brought up when discussing the best guards to ever play in the NBA.
Wade was a 13-time All-Star, three-time All-Defensive team honoree, he led the NBA in points per game in 2008-09, was a three-time NBA champion, and was the 2005-06 NBA Finals MVP. For his career, Wade averaged 22 points per game, 5.4 assists, and 4.7 rebounds.
For Bryant, he was an 18-time All-Star, led the NBA in points per game twice, was a five-time NBA champion, earned All-Defensive team honors 12 times, and he won two NBA Finals MVPs, in addition to one league MVP in 2007-08. Bryant averaged 25 points per game, 5.2 rebounds, and 4.7 assists for his career. He also scored 33,643 career points, which is fourth all-time.
Kobe Bryant and Dwyane Wade are two of the most legendary players to ever play in the NBA. Sometimes, though, tough battles between legendary players can result in them getting banged up. Bryant ultimately responded the best he could — by dominating on the court the next time he met Wade.
Stats courtesy of Basketball Reference