Kobe Bryant Showed a Rare Human Side Whenever He Hit the Golf Course
Kobe Bryant was an unstoppable force on the basketball court, but things were a bit different when he hit the golf course.
During his time on the NBA hardwood, Kobe Bryant became his generation's Michael Jordan. The Lakers guard was famous for his talent and, perhaps more importantly, his Mamba Mentality. Whether he was wearing 8 or 24 on his back, Kobe was basketball's Terminator. Nothing was going to stop him from pushing ahead and reaching his goal.
That reality, combined with Bryant's fame and fortune, made him seem untouchable. Whether you were a fan or a peer, he was a class above. One setting, however, was an exception to that rule.
Yes, for all of his athletic prowess, Kobe looked incredibly human on the golf course. Don't believe it? Allow Jason Kidd and Matt Barnes to explain.
Kobe Bryant never exactly thrived on the golf course
When the LA Lakers and New Jersey Nets met in the 2002 NBA Finals, Jason Kidd got an up-close-and-personal look at Kobe Bryant's greatness. That success, however, didn't extend to the golf course.
"'08, we're in Macau," Kidd explained on the All the Smoke podcast. "And golf has now become a little popular. We have some golfers on the team. D-Will [Deron Williams] and Michael Redd. So we go to a driving range, and Kobe's feeling like, 'Hey, this is easy. I can pick this thing up.' So he goes, Michael Redd was luckily left-handed [Bryant golfed left-handed despite shooting right-handed], and so he goes, 'Hey, can I borrow that club?'"
During that anecdote, Matt Barnes interjected with a memory of his own.
"He ain't s***," the guard remembered. "He ain't s***. He came out to one of my tournaments, I was like, 'Oh, you're human.'"
When Kidd resumed his story, you might expect him to detail how Kobe miraculously ripped a 300-yard drive down the center of the fairway. In reality, though, that's not how things panned out.
So he goes to swing, and everybody's like, "Maybe that was a practice swing." And he missed the ball and then, like, you know, he gets competitive, and he wants to hit it the farthest. And, as you said, I think that's the one sport where we saw him as a human.

Jason Kidd, All the Smoke
Nobody, not even Kobe Bean Bryant, is perfect.
Seeing Bryant's humanity was rare, but it's still important to keep that perspective on an NBA legend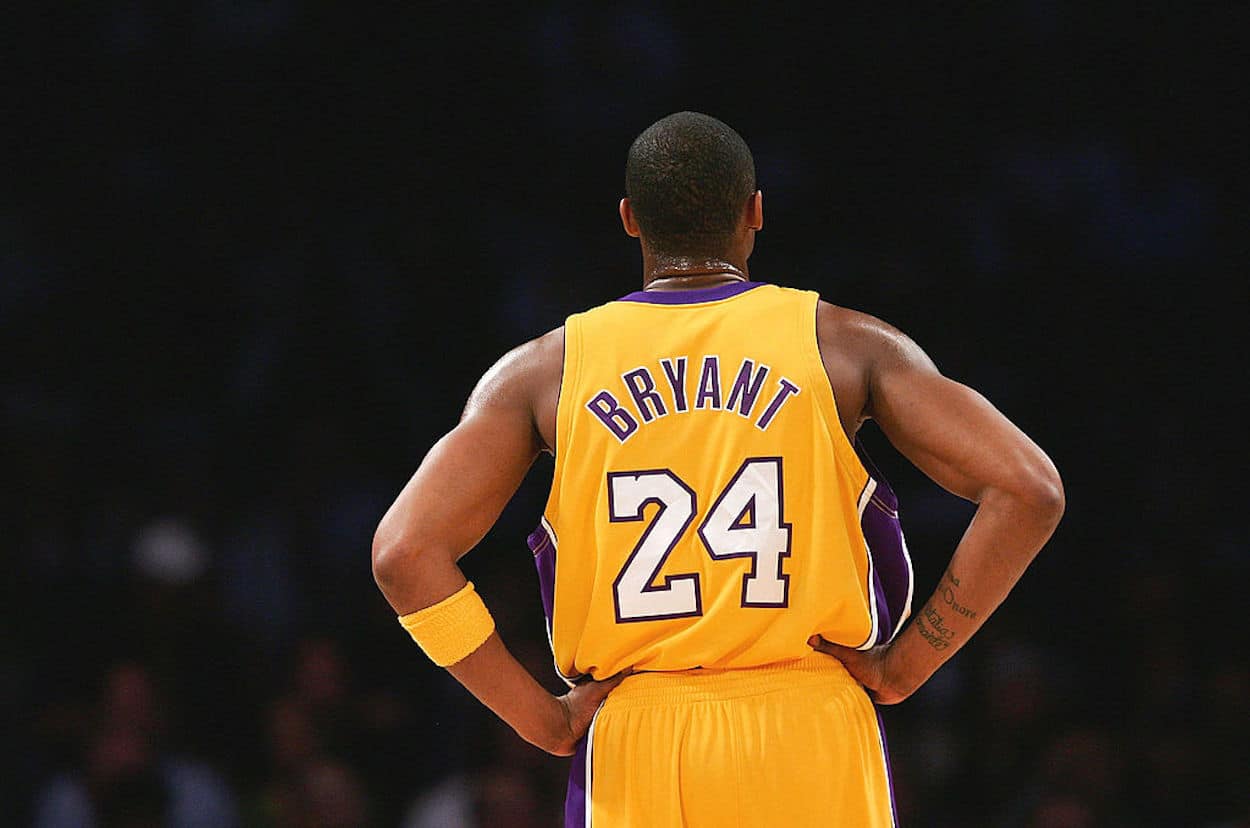 As Barnes and Kidd both said, it wasn't common to see Kobe Bryant struggle. The late legend seemed to thrive in every arena, and if he ever had a weakness, he'd work tirelessly to make it a strength. Imagining him floundering on the golf course sounds frankly unimaginable and, to restate his peers, humanizing.
That perspective is important, especially when we're talking about someone as big as Bryant. The guard wasn't just a major NBA star; he was a defining name of a generation. If basketball fans looked at anyone as a superhuman force of nature, it was Kobe.
Humanizing him, even belatedly, has dual benefits. First off, it helps all of us remember that professional athletes are people, too. For all of their talent, fame, and fortune, they're humans. Players can miss shots, request trades, and have interests beyond the sport, and that's all OK. Holding them to an unrealistic standard is just a recipe for everyone to be disappointed.
Beyond that, though, remembering that our favorite stars aren't perfect can further our appreciation of everything that happens on the court. As fans who watch virtually every game, it's easy to get jaded and think that NBA players are simply supposed to drain long-range shots, throw down rim-rocking dunks, and perform all sorts of other heroics without breaking a sweat.
When we consider that the stars aren't perfect — imagine Kobe struggling to hit a golf ball — everything becomes more impressive. Let's use Steph Curry as an example. He might knock down shots from the logo with seeming ease, but when you remember that he's a flawed human being, those jumpers become that much more impressive. And, in turn, by appreciating the greatness we're seeing every night, sports become that much more special.
If nothing else, let Jason Kidd and Matt Barnes' memories of the Black Mamba golfing be a lesson: If Kobe Bryant can struggle, it's OK for everyone to fail now and then.
Like Sportscasting on Facebook. Follow us on Twitter @sportscasting19 and subscribe to our YouTube channel.