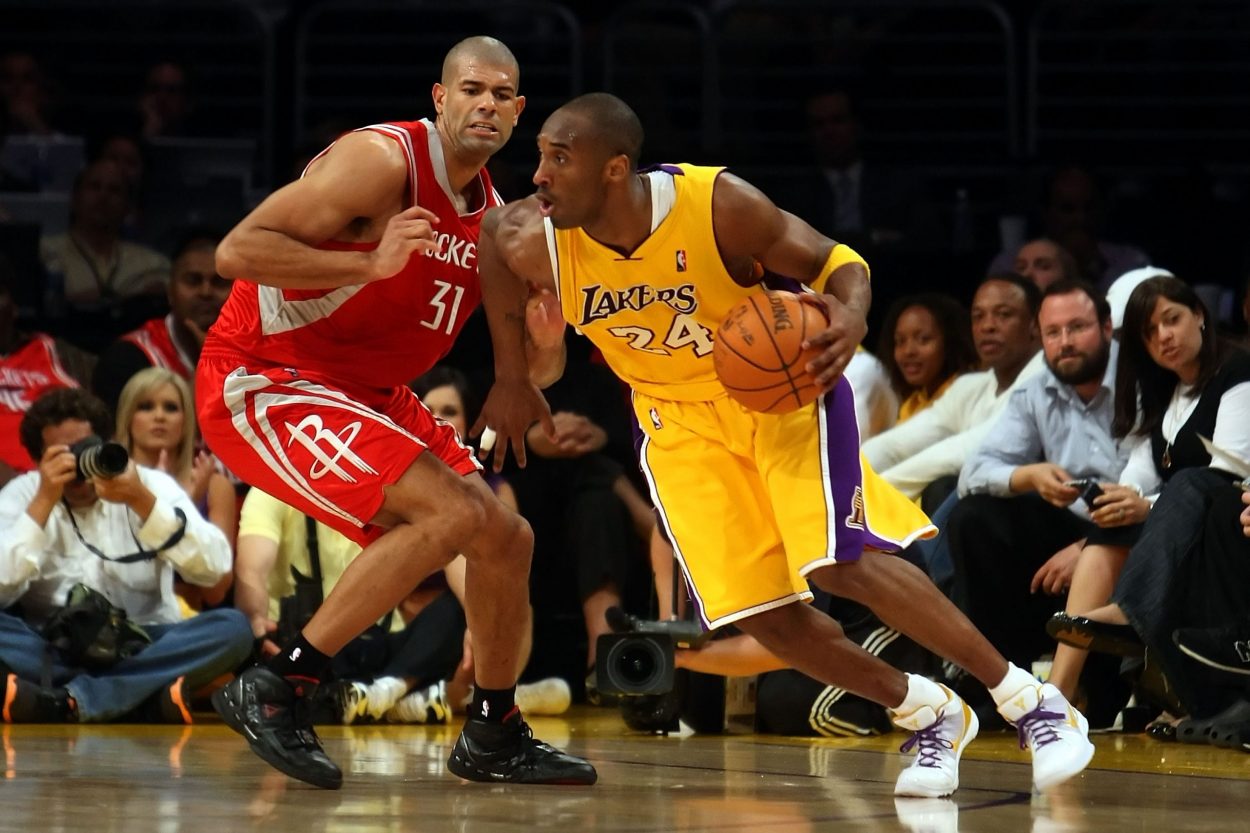 Kobe Bryant Viciously Went After a 'No Stats All-Star' and Former Playoff Foe: 'You Can't Guard Me'
Kobe Bryant made it his mission to go at the "No Stats All-Star" during the 2009 NBA Playoffs.
Guarding Kobe Bryant likely felt difficult enough for opposing teams. But the media providing the former Los Angeles Lakers star with an incentive to get buckets made life hell for Shane Battier.
Battier starred as an all-around talent at Duke University, but he eventually hung his hat on defensive abilities. The defensive mindset came under a microscope whenever he played against Kobe, who so often found motivations to dominate opponents.
The media dubbed Shane Battier the "No Stats All-Star" because of his defense on Kobe Bryant
Shane Battier made multiple All-America teams and won a Wooden Award with the Blue Devils. His incredible versatility made him a star, and it also made him a more unheralded star in the NBA.
Although Battier never made an All-Star team, he became revered around the league for his relentless defensive efforts. Applause for his on-ball guarding and dogged work ethic came from various avenues, with Michael Lewis of the New York Times labeling Battier the "No Stats All-Star."
That same profile by Lewis, written in February 2009, makes a special note of a March 2008 showdown between the Houston Rockets and LA Lakers, when Battier helped hold Kobe Bryant to 11-of-33 shooting and just 24 points.
Former Rockets general manager Daryl Morey highlighted Battier's defensive acumen. But he also went out of his way to note his assuredness at Kobe wanting to "destroy" Battier.
Morey probably had no idea just how prophetic his words would prove.
Bryant torched Battier and let him the Rockets swingman hear about it in the 2009 conference semifinals
Fittingly, the Rockets and Lakers met in the playoffs just a few months after the NYT profile on Battier, affording Kobe Bryant to show no single individual could hold him down over the course of a full series.
The Rockets took Game 1 in LA. But Bryant refused to let the Purple and Gold drop both games at home, scoring 40 points in a 111-98 rout. He also talked some junk.
Bean drilled a jumper right in Battier's face early in the third quarter. As they ran back toward the other end, Kobe looked at Battier and said (h/t YouTube), "You can't guard me."
Indeed, Battier couldn't do much to keep Bryant's numbers down. The Black Mamba shot 16-of-27 from the field and even threw a lob off the glass to himself later in the contest. He played with the kind of unbridled arrogance that made him one of the best players in NBA history.
The Lakers ultimately won the series in seven games. Bryant averaged 27.4 points and shot better than 45%, showing that — while Battier had a strong defensive skill set — there was no such thing as a "Kobe stopper," even if Paul Pierce made Bean's life immensely difficult in the 2008 NBA Finals.
Kobe put up strong scoring numbers against Battier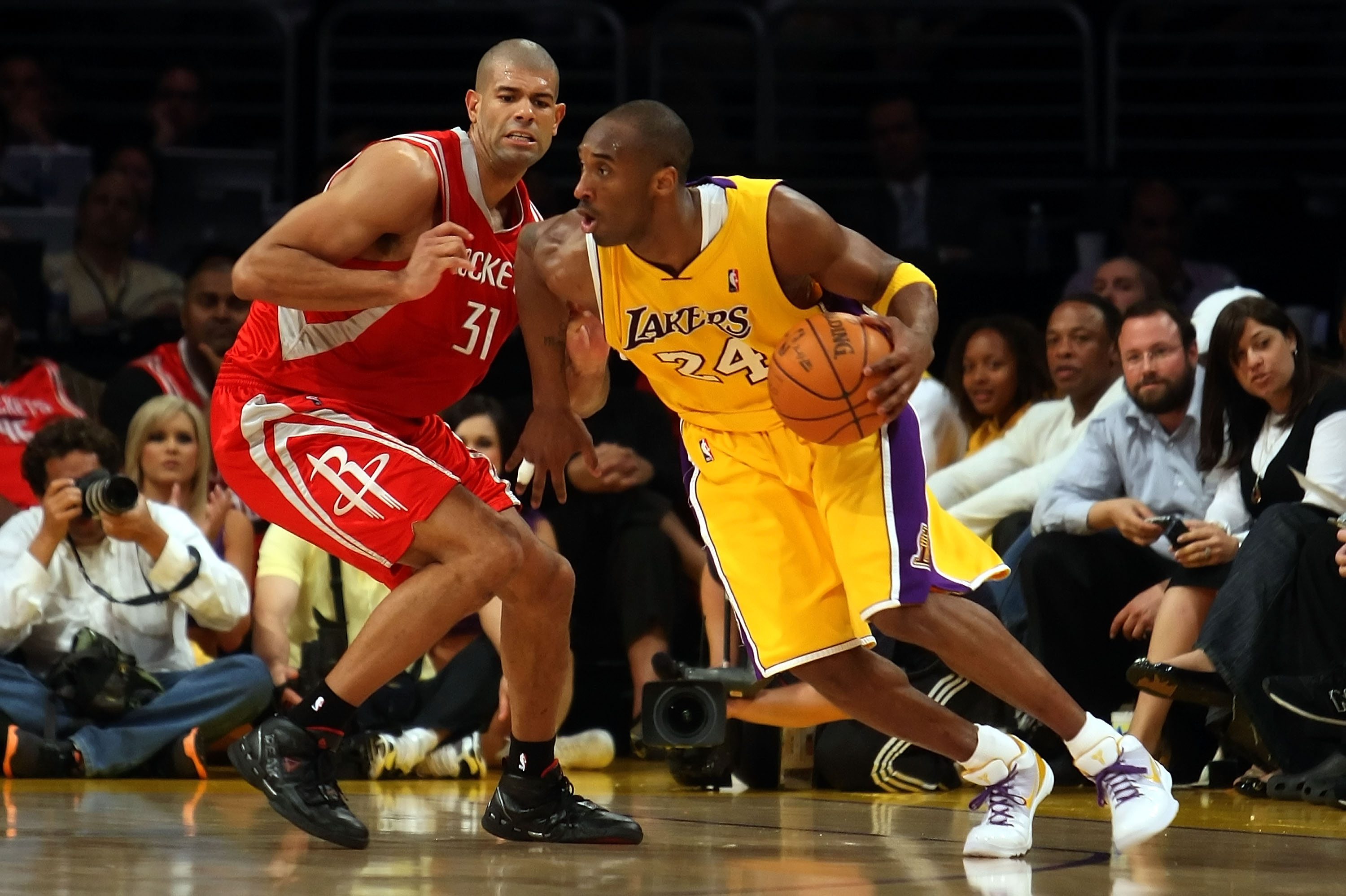 Despite the notion of Battier having a unique defensive impact on Bryant, the numbers show that The Black Mamba still had his fair share of successes.
Kobe averaged 28.6 points in 37 head-to-head showdowns with Battier. That's higher than his career scoring average of 25.0 points. Now, the efficiency was down. He shot 43.3% from the field in those matchups. Still, Bryant found ways to put the ball in the hoop.
Bean always accepted challenges and reminded old peers of his killer instinct right up until the end of his career. The glorification of Battier's defense on him simply gave Kobe a basis for going right at him, especially in the 2009 playoffs.
Stats courtesy of Basketball Reference.