Paul Pierce Tormented Kobe Bryant After Vigorously Demanding to Guard the Black Mamba Full-Court During the 2008 NBA Finals: 'I Don't Need No Help!'
Boston Celtics legend Paul Pierce is in the Hall of Fame because of his scoring ability. He never had the kind of defensive prowess to make it a hallmark of his career. However, The Truth found all the motivation he needed to lock in on that side of the ball against Kobe Bryant and the Los Angeles Lakers in the 2008 NBA Finals.
The Celtics' triumph over the Lakers ended a 22-year championship drought. Pierce provided an infamous moment when he left Game 1 in a wheelchair. But one of the forgotten aspects of that series is his shocking commitment to picking up the Black Mamba full-court.
Paul Pierce wanted the challenge of guarding Kobe Bryant during the 2008 NBA Finals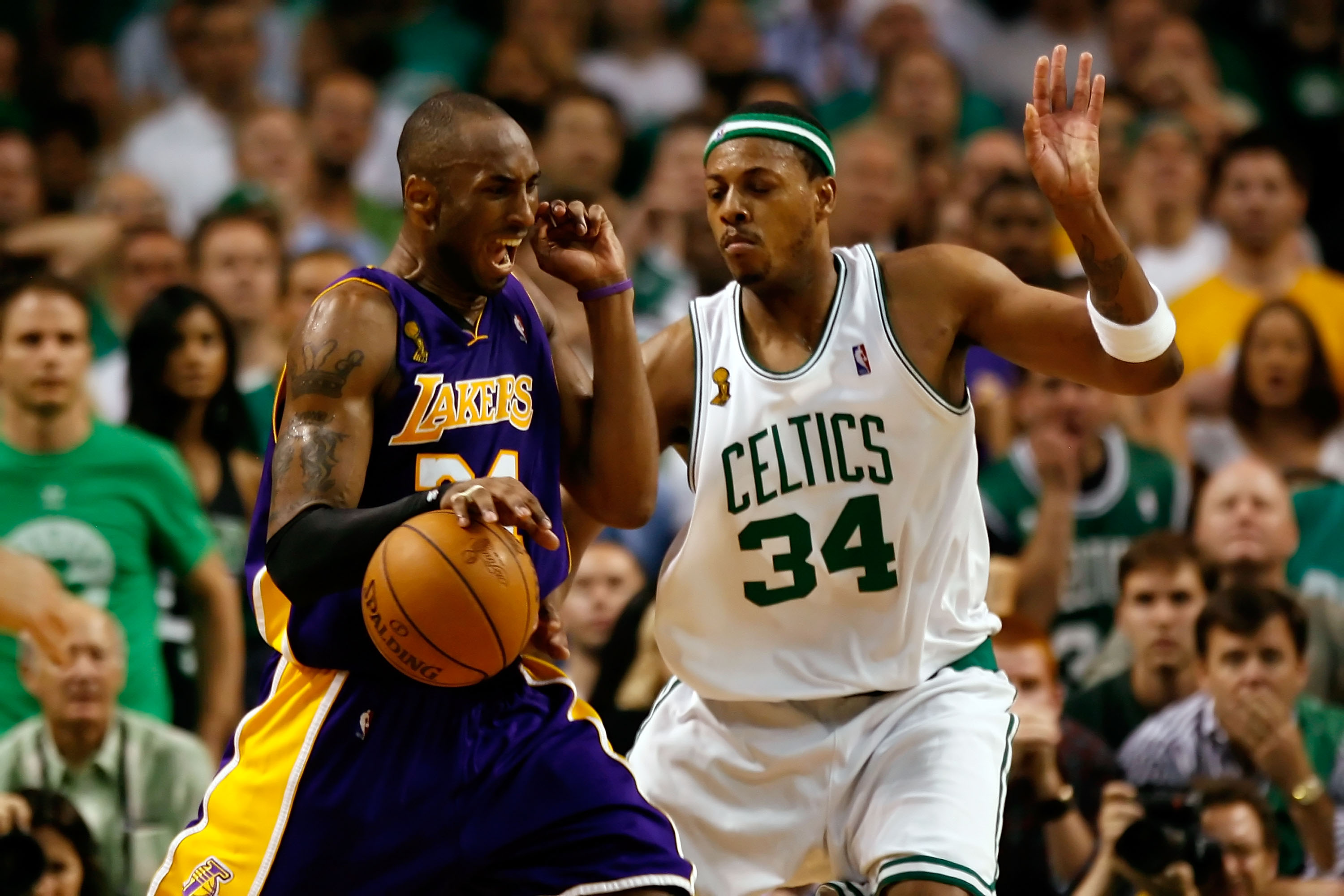 The Celtics initially planned to put Ray Allen on Kobe Bryant to start the 2008 NBA Finals against the Lakers. That is until Pierce interceded.
With Kevin Garnett on the roster and former Celtics assistant Tom Thibodeau pulling the strings, Pierce felt energized to lend a new level of effort on the defensive end of the floor. As former teammate Leon Powe recalled to The Athletic, Pierce insisted on checking Kobe all 94 feet.
"I remember in the Finals, Paul was picking up Kobe damn near full court. Full court! We got in a timeout, and we said, 'You don't have to pick up Kobe full court.' He looked at us and said, 'Nah! Nah! I got him! I got him! I don't need no help!' That's all he kept saying. He kept repeating, 'Don't help me!'"

–Leon Powe on Paul Pierce guarding Kobe Bryant in the 2008 NBA Finals, via The Athletic
Boston's coaching staff might have feared Pierce gassing out on the defensive end, which in turn could harm his ability to score the ball. Foul trouble could also have played a role. But The Truth believed his dogged efforts on Kobe could motivate his teammates.
"When your teammates see you taking the lead on that, it inspires them. They're like, 'Damn, Paul gonna pick him up and take on that challenge.' That let everybody know that I got him, and they're like, 'I gotta do my job over here if he's doing that.'"

–Paul Pierce, via The Athletic
The Celtics ultimately won the series in six games. Pierce's ability to be physical with Bryant and keep him out of the post played a significant role.
Kobe often couldn't handle The Truth
Kobe Bryant had one of his finest individual seasons with the Lakers in 2007-08. He averaged 28.3 points, 6.3 rebounds, and 5.4 assists while posting the second-highest true shooting mark (57.6%) of his career.
But Paul Pierce made things extraordinarily difficult for the Black Mamba during the 2008 Finals.
Bryant saw a fairly sizable decrease in scoring from his regular-season numbers, averaging 25.7 points and shooting just 40.5% from the field. Pierce helped hold him below 40% shooting in four of the six games, including a blowout Game 6 that clinched the title for the Celtics.
However, The Truth's success against Kobe stemmed from more than just motivation. He took a tactical approach to the matchup.
"This was the thing, Kobe was great in the mid-post area and getting position," Pierce said, via The Athletic. "When we had Ray [Allen] guarding him, it was easier for him to get that position. But me being a little bit bigger, I can move him off his spots, and it required less help."
Pierce said the Celtics needed someone to play Bryant straight-up because they weren't a "trapping" team and couldn't rely on defensive rotations. Thus, his insistence on guarding Kobe allowed his teammates to stick to their assignments.
Bean found motivation in the loss. He even tore an image of Pierce out of a newspaper and used it as fuel en route to back-to-back championships in 2009 and 2010.
Still, The Truth legitimately gave Kobe nightmares in the 2008 Finals. Pierce's Celtics teammates indicated it served as the perfect culmination of his season.
The additions of Kevin Garnett and Ray Allen made Pierce hungrier than ever
Some Lakers and Celtics fans might have been surprised to see the kind of impact Paul Pierce had on Kobe Bryant in the 2008 NBA Finals. But his defensive drive grew stronger throughout the 2007-08 season thanks to the additions of Kevin Garnett and Ray Allen.
Pierce felt galvanized by the formation of Boston's "Big Three." As noted in The Athletic, he organized "G-Unit" runs in practice that instilled a sense of competitiveness and hunger in the team. Former Celtics forward Brian Scalabrine said those runs showed a side of Pierce that teammates hadn't seen before.
"He started holding everyone accountable — like, everybody accountable — and he became a big-time leader on the defensive end of the floor," Scalabrine said, per The Athletic. "He called guys out who would forget their assignments, and we had a culture that you had to know your assignments. You could not — it wasn't a part of our culture for us to forget defensive assignments. That was a big part of what we did."
For years, Pierce struggled just to get the Celtics out of the first round of the playoffs. He nearly forced his way out of Boston. But with KG and Ray-Ray joining the fold, he understood the C's had a real chance to win a championship.
The Truth shined through on the biggest stage against one of the game's best players. It capped a year-long commitment on the defensive end of the floor.
Stats courtesy of Basketball Reference.