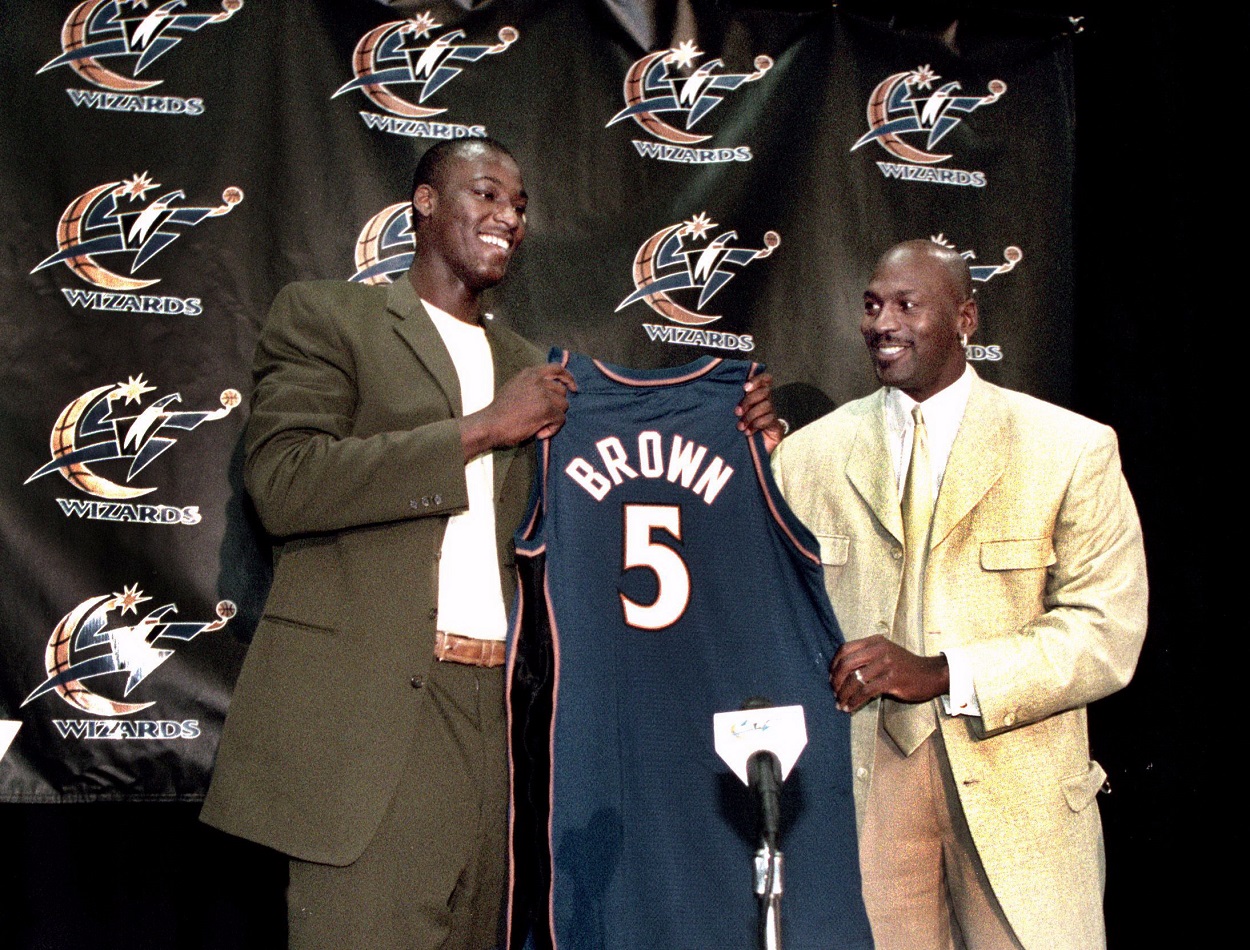 Kwame Brown Sneaks an Interesting Michael Jordan Nugget Into His Hour-Long, Expletive-Filled Rant on His Haters
Kwame Brown says Michael Jordan only drafted him to the Washington Wizards so he could trade him.
For those unaware, former NBA player Kwame Brown, who was famously taken by Michael Jordan's Washington Wizards with the No. 1 overall pick in the 2001 draft and is seen by many as one of the biggest busts in history, recently took to social media and went on an hour-long, expletive-filled rant that has the basketball world buzzing.
A few days back, Brown's former teammate, Gilbert Arenas, was a guest on the All the Smoke podcast hosted by Stephen Jackson and Matt Barnes. During the appearance, Arenas was asked about his time with Brown while in the nation's capital and while he made somewhat of an effort to pay him a compliment, he ended up calling the former No. 1 pick a "show pony," among other things.
Brown obviously got wind of the interview and decided to fire back, not just at Arenas, Jackson, and Barnes, but seemingly at everyone who has taken shots at him over the last two decades. Now, we're not going to get into all of that here as they're simply just too much to fit inside one little article.
However, there was one story he told near the end that we've really never heard before as Brown claims Michael Jordan drafted him only because he wanted to use him as trade bait to bring Elton Brand to the Wizards.
Michael Jordan drafted Kwame Brown with the No. 1 overall pick in the 2001 NBA draft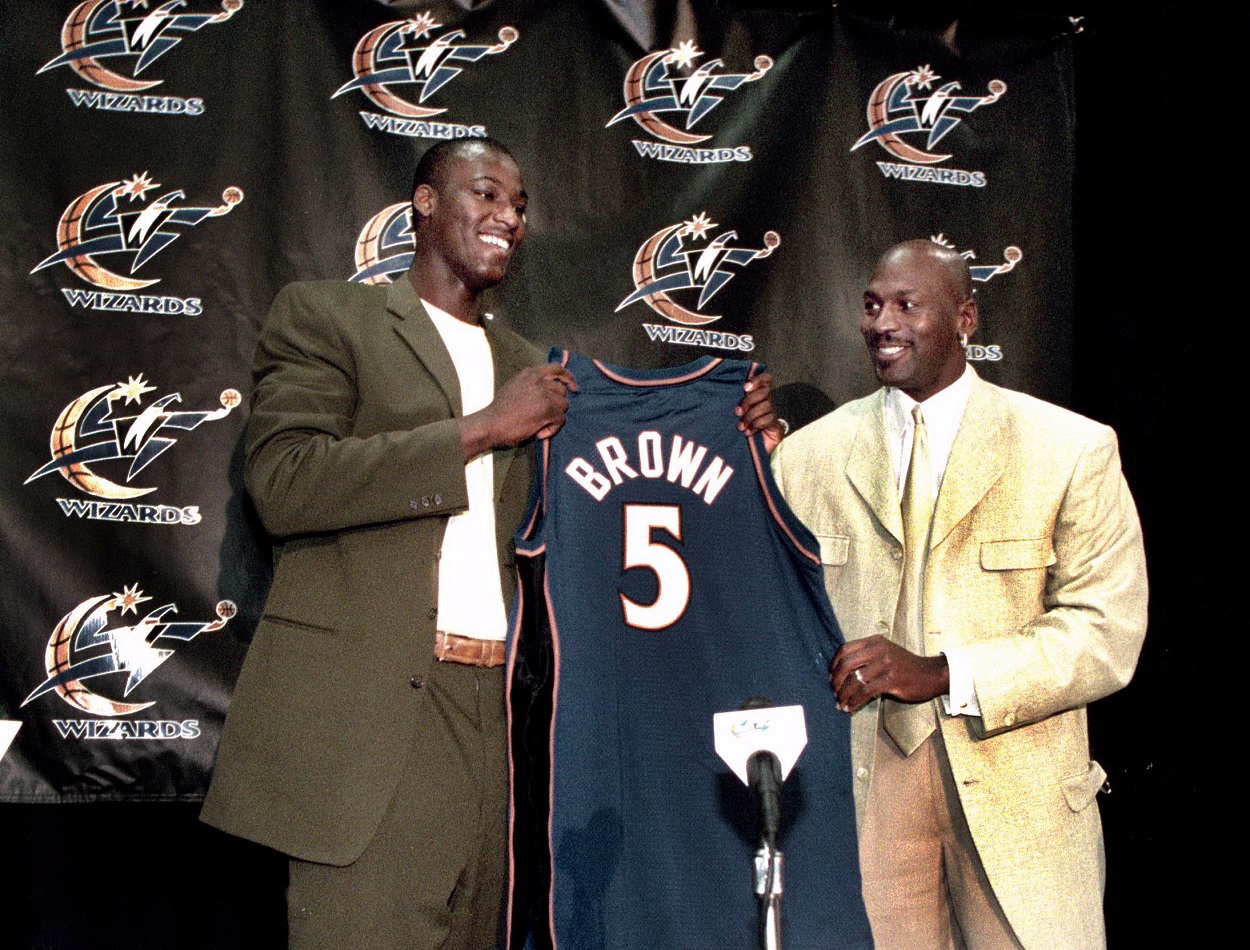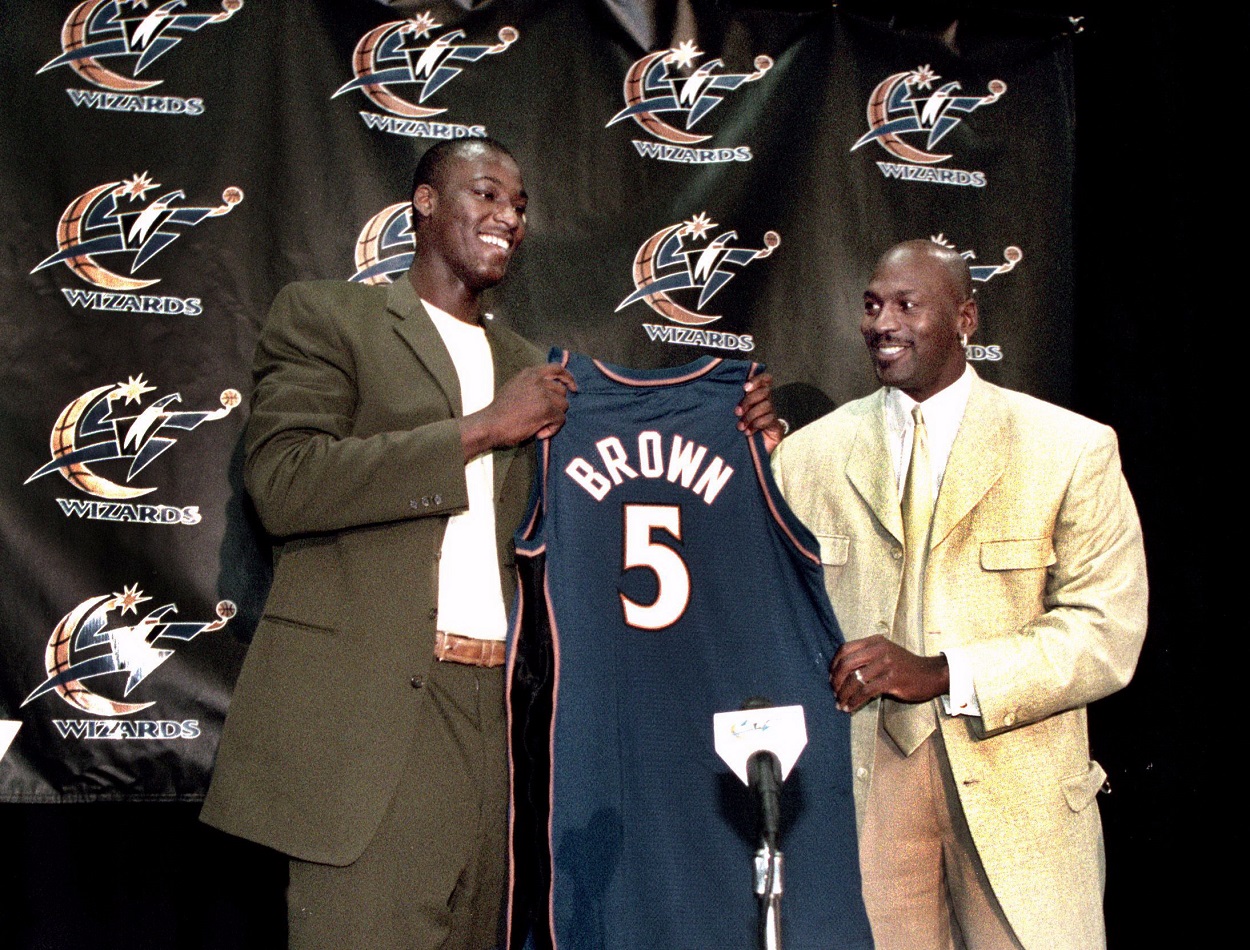 In January 2000, about a year after officially retiring from the NBA for a second time, Jordan bought into the Wizards organization and was named the franchise's president of basketball operations, meaning he had the final say in all personnel decisions in regards to the roster.
As the Wizards didn't own a first-round pick in 2000, there really wasn't any pressure on Jordan that first year. But that all changed the following year when Washington won the draft lottery, giving MJ his first-ever No. 1 pick. While there were many options from which to choose, Jordan took a chance and made history by making the then-18-year-old Brown the first high school player to ever be selected with the top pick.
As we all know now, things didn't really work out for Brown in Washington.
Things didn't work out so well for Kwame with the Wizards
Not long after Jordan used the No. 1 pick on Brown, he decided to become his teammate as he joined the Wizards as a player ahead of the 2001-2002 season and was reportedly very hard on the youngster during their two seasons together.
Brown saw limited minutes as a rookie, playing just over 14 minutes per game in his 57 appearances, which included three starts, averaging 4.5 points and 3.5 rebounds. The following year, which would be Jordan's last with the franchise, Brown averaged 7.4 points and 5.3 rebounds in just over 22 minutes per game.
With Jordan gone, Brown averaged career highs in points (10.9) and rebounds (7.4) in 2003-2004. However, injuries limited him to just 42 games in 2004-2005 and his production suffered, as did his reputation as he was criticized by many for his behavior and immaturity after engaging in feuds with Arenas and Wizards head coach Eddie Jordan.
In August 2005, Brown was traded to the Lakers, for whom he played parts of three seasons before bouncing around the league for the remainder of his career, playing for five more teams before calling it quits in 2013.
Brown says Jordan wanted to trade him for Elton Brand
So as it turns out, Jordan actually never wanted Kwame with the Wizards in the first place as he apparently wanted to ship the youngster to his old team, the Chicago Bulls, in exchange for Elton Brand, whom the Bulls had drafted with the No. 1 overall pick in 1999. Here's how Brown explained the situation in his recent YouTube stream.
"They never drafted me with the intention of me staying a Washington Wizard. I was supposed to be traded. MJ was a 39-year-old man. I'm not saying this to bash him, but MJ is from an era where young guys didn't play.

"Young guys had to prove themselves and earn the right to play. I was drafted in order to be traded for Elton Brand so he could come to the Wizards so MJ could get into the playoffs and compete for a championship."

Kwame Brown on Michael Jordan wanting to trade him
Brown went on to say that he didn't hold any grudges toward Jordan for that as Brand, who'd averaged 20.1 points and 10 rebounds in each of his first two seasons in the Windy City, would have been a good addition for the Wizards. But he clearly didn't like how things were handled but did thank Jordan for changing his life. Brown says Jordan may have been in the wrong in Washington but also brought up the fact that MJ brought him to Charlotte shortly after becoming the majority owner of the then-Bobcats.
It's quite the fascinating story if it's all true, isn't it? Perhaps Brown's career would have been completely different had he gone to Chicago. Maybe Jordan stays with the Wizards' front office after retiring that last time and builds a team around Brand, which maybe means he never buys into the Charlotte franchise.
But the trade obviously never went down and we're left with just another big "what-if" scenario, something Kwame Brown certainly knows a thing or two about.
Stats courtesy of Basketball Reference