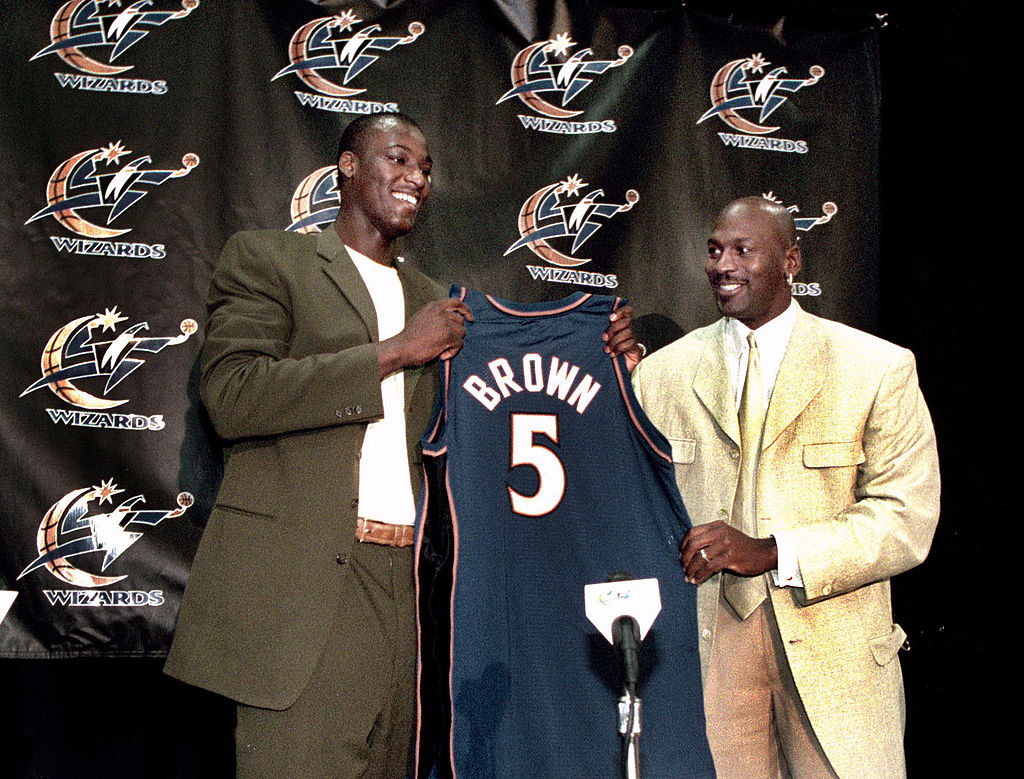 Kwame Brown May Have Been a Massive Bust, but He Still Made $64 Million in the NBA
Kwame Brown might have gone down in NBA history as a massive draft bust, but the big man still made plenty of money playing ball.
As any sports fan can tell you, there's no such thing as an automatic recipe for success. Even the first overall draft pick isn't safe from being a bust; for every Patrick Ewing or LeBron James, there are plenty of NBA players who simply can't make the cut. Unfortunately, Kwame Brown is a headlining member of that latter group.
While basketball fans may look back on the center's career as a classic example of draft-day disappointment, his time in the NBA wasn't all bad. During his 12 seasons in the pros, Kwame Brown still made $64 million.
Kwame Brown's road to the NBA
While most NBA fans will remember Kwame Brown as an incredible failure at the professional level, that doesn't tell the big man's entire story. Before his time in the pros, the center seemed destined for basketball greatness.
As detailed in a 2016 ESPN feature, Brown rose from tough circumstances to become a high school basketball star. The center seemed to have the perfect blend of size and athleticism and eventually started posting the stats to back it up; as a senior,  he averaged 20.1 points, 13.3 rebounds, and 5.8 blocks per game, helping his team reach the Final Four of the state tournament.
While the big man initially committed to play college ball at the Univesity of Florida with Billy Donovan, he decided to enter directly into the 2001 NBA draft. In a class that also featured Tyson Chandler and Eddie Curry, Brown seemed like the perfect combination of the two. At least that's what the Washington Wizards came to believe.
Becoming one of the NBA's most infamous draft busts
When the 2001 NBA draft arrived, the Washington Wizards made things official. At the urging of Michael Jordan, the organization made Kwame Brown the first-overall pick. Things wouldn't work out as His Airness imagined, though.
During his rookie year, Brown appeared in 57 games but didn't find much statistical success. As a teenager playing against grown men, he struggled to make an impact; he finished the campaign averaging 4.5 points and 3.5 rebounds per night. While his numbers would slowly climb—the big man started 57 games and averaged a career-high 10.9 points per outing in 2003-04—he never deloped into a star.
In 2005, the Wizards shipped Brown west to the Los Angles Lakers. While he did spend some time as the club's starting center, the former first-overall pick's game didn't markedly improve in Hollywood; after a season and a half, the Lakers traded him to the Memphis Grizzlies.
At that point, Kwame Brown became a journeyman. After playing out the remainder of the 2007-08 season in Tennessee, he began bouncing around the league; he spent two seasons with the Pistons before joining up with the Bobcats, Warriors, and 76ers. After a hamstring injury in 2014, Brown was waived by Philadelphia. He would never play another game in the NBA.
After going first overall in the 2001 draft, Brown spent 12 seasons in the pros. He finished with a career average of 6.6 points and 5.5. rebounds per game; for all his potential, he simply couldn't live up to the hype.
Kwame Brown still made plenty of money in the pros, though
It goes without saying that Kwame Brown's NBA career didn't go as planned. While the big man might not have developed into a star, he did make some solid money in the pros.
According to HoopsHype's salary data, Brown made just over $64 million during his time in the association. Despite his struggles, his earning power never took that big of a hit; as late as 2011, the center signed a one-year contract worth almost $7 million.
Despite some financial issues in 2018—according to a Bloomberg report, Brown sued Merril Lynch for stealing more than $17 million of his investments—CelebrityNetWorth still estimates the center's fortune at $8 million. While no one wants to be known as a draft bust, that money isn't a bad consolation prize.
All NBA stats courtesy of Basketball-Reference