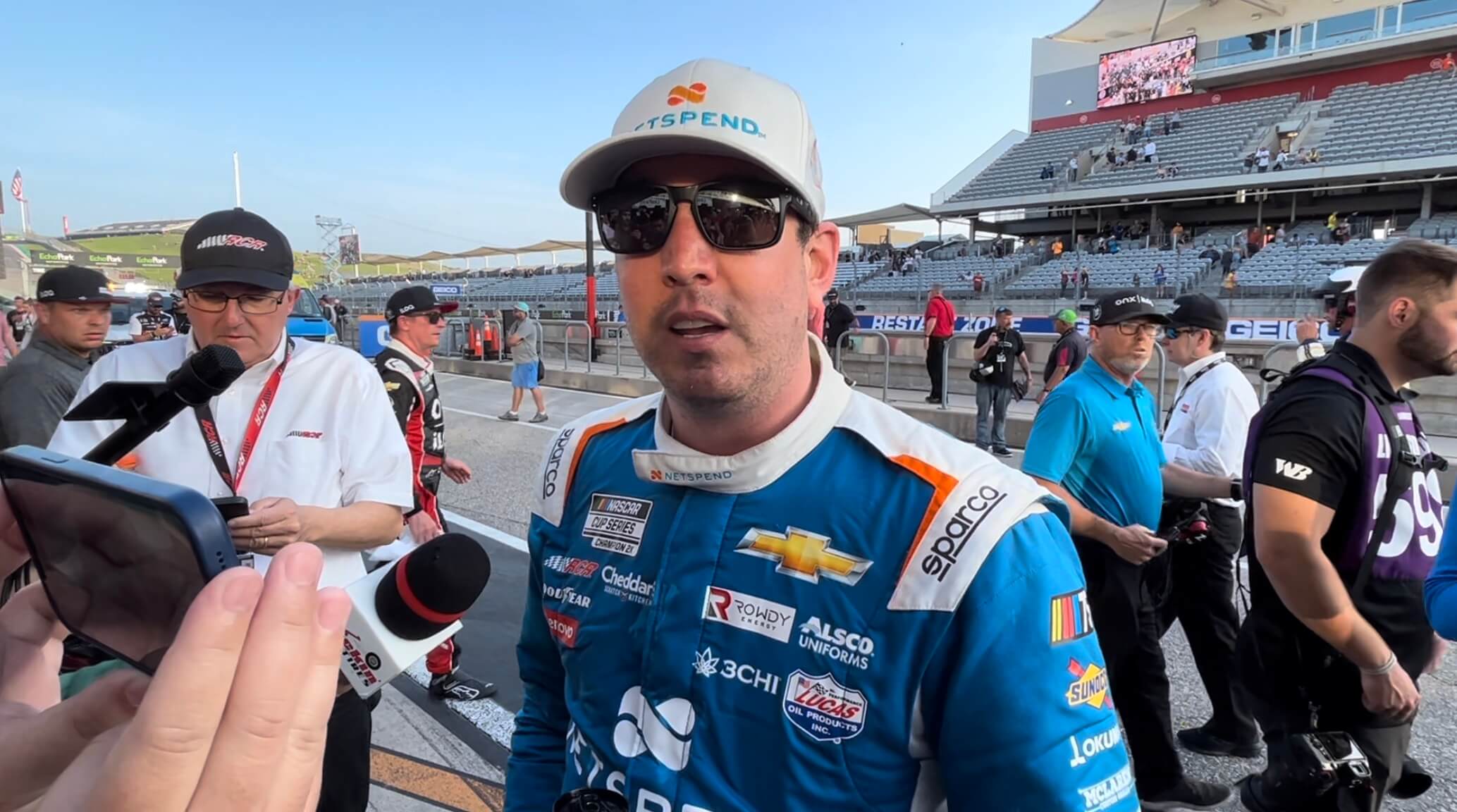 Kyle Busch Brashly Called Out Ross Chastain for Not Racing Clean While Standing Next to Him After Cup Race at COTA
Kyle Busch didn't hesitate to call out Ross Chastain for his lack of clean racing after the March 19 race at Circuit of the Americas while standing next to the watermelon farmer.
Kyle Busch started the conversation in March at Atlanta Motor Speedway about a lack of respect in the NASCAR garage. Several of his competitors sounded off on the topic, and there was a lot of finger-pointing. 
Unfortunately, the March 19, 2023, race at Circuit of the Americas, which was entertaining for most of the day, took a turn for the worse at the end with multiple late cautions and overtime restarts that provided several ugly examples of disrespectful driving. 
Moments after finishing runner-up, the Richard Childress Racing driver visited with reporters on pit road and brashly called out Ross Chastain for his role in the chaos and lack of clean racing while standing right next to him.   
Kyle Busch started conversation on lack of respect in garage
Kyle Busch has been outspoken throughout his career. The latest chapter came earlier in March, before the race in Georgia, when the two-time champion talked with the media and addressed Denny Hamlin's podcast remarks on intentionally wrecking Ross Chastain at Phoenix, but then took a detour which veered off into a conversation on how lack of respect on track has become prominent in NASCAR and dramatically different from years past.  
"Now you're going down the right path because we have completely lost any sense of respect in the garage area between drivers at all," Busch said. "That's where the problem lies is nobody gives two s—- about anybody else, and it's just a problem where everybody takes advantage of everybody as much as they can. We're all selfish, granted. 
"But there was an etiquette that once did live here. Mark (Martin) started it. I think Tony (Stewart) really lived by it. I think Jeff (Gordon) lived by it. Bobby Labonte. Rusty (Wallace), for the most part. Dale Jarrett, for sure. It did exist. That's gone."
Busch also admitted he reached out to younger drivers to discuss race etiquette, and it fell on deaf ears. He gave up on trying anymore. 
Busch calls out Ross Chastain while standing next to him at COTA
On Sunday, March 19, on the 3.41-mile road course located on the rolling prairie hills southeast of Austin, Kyle Busch had a solid day. After qualifying ninth, the No. 8 car ran near the front for much of the race. In the final stage, he unsurprisingly made his way forward and put himself in position for the win. 
Things got dicey late. Like eventual race winner Tyler Reddick, Busch had to avoid getting dumped and caught up in the chaos that ensued on each of the three overtime restarts. His team warned him over the radio that Chastain was one of the main instigators of the aggressive driving and to be wary of him approaching. 
When the checkered flag waved, Busch finished second, his best result at COTA, and the watermelon farmer, who won his first Cup race at the circuit last year, finished fifth. 
After exiting his car, the 37-year-old driver toweled off following a hot day that included running caution-free stage breaks before visiting with the media. The Podium Finish's Rob Tiongson asked if having his win at Fontana allowed him to be more aggressive at the end.
"The biggest thing was I got alongside Reddick there on that restart into the esses, and I could have forced the issue and pushed him off or whatever," Busch acknowledged, with Chastain standing a few feet to his left talking with more reporters. "But we ran each other hard. We ran each other clean and gave each other room. I respect the kid. He's been nothing but great to me, so I give him respect back. 
"We've had some good races between each other. They were really fast. They deserved to win. There's no sense in taking it from him. Somebody else that doesn't know anything about clean over here," Busch said before turning, looking directly at, and motioning toward the Trackhouse driver. 
Coined term 'Chastained' last year
Busch and Chastain have a history. The former JGR pilot added his name to the growing list of drivers who have felt wronged by the watermelon farmer and his aggressive driving when the No. 1 car got into the left rear of the No. 18 Toyota at Richmond last year. Both cars went for spins.
Busch eventually battled back and secured a ninth-place finish. In his post-race interview, the future first-ballot NASCAR Hall of Famer talked about the incident and coined a new term. 
"We got Chastained this week. We were his victim this week," he said.  
On March 19, in the Lone Star State, more drivers were added to the list.
For the latest breaking news and information about NASCAR's three national series, check out @kdsportswriter on Twitter.