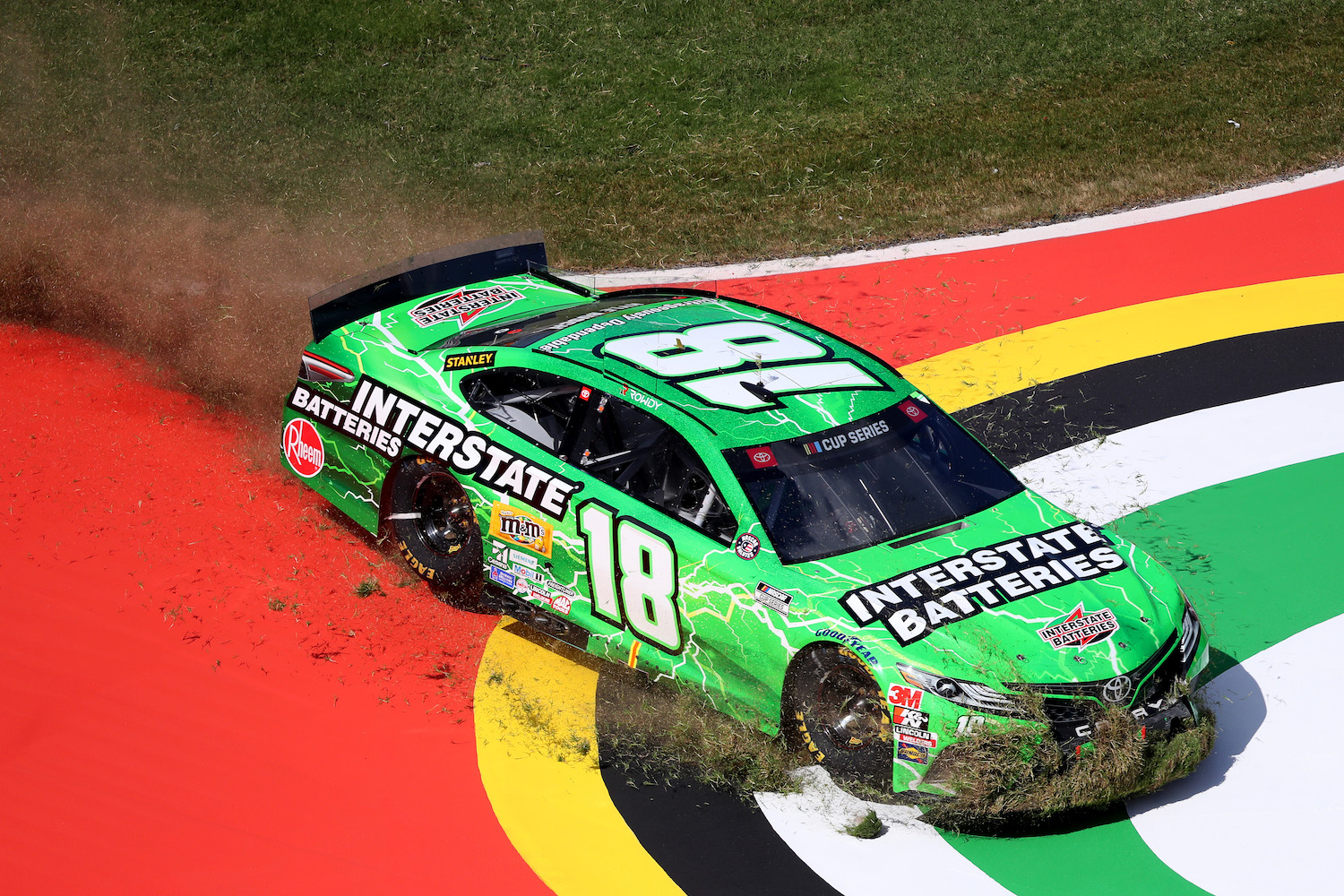 Kyle Busch Isn't Playing Around After Bad 2020; Announces Major Shakeup of Team for 2021
Kyle Busch had his worst NASCAR Cup Series season in years in 2020. He doesn't want a repeat in 2021 and has announced a major shakeup with this team.
A year ago, Kyle Busch sat on top of the NASCAR world after capturing the second Cup Series title of his career. This season, however, Busch took a big step back, missing the Championship 4 for the first time in five seasons, and finishing eighth overall in the standings, his worst finish in seven years. This week, Joe Gibbs Racing and Kyle Busch made a huge move with the hopes he can return to the top in 2021. 
Kyle Busch wins second career Cup Series title in 2019
Kyle Busch sent a message to his competition early on in the 2019 NASCAR Cup Series season with a fast start, winning three of the Series' first eight races. He earned his fourth win of the season at Pocono at the beginning of summer.
Busch would then go winless for months. Despite an absence of trips to victory lane, he remained consistent, and when the season was over, he claimed his second consecutive regular-season championship, which included 21 top-10 finishes. 
Kyle Busch experienced his share of struggles in the playoffs, including a 37th place finish at the Charlotte Roval, but managed to come through in the clutch, making the Championship 4 for the fifth season in a row. Busch won the year-ending race at Homestead, snapping his 21-race winless streak and more importantly, he captured the Cup Series title, the second of his career. 
Kyle Busch struggles in 2020
After the 2019 season, in which he won both the regular-season championship and playoffs, Kyle Busch and his team at Joe Gibbs Racing carried high expectations into 2020. The season started ominously at the Daytona 500 when he blew an engine and finished 34th. 
In the season's first 10 races, Busch earned six top-5 finishes, but a trip to victory lane remained elusive. As the season progressed without a win, many wondered if his 15-season win streak would come to an end. Frustrations mounted. In October, after finishing 30th at the Charlotte Roval and being eliminated from the playoffs, Busch expressed his disappointment when asked about the future of his crew chief Adam Stevens. 
"Why be stupid and ask me a question like that right now?" he curtly responded. 
Kyle Busch managed to pull off a win at Texas Motor Speedway late in the season to keep his win streak alive, but finished eighth in the standings, his worst finish since 2014.
Big changes coming for No. 18 in 2021
With 2020's disappointing finish, it was suspected there might be changes coming for Kyle Busch and the No. 18 team in 2021. This week, Joe Gibbs Racing announced that crew chief Adam Stevens, who had won 28 Cup races with Busch over the past six seasons and championships in 2015 and 2019, would be parting ways. 
Stevens will be paired up with the No. 20 and Christopher Bell, while Ben Beshore, who served as engineer for Busch before moving to Gibbs' Xfinity Series program to crew chief last year, will move back up and work with the two-time Cup champion. 
"We go through a process at the conclusion of every season that includes evaluating each of our teams," Joe Gibbs said in a team release. "We believe our crew chief lineup for 2021 will best position each team and driver for success across both series."
Will Kyle Busch move back up to the top in 2021 with a new crew chief? Time will tell.