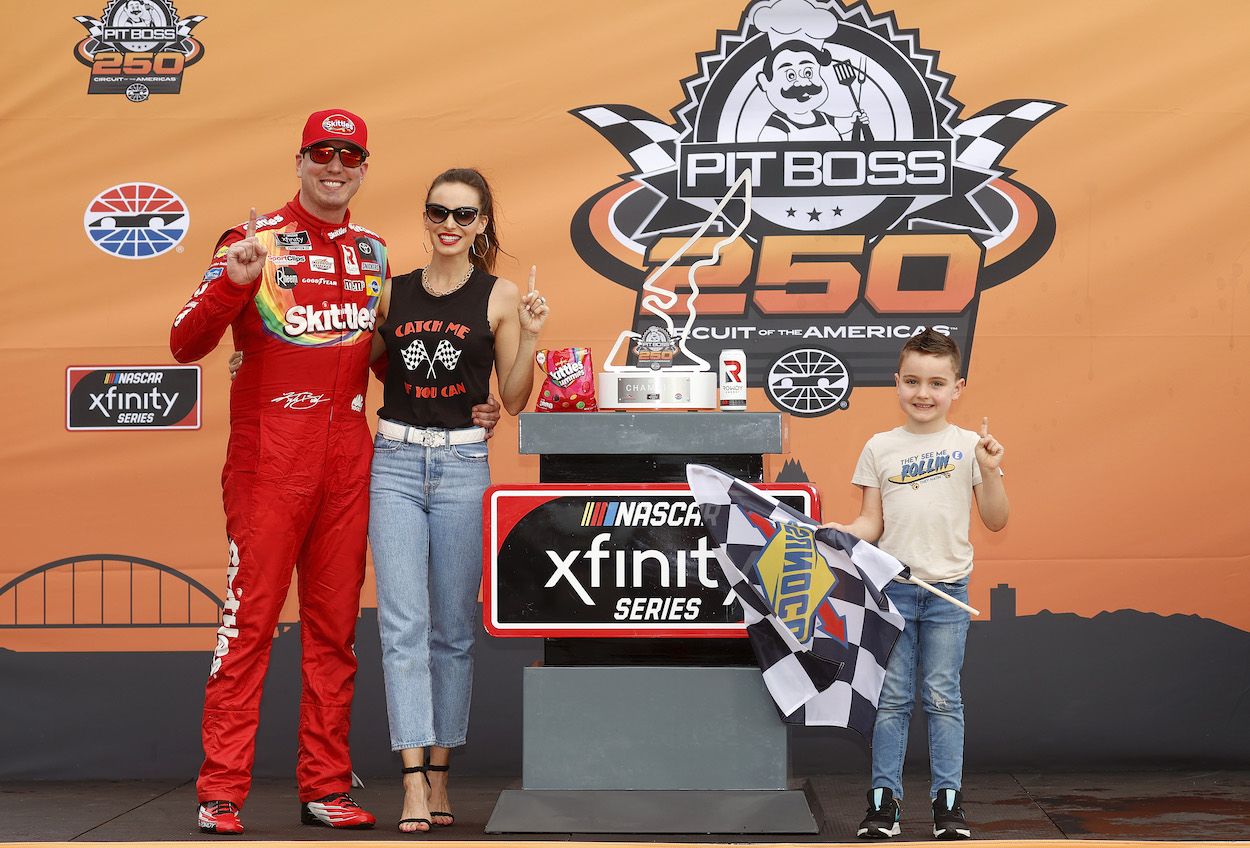 Kyle Busch's Website Sends Clear Message About His Future in the Xfinity Series
Kyle Busch indicated last season would be his last to race in the Xfinity Series. This week, his website provided a definitive answer.
Kyle Busch said 2021 would be his last season racing in the NASCAR Xfinity Series. He raced the maximum allowed five races, won each time, and increased his series-leading career total to a staggering 102 victories. 
While the driver sent signals throughout the season confirming that it would be his last, many of his fans still refused to believe it. This week, on the eve of the start of the season, Busch didn't have to say anything about his future in the Xfinity Series. His website said it all for him. 
Kyle Busch thanks sponsors throughout Xfinity career
Last year, when Kyle Busch won the July Xfinity Series race in Atlanta, the 102nd victory of his career, he did something different in his postrace interview that seemed to indicate it was indeed his last time behind the wheel with the series. He thanked everyone that had been along with him on the journey for 19 years.
"Thanks to Joe Gibbs Racing, Toyota, Xfinity, Nationwide, Busch beer for the series and everything that they've done over the years," Busch said. "It's been awesome to run here and ride here."
"Is that indeed the last ride for you in the Xfinity Series, Kyle?" NBC's Marty Snider questioned him.
"Yeah. Yeah. As far as I know," the driver responded. "As far as what's going to happen right now, yeah. It's never say never, but yeah, this is it."
Kyle Busch website reveals his future 
While his "never say never" remark unsurprisingly gave some of his fans hope, he all but confirmed his retirement from Xfinity shortly after in a two-part video on YouTube. In the video, Busch talked about his career while it showed many of his numerous Xfinity highlights, and concluded with several of his crew chiefs recalling their favorite moments working with him.
With the start of the 2022 NASCAR Xfinity Series season just days away, the Joe Gibbs Racing driver's fans have continued to hold out hope that he might add some Xfinity races to his Cup Series schedule. 
This week, Busch's website confirmed that he had no plans to race as the Xfinity Series tab was removed while the Cup Series tab includes the full 2022 schedule and the Truck Series tab exists but isn't yet populated. 
The Athletic's Jeff Gluck confirmed the news on Twitter. 
"Kyle just confirmed this. No Xfinity this season," Gluck tweeted. "Said his first Truck race is Vegas."
What will he do with his free time?
Although he won't be racing in the Xfinity Series, Busch still plans to race the maximum number of five Truck Series races. During the second part of his two-part video, he also revealed what he plans to do now that he won't be racing on Saturdays. Not surprisingly, it's more racing.
"Now that I'm done with Xfinity, my open time frame is going to be spent with Brexton," Busch said. "I guess I'm still going to be developing talent, but now it's going to be developing my son."   
Brexton has followed in his father's footsteps and done so rather successfully, competing in the Beginner Box Stock Car series, where he's won numerous races and the track championship at Millbridge Speedway in 2021.  
Busch might miss dominating races with the Xfinity Series in 2022, but now he'll have time to go watch his son do the same thing. 
Like Sportscasting on Facebook. Follow us on Twitter @sportscasting19.