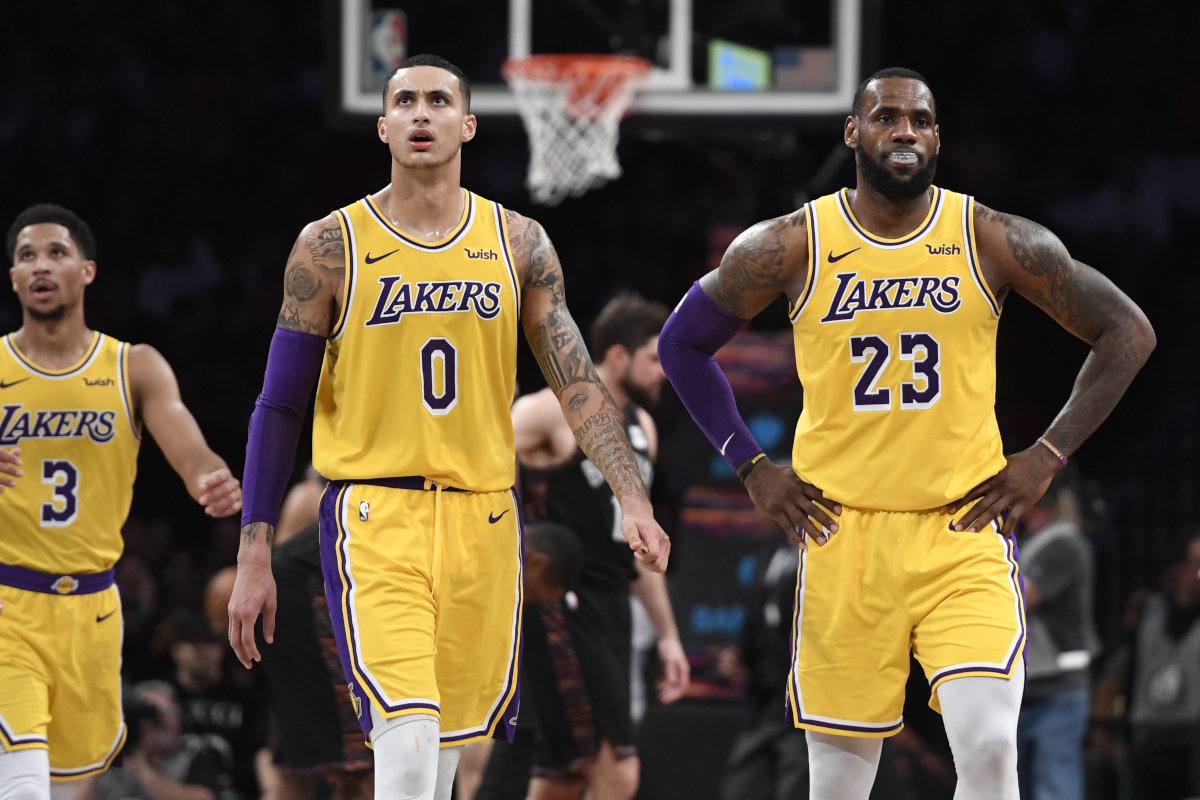 Kyle Kuzma Throws Some Shade at LeBron James on His Way out the Door in LA, Says Kobe Bryant Is the GOAT
Kyle Kuzma is leaving the Los Angeles Lakers, and he's making sure he gets in a parting shot. After he was traded to the Washington Wizards, a social media post by Kuzma supported the late Kobe Bryant as the GOAT. Less than two years ago, he was on the same platform giving LeBron James some GOAT love.
What a difference a trade makes. Kyle Kuzma, part of the five-team swap meet that began with the agreement to bring Russell Westbrook to the Los Angeles Lakers, fired a shot at LeBron James on his way out the door in LA.
Kuzma played four years with the Lakers, winning a ring in 2020 as a reserve. But he also frustrated fans. The 2017 27th overall pick was a late-first-round revelation as a rookie. However, he's still essentially the same player four years later. That made him expendable when LA wanted to bring in Westbrook.
But Kuzma saw fit to take a swipe at James on his way to Washington. In the process, he also did a 180-degree turn from something he said less than two years ago.
Kyle Kuzma got a 3-year extension from the Lakers in December 2020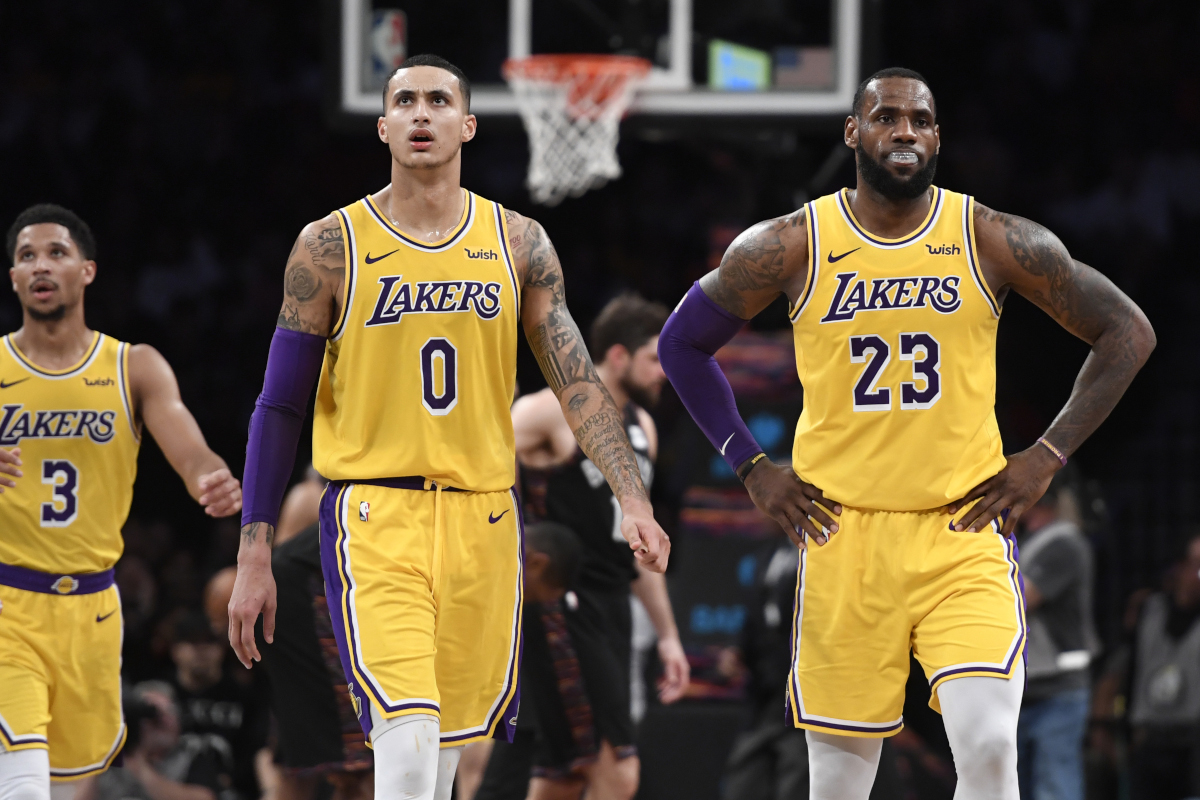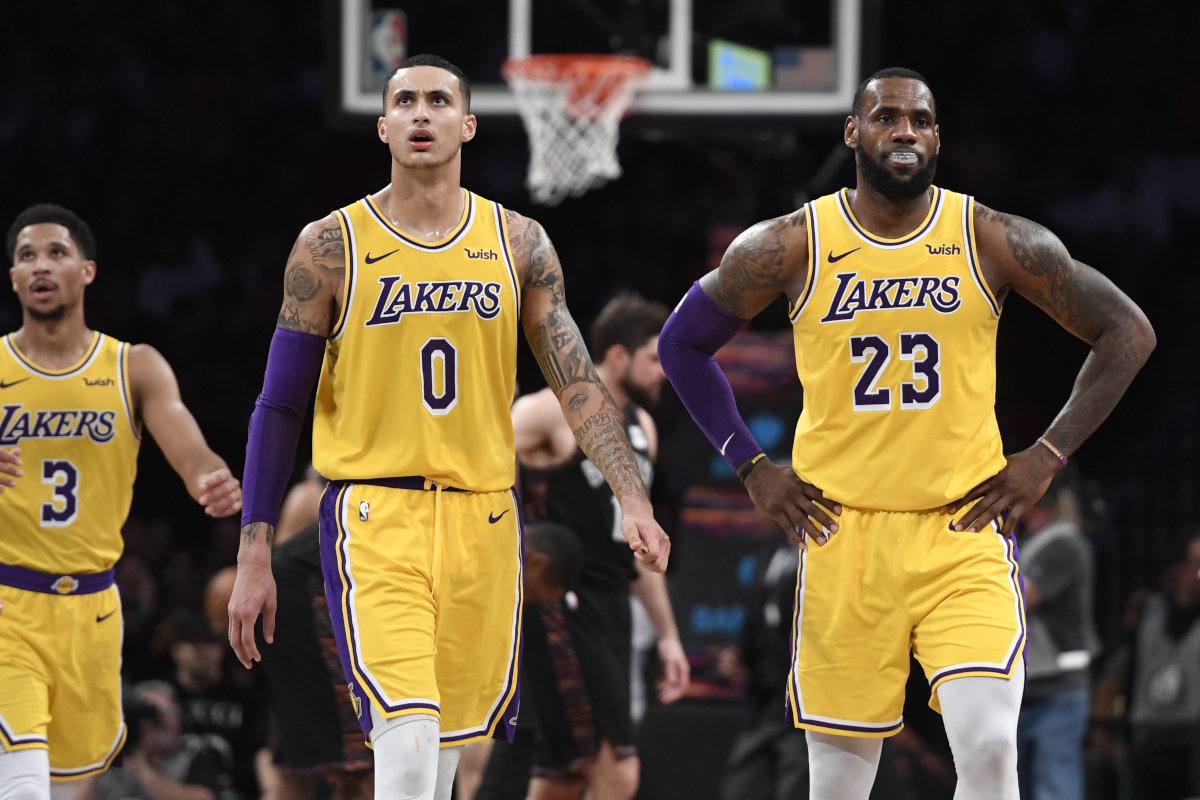 Kyle Kuzma was headed to restricted free agency in the summer of 2021 before signing a three-year, $39 million extension with the Lakers.
But his game didn't get better with the added security. Asked to be more of a volume shooter from deep, Kuzma took 50.2% of his shots from 3-point range last season. He made 36.1% of them, an uptick from 30.8% the previous two years.
Kuzma was on an upward trajectory, averaging 16.1 and 18.7 points in his first two seasons, respectively. But the arrival of coach Frank Vogel in 2019 led to a dramatically reduced role. After he started 105 games and averaged 32.1 minutes per game in his first two seasons, those numbers fell to 41 starts and 27.0 minutes a night over the last two.
The Lakers had dangled Kuzma in trade talks before, but LA did the same thing with him that it's done with other players. The Lakers grossly overestimated his value to other teams, per Matt Moore of Action Network. But now Kuzma is gone, and he wasn't above a parting shot.
Kuzma called LeBron James the GOAT until he didn't
The trade sending Kyle Kuzma to the Washington Wizards went down on July 29 before the NBA draft. A couple of days later, SportsCenter tweeted some of the video-game numbers the late Kobe Bryant put up. Kuzma was all over it.
Bryant's volume-scoring accomplishments are eye-popping. Bryant had more 40-point games than James and Stephen Curry combined. He also had more 50-point games than Kevin Durant, Larry Bird, and LeBron combined. Finally, his total of 60-point performances topped the combined mark of James and Michael Jordan.
GOAT company, indeed.
However, the funny thing is that two years ago, when Kuzma was one of LeBron's teammates, the young forward had a completely different take. A James quote tweeted from the Lakers' official account prompted Kuzma to invoke the "GOAT" label in a follow-up tweet.
Getting traded seems to have caused Kuzma to take the big horns away from James and give them to Bryant.
Kyle Kuzma played with LeBron James, but not Kobe Bryant
Kobe Bryant retired in 2016, exiting the stage with an iconic 60-point performance in his finale. Kyle Kuzma didn't get to the Lakers until the 2017–18 season, with LeBron James showing up a year later.
James often lands in the GOAT debate in an eternal battle between the LeBron and Michael Jordan camps. Social media serves to fuel the fire.
Sometimes, Bryant is brought into the GOAT discussion, but not as often as Jordan or James. He was the NBA MVP in 2007–08, made 15 All-NBA teams, was a 12-time All-Defensive player, won five rings, and grabbed two Finals MVP trophies.
A two-time scoring champion, Bryant averaged 25.0 points over his 20-year career. But he was never quite the same after tearing an Achilles' tendon near the end of the 2012–13 season.
James won the scoring title in 2007–08, the same year Bryant was MVP. The King added an assist title 12 years later. He's averaged 27.0 points per game in his career and has posted career averages of 7.4 assists and 1.6 steals. James is also a four-time NBA MVP, has four Finals MVPs, is a 17-time All-NBA performer, and has made All-Defensive six times to go with four championships.
Kobe Bryant and LeBron James do share one trait within the context of the GOAT debate. Both are polarizing, and those poles are usually in direct opposition. People either love Kobe, or they love LeBron. Seldom do the two circles intersect on the big Venn diagram of life.
Statistics courtesy of Basketball Reference.