Kyle Larson Calls Out F1 for Bending Rules in Controversial Finish to Championship Race and Makes Surprising Admission About His Trip to Abu Dhabi
Kyle Larson couldn't have chosen a better first-ever Formula One race to attend than the season finale at Abu Dhabi. It was a high stakes, drama-filled event that ended with Max Verstappen earning his first championship on a last-lap pass of seven-time champ Lewis Hamilton.
However, Larson, who won his first-ever NASCAR Cup Series championship the month before, didn't leave the race with the greatest impression. In fact, the Hendrick Motorsports driver made a surprising admission about his attendance and even called out F1 for bending the rules to manufacture an exciting ending in the final lap of the season's final race.
Kyle Larson makes surprising move while attending first F1 race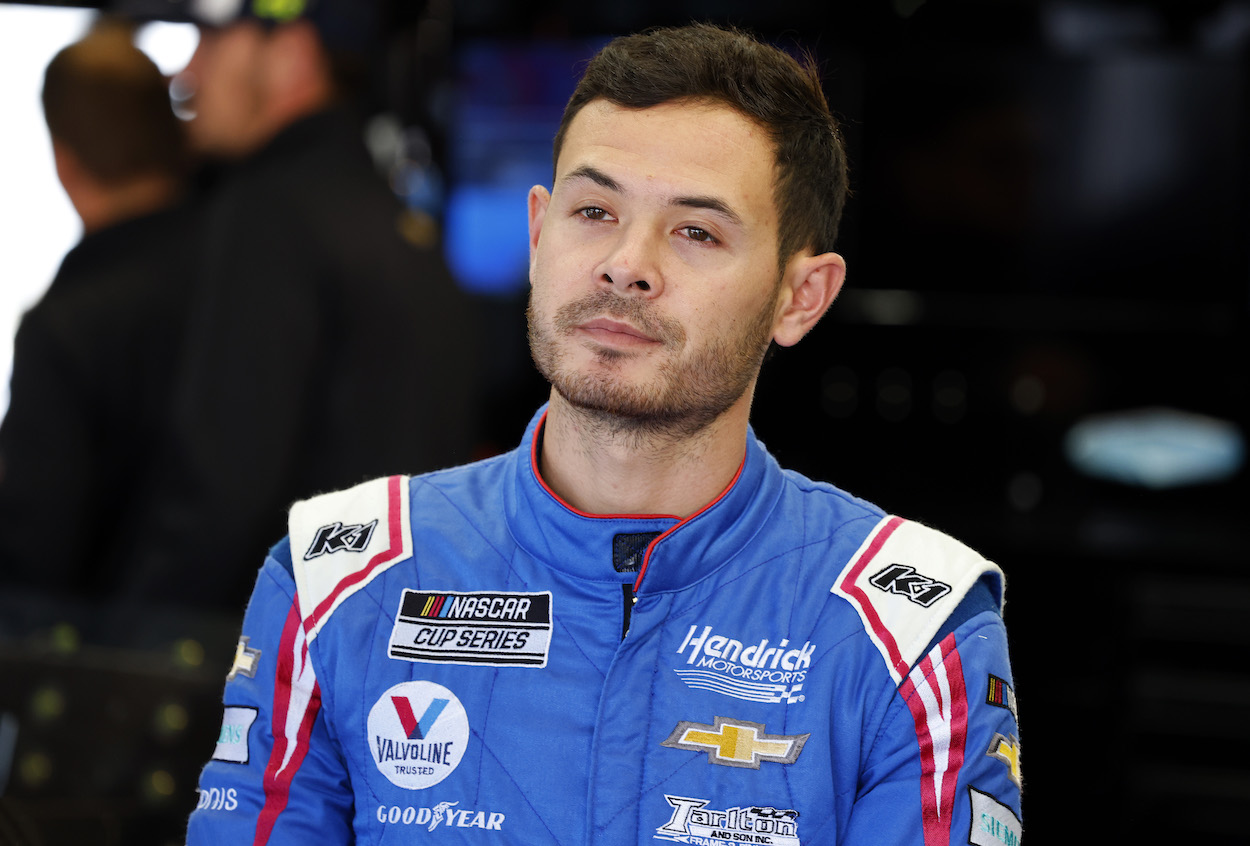 After winning the 2021 NASCAR Cup Series championship, Kyle Larson made the trek around the world to Abu Dhabi to watch F1 crown its 2021 champion in the season finale. Unfortunately, the much-anticipated race, which capped off an exciting season-long battle between Max Verstappen and Lewis Hamilton, turned out to be a dud for much of the race. 
Hamilton led 51 of the 58 laps and, with the final trips around the circuit winding down, had built more than a 10-second lead. Larson had seen enough. He admitted to the Associated Press that the fan in him wanted to see a caution come out and create an exciting finish, but he didn't see it happening, so his group headed for the exits early. 
Then, it happened. With five laps remaining, Nicholas Latifi crashed. The caution/safety car came out. And chaos ensued.
Larson and his group watched the craziness play out on their phones and viewing screens placed around the Yas Marina track.
Calls out F1 for bending rules in controversial finish at Abu Dhabi
Hamilton's lead instantly vanished. Commentators debated whether or not he could maintain his advantage and if race officials would be able to get the track cleared of debris in time for a restart. Another element to consider was the standard protocol of allowing the lapped cars through, which would delay the restart even longer to the point where there potentially wouldn't be any green flag laps remaining. 
Race control initially ruled the lapped cars would not be allowed to overtake. In other words, if and when the race restarted, Hamilton would have four cars between him and Verstappen, all but ensuring him victory. 
However, inexplicably, just moments before the final lap began, F1 race director Michael Masi changed his mind and said the lapped cars would be allowed to pass the safety car, which would result in the Red Bull Racing car starting next to the Mercedes.
Verstappen, with his fresher tires, overtook Hamilton in a one-lap sprint and claimed the controversial win. Many fans were not happy with the way it ended and questioned race officials for the last-minute decision. Larson, who admitted that he didn't know if it was "particularly fair," said it appeared F1's intervention was intentional.
"It sounds like they bent the rules a little bit to get a green finish, and it seems like that was their main goal," Larson said. "I don't really know F1 well enough, but it doesn't seem like they did it to help Max or anything like that. But they did make it exciting."
Larson has case of deja vu
Larson knows a little bit about exciting finishes to championship races. In last month's Championship 4 race at Phoenix, the most dominant driver in 2021, who won 10 races, the same number as Verstappen, needed a caution late in the race to give him a chance at victory. It happened. 
His pit crew pulled off its best stop of the season and returned to the track with the lead. He held on for the final 28 laps to claim victory.
Larson's win wasn't controversial. It was the crowning of the driver who everyone knew was the best all year. Many also believed that Max Verstappen was the best driver in F1 during the 2021 season. Unfortunately, his victory that earned him the championship will always be shrouded in controversy and fans will remember that. Kyle Larson among them.  
Like Sportscasting on Facebook. Follow us on Twitter @sportscasting19.