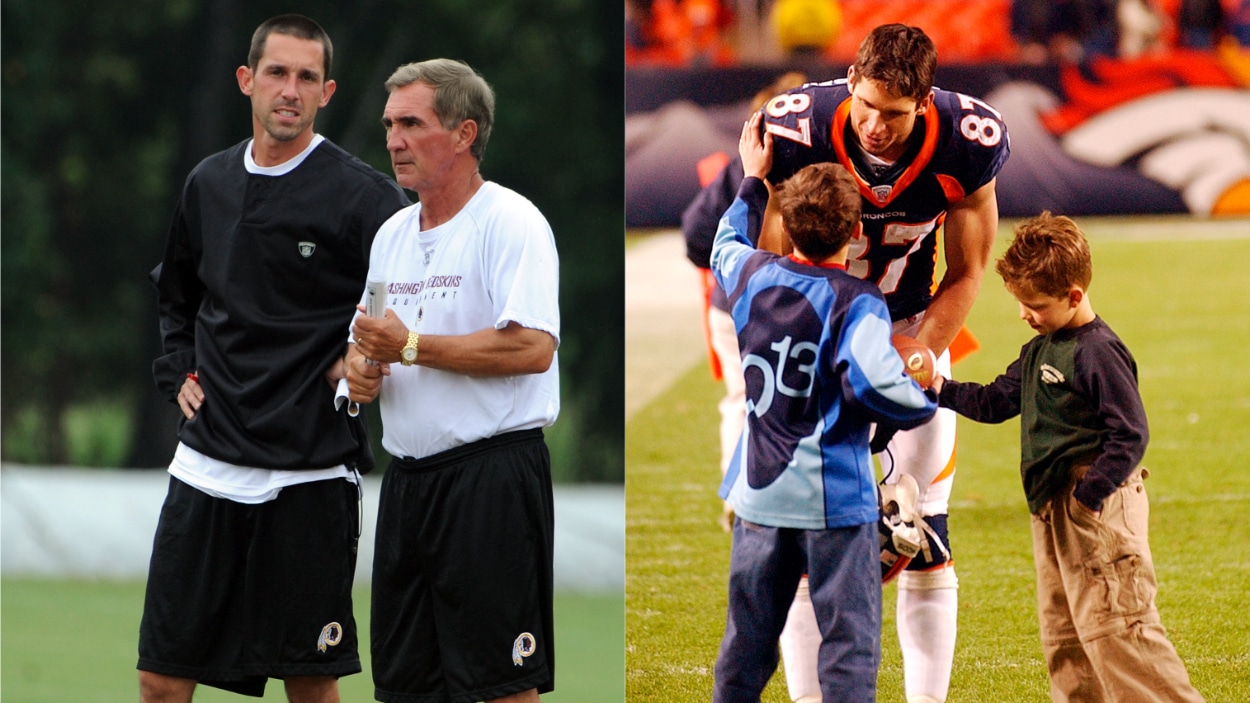 Kyle Shanahan Wasn't Allowed to Babysit for Christian McCaffrey as a Kid Because He Wasn't 'the Responsible One'
The Kyle Shanahan-Christian McCaffrey relationship started long before the 49ers because of their dads, Mike Shanahan and Ed McCaffrey.
San Francisco 49ers head coach Kyle Shanahan traded for Christian McCaffrey ahead of the 2023 NFL trade deadline. While the move seemed straightforward, where a contending team traded for a star player, it was a little more complicated than that. Shanahan, 43, has known McCaffrey, 26, since he was born. That's because Christian's dad (and Kyle's favorite player as a kid), Ed McCaffrey, played for Kyle's dad, Mike Shanahan, on the Denver Broncos from 1995-2003. The two families became close friends, but despite the 17-year age difference, Kyle wasn't allowed to babysit little Christian because he wasn't 'responsible' enough.
The Kyle Shanahan-Christian McCaffrey relationship goes back years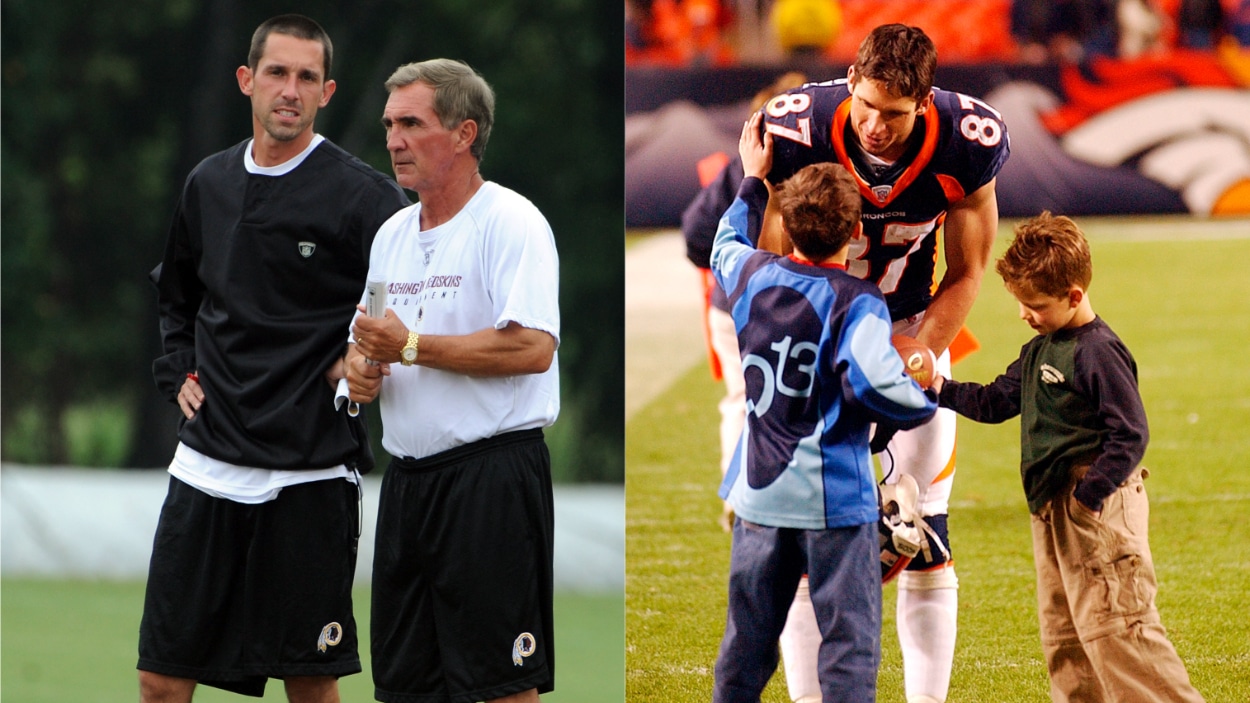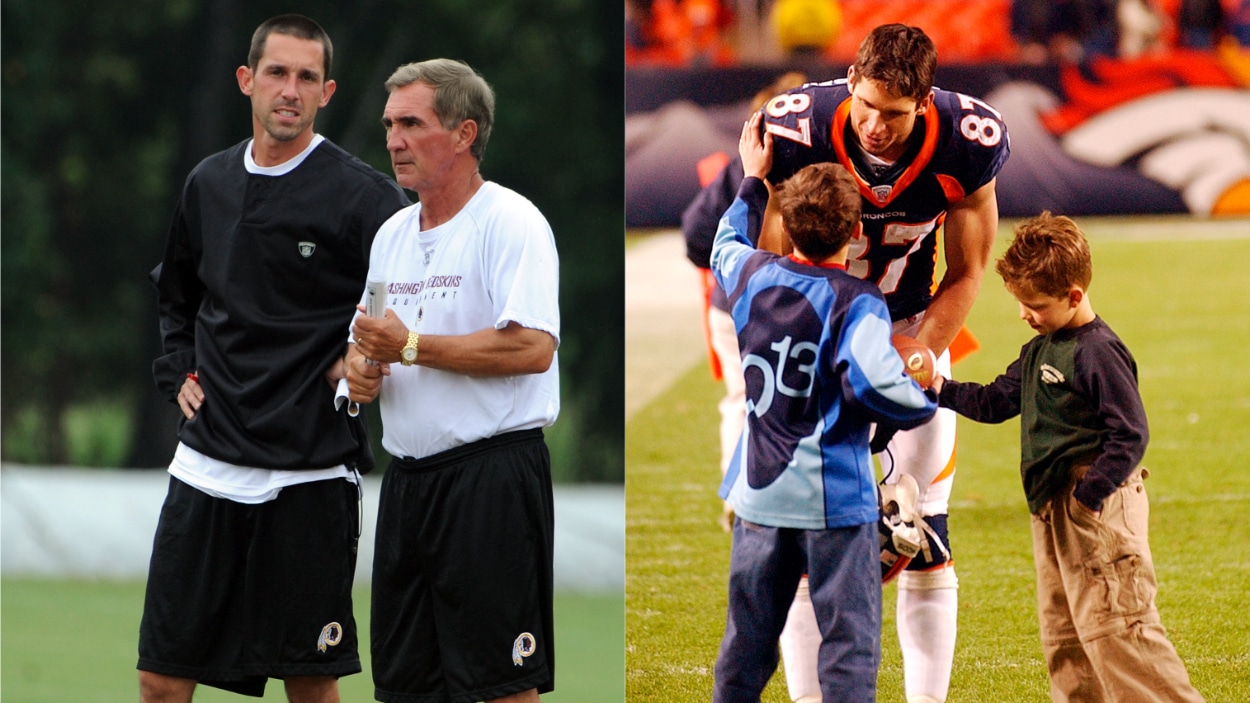 Mike Shanahan started coaching in the NFL in 1984 and had a long and illustrious career that included head coach stints with the Los Angeles Raiders (two seasons), Denver Broncos (14 seasons), and Washington Commanders (four seasons).
Ed McCaffrey was a third-round pick out of the New York Giants out of Stanford in 1991. The 6-foot-5 wide receiver would go on to play 13 NFL seasons for the Giants, 49ers, and Broncos. He made one Pro Bowl and won three Super Bowls with the 49ers (1994) and Broncos (1997, 1998).
Ed's two Broncos Super Bowls came under Mike Shanahan, who he played for in Denver for nine years. The two families became close, and Mike's son Kyle was in high school when Ed welcomed his second son, Christian, in 1996.
Now 26 years later, Christian plays for Kyle just like Ed played for Mike. And while Kyle is the authority figure Christian now reports to as adults, that wasn't always the case.
On NFL GameDay Morning, ahead of the NFC Championship Game, the two families talked about their long relationship. Christian's mom, Lisa, revealed that when Christian was younger, the parents would go out and leave the Shanahan kids to watch the much younger McCaffrey boys. However, it was Kyle's younger sister, Krystal, who was in charge.
When asked about Kyle babysitting, Lisa McCaffrey said that Krystal was "the responsible one" of the Shanahan kids. NFL Network's Andrea Kramer asked Kyle's mom, Peggy, to confirm this was the case, and Peggy's answer to Kyle being responsible enough at that age to babysit was, "Oh, gosh no!"
The Shanahan-McCaffrey connection could win another Super Bowl
 Mike Shanahan and Ed McCaffrey won two Super Bowls together with the Broncos. Now, the Kyle Shanahan-Christian McCaffrey combo could add another Lombardi Trophy to the families' trophy cases.
Kyle had a chance to draft Christian in 2017 when Shanahan took over the 49ers, and McCaffrey was coming off his own Stanford career. However, Kyle took defensive lineman Solomon Thomas at No. 3 overall, despite telling his dad he thought Christian could be the most talented player in the draft. The Stanford RB went No. 8 to the Carolina Panthers.
The sons finally hooked up at the 2022 NFL trade deadline, when the 49ers traded their second-, third- and fourth-round picks in 2023 and a 2024 fifth-rounder to the Carolina Panthers for the superstar RB.
Christian learned the 49ers playbook enough on the cross-country flight from Charlotte to San Francisco to play in the team's Week 7 game against the Kansas City Chiefs. The 49ers lost 44-23, but things have been on an upward trajectory from there.
Kyle Shanahan, Christian McCaffrey, and the 49ers haven't lost since that Week 7 game. The team won the final 10 games of the regular season and its first two playoff games for a 12-0 record since Christian's first game in the Bay Area.
Now Kyle and Christian are two wins away from replicating what their fathers did together two-plus decades ago.