Kyrie Irving Has Admitted to Believing in Other Conspiracy Theories Along With His 'Earth Is Flat' One
Kyrie Irving is one of the best point guards in the entire NBA. He is a massive reason that Cleveland ended its championship drought when the Cleveland Cavaliers won the NBA Finals in 2016. Many people have given him a hard time over the years, though, for saying that he thinks the Earth is flat. However, the Earth being flat is not the only conspiracy theory he has admitted to believing.
Kyrie Irving has been a top guard in the NBA
RELATED: Kyrie Irving Has LeBron James to Thank for 'The Shot' in 2016 NBA Finals
The Cleveland Cavaliers selected Irving with the No. 1 overall pick in the 2011 NBA draft, and he became an immediate start as he earned the 2011-12 Rookie of the Year award. 
After averaging 18.5 points per game and 5.4 assists in his rookie season, Irving has averaged 20 points per game or more in every season since, other than the 2015-16 season when he only played in 53 regular-season games with the Cavaliers.
Despite only playing in 53 regular-season games that year, Irving came up big when it mattered most. Irving, alongside LeBron James and Kevin Love, ultimately led the Cavaliers to an NBA championship that season.
Irving then averaged 25.2 points per game in his final season with the Cavaliers in 2016-17, and he and the team went to the NBA Finals for the third consecutive season. They ultimately lost to the Golden State Warriors, though.
The next two seasons, however, Irving played on the Boston Celtics. He averaged 24.4 points per game in his first season in Boston but did not play in the playoffs due to injury. Irving then scored 23.8 points per game in 2018-19 with the Celtics to go with a career-high 6.9 assists. 
This season, though, Irving only played in 20 games with the Brooklyn Nets as he dealt with injuries. He averaged 27.4 points and 6.4 assists in those games.
Kyrie Irving's belief in the Earth being flat
RELATED: LeBron James Kept Kyrie Irving and Gordon Hayward From Building a Dynasty in Cleveland
In a podcast with Richard Jefferson and Channing Frye in 2017, Kyrie Irving made headlines when he said, "The Earth is flat," according to Boston.com.
"I'm telling you, it's right in front of our faces," Irving said, according to Boston.com. "They lie to us."
He also seemed to be skeptical about the Earth rotating around the sun.
"For what I've known for as many years, and what I've come to believe, what I've been taught, is that the Earth is round," Irving said, according to Boston.com. "But I mean if you really think about it from a landscape as the way we travel, the way we move and the fact that can you really think of us rotating around the sun and all planets aligned, rotating in specific dates, being perpendicular with what's going on with these planets, and stuff like this."

Kyrie Irving
However, in October 2018, Irving ultimately apologized for his statements. "At the time, I was, like, innocent in it," he said, according to Sports Illustrated. "But you realize the effect of the power of voice and even if you believe in that, it's like, don't come out and say that."
He then went on to apologize to science teachers.
"I'm sorry about all of that," Irving said, according to Sports Illustrated. "For all the science teachers, for everybody coming up to me like, 'I have to re-teach my whole curriculum!' I'm sorry. I apologize."
He has admitted to believing in other conspiracy theories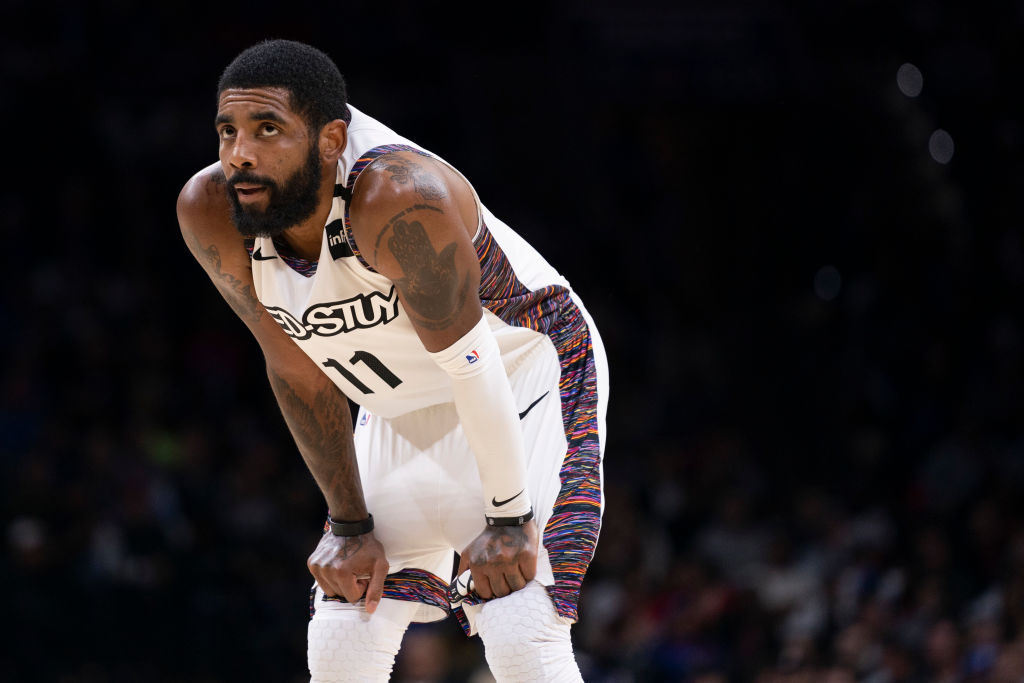 RELATED: Kyrie Irving Challenged Kobe Bryant to a Game of 1-On-1, but It Never Happened
In the same podcast where he discussed the Earth being flat in 2017, Irving admitted to believing in some other conspiracy theories.
He reportedly said that he thinks that the Federal Reserve played a part in the assassination of President John F. Kennedy because Kennedy wanted to "end the bank cartel in the world," according to The Boston Globe.
Irving also said that he believed the CIA tried to hire Jamaicans to kill Bob Marley.
"[Marley] tried to bring people together and the fact that it was fundamentally built on love and truth and we kill people for doing the right thing like that," Irving said, according to The Boston Globe.
Irving should just do a weekly podcast where he dives into conspiracy theories each week. I would take a listen.
Stats courtesy of Basketball Reference