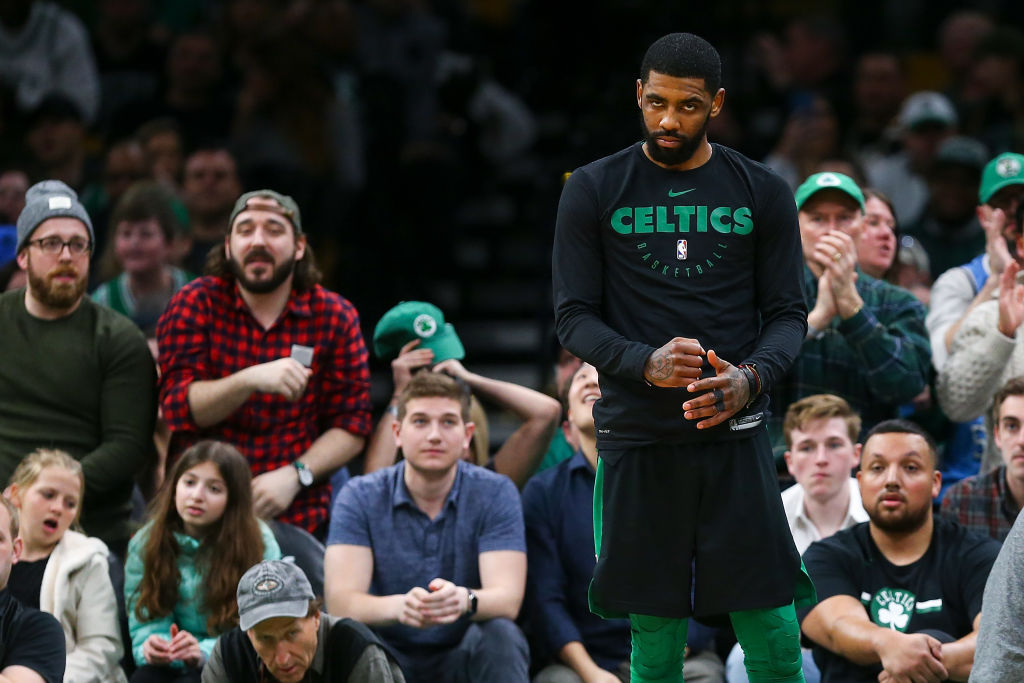 Is Kyrie Irving Planning to Leave the Celtics? Why 1 Analyst Thinks So
Former NBA player Randy Foye expects Kyrie Irving to leave the Celtics. Let's take a look at some of the reasons why he could ditch Boston in free agency.
When Kyrie Irving hit the clutch 3-pointer in Steph Curry's face during game seven of the 2016 NBA finals, he helped lead Cleveland to its only NBA championship. So it came as a major surprise to fans when he sought a trade away from teammate LeBron James.
When LeBron was in the Eastern Conference, fans expected his teams to make the NBA finals as he showed complete dominance against teams such as Toronto, Milwaukee, and Boston. When Irving went to the Celtics and the team signed Gordon Hayward, Boston became the favorite to keep James out of the NBA finals. However, Hayward hasn't played up to his former All-Star potential and the young players who got more playing time last season during Irving's injury are struggling to play at the same level in 2019.
Brooklyn Nets basketball analyst Randy Foye, an 11-year NBA veteran, expects Irving to leave the Celtics for greener pastures. Let's take a look at some of the reasons Irving could ditch Boston when free agency starts on July 1.
Why Randy Foye believes Kyrie Irving is gone
Kyrie Irving talks about working out the kinks with his teammates as the Celtics struggle, but his body language says something else. Irving's behavior, more than his words, indicate to Foye that he can't wait to get out of Boston.

"Just watching his body language, you know that he definitely wants out," Foye said on a radio show, according to CBS Sports. "His body language is telling me a lot, especially last night when [Toronto's Marc Gasol] hit that three and they zoomed in on him. He had zero emotion. He don't want to be there. He's doing whatever he's going to have to do to help them be the best team possible, but after that, he's out of there.

"I wouldn't worry about giving him a max deal because his game speaks for himself, but is Kyrie going to take a max deal from the Boston Celtics? To me personally – and it's just my opinion – I think that Kyrie, I don't know where he's going, but I think he's out of Boston July 1 or whenever he decides during that free-agency period. I think he's out of there."
If Foye is right and Kyrie Irving leaves Boston at the end of the season, where will he go? We have a few theories.

The bright lights of New York City
The 2019 free agency class in the NBA might be one of the strongest we have seen in a long time. Kyrie Irving, Kevin Durant, and Kawhi Leonard are the big names that could change teams before the 2019 season. The speculation around the league is that Kevin Durant will leave Golden State and sign with the Knicks at the end of the season. Kyrie Irving might join him.
It seems crazy for Durant and Irving to head to New York, but the Knicks have two max contract slots available and possibly the number one pick in the draft. Pairing Irving with Durant and a high draft pick wouldn't guarantee a trip to the finals, but it would quickly make New York a top-three team in the East. This is the most likely scenario that we see happening once free agency starts.
Re-join LeBron in LA?
Although he wanted to be able to lead his own team when he requested a trade from Cleveland, Irving and James have worked out their differences. When Irving saw how mentally taxing leading a team is, he reached out to LeBron to apologize for the way he acted during their time together in Cleveland.
This could open up the door for Irving to join LeBron on the Lakers. Irving would be an instant upgrade from Lonzo Ball at point guard. Plus, having him on the floor with Kyle Kuzma and LeBron would give the Lakers three players who can create their own shot, which is what you need in the playoffs.
Irving will have the number of suitors but at this point, you have to realistically look at New York and Los Angeles being his preferred to destinations.
Would Anthony Davis convince him to stay?
The Lakers had opportunities to trade for Anthony Davis, but it seems like New Orleans front office really had no interest in trading their disgruntled superstar unless they were getting a treasure chest full of players and draft picks.
The hope in New Orleans is that Boston will include a package that features one or two of their young star players and draft picks for Anthony Davis. However, Boston general manager Danny Ainge is known for offering horrible trades to teams and getting them to accept the deals.
It seems more likely that Boston would swap Terry Rozier, Jaylen Brown, Al Horford, a couple of other players, and a few first-round picks for Davis. That would give the Celtics the core of Irving, Hayward, Tatum, and Davis, which would be a formidable team to beat in the East. A package like that would easily be enough to convince Irving to stay, as Boston would be the favorite to go to the finals for years.
Where do you think Kyrie Irving will end up?
Which teams do you think will have the best shot to land Kyrie Irving? Will he stay in Boston if the Celtics get Anthony Davis? Will he rejoin LeBron in L.A.? Or team up with Kevin Durant to restore the glory of Madison Square Garden? We'll know more when free agency starts on July 1, 2019.