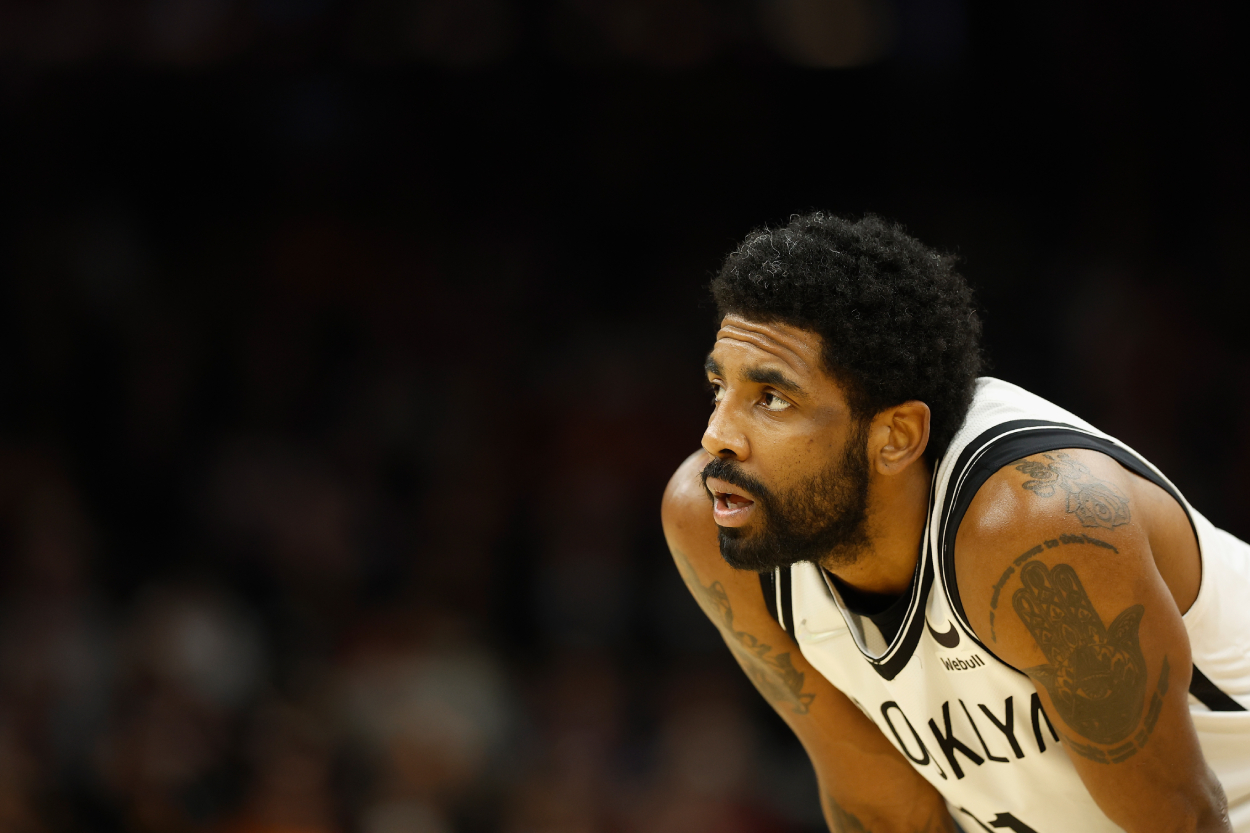 Kyrie Irving Refuses to Take Accountability, Lashes out at Reporter: 'Play Your Media Games With Somebody Else'
The Brooklyn Nets have lost 11 straight, and Kyrie Irving will only play in three of the team's next eight games. Here's how he recently tried avoiding accountability.
Most people strive for strong self-awareness and hope they can hold themselves accountable whenever they're in the wrong.
Then, there's someone like Kyrie Irving.
Irving has been a liability for the Brooklyn Nets the past two seasons, either missing games due to personal reasons or for refusing to receive the COVID-19 vaccine. So, he recently received a question on whether he feels guilty for only playing part-time this year due to his vaccination status. 
However, as we all should have expected, Irving said he doesn't feel any guilt. He then essentially blamed others for the distraction surrounding the Nets.
Kyrie Irving lashed out at a reporter who asked whether he feels guilty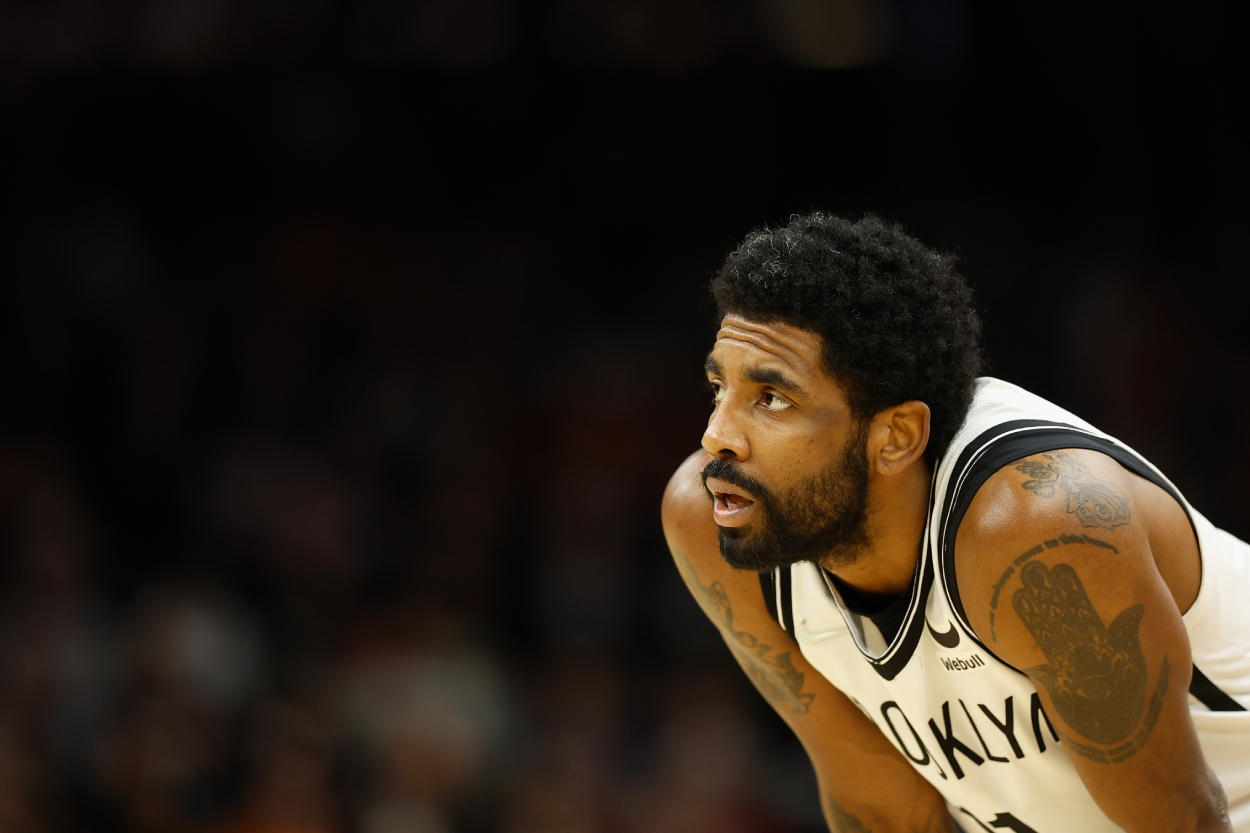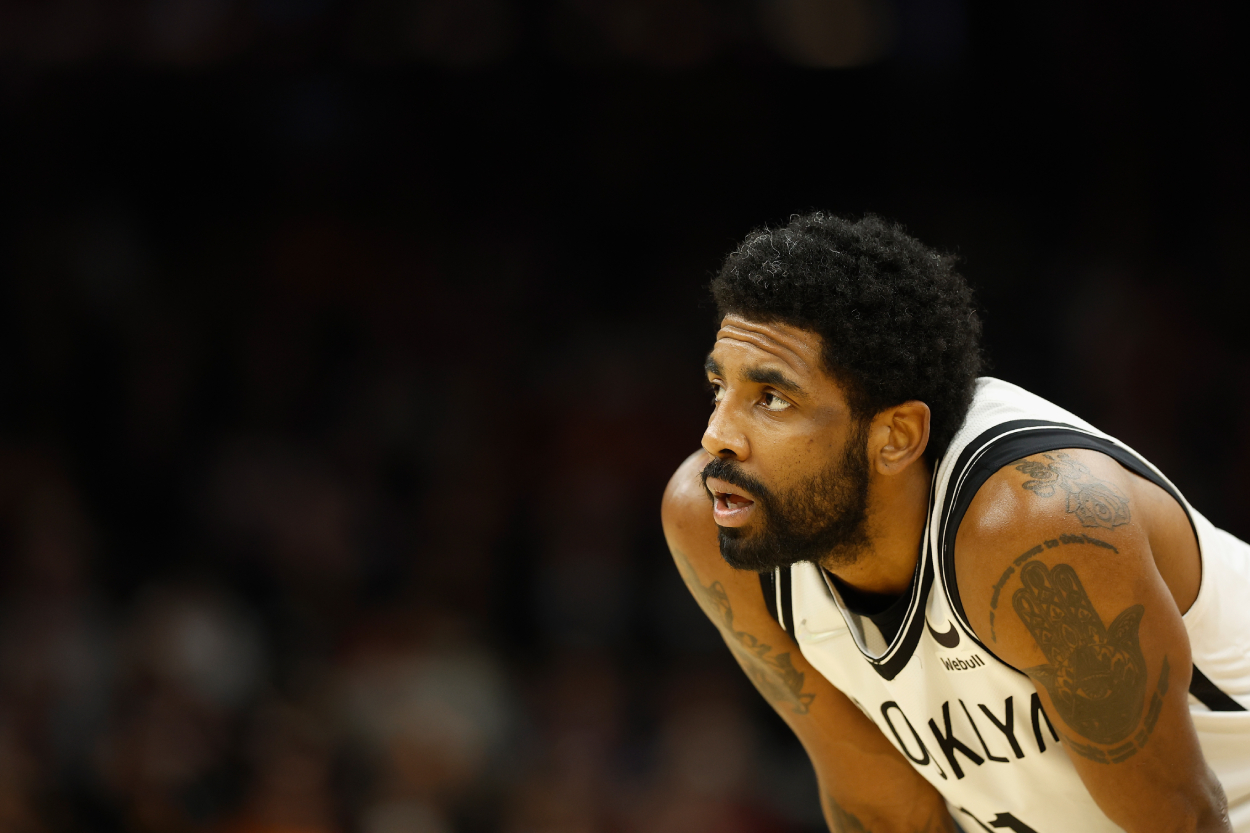 The Nets, who recently decided to take a massive gamble by trading for Ben Simmons, lost their 11th straight game on Feb. 12. Kevin Durant has been unable to play due to an MCL sprain, and James Harden missed five of seven games before getting traded to the Philadelphia 76ers for Simmons.
Kyrie Irving played in eight of the last 11 games, but he will miss five of the team's next eight contests due to the New York City mandate that keeps unvaccinated Nets and New York Knicks players from competing in home games.
So, after Brooklyn's loss to the Miami Heat on Feb. 12, a reporter asked Irving whether he feels any guilt for only playing part of the time.
"We're back here; we're back here," he said, per SNY. "Play your media games with somebody else, bro; please. I understand that there's a lot going on in the world. And I'm here as a human being just like you, bro. Please respect my boundaries, man. That's all I'm asking. There's no guilt that I feel. I'm the only player that has to deal with this in New York City because I play there. If I was anywhere else in another city, then it probably wouldn't be the same circumstances. … So, you ask me these questions. I don't feel guilt. I'm just living my life as best I can just like everybody else amidst these last two years."
Irving continued by bringing up alleged conversations he had with the league and the National Basketball Players Association.
"The NBA and the NBPA made it very clear that there would be things that I would be able to do to work around this, and that's off the table," Irving added. "So, you tell me if I'm just alone out here. Or do I have support from everybody else that's dealing with the same thing?"
Kyrie seemingly called out Charles Barkley and some of his other critics
NBA legend Charles Barkley has made fun of Kyrie Irving's playing status in recent weeks, calling him "half-man, half-a-season."
And Irving apparently heard those comments, among others from various critics.
"This hasn't been easy for anybody," he said, per SNY. "I think the more that you guys keep hammering in on this, and then also in public spaces, I'm noticing that people like to make jokes about what's going on, in 'half-game' or 'half-man,' whatever it is. My family has to see some of that stuff; my teammates have to see some of that. And like I said, that outside noise creeps in at times, but it doesn't impact me because I'm used to this. I don't play these media games. I don't do this. This is part of my job, but this is not what I signed up for in order to be going back and forth, answering questions about my personal emotions."
He continued: "All I'm doing is trying to be the best teammate, doing my job at a high level. I wish that circumstances were different. But obviously, it's impacting a lot of people, and I didn't want this to happen. But it is the reality."
He will continue being a distraction for the Nets, so Kyrie Irving needs to hold himself accountable
Kyrie Irving's refusal to get the COVID-19 vaccine isn't the issue here. It's his inability to hold himself accountable.
He is missing games this season (and he missed games last year) due to his own decisions, not anyone else's. Yes, the jokes people make are probably frustrating, but they are only coming because of his choice to remain unvaccinated. He shouldn't blame people like Charles Barkley, who make light of the situation, for a decision he's making on his own.
Irving also shouldn't blame reporters. Their jobs are to hold others accountable, and Irving needs more attention than some of his his peers due to his inability to do it himself.
As long as Kyrie refuses to receive the vaccine, his playing status will continue hanging over the Nets. If he could play in every game, they would likely be the favorites to win it all this year. But there's a strong possibility that a series could come down to a Game 6 or 7 in Brooklyn, in which he wouldn't be able to participate.
A loss in that situation would be his fault. He would be the one missing an important game for his team, not the media and not Barkley. So, it's time for Kyrie Irving to take some responsibility and finally admit he's the one to blame.