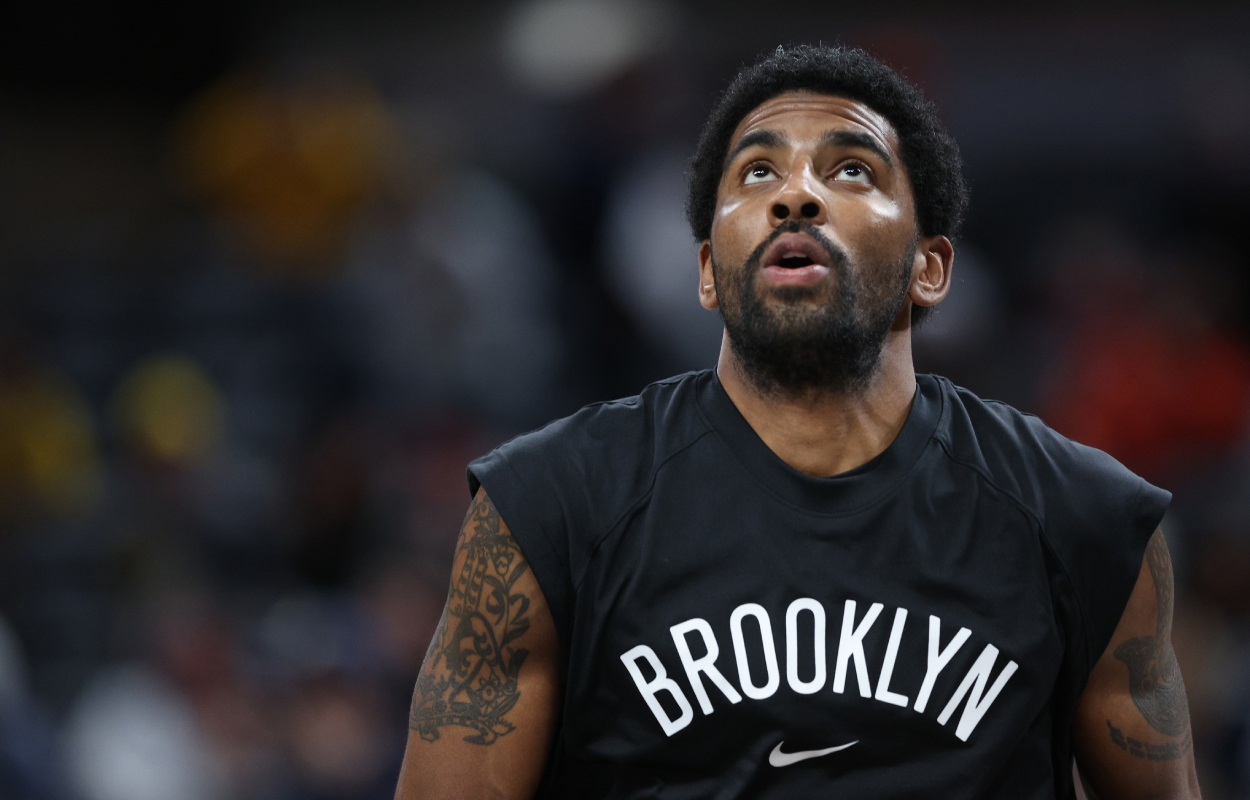 Kyrie Irving Seemingly Blames Giannis Antetokounmpo for His 2021 NBA Playoff Injury: 'His Foot Just Happens to Be in the Way'
Kyrie Irving is back on the court for the Brooklyn Nets, but the All-Star guard just seemingly blamed Milwaukee Bucks forward Giannis Antetokounmpo for his 2021 NBA Playoff injury.
Despite joining forces over a year ago, the Brooklyn Nets' Big Three has hardly played with each other. They have only appeared in 15 games across two seasons together, to be exact.
But despite all their issues, it appears Kyrie Irving wants to blame others. While addressing Kevin Durant's recent injury and the lack of minutes the Big Three has played together, Irving seemingly insinuated that Milwaukee Bucks star Giannis Antetokounmpo intentionally hurt him during the 2021 playoffs.
The Brooklyn Nets' 2021 playoff run ended early due to injuries
It appeared the Nets were on their way to the NBA Finals during the 2021 playoffs. With the Big Three clicking on all cylinders, they easily beat the Boston Celtics in five games in the first round. They looked unstoppable.
However, James Harden went down with an injury in Game 1 of the Eastern Conference semifinals against the Milwaukee Bucks. The Nets still jumped out to a 2-0 series lead but lost in Game 3 and saw Kyrie Irving go down with a sprained ankle in Game 4.
Brooklyn then fell to Milwaukee during that fourth contest, and a banged up Harden returned for Games 5–7. But Irving didn't play the remainder of the series, and the Nets lost to the Bucks in seven games.
It has been seven months since Kyrie went down with that injury, but he recently brought it back up after a Nets loss.
Kyrie Irving seemingly blamed Giannis Antetokounmpo for his injury
Kyrie Irving recently returned to his team after missing the first couple of months of the season. The Nets were not allowing him to be a part-time player amid his refusal to get the COVID-19 vaccine, but they have since changed their stance.
A few games after his return, though, Irving saw his star teammate Kevin Durant go down with an MCL sprain. KD is now out indefinitely.
Durant's recent injury means that he, Irving, and James Harden have only played in 15 total games as a full trio since Brooklyn traded for the latter in January 2021. So, Irving addressed their lack of minutes together following the Nets' Jan. 17 loss to the Cleveland Cavaliers.
"It's a lot to process; what we intended to be and what we still intend to be but all these hiccups and uncontrollable things," Irving said, per SNY.
"In the playoffs last year, James goes out," he added, which led into him bringing up his postseason injury.
"And then I'm going up for a shot, and Giannis comes over, and his foot," Irving said before using his fingers to make air quotes, "just happens to be in the way."
OK, what?
We don't 100% know whether Irving was, indeed, blaming Antetokounmpo or not, but his phrasing and actions seemed to be doing just that
He continued: "I just think it's one of those things that real life takes precedence over this game so much. And when you're out there, anything can happen. … Our time's coming. It's coming. It may not be now, but I definitely feel like some of these things that happen are for a reason, and it's for a bigger purpose. And we'll see what happens."
Kyrie Irving has no one to blame but himself (and his unfortunate luck with injuries)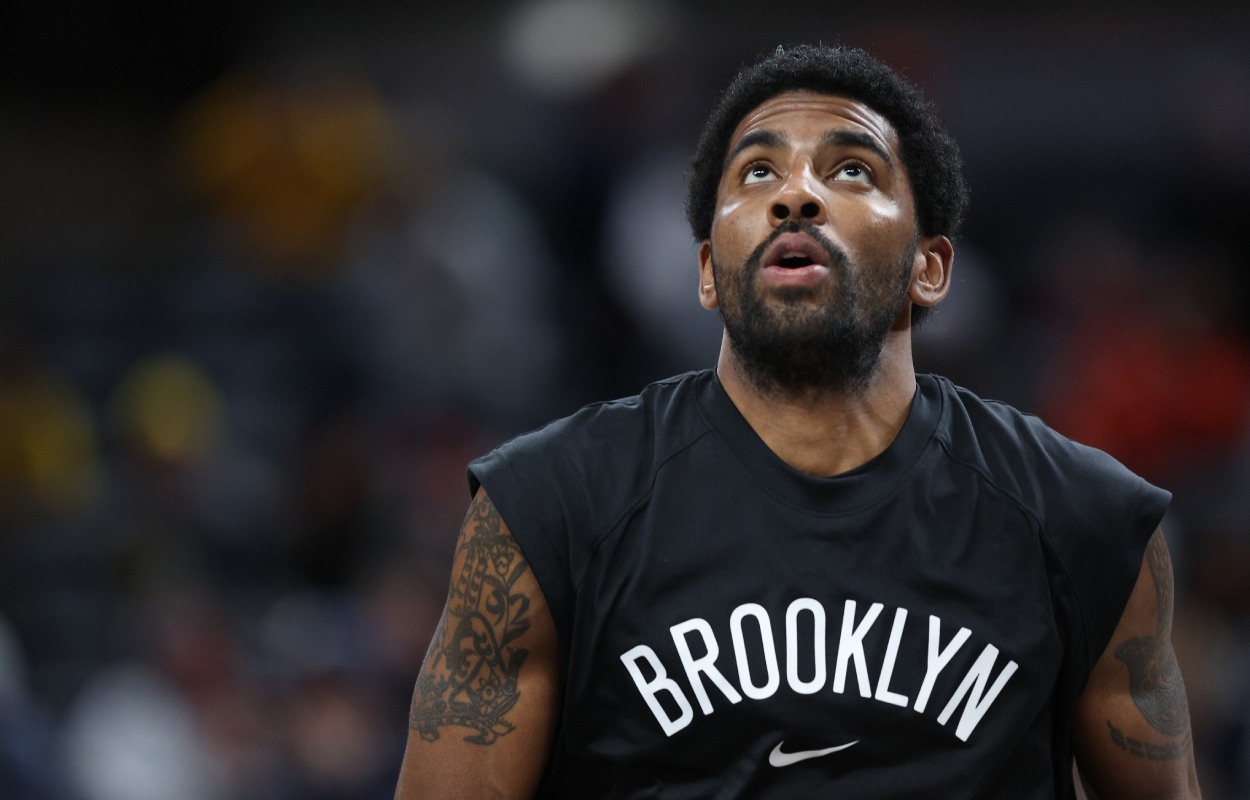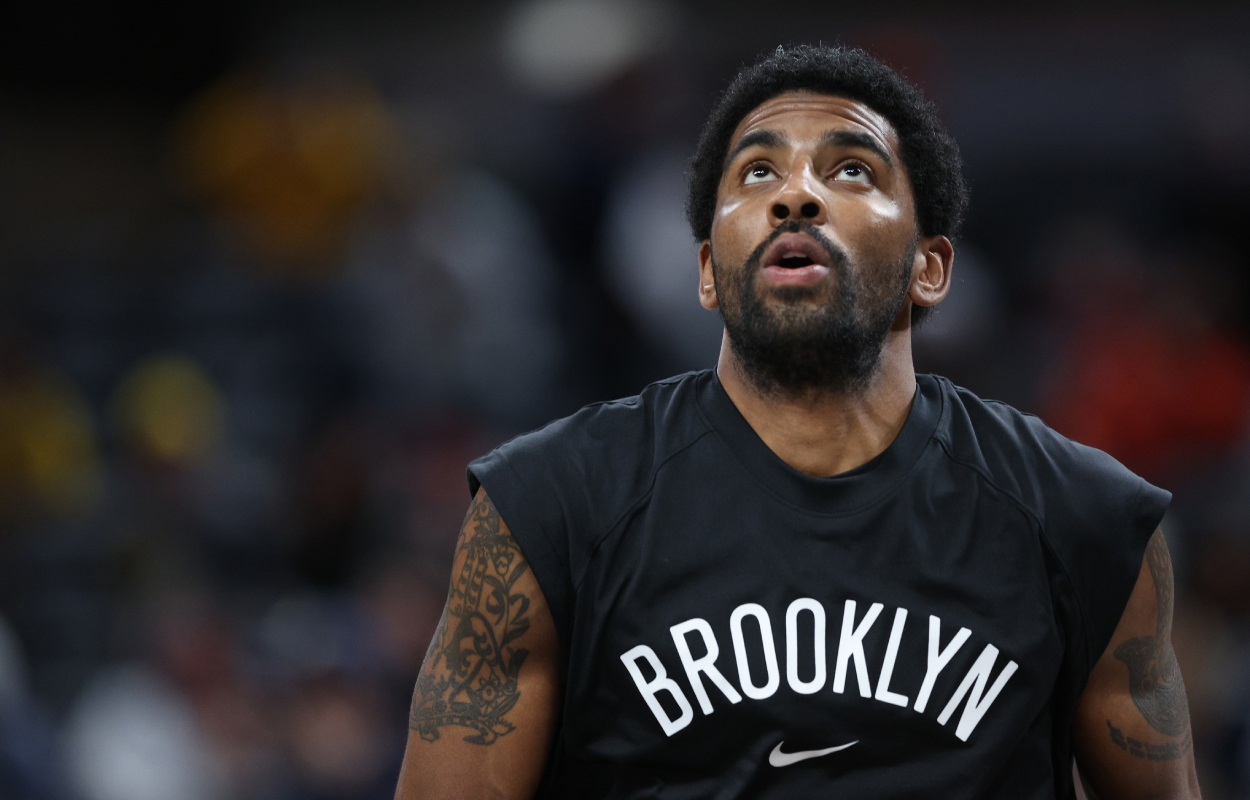 Kyrie Irving has been known to believe in conspiracy theories in the past, and thinking Giannis actually tried to hurt him would be his most outrageous one yet.
The play happened pretty quickly, as Antetokounmpo was just trying to provide help defense. He unlikely even had enough time to think about where Irving's foot was going to land once he came down from his shot. If you think he did, though, let's remember that Antetokounmpo doesn't have a reputation for being a dirty player. In fact, it's the opposite. He's one of the most well-respected humans in the NBA.
But it seems that Kyrie has been trying to blame others a lot lately, as he recently complained about Portland Trail Blazers forward Nassir Little's hustle, which resulted in Irving tweaking his ankle.
The 2011 No. 1 overall pick, though, has no one to blame but himself (and his bad luck). The Nets Big Three has hardly played together this year because of his decision not to get the COVID-19 vaccine. If he doesn't want to get vaccinated, that's fine. But it's his decision, no one else's.
And let's not forget that Irving isn't necessarily Ironman. He has been injured numerous times throughout his career, even going back to his college days at Duke. Was it someone else's fault in each of those instances as well?
Kyrie Irving is a great player. It's unfortunate that he missed games in last year's playoffs, but to blame anyone for his injury troubles and the Big Three's lack of minutes on the floor together is outrageous. Giannis Antetokounmpo kept the Nets from making the NBA Finals last year, but he didn't do it by intentionally playing dirty. He did it by performing at an MVP level and being on the court for his team when it needed him most – something Irving hasn't always been able to do.
Stats courtesy of Basketball Reference